May 8, 2015 Restaurants
Click here for the latest 50 under $50 2018: 50 great Auckland restaurants where you can eat well for less than $50
Another day in Auckland, another night full of things to see and do. Where's good to eat? And what's good to eat?
We asked our food writers to nominate some of their favourite affordable dinners in the city. We told them:
It's a good night out, not a posh night out. No more than $50 per dinner, including a glass of wine (or $100 for two in places where you share the food).
Stick to the central city, the waterfront and the hospitality dress circle of Ponsonby and Karangahape Rd: places where you can eat and still have time to get to a show.
Sit-down restaurants, not bars with a bit of food or places that are really all about the takeaway.
And we said to our writers, don't just tell us about the place. Choose a meal — a special dinner you love.
The long list had close to 200 meals on it. It was tough, as always, but we cut it down to 50. This list sits between our Restaurant of the Year top 50, where money can be no option, and our 100 Cheap Eats lineup, where the top price for dinner is around $20. Some places, note, appear on one or other of those lists as well: we're especially delighted that several Restaurant of the Year places offer some enticingly economical options.
Mostly, though, they're somewhere in between. Fifty bucks each — and often less —including a drink? It's the price of dinner on a good old good night out.
Al Volo
The Al Volo pizza
Most of the best pizza parlours in Auckland don't make our Cheap Eats top 100 list because the price cutoff is around $20 and their prices are a little higher. It's fair enough, too: the best of them use better ingredients – decent cheese and salami, tastier tomatoes and a tastier tomato sauce too – and take an obvious pride in their work.
You'll find all of that at Al Volo, which is as busy with takeout as it always was, but has also evolved into a buzzy little restaurant with a dozen tables and a very friendly vibe.
The house special "Al Volo" pizza is an idiosyncratic take on a classic, with excellent mozzarella, cherry tomatoes, olive oil, parmigiano and a lot of fresh rocket. All served on a base that's always deliciously light and puffy and a little charred at the edges. If you want a drink with your dinner, go to the bar just over the road, The Corner Store, and order your pizza from there. They have a splendid arrangement, those two places.
27 Mt Eden Rd, Grafton. Ph 302-2500, alvolo.co.nz

Bellota
Tapas to share
We know, our criteria said "no bars". But we're breaking the rule for this one, because Peter Gordon's Bellota is the finest tapas bar in Auckland. Not the obvious place for dinner, perhaps, but the food is all so good (and the drinks list so tempting and the place itself so elegantly seductive) that it's very easy to enjoy a good meal here.
For two people, you could start with a glass of fino (dry) sherry and some cheese and anchovies, or perhaps a couple of pintxos (the Spanish version of bruschetta). We're rather partial to the avocado and anchovy. Among the larger tapas dishes, don't overlook the crumbed deep-fried goats' cheese with runny honey and toasted almonds, although we don't think you should ignore the lamb ribs with apple and honey, either, or the beef cheek or the garlic and chilli prawns…
The desserts are also great — churros dusted with chilli-orange sugar! — and they provide the perfect excuse for a glass of Pedro Ximénez, which is sherry that tastes like liquid Christmas cake.
91 Federal St, Central City. Ph 363-6301, skycityauckland.co.nz
Better Burger
Better Burger
Double cheeseburger
If 2014 was the year of the burger, then Better Burger is its logical end point: the joint serves burgers and burger combos from a container tucked into the side of Britomart Country Club, at about what you'd pay at McDonald's. It's cooler than that though – distressed timber, industrualish chairs, astroturf – and the burgers are better, too. They're classic American in style – the double cheese has two thin beef patties, heavy on the ketchup and the mayo, plus red onion, tomato and lettuce.
The bun is a triumph – baked fresh each day, it's a honey bun so it's slightly sweet, verging on brioche. The fries are classic – skin on, which is a plus – and there is soda. All good.
31 Galway St, Britomart (also Vulcan Lane). Ph 303-2541, betterburger.co.nz
Gumbo
Elliott Stables does so much right: a food hall lit like a restaurant rather than an operating theatre, a charmingly restored heritage building complete with cobbled floor, heavy wooden furniture instead of plastic and steel – and, from Italian to Indian, sausages to sushi, most people will find the kind of food they like to eat.
It's even perfectly sited on the edge Aotea "arts precinct", just two minutes' walk from the Civic and the Square.
Strangely, the food doesn't always match the promise of the rest of the place. Our pick of the outlets is Bonz Cajun Kitchen, and while we feel duty bound to mention their ribs and their buffalo wings with blue cheese sauce, what we really love is the gumbo. A big rich spicy stew of chicken, sausage and prawn, served on rice, it's a perfect dinner to fill you up before the show.
Elliott Stables, 41 Elliott St, Central City. Ph 309-3025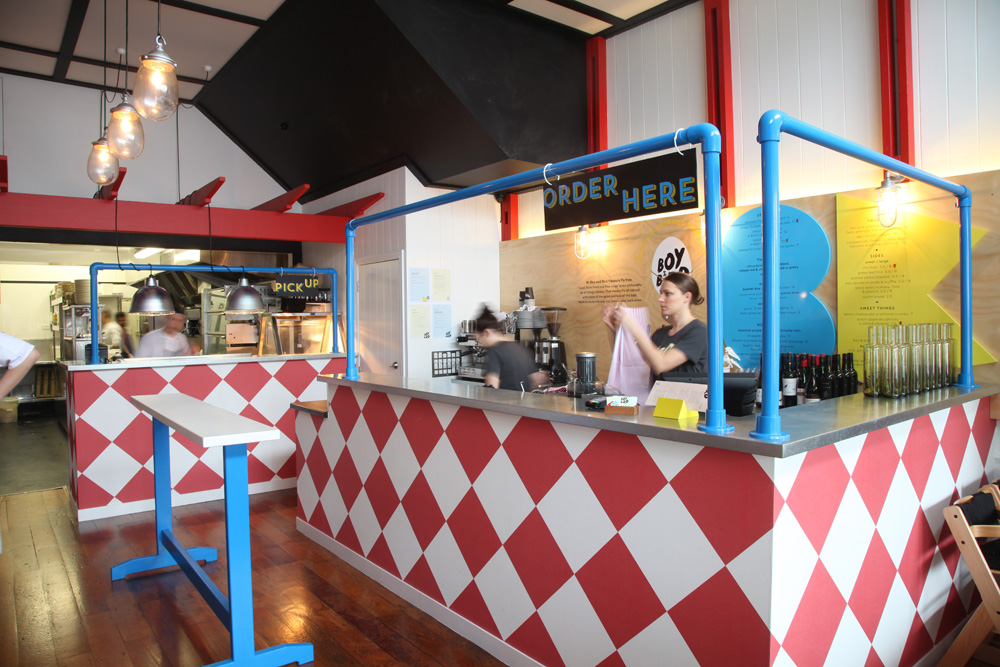 Boy & Bird
Boy and Bird
Hot bird salad
Chicken is the bird. Mike van der Elzen, formerly of Food Truck Garage and Molten, buys them free range and brines, poaches, rubs and rotisseries them, then serves them all ways: in a bun, in salads, in pieces and whole…
A box (quarter, half or whole, with gravy and chunky chips) is always tempting, but chef really struts his stuff with some of the other menu items. Hot bird salad is served in a high-sided dish with black lentils, kale, kumara, feta, peanuts, citrus and sultanas. It's an excellent dinner: a near-perfect combination of big flavours and textures, and so very moreish.
You can add a side of kumara or courgettes or chunkies if you like, but save room for the dutch apple doughnuts with salted caramel. A good salad is its own reward, of course, but doughnuts can be thought of like that too.
222 Ponsonby Road, Ponsonby. Ph 361-3222, boyandbird.co.nz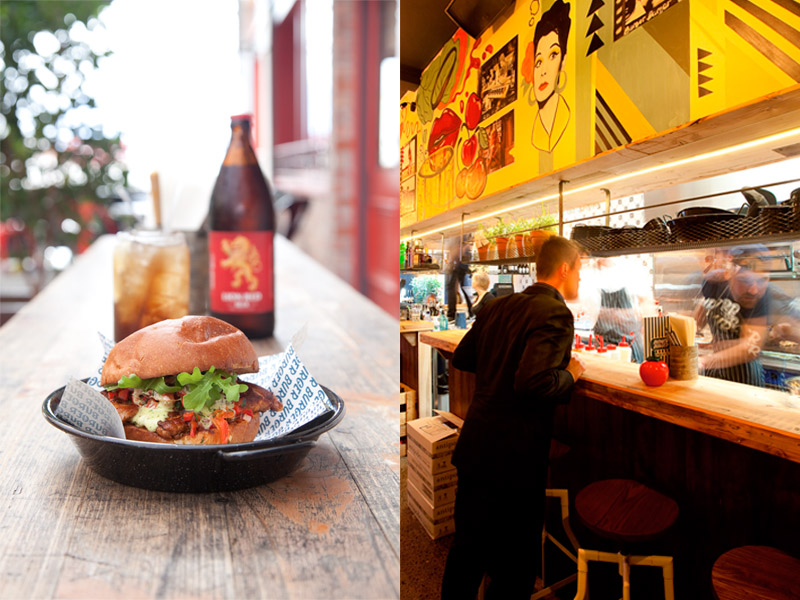 Burger Burger
Burger Burger
Pulled-pork burger
Burger Burger have done amazing things to broccoli, chargrilling it with butter and garlic, adding crunchy almonds. Whatever else you get, get that. And they've got the green smoothie army covered with the bunnuce option – your burger fillings wrapped in lettuce instead of between the pillowy brioche bun. As for the four-hour pulled pork, it's better than most pulled pork in the city, and comes with homemade barbecue sauce, mint slaw and mayo: this burger is one sloppy, dripping, delicious mess.
To bulk up the meal, try potato skins with truffle aioli, or kumara chips, or a raw beet salad if you swipe the other way. And the broccoli.
To drink: the thickshakes, loaded with Lewis Road organic milk and Little Paddock ice cream, are legendary. Especially the raspberry. Plus there are spirits, a revolving set of cocktail specials, their own tap beer, crate bottles of Lion Red. Oh, and Veuve Clicquot. Champagne with a burger? Ponsonby, darling.
Ponsonby Central, 136-146 Ponsonby Rd, Ponsonby (also Newmarket) Ph 360-8030, burgerburger.co.nz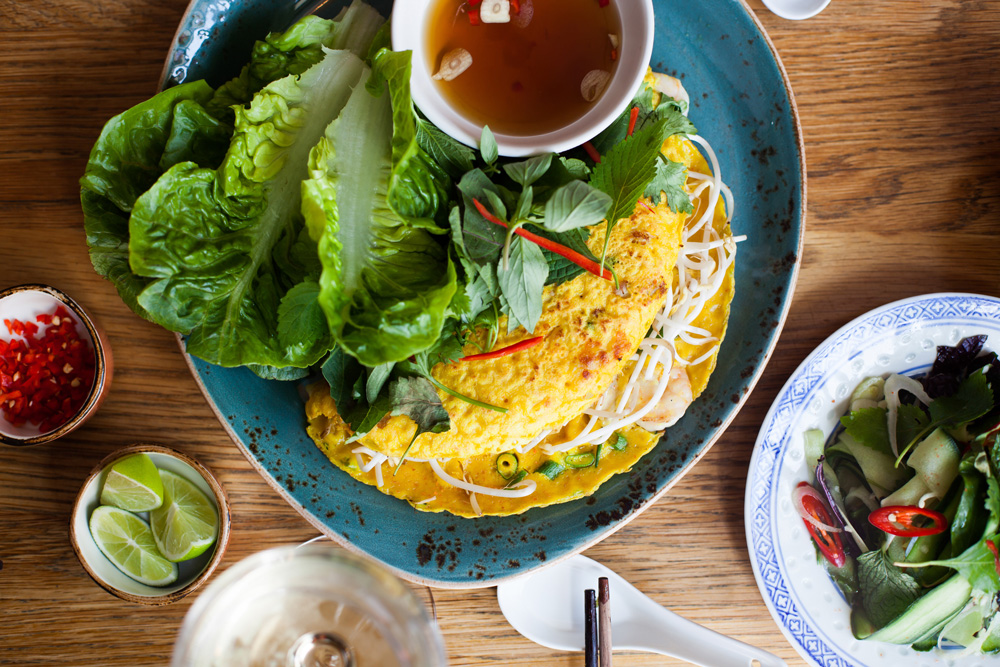 Cafe Hanoi
Pork and shrimp pancake
Cafe Hanoi boasts what must be one of the most spectacular bathrooms in Auckland, floor to ceiling in intricate and beautiful turquoise tiles. The whole restaurant fit-out is great, although we accept that's not enough to make a place worth eating in.
Cafe Hanoi is where you go for good Vietnamese when you also want a good glass of wine. As for the food itself, it's the street food dishes — Old Quarter Favourites — that we love the most.
Banh xeo: a pancake with pork and shrimp, adorned with Vietnamese mint, fresh lime and fresh chilli. You cut the pancake into pieces then wrap in a lettuce leaf, before dunking straight into the nuoc cham dipping sauce. Eat with your fingers; it's a tactile delight. Add some meat: the excellent shaking beef with its slow-release heat, or the beef salad with papaya, sesame and peanuts.
Cnr Galway & Commerce Sts, Britomart. Ph 302-3478
Chop Chop Noodle House
Brisket ramen
We waited a long time for a hipster ramen joint: be very glad it's as good as this. Chop Chop has a sort of surf-shack-meets-noodle-dive feel; the waiters wear straw hats and they play The Eagles a lot. Which would count for nothing if the food wasn't any good. The menu is short and punchy: vegetarians should probably not apply.
We go for the ramen (noodle soup), especially the brisket ramen. The meat is cooked for 12 hours until it melts, revived on the flat-top grill and then served in a huge bowl with pickled mustard seed, shiitake, rye noodles, an excellent broth and an entirely unnecessary but utterly welcome side of bacon. Add a side of corn, just to assuage any fears you might have for your heart, and some "chop chang" chilli if you like it hot.
Ponsonby Central, 136-146 Ponsonby Rd, Ponsonby. Ph 360-0708, ponsonbychopchop.co.nz
Citizen Q
Salad nicoise
Did you know there's a theatre out the back of Citizen Q? Just jokes. But what a splendid thing it is, that Auckland has a busy theatre (with three stages, no less) whose expansive foyer on Queen St doubles as an all-day café, a full bar and a boutique bistro. You can order food before a show, at interval and sometimes afterwards, or you can just walk off the street without having to indulge the thespians at all.
They do small plates including pulled pork sliders and asparagus bruschetta, pastas, salads, burgers and other mains, all as you'd expect. Our pick: salad nicoise, perhaps preceded by Moroccan spiced lamb meatballs – although those sliders are pretty good too.
305 Queen Street, CBD. Ph 282-4402, qtheatre.co.nz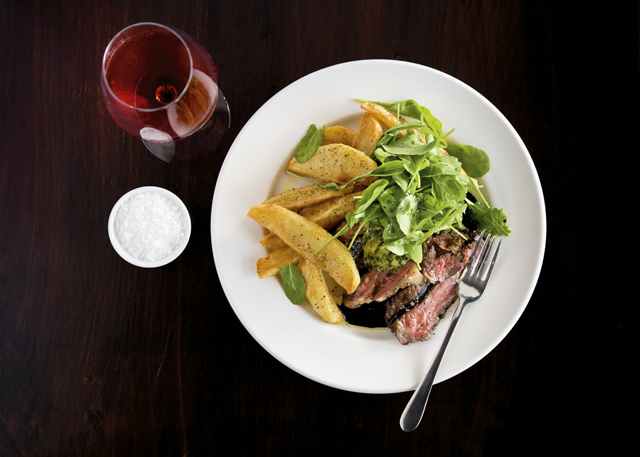 Coco's Cantina
Coco's Cantina
Steak and chips
Some of us at Metro believe the thing to do at Coco's Cantina, before a show, is to get set up with an array of smaller dishes: the bruschetta piled with capsicum and other summer vegetables; the richly savoury arancini, the famous polenta chips. And, sure, that's all really good. But the prevailing view is that this a perfect spot for a single great bistro dish: the pasta's always good, but best of all is the scotch fillet, served with chunky chips and salsa verde.
Add a glass of something Italian and red and you'll be at the penultimate point of bliss—ultimately reached when you accept your waitress's wise suggestion by finishing off the affair with an ice-cold limoncello.
376 Karangahape Road, City Central. Ph 300-07582, cocoscantina.co.nz
Conch
Beef short rib
A long time ago, Conch was a record shop, then it was a café and now, much as we admire them for sticking with it, it seems like the records are only there because they always used to be there. Musicians might be unhappy about this; food lovers can rejoice, since Conch is one of the least pretentious and most comfortable places in the city to get dinner and a drink. You sit down the back in timber booths that seem to take inspiration from some kind of Italian favela. Brilliant.
The menu is short and South Americanish: arepas, tacos, which are all very good. Our favourite: the beef short rib, slow-cooked with smoked spices and served with salsa verde. Highly excellent.
115A Ponsonby Rd, Ponsonby. Ph 360-1999, conch.co.nz
Dante's Pizzeria Napoletana
Regina Margherita pizza
Pizzaolo Kevin Morris makes pizzas strictly in accordance to the guidelines of the Associazione Verace Pizza Napoletana (VPN) — the body charged with keeping Neapolitan pizza-making traditions alive and kicking — and he's so good at it, he's representing New Zealand in the World Pizza Champs in Parma this year.
Of all Dante's "VPN-certified" pizzas, the one we love best is the Regina Margherita DOC, proudly displaying the colours of the Italian flag and offering the perfect balance of crushed tomatoes, creamy buffalo mozzarella and sweet basil. Pizza is a "slow food", on account of the dough being made and proved the day before, but it's fast service here because of the woodfired oven, which can get to 900°C, cooking your pizza in 90 seconds and leaving you plenty of time to savour it. Along with a Peroni, per favore.
Ponsonby Central, 136 Ponsonby Rd, Ponsonby. Ph 378-4443, dantespizzeria.co.nz
Depot
Oysters and skirt steak
If you've just arrived in Auckland from some planet where they hate all Jafas, get along to celeb chef Al Brown's Depot and see what that does for you. The place is always stuffed full of Aucklanders looking very pleased with themselves, but if you can bear it, hang around to see what the fuss is about. Order your wine from the tap, and get some fresh-shucked oysters, or maybe some sliders: little fish burgers (hapuku and lemon mayo, last we checked).
Follow them with skirt steak, which comes with crisp sharp iceberg lettuce – and tell us you reckon there's a better surf'n turf combo somewhere on your planet. Bet there's not. (Actually, there's another just as good right here at Depot: lamb ribs with a cabbagy mash called skordalia and cumin paprika oil, and "craydog", which is karengo-crumbed crayfish with wasabi mayo and rock sugar syrup. The thing about all this? It's not Jafa City food at all: it's Kiwiana. It makes everybody feel at home.
86 Federal St, Central City. Ph 363-7048, eatatdepot.co.nz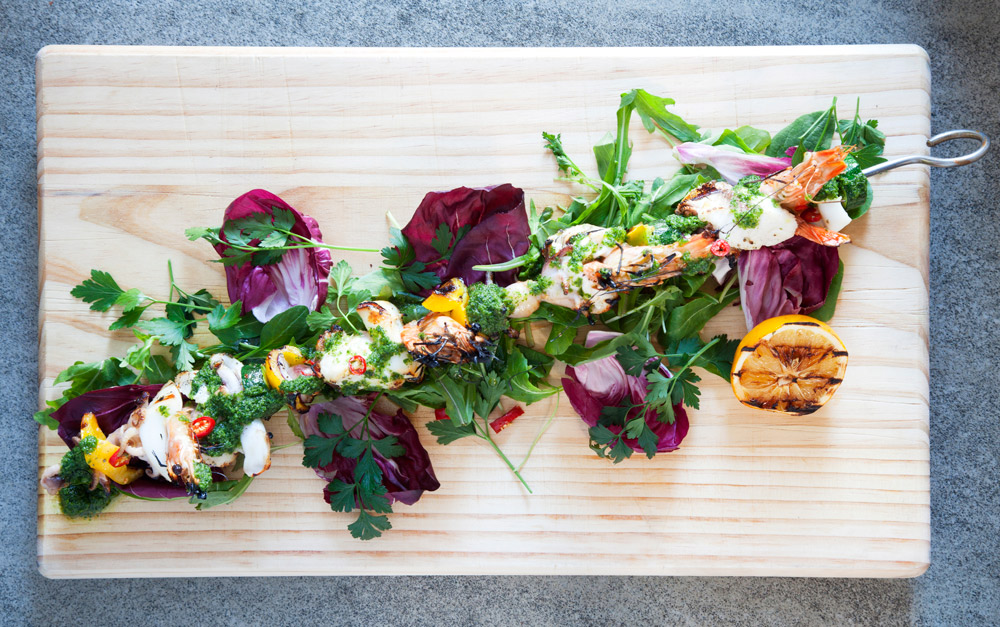 Spiedina
Although the whole menu is authentic and tasty, at Farina the thing is to go for things you couldn't possibly eat anywhere else – the spiedina, a long metal skewer heaving with chargrilled kaimoana dressed with bright green salsa verde, and the metre-long pizza, which is Toto founder Sergio Maglione's gift to Auckland casual dining.
Which pizza? The sharp flavours of capers and anchovies on the Pugliese are pretty unbeatable but, if you're hungry, the Salsiccia's chopped fennel sausage will save you from wishing you had more dinner during the final act. These pizzas were made to go with Italian wine, so ask one of the authentic characters behind the bar for a recommendation.
Fast and furious dining is welcomed at Farina: find a seat and you'll be eating almost as soon as you've finished ordering.
244 Ponsonby Road, Ponsonby. Ph 303-0011
Faro
Barbecue with deung-sim
Korean barbecue still hasn't taken off properly in Auckland: something about cooking your own meat doesn't appeal to Anglo sensibilities. Which is a shame. Korean barbecue is fabulous and it doesn't get much better than at Faro, which has a sort of high-baroque fitout, all gilt walls and crushed velvet and dark grey brick. The very helpful staff talk you through the menu and what to do: it's all good, but go especially for the deung-sim, which is Black Angus scotch fillet, marinated in sesame oil, garlic and pear juice. You'll never look the same way at steak again.
5 Lorne St, central city. Ph 379-4040, faro.co.nz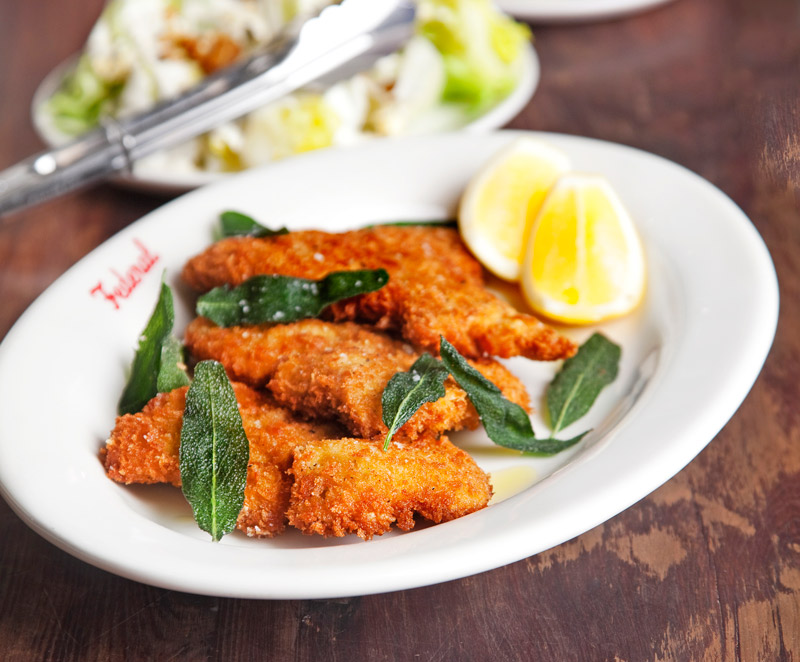 Federal Delicatessen
Federal Delicatessen
Schnitzel with sage and lemon
At Metro we almost come to blows arguing about what's best at The Fed. Editor's number one comfort food? Schnitzel with lemon and deep-fried sage leaves, iceberg salad, sauerkraut, gravy and mash. Joy-food for the people who don't mind admitting they own a pair of stretchy pants? The train-crash of fries, curds and gravy that is poutine. The dish for those seeking refinement? Delicately shaved ox tongue cleverly set into a bitter/briny/creamy salad. What everyone likes? The sensationally savoury "schticks" of pea and pastrami with habanero mayo; and the so-called salads (actually dishes of grilled courgette and the like, which are not salads at all but are no less divine for the delusion).
Wash it all down with beer by the jug: by consensus, we recommend the Saw Mill Crystal Wheat Lager.
86 Federal St, Central City. Ph 363-7184, thefed.co.nz
Food Truck Garage
Redergize bowl
With a wall of windows facing west and a very comfortable indoor/outdoor vibe of old schoolroom meets industrial chic, Food Truck Garage is one of the best spots in the whole city to enjoy the evening sun. They made their name with burgers reinvented as health food – or something close to it – and these days they've really pushed the menu along in that direction.
We're fond of the "Redergize Bowl": a deep dish of deep red goodness featuring big pile of thinly mandolined beetroot and carrot sticks, with quinoa, barley, chards and more, all flavoured with a miso dressing. Bulk it up with free-range chicken or salmon, and add a fro-yo shake, a house soda or – yes, they're licensed – a "skinny cocktail", wine or beer. Hallertau is on tap.
1/90 Wellesley Street West, CBD. Ph 973-2305, foodtruckgarage.co.nz
Galbraiths Alehouse
Beer-battered fish and chips
Some people go to Galbraiths because they brew their own beer and have it on tap, and it's very good. Well, yes, that's why we go too. But while we're there we like a feed, because Galbraiths is the great classic gastropub of central Auckland, and they do beer-battered fish and chips. Yes, you can make them at home, but are they ever as splendid as they are in a pub, when it's a really good pub? Galbaiths makes its own tartare sauce, triple cooks the chips and, bless 'em, also gives you mushy peas.
Start with grilled corn – it's a bit flash, with goat's curd cheese, jalapeno and lime. Finish with (what else?) blackberry, pear and apple crumble. With ice cream.
2 Mt Eden Rd, Grafton. Ph 379-3557, alehouse.co.nz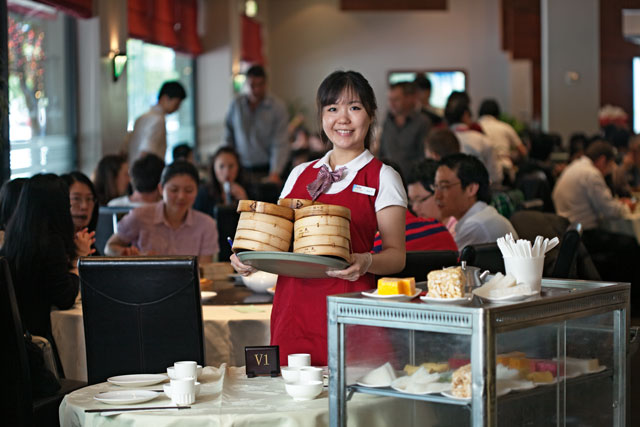 Set menu
Long the city's premier Cantonese restaurant, Grand Harbour is both spacious and elegant – a combo that defeats many Chinese restaurants – and if you go for the superb yum cha lunch it's perfectly sited for a leisurely stroll on the waterfront afterwards.
At dinner, the best value for money is the set menu, available to groups of four or more and starting at $40 per head. The 10-course feast includes sizzling Mongolian lamb, fish fillets with lemon sauce, mussels and squid with black bean sauce … and after all that, at night just as during the day, the waterfront is still a great place for that constitutional walk.
Cnr Pakenham St & Viaduct Harbour, Customs St West. Ph 357-6889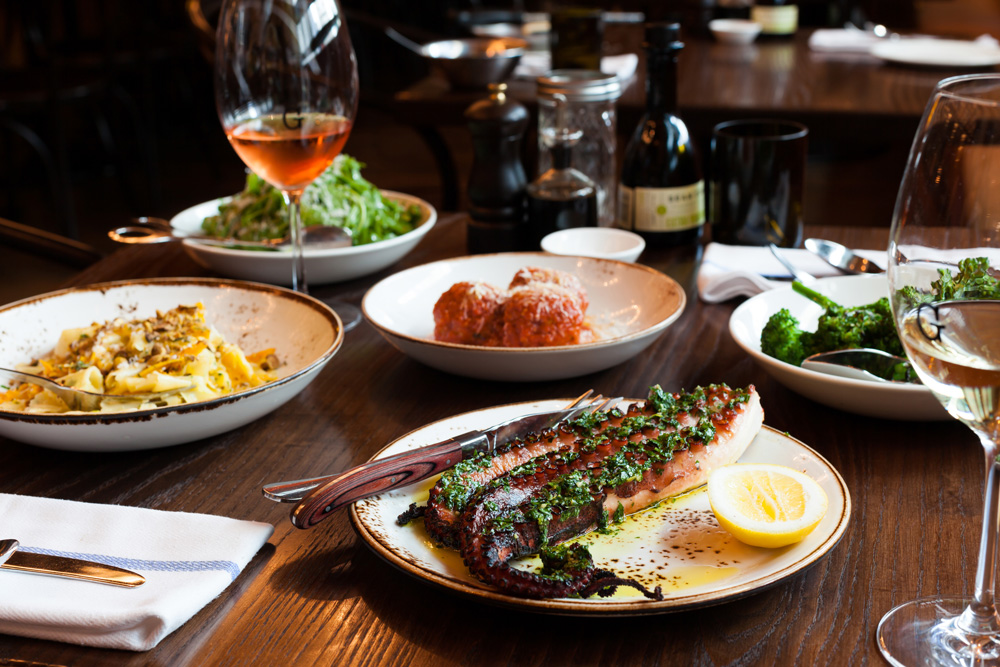 Gusto at the Grand
Octopus tentacles with rag pasta
None of your finickity little cuttlefish for Gusto: their octopus is served two or three tentacles at a time, big bold suckered things that snake across the plate under a pile of parsley and garlic drenched in olive oil. It's magnificent – but too rich for one so you have to share, which is just fine because this is a menu designed for that.
Add the rag pasta, so-called because it's torn into ragged pieces. It's served with thin pieces of pumpkin, pistachio and a very liberal application of shaved pecorino. So delicious, but again, so rich. Add something clean: not the green salad, which comes smothered in more pecorino, but a steamed veges dish like the deliciously crunchy broccolini.
Share a gelato to finish, or start your meal with ricotta drizzled with honey and pine nuts. Feast food.
90 Federal Street, Central City. Ph 363-7030, skycityauckland.co.nz
Ika Seafood Bar and Grill
Flounder
Strange but true in Auckland: there are not many good seafood restaurants. Ika is new, in the lovely old former funeral parlour building previously occupied by O'Sarracino. They encourage you to order for two, so you get fish to share. What's available changes depending on the markets, of course, but recently they were serving snapper, tarakihi, flounder and, for the more adventuresome, stingray. Choose your accompaniment: the chermoula is our pick but they also have sambal, Cajun and garlic with herbs.
A favourite meal for two: herrings and corncob, both grilled; followed by flounder served with bok choi and roasted potato pieces.
3 Mt Eden Road, Mt Eden. Ph 309-3740, ikaseafoodandgrill.co.nz
Ima
Slow-braised lamb with rice and salads
A family meal served in a restaurant? Ima's owner/chef Yael Shochat is constantly inspired by her own Israeli culinary traditions, with liberally added extras from elsewhere in the Middle East, and her menu is now conceived primarily for group eating. Which means you get a big table full of dishes: meats to share and salads and veges that come out in serving bowls too. It's joyful, not just in the way of eating, but in the quality of the food. And if you're there as a couple or on your own, they're happy to scale down the concept — it really does still work.
Our choice: brik (tuna and egg in a paper-thin warqa pastry parcel), followed by slow-braised Lebanese lamb shoulder, so gorgeously cooked you can pull it apart with a spoon. The accompaniments evolve, but right now they include Tunisian carrot and feta salad, a zesty mint salad, "slightly spicy" tomato and shallots, seasonal veges and a rice dish packed with lentils, nuts and caramelised onions.
57 Fort St, Central City. Ph 300-7252
Industry Zen
Robata grill
They put on a show at Industry Zen, gongs and cymbals and a good deal of ritualised shouting, and it's great. Puts you in the mood for a good night out, tells you, this might be a bit special but most of all, you will have fun.
It's one of those surfer-oriented yakitori joints where you work your way through the sushi and sashimi, pick out a sizzling hotplate or two, sample the saki, but to get the best out of it, we recommend the robata. That's skewered meat on the grill, where they choose the best cuts (salmon belly, scotch fillet, Alaskan king crab) and cook them with the greatest care.
104D Customs St West, Auckland CBD. Ph 307-0936, industryzen.co.nz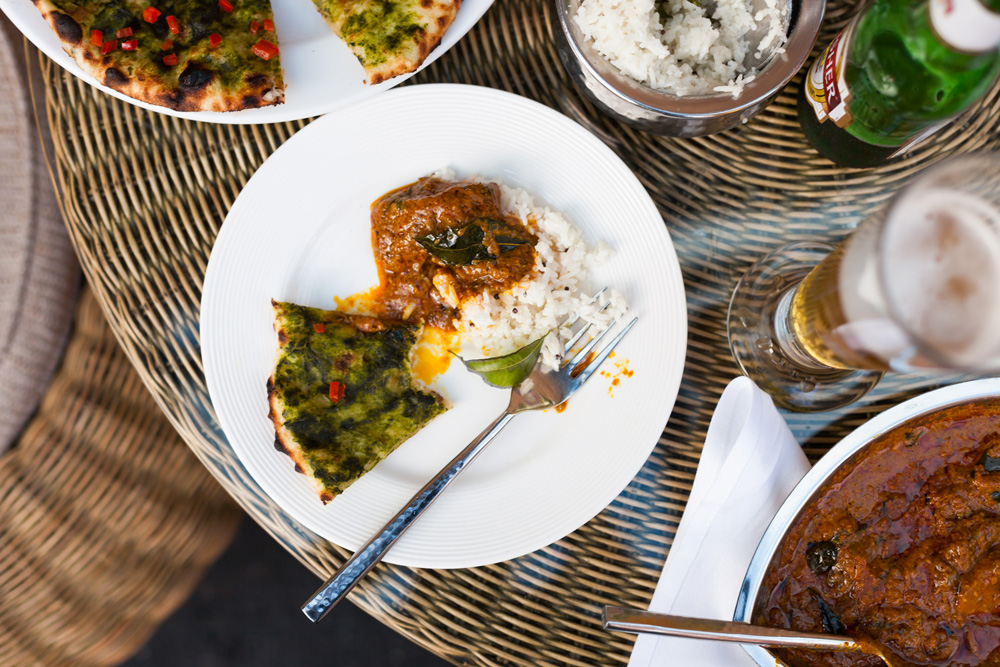 iVillage
iVillage
Goan fish curry
We've said it before and we expect we'll keep on saying it: iVillage is one of the great delights of Auckland's ethnic culinary lineup. The star attraction of the made-over-but-still-tragically-unloved Victoria Park Market, iVillage offers mainly north Indian food without the usual preponderance of butter and sugar, and in our experience pretty much every dish is a gem.
Dimple Girish and her son Smeet, who run the place, are very proud of their tandoori items, and rightly so; the vegetarian i-bullets and minced lamb "fingers" make great starters; the garlic roti is fluffy and buttery and so very delicious; the coconut rice makes a splendid accompaniment to everything. Our all-time favourite is the vinegar-marinated Goan fish curry. Sweet and sour, spicy, superb.
210-218 Victoria Street West, Central City. Ph 309-4009, ivillageatvictoria.co.nz
Ken Yakitori
Grilled curry on rice
For when you don't want to book, don't want to pay much at all, want your food fast and you still want it all to be damn good, there is Ken Yakitori, on K' Rd and Anzac Ave. Sit yourself up and order an ice-cold Asahi. There are salads and there are skewers, and there is a big plate of cabbage that comes out with a miso dip and mayonnaise, and you dip the cabbage in the miso-mayo while your skewers cook over charcoal in front of you, and it is in this way that you will find the cares of the city melt behind you. Especially if you order the beef heart, which is grilled very quickly and arrives steaming and succulent.
Then, there's the Japanese grilled curry on rice, which is a thing of strange beauty – curry, on rice, with cheese, then grilled. Go on.
89 Karangahape Rd, Central City. Ph 303-3366.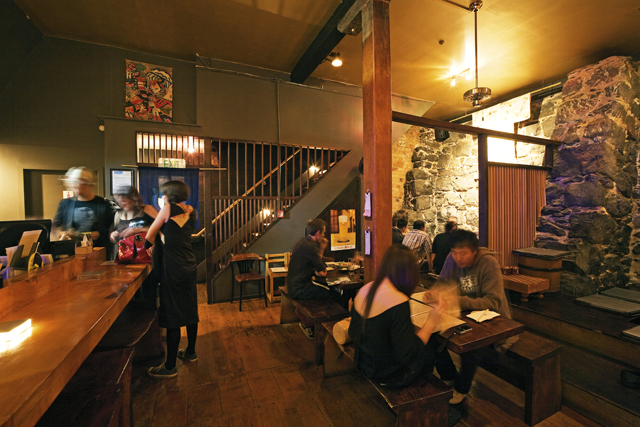 Pork belly
Just a couple of doors up from Q Theatre and the Town Hall, Kura is still one of the very best places in town for a pre-show meal, and you can book. And they'll treat you fast if you ask: we've been fed and out the door in 25 minutes.
It's great Japanese, the pork belly especially. No crispy skin here – think soft, rich, sticky, unctuous, and slow cooked for what must have been almost forever. It's fatty, sure. But it's pork belly. It's offset with some greens in the sauce, and the hot mustard on the side, both a reprieve. Get some extra spinach with sesame sauce on the side and round off your meal with the agedashi tofu with lotus crisps, and whatever sushi or sashimi takes your fancy. And, naturally, it's hard to go past a Japanese beer.
315B Queen Street, Central City. Ph 379-5656

Late Night Diner
Cheese & bacon burger with fries
Ah, the food you want late at night. If it's not a burger you're after, LND is still great: delicious soups, hot tasty pies, a buttery bone marrow with slow-cooked brisket, sliced and cooked perfectly.
But the burger is the thing. The signature version comes slightly deconstructed: you add your pickle and your cheese to your basic beef base, and choose lid or no lid. They use a hand-ground pattie, cooked medium rare, as it should be. There's beer and wine, and excellent cocktails made by barstaff who put on an excellent show, but it's hard to go past a hard shake. We're inordinately fond of the bourbon and vanilla.
152b Ponsonby Rd, Ponsonby. Ph 361-2320, latenightdiner.co.nz
Mamak Malaysian
Roti chicken curry
Mamak Malaysian is a tiny little shopfront in the Chancery – white walls with cheerful phrases in green, white tiles, dark wooden furniture. It's always full: you can't book, it's not particularly expensive and it has a liquor licence; it also has a bit of outdoor seating outside in Chancery. Service is brisk and friendly; the food comes fast.
There's a joke on the menu: they make more than char kuey teow, though it must be noted that theirs is very good indeed. But ask them what their specialty is and the answer is unequivocal: roti curry chicken. They're right: the chicken falls off the bone, the curry is thick without being stodgy, beautifully spiced with just enough tang. The roti canai is flaky, crispy and yet it still has enough to it that it mops up the curry perfectly. When you eat it, you feel replete, as if everything is right in the world.
The Chancery, 50 Kitchener St. Ph 948-6479.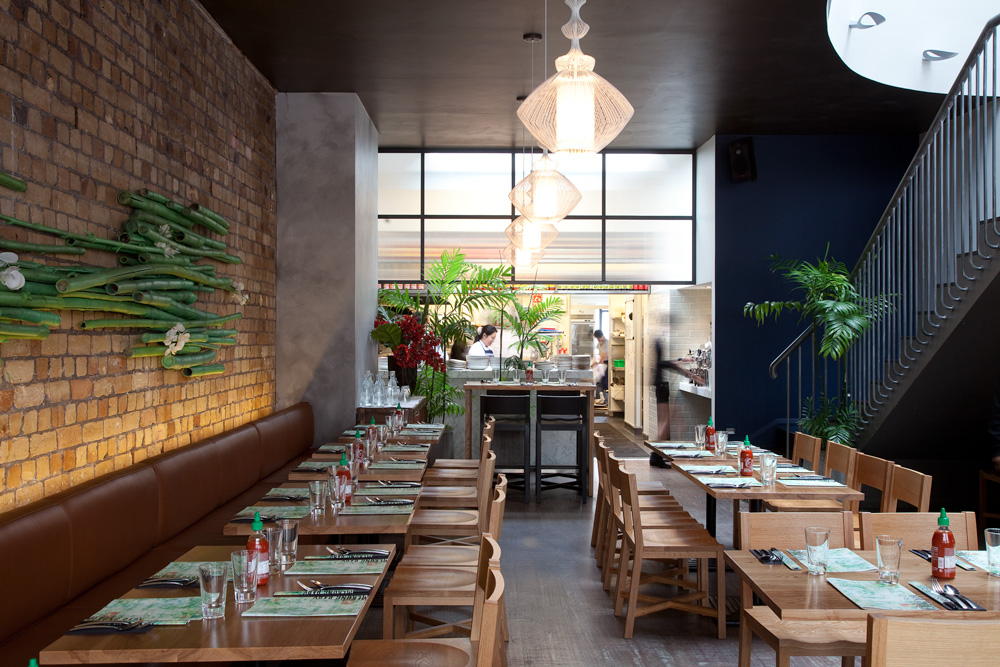 Pork belly with extras
Easy Asian, is that a thing? We don't mean it critically. Mekong Baby offers food from all over Asia, with a little less heat than you might find elsewhere, but the flavours are strong, fresh and satisfying. Caramelised pork belly comes in large, sticky chunks atop an apple-laden slaw. Roasted duck curry is akin to a massaman, in that it's mellow and rich, with peanuts throughout.
There's a great selection of beers: we specially recommend Mike's organic beers from Taranaki. The room is beautiful, the crockery a delight. Perched with friends at the high table by the bar, you'll be perfectly placed to enjoy a quick and tasty shared Ponsonby feast.
262 Ponsonby Road, Ponsonby. Ph 360-1113
Mexico
Tacos!
There's a sweetcorn dish at Mexico that has us marvelling at how something so simple can be so good. The chipotle butter helps, and the soft tortillas on the side do too. Mexico was one of the first restaurants to do small, fast and fun, and it rightly became famous not just for its food but for the casually impressive bright red theme and Frieda Kahlo fitouts.
It can be a bit hard to share a taco, so order a few and get some quesadillas too. The cinnamon braised lamb with zucchini and mint is a special surprise. The fried chicken is pretty legendary, and rounding it all off with a plum margarita or two, you can't really go wrong.
23 Britomart Place, CBD (and elsewhere). Ph 366-1759
Moochowchow
Pork hock
Auckland's best Thai restaurant (and no, chef Che Barrington is not Thai) is great for couples and groups, of course, but the taste sensations of its dishes are so good, we reckon it's also just the place for a feast for one – where you get to savour it all. Start with a couple of scallops, served with chilli jam, lemongrass and namh jim – that will get your tastebuds in precisely the right place. The salads are fantastic – light, fragrantly spicy, just bursting with flavour – but the house specialty here is pork hock.
You can order a small portion and build a meal with other dishes; or go for the larger size and, ahem, pig out. There's no bad option.
23 Ponsonby Road, Ponsonby. Ph 360-6262, moochowchow.co.nz
Navas Café
Murtabak
If it's a quiet time at Navas, chef Kris will come out and tell you about himself, his Swiss training in the finest European hotels, his deep commitment to Malaysian cuisine, his love for what he does. Not that he needs to: it's all self-evident in the food. We're partial to the beef rendang, despite the warning on the menu: "if you can handle spicy, try this dish". It's drier and, yes, spicier than others around town, and very moreish because of it.
But the dish we like best is murtabak – doughy parcels filled with spiced lamb mince and egg, and served with pickles and a house curry. Add poppadoms, chutneys, yoghurt, roti, a dahl curry made with five different types of lentil, and potato cubes fried with chilli paste, onion, coconut cream and peanuts, and you've got yourself quite a feast. Navas is BYO, so take some beer.
14 Ponsonby Road, Ponsonby. Ph 378-04478.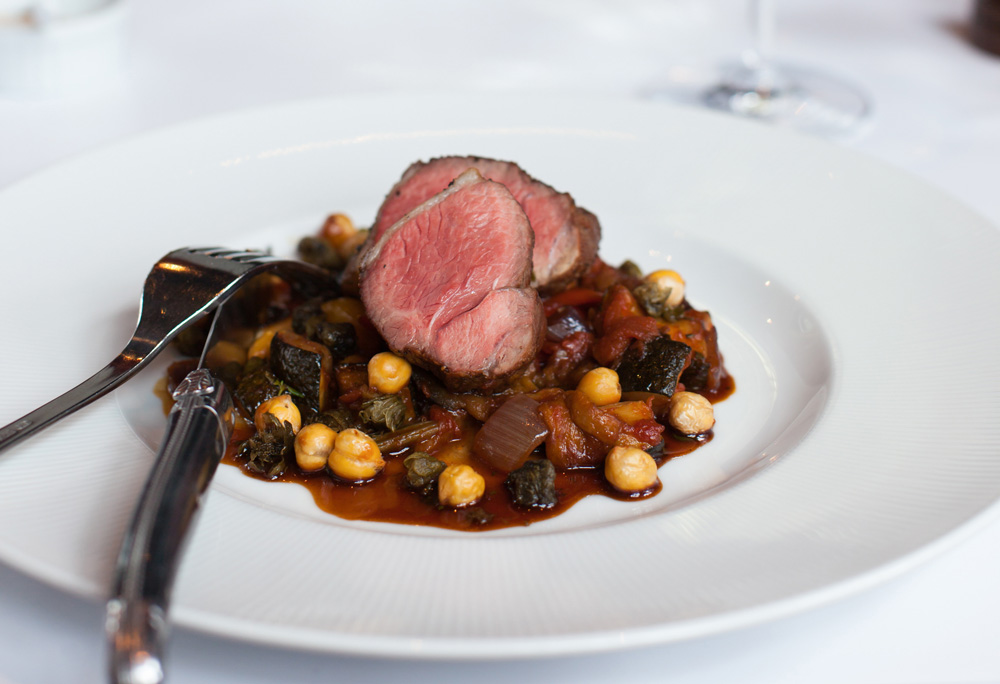 O'Connell St Bistro
Express menu
Among O'Connell St's long and formidable list of achievements is this: year in, year out, they offer an "express menu" specifically designed for pre-show and post-show customers. You can eat really well, and then be out of there. Why hasn't this caught on all over town?
And what an express menu it is: two courses for $39.50 will get you cauliflower and blue cheese soufflé, or hapuku gravlax with a piece of tempura crayfish; followed by fish with scampi and risotto, or lamb with chickpeas. Add a glass of something from one of the best wine lists in the city and you'll be perfectly set for the show. Swap out the entrée for a chocolate dessert or cheese arrangement if you like, or have all three courses, at a set price of just $45.
3 O'Connell St, Central City. Ph 377-1884, oconnellstbistro.com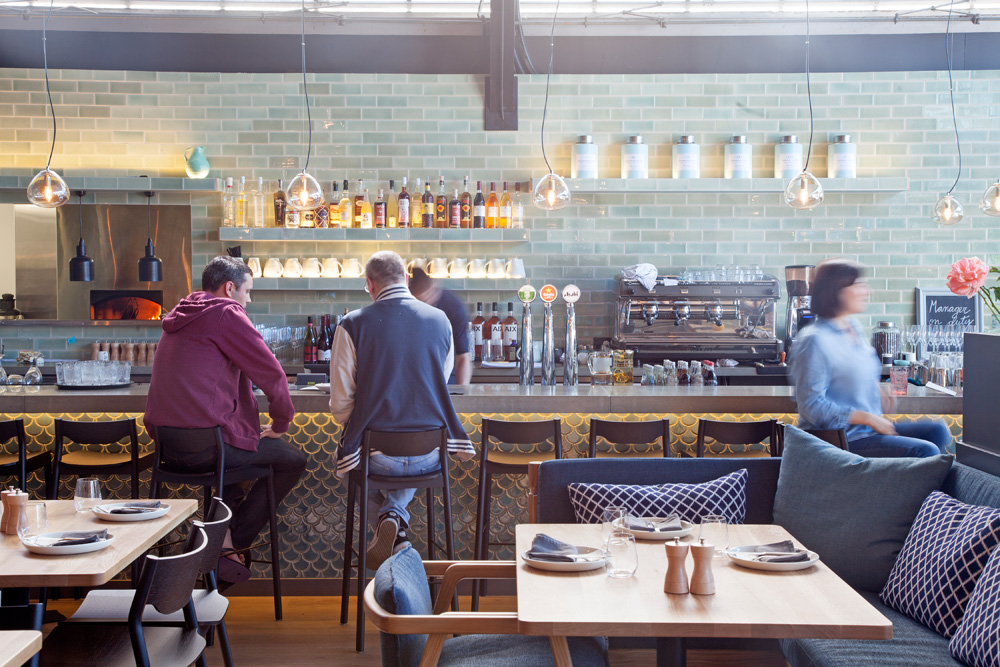 Odettes
Baked pink salmon
No one in Auckland mixes elegant and casual better than Odettes: it's such a seductively charming place to unwind after work for an hour, before wandering up Wellesley St and down to the Civic or Aotea Square for that show. And you can park easily there too. It's a small plates menu with much to recommend – soft-shell crab sliders, for example, which are simultaneously ridiculous, with their extremities poking out every which way, and sublimely good to eat.
But for the very best of the place, try the baked pink salmon for two (cooked on a wood fire and served with cous cous) and add a baby carrot salad on the side. Don't blame us, though, if you decide it's all so good you're going to stay in the restaurant and miss your show.
Shed 5, City Works Depot, 90 Wellesley St, Central City. Ph 309-0304, odettes.co.nz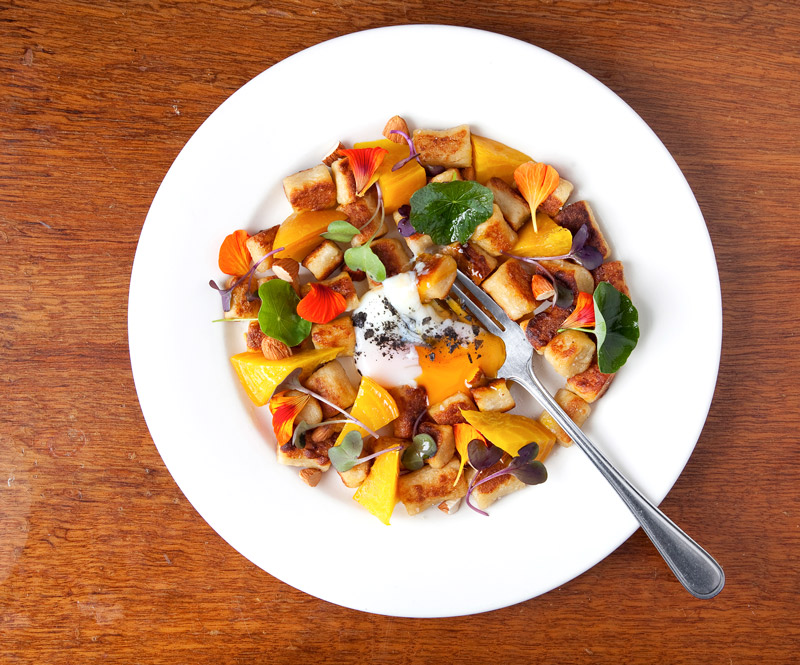 Orphans Kitchen
Rye gnocchi
Orphans Kitchen is owned by two young fellows, Josh Helm and Tom Hishon, and is an exercise in restraint and making do – the tall tables are macrocarpa, there are jars for light fittings and when they did the fitout it was largely a matter of painting the walls the palest of pastels and installing a few stools.
From the kitchen, though, comes some very inventive cooking: there are only ever a handful of things on the menu, but the one that hasn't left it since the place opened 18 months ago is the rye gnocchi. It's a triumph: nutty and savoury, the gnocchi puffy and light and then quickly fried, the entire thing sauced by an egg, with bass notes provided by beetroot, walnut and sage. Balanced, textured, and utterly addictive.
118 Ponsonby Road, Ponsonby. Ph 378-7979, orphanskitchen.co.nz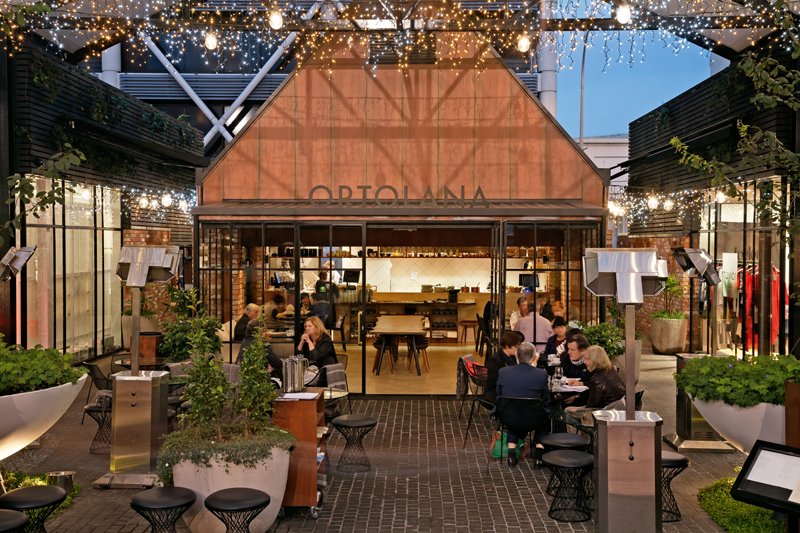 Ortolana
Skirt steak with greens
When Ortolana opened it somehow defined a moment in Auckland eating, and it still seems impossible that a place of such grace and ease exists so close to our lumped-together waterfront: that plywood, those glass pendants, the sparkling water, the light as it plays around the room.
The menu is fabulous – there is protein but it's always in context with mountains of fresh produce from the Hip Group's farm at Kumeu. Even if you order the steak – skirt steak, seared for a minute – it will come out looking like a salad, surrounded by fresh produce, with a dressing, herbs, maybe some microgreens….
The Pavillions, 31 Tyler St, Britomart. Ph 368-9487, britomart.org/ortolana
Wild goat mussaman curry
For too long, Auckland had no decent Thai food – and then along came Pok Pok, a cute little shopfront on K' Rd with a bright paint job and a short, decisive menu that's completely dedicated to punchy, strong flavours that run the gamut of sweet, sour, spicy and salty.
We specially love the mussaman curry with wild goat, with its delicately spiced sauce and falling-apart meat. There is the barest touch of coconut milk and while it's delicately sweet, it's far from the saccharine iterations of so many other Thai curries. Add the Isaan laab, sour and tangy, chuck in the wonderfully sour green papaya salad, and you have a meal made in heaven. There's a short wine list, but did we mention it's BYO?
261 K' Road, Central City. Ph 963-9987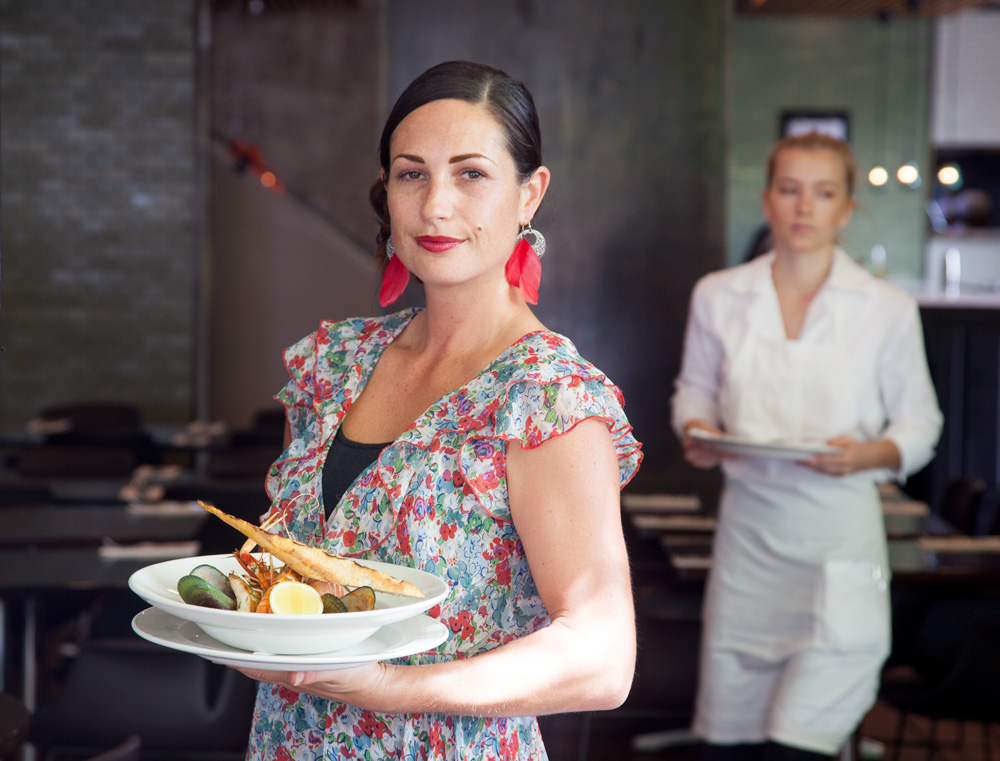 Prego
Zuppa di pesce
Still there, still serving families, couples on dates, business lunches that might or might not drift on, groups of friends, early or late. Prego's lovely, isn't it? Really good Italian food, a proper bistro, that gorgeous enclosed courtyard out the front, just excellent service.
The pizzas are legendary, especially those that feature a very liberal application of buffalo mozzarella. Try the Funghi, simply three kinds of mushrooms and gorgonzola, or the Alla Salsiccia, which has plenty of chilli alongside pepperoni, kalamata olives and tomato. It's easy to round off with a side salad, and it's hard to go past rocket. The waitstaff will be there in a second to sort you out a glass of crisp white, too.
But for all the pleasures of the pizzas, we think the very best of Prego lies in some of the fish and meat mains. The star? Zuppa di Pesce: seafood soup, flavoured with dill, tomato and a delicious dash of Pernod. Some crusty bread, and you're set.
226 Ponsonby Road, Ponsonby. Ph 376-3095, prego.co.nz
Satya
Vegetable curries
There's no avoiding it: eating too much meat is killing the planet – and maybe you, eventually. If you've been meaning to up your vegetarian intake, there's nowhere better to do it than Satya, where the meat-free dishes are just as savoury and delicious as the rest. They even serve a special vegan menu on Sundays, Tuesdays and Thursdays. The best news? For $50 a head you'll feast like a king, especially if you choose to BYO.
Start with either a crisp, moreishly salty dosa pancake served with sambal and dips, or the legendary dahl puri, bite-sized morsels of chickpea, potato, yoghurt and tamarind chutney on a chickpea cracker. Then the curries – at this price, you can afford a selection: dal makhni, a creamy black lentil stew; eggplant stewed with coconut, potato and ginger; a buttery and thick spinach paneer that doesn't skimp on the chunks of paneer. They serve excellent meat dishes here too, but if you don't eat them you won't miss them. We promise.
17 Great North Rd, Newton (also at 271 K' Rd). Ph 377-0007
Reserve table at Karangahape Road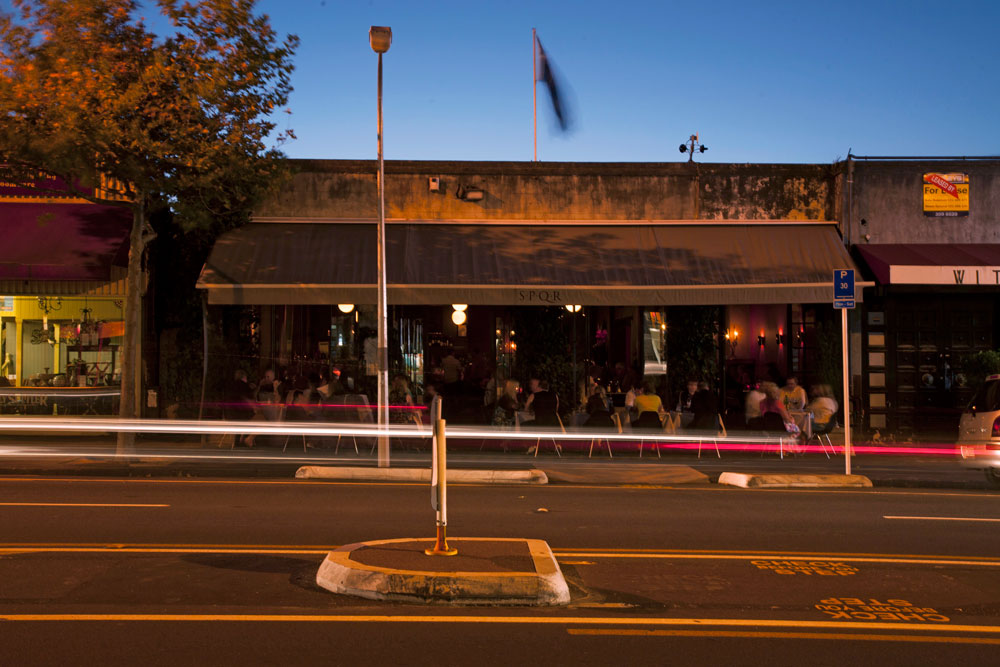 Margherita pizza
The Ponsonby Rd institution is as strong as ever, complete with white tablecloths and ladies lunching on the street. And there's a reason for that in this fickle town: the food, the drinks and the service are all very good. They put out a gorgeous cookbook last year, celebrating 20 years, and good on them.
The menu is simple – caesar, squid, great linguine, great scotch fillet. But for a quick and easy meal, especially if you turn up later in the evening, share the pizza: try the prawn, with chilli, proscuitto, mushrooms, rocket and cherry tomatoes. Or the eggplant and zucchini, or trust in the classics with a margherita, made with buffalo mozzarella and, if you're game, a splash of truffle oil as well. Salad on the side, and a glass of whatever the waiter recommends.
150 Ponsonby Road, Ponsonby. Ph 360-1710
Sri Pinang
Pinang fish curry
Angie Siew has been serving up her glorious food on K' Rd for decades. It's a bit flasher these days – there's carpet now, and better lighting – but the food still comes out on worn plates, and it's BYO: the booze shop across the road, amazingly, has some half-decent plonk alongside the Woodies.
The menu runs the gamut of classic Nyonya food – the cuisine that Chinese emigrants took with them across Southeast Asia to Penang – including a masterful pinang fish curry – either whole fish, or in fillets, beautifully sour from the tamarind, a curry you have to stop us from drinking like soup. Add a plate of sambal eggplant – the eggplant all sticky and gooey and slightly smokey. Keep it all from touching your lips (that's the secret to eating spicy food) and happiness will ensue.
356 K'Rd, central city. Ph 358-3886.
Fillet steak donburi
Yakitori skewers, check. Deep-fried, bread-crumbed kushiage meat and veges, check. Tofu salad, check. That big wedge of cabbage with Japanese mayo, yep, they do that too. But of all the casual delights of this cosy, charming, always entertaining underground bar/restaurant, what we like the most is donburi. Actually, if we're being honest, the idea of a bowl of rice with flavoursome toppings always appeals to us. Filling, tasty, easy to eat and eminently washable down with an Asahi (on tap) or two, and maybe a little sake too.
The fillet steak is our pick. Add edamame beans and a few pickings from the yakitori and kushiage ranges, and you're set. The Cave feels like it's been there forever, but it's no less a delight for that, and it's so perfectly sited, so close to the festival action.
319 Queen Street, CBD. Ph 379-5151
The Black Hoof
Slow-cooked lamb with labneh
If you're nostalgic for that holiday you once had in Spain then The Black Hoof's your medicine. Serving properly sliced jamon with cold glasses of sherry, this Wyndham Street restaurant will take your tastebuds back to Andalucia, and you won't even have to wait till midnight for dinner.
That ham will blow your budget so go for one of the pinxtos – the Basque take on tapas in which tasty ingredients are stacked on a little slice of toast (the toppings change seasonally but the current aubergine, goat's cheese and artichoke is a typically moreish combination).
For your main, try the incredible slow-cooked lamb shoulder with labneh, cumin spiced almonds and chickpeas (Moorish again, but this time with a capital M). And if sherry isn't your thing, there are plenty more accessible Spanish wines by the glass.
12 Wyndham St (Level 1), CBD. Ph 366-1271, theblackhoof.co.nz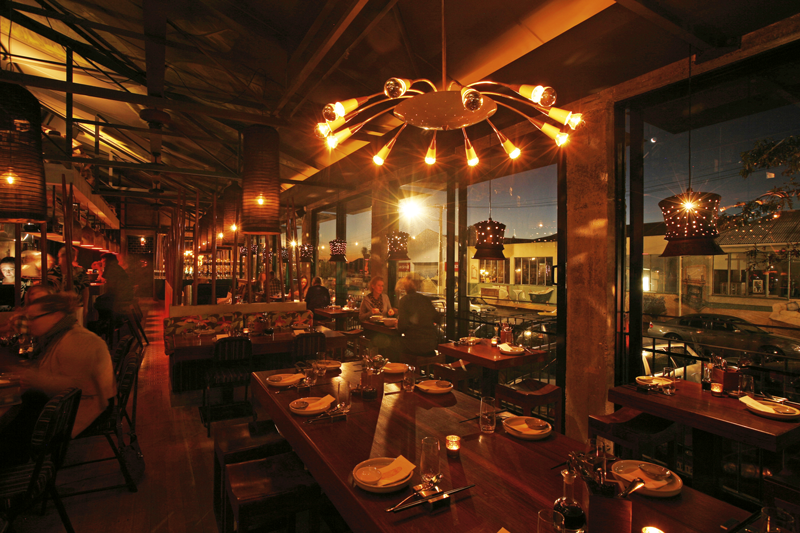 Pork buns and duck
With a wonderful Chinese menu and the feel of a Hawaiian tiki bar, Blue Breeze is a lot of fun. But it's the food, even more than the waitstaff's stylish Hawaiian shirts, that keeps us coming back.
Try the dumplings – the tiger prawn and sesame are a favourite. Definitely a steamed bun, too: they're folded like a fat, soft-dough taco, holding a crispy, bubbled chunk of pork belly with a sweet spiced sauce. Then share half a duck, perhaps, crisp and sweetened with hoisin. The eggplant, stir-fried in szechuan sauce, is sticky and sweet, with plenty of garlic. Add some stir fried bok choy – but beware, there's more garlic there too.
146 Ponsonby Road, Ponsonby. Ph 360-0303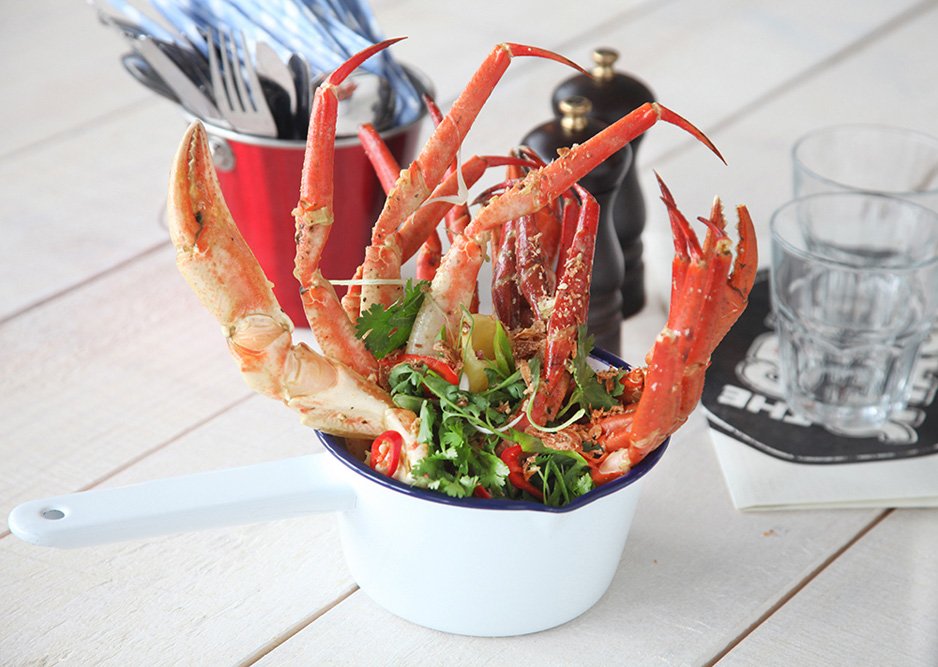 The Crab Shack
Nelson paddle crab
The signature dish at Simon Gault's new waterfront eatery is Nelson paddle crab, sautéed in chilli-garlic butter until it bursts into flame, served in an enamel pot with crackers and picks for winnowing out the sweet morsels of meat. The tools come in useful, sure, but the only way to properly attack a pile of crab legs is with fingers and teeth, a pile of paper napkins beside you to take care of the mess. Forget your manners: this is elbows-on-the-table, butter-on-your-chin food, for sharing with someone you know very well or don't care if you never see again.
To mop up all those juices, you'll need fries, of course, and some tear-apart rewena bread topped with a salty dusting of pork crackling powder. What else? House-made corn chips with kumara and creamed corn and crab dips, perhaps, and — because you can never have too much crab — a serving of tempura soft-shell crab with a punchy wasabi mayonnaise. Finger lickin'.
Princes Wharf, viaduct. Ph 972-1599, crabshack.co.nz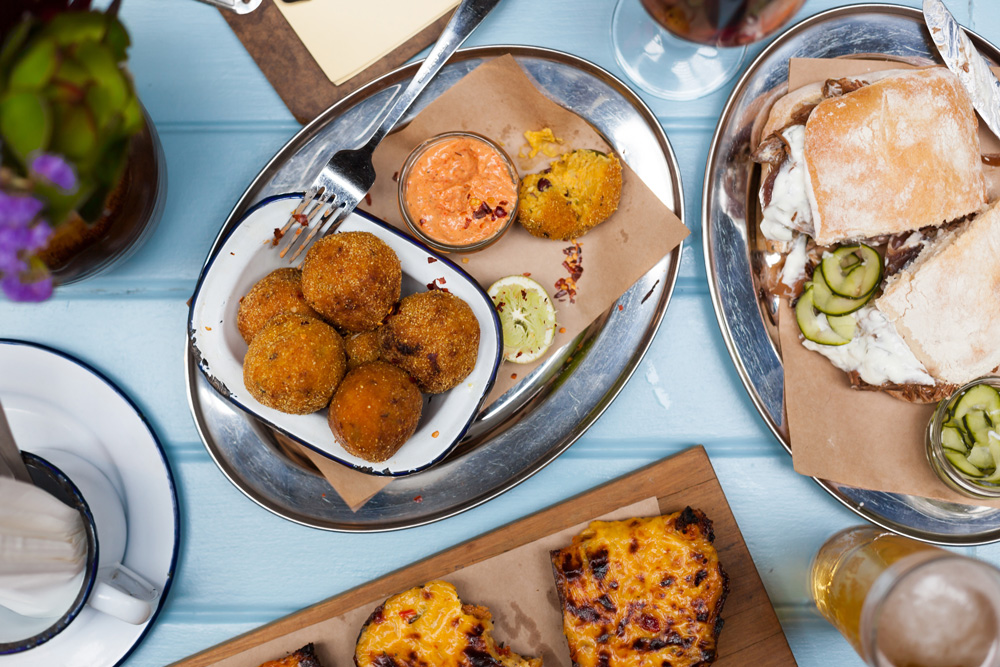 The Golden Dawn
Slow-braised lamb roll
They call the food "Victuals" and that's just one of the many good things about The Golden Dawn – best of all, perhaps, being the fact it's still there. The Dawn started four years ago as a popup while owner Steven Marr worked out what to do with the building, and it's still going: dark red walls and knocked-together wooden furniture inside; one of the city's best courtyards outside.
There is bread – a dense, thick rye which goes very well with beer and sometimes comes with a beautiful herb butter – and there is always a big cassoulet-type thing. But the winner, frankly, is the roll: a puffy white bap filled with something slow cooked and unctuous: at the moment it's sticky, slow-cooked lamb with glazed onions, pickled cucumber and mint yoghurt. Great if you're pissed: even better if you're not.
134 Ponsonby Road, Ponsonby. Ph 376-9929, goldendawn.co.nz
The Occidental Belgian Beer Café
Steamed mussels
With Auckland's constantly evolving restaurant and bar scene, it can be easy to forget about the oldies still doing the business. The Occidental definitely counts as one of them.
So, you're sitting in Vulcan Lane (still, incredibly, one of the only genuine pedestrian-only streets in the city), reacquainting yourself with the delights of witbier and tripel and pils, organising yourself to deal with a pot of steamed mussels, served with frites and mayo and a mussel sauce of your choice. The only problem: which sauce to choose? Creamy white wine and garlic? Lime and Cajun? Bugger it, lobster and brandy bisque! Just lovely.
6–8 Vulcan Lane, CBD. Ph 300-6226, occidentalbar.co.nz
The White Rabbit
Duck burger
Chef Sean Marshall has cooked high-concept (Roxy) and informally friendly (St Heliers Café) in this town, and always with impressive panache. Now, he's collaborated with chef Ian Harrison (who was at Clooney and also worked for Heston Blumenthal and Marco Pierre White) to produce the menu at the new White Rabbit.
Downstairs the bistro-by-day becomes more of a bar/bistro by evening, and that's also when the lovely high-ceilinged, sash-windowed dining room upstairs opens for business. They do a duck burger here: coarsely hand-minced duck meat, combined with a generous dollop of celeriac and apple salad, and served with a scoop of thick-cut chips. A good burger is always good, but the intense duck flavour and unusual salad ingredients make this one not only good, but wholly original. A hearty delight.
69 Customs Street East, CBD. Ph 376- 8016, thewhiterabbit.co.nz
Tokyo Club
Small plates dinner
Tokyo Club has some boisterious, attention grabbing neighbours in Ponsonby Central (several of them are listed elsewhere here), but it's definitely their equal when it comes to the food. A cute little Izakaya dining bar, perfect for couples happy to perch over the kitchen, it offers a delightful masterclass in this kind of food. The chicken karage is good, the char eggplant miso-yaki even better – it would appear, after eating this dish, that eggplant was made for miso and a Japanese flame-finish.
Beef tataki is perfectly rare and finished with plenty of fresh ginger and garlic. You can choose a big main dish if you like, but we suggest you stick to the small plates and pile them up: more flavours, more fun, more adventure all round. Japanese beer, naturally, is just the right accompaniment.
4 Brown Street, Ponsonby. Ph 376-8016, tokyoclub.co.nz
Tyler St Garage
Panko fish and chips
Tyler St, praise them, opened Auckland's first new rooftop bar in yonks with a view over the water (why isn't our roofscape alive with such places?). At TSG it's not an idle water view, of course: the outlook here is to the container port – and that can be pretty cool. It's a pub, and a great place for functions or just for a drink, but the food is also well worth lingering for.
We're keen on the fish and chips: panko crumbed and served with a burnt chilli mayo. Pick away at a mixed platter beforehand, if you're in a group, and save a little room for cherry apple pie at the end. Or spicy apple donuts. Or possibly both.
116—118 Quay Street, CBD. Ph 300-5279, tylerstreetgarage.co.nz
This story first appeared in the March 2015 issue of Metro.