Aug 22, 2019 Food
Henry Oliver spent the weekend in Wellington. Here's what he ate.
Last weekend I ate a lot of food.
I was in Wellington during Wellington on a Plate – the capital's best food festival – for the first time since it started 11 years ago. I ate burgers and pasta and bread. Gumbo and oysters and paua. I drank coffee and cocktails and sessionable sour beers. I ate all I could eat. I did all I could do. All so I can sit here today and tell you about it. This is my Wellington food dairy.
Friday Lunch: Salad and Pasta
At the Highwater Eatery down the bottom of Cuba St – just down from Wellington's most iconic (in the 90s, anyway) Burger King, near where the skate shop used to be – they do one of those lunch menus where you choose one of three proteins and pair it with two of the three salads on offer. We got the charcoal-grilled fish with grains, herbs and feta; and roast fennel, potato, and olives. Oh, and a duck ragu pappardelle with a generous hit of pecorino. Delicious! And a glass each of the Libiamo Amphora Chenin Blanc – a new favourite (to be discussed in more detail in our next issue BTW).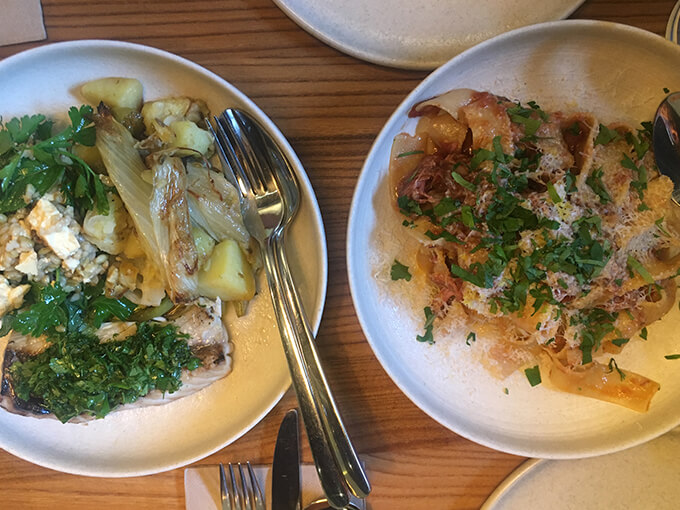 Friday Dinner: More salad, more pasta, more everything
On Friday night, I was lucky enough to attend the Osteria Mozza Takeover at Shepherd, or, as everyone I mentioned it to called it, Nancy Silverton. On the way into Shepherd where we were met with a glass of prosecco and a grissini (a little dry breadstick) slathered in truffle butter and wrapped in prosciutto, I saw a friend from Auckland exiting the earlier seating. He looked happy but uncomfortable. He told me he ate so much his stomach hurt and he needed to lie down. It was just past 8pm.
When we were seated, Nancy came out and spoke, like a cross between a priest, your-friend's-mum-who's-more-fun-than-your-friend and Edna Mode from The Incredibles. "I've got wine – do you?" she said as she raised her glass of red.
She told us this meal was about family and if we weren't here with family, we'd be family with our table by the time we left. We started with buffalo mozzarella, pesto, salsa romesco tapenade and caper relish. We ate a fennel and endive salad, doused in an anchovy dressing. And sourdough, thickly cut, rubbed with garlic drowned in olive oil then aggressively toasted till almost black. She'd warned us that this meal would contain a lot of garlic and a lot of flavour.
The pastas (both brought over from Italy) were a creamy cappelletti with fried-crisp prosciutto and shell beans, and a torchio with tomato peppers and more cured pork. All served family-style. You can imagine the excess.
We ate Kingfish skewers with zucchini; grilled lamb loin chops with mint yogurt; roasted eggplant with labneh; and, a highlight of the evening, a roasted till black savoy cabbage that tasted like it had been soaked in the most delicious vinegar a cabbage has ever been soaked in. For dessert: butterscotch and pine nut cookies; and with honey and honeycomb.
Throughout, Nancy would appear, say a few increasingly lovely things and then retreat back to the kitchen. At the end, she came out and went around every table, talking to every guest who wanted to talk to her. She was a star and many were there to see her as much as they were there to eat dinner. It would have been worth it.
Saturday breakfast: Yogurt (less than half a cup)
It was all I could face.
Saturday lunch: Southern soul food and kia from the gods
Another blessing: Salare/JuneBaby/Lucinda Grain Bar chef Edouardo Jordan at the Boulcott St Bistro with its chef Rex Morgan. Snacks and drinks from Jordan's bar followed by five courses, three from Chef Jordan, one from Chef Rex (that's what they called each other too) and one with a component from each. Chef Jordan cooked his Southern soul food ("food with roots" he called it) and Chef Rex cooked his Kai Tuku Iho ("food handed down from the Gods" he called it).
We ate a delicate yet spicy kingfish crudo with coconut milk curry (Jordan); and pulled pork shoulder with kawakawa broth (mixed with rain apparently – it was a cold wet day), smoked kumara and rewena bread (Rex). The highlight was a green gumbo, a mix of Chef Jordan's tried and true recipe inspired both by generations of ancestors and the fishing trip he took with Chef Rex in Pelorus Sound. It was deep, spicy and intriguing with so many layers, both comforting and challenging, I wanted to go back to it over and over again. Usually served with rice, Chef Rex provided a side of potato salad instead.
Next: Roast chicken – cooked just passed pink, so soft and juicy I wouldn't have trusted it if I'd cooked it – with Dirty Rice Risotto – Arborio rice, heavily peppered with prominent punches of livery goodness (Jordan). Amazing. And to finish: pavlova (Jordan). Chef Jordan didn't see what the big deal was – he'd learned it in French cooking class. They just called it meringue.
Saturday cocktail: Popcorn and pop rocks
A small group of us found a small table at a small bar called Crumpet that used to be the candy bar (and remains a thoroughfare) of the Wellington Opera House. I'm told this place is one of those cocktail bars where they don't have a menu, they just go off vibes. We got the festival cocktail – gin with a housemade grapefruit soda, horopito foam, popping candy and a kawakawa spray, accompanied by honeycomb and manuka popcorn. I gotta say, the drink was a mess. Once the candy popped and the foam dissolved into the liquid it turned into a sickly sweet punch with no flavour distinguishable from the other. The popcorn was great, though. As was the bar.
Saturday dinner: Fine dining excess
It seems crazy after a lunch like that, but just after eight, I turned up to dinner at Hippopotamus, the fine dining restaurant in the eccentric QT hotel.
We started with the festival cocktail and accompanying dish: Horopito-infused Pinot Noir, Pinot Noir-infused Gin, blackcurrant soda, tonic water, with a bouquet of fresh herbs accompanied by horopito and kelp-wrapped wild venison with figs, bacon, mushrooms and a pink peppercorn and raspberry meringue, all with a juniper jus. Truly wild. The best cocktail I've had in recent memory and while the venison felt a little much for the start of what was going to be a super-rich meal, it went perfectly with the perfect cocktail.
We also ate the festival dish: crayfish and blue cod with wild harvest wakame, sea chicory and Lot Eight Sweet Aromatic Olive Oil. It was rich and luxurious and deeply satisfying. But I was starting to approach my limits. Still more courses came, each inventive and full of flavour, but now all melding into a fine dining fever dream. When I came to, we were being asked what we wanted for dessert. I wanted chocolate. I thought something dark and bitter would round this whole wild day off. The 'Le Chocolat' was five textures of white, milk and dark chocolate. Except for the brownie, which was just too much for me under the circumstances, I ate it all up deliriously. My companion ordered the 'L'Extraordonaire', a deer milk custard with honeycomb, honey jelly, kawakawa sugar and quine gel. I tasted it and despite the volume of food I'd eaten in the past 32 hours, I wanted it. I wanted that deer milk custard for breakfast the next day. I still want that deer milk custard.
Sunday breakfast: Yogurt and croissant
I instantly regretted the croissant. There was no room for it.
Sunday lunch: Burger time!
My first Wellington on a Plate burger made me ask that age-old question: What is a burger? If a burger is some kind of patty inside a split bun, then most Wellington on a Plate burgers are not, in fact, burgers. They are sandwiches – fillings between slices of various breads. But I may be in an ever-receding minority here. See, in linguistics, there are prescriptivists and descriptivists. Prescriptivists believe that definitions are stable and words should be used in accordance with their meaning. Descriptivists believe words mean what they're used to mean, not just what they should mean. The Wellington on a Plate burger at Pickle & Pie are a prescriptivist nightmare – smoked and sliced top sirloin with "tiger sauce" and pickles served with bbq crinkle-cut fries and pouring gravy. So a roast beef sandwich. A, I should say, delicious roast beef sandwich! No shame in that.
Sunday dinner: The main event
I won't say too much, as I'm writing about it for the forthcoming issue of our magazine (like and subscribe!), but for dinner, I went to the Hiakai Hangi to eat the food of Monique Fiso, Nyesha Arrington, Ash Heeger and Analiese Gregory. We ate paua skewers, grilled oysters, goat, potatoes with seaweed, smokey vegetables, and so much more. All I'll say is, I'd felt full all weekend, but after this dinner, I felt nourished.
The writer was a guest of Wellington on a Plate.