Apr 26, 2019 Food
Every week, Metro showcases an unsung hero in Auckland's ever-evolving food landscape: a dish, a morsel, a bite, a drink, a sweet or savoury treat which we think deserves to be celebrated. We tell you why we love it, and why you might too.
This week: Nasi lemak bungkus at Sim's Kitchen
I live on the North Shore – and pretty north on the North Shore, too – and we drive all the way to Hillsborough to eat at this hole in the wall. The paint is peeling, the "water jug" ferried from the kitchen is a re-purposed coffee plunger, and absolutely none of that detracts from what really matters: the food. Excuse the bad photo. I'm going to categorise this one as ugly delicious; it may not be incredibly Instagram-friendly, but it is delicious.
My hero of the week is this $6.50 nasi lemak bungkus, which is coconut rice, life-affirming hot-as-hell sambal, crispy anchovies, fried peanuts and topped with a hard-boiled egg, all wrapped in banana leaf. The banana leaf makes a notable fragrant difference, and so does having all the elements smushed together as Sim's Kitchen does it; the flavours taste fused and work together brilliantly in one mouthful. Crunch from the anchovies is essential. Order a couple of fried chicken on the side and you've got yourself a whole meal.
As a bonus: not a new thing to most Auckland food lovers, their char kway teow is one of the best, if not the best, in the city. If you're going with a group of people, try to talk your way into the last plate out of the kitchen, when the wok has really got going: that plate will likely be the smokiest, with the most 'wok hei'. I get it spicy, because, God does it enhance the flavour, but mild will do you just fine.
For our main image we used a professionally shot photo from Getty images. Here is the Metro-shot actual version of what you'll get at Sim's (AKA: you vs the girl he told you not to worry about):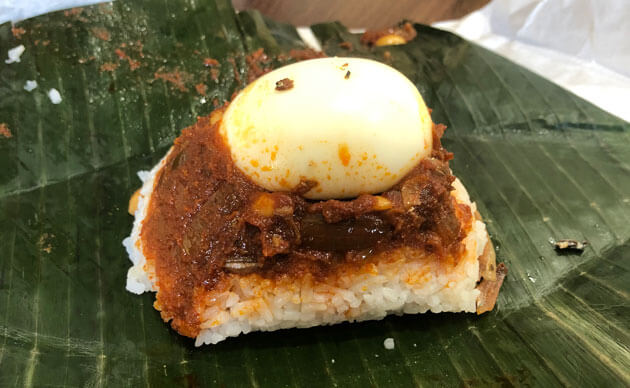 421 Hillsborough Rd, Mount Roskill
Follow Metro on Twitter, Facebook, Instagram and sign up to our weekly email