Jul 26, 2019 Food
METRO X HUNTLEY & PALMERS: Forget fiddling about for hours cooking an intricate meal, and undo your thinking that a platter is just the precursor or a palate cleanser – it can be a whole meal. And for the perfect accompaniment to any platter, the new Huntley & Palmers Lavosh Crisps are it – lovingly crafted in New Zealand using all-natural ingredients – the Lavosh Crisps range hold their own at any dinner party.
Imagine hosting a dinner party and not needing to spend hours at the end of the night doing the dishes. Enter: the humble cracker.
A staple in many Middle Eastern countries, Lavosh are traditionally soft, thin and clay-oven-baked. Here in New Zealand, Huntley & Palmers have reimagined them, making a crisper, bite-sized version – the perfect vessel for transferring tasty morsels directly from platter to mouth.
Today the cheese and cracker platter can be so much more than the pre-dinner nibble; in fact, it's time to do away with thinking a platter is just a meal's precursor or a palate cleanser – it can be a three-course meal in itself. Simply platter up with Huntley & Palmers Lavosh Crisps crackers and an array of cheeses, spreads and other tasty treats and you're away laughing.
As a tip, think seasonally when thinking about your platter configuration – fresh figs when they're available are a wonderfully decadent addition, as is locally sourced quince jelly from a farmer's market.
See below for three sensational platter arrangements to take you from start to finish.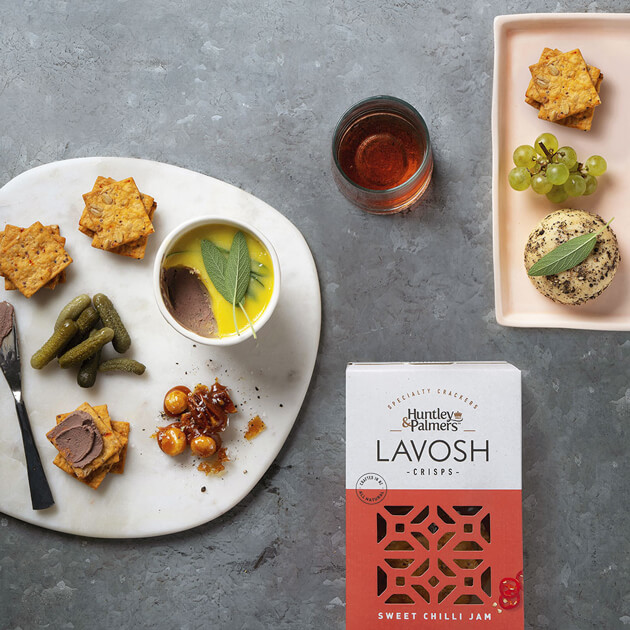 Entrée platter
Huntley & Palmers Sweet Chilli Jam Lavosh Crisps combine red quinoa with the subtle heat of chilli flakes, made moreish with the zing of vinegar and a sprinkling of brown sugar. They are the perfect cracker to warm up your taste buds for the degustation ahead.
Perfectly paired with…
Huntley & Palmers Sesame, Quinoa & Cracked Pepper Baked Oat Thins
Pink pepper and sage chicken liver pâté
Cultured cashew cheese pâté with herbs
Cornichons
Candied nuts
Champagne grapes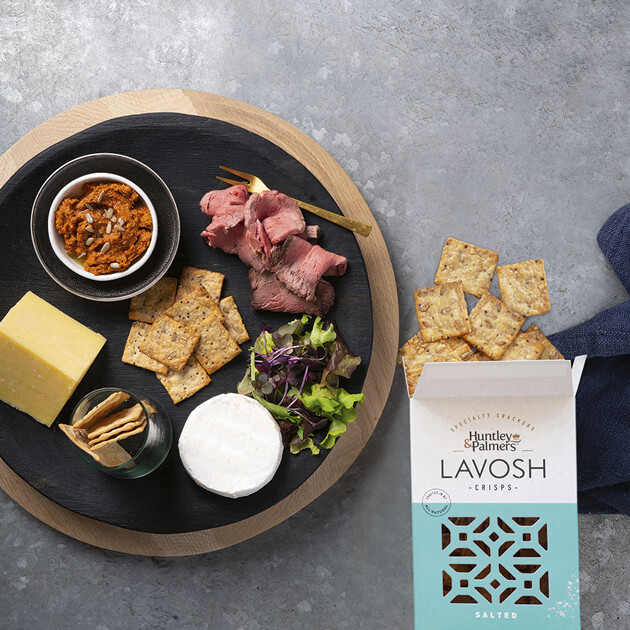 Main platter
Robust and brimming with notes of sea salt, spelt flakes, sunflower seeds and red quinoa, Huntley & Palmers Salted Lavosh Crisps are a main course non-negotiable suited to a minimalist menu design.
Perfectly paired with…
Huntley & Palmers Cracked Pepper & Rock Salt Baked Flatbread
Wafer-thin, delicate slices of rare roast beef
Roasted red pepper and sunflower-seed pesto
A silky smooth Kapiti Aorangi Brie cheese offset by a very sharp, mature Kapiti Tuteremoana Aged Cheddar
Lettuce leaves
Buttery Italian green olives with thyme and olive oil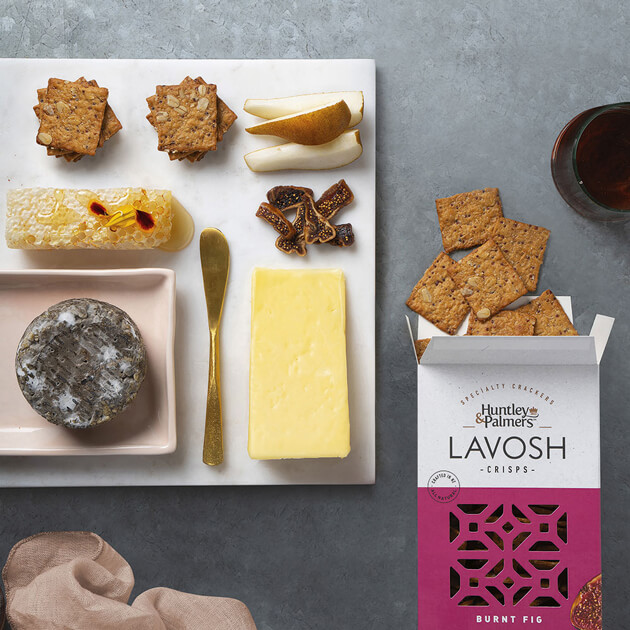 Dessert platter
Huntley & Palmers Burnt Fig Lavosh Crisps incorporate the delicate flavour of plump figs with the pleasant bite of tart lemon juice and nutty notes of red quinoa. The perfect palate cleanser.
Perfectly paired with…
Huntley & Palmers Cranberry, Coconut & Honey Baked Oat Thins
Kapiti's light and buttery Gouda complemented with a distinctive, creamy Baby Kikorangi Cheese
Honeycomb
Dessert pears
Dried figs