Jan 23, 2020 Food
The first in a continual international chef series, Sojin Ryori chef Mari Fuji comes to New Zealand to teach us how to cook and respect every element of the ingredients we use.
Sensual, slow-motion shots of hands tweezing small shreds of herbs, music sweeping reverently over shots of frowny chefs plating up. Anyone who is into food television is familiar with the Chef's Table shtick – spending an hour with a chef at the top of their game, gaining insight into their ethos. It's often invigorating, even exciting, despite the slow pace, because its intimate formula sucks you in until you're wrapped up in their 'genius', no matter how pretentious you'd find it in any other context.
Little Bird Kitchen aims to bring the show to life with their International Chef Series, flying chefs from around the world to celebrate plant-based cuisine and women in food (Little Bird Kitchen is completely plant-based, and their chef/founder, Megan May, is a woman). For their first event, they're bringing Mari Fuji to Aotearoa.
Fuji – whose husband was a Buddhist monk and served as a temple cook at Zen temples – has over 30 years' experience in Sojin Ryori, also known as the 'Buddhist cuisine', penning multiple cookbooks on this style of cooking. It was originally conceived by monks as part of their spiritual practice, abstaining from killing animals. Completely vegetarian, a typical meal includes soybean-based dishes like tofu and fried soybean curd, plus the use of seasonal vegetables; the array of dishes aim to strike a balance between the five flavours (i.e. sweet, sour, salty, bitter and savoury), colours, preparation methods and elements – five is a lucky number in Buddhism. Tourists will often be served this while staying overnight at a Buddhist temple during a retreat; a tray of a Sojin Ryori meal will often hold about ten small dishes, cutely plated in tiny bowls or saucers.
This deliberate cuisine contributed heavily to the slow Japanese meal style of kaiseki, which usually features an impossible amount of courses, and is a favourite for expensive fine dining. (I've eaten a kaiseki meal before, in Kyoto, and there is a special hushness about the whole thing, as if the food deserves your utmost respect.) It's rare to experience Sojin Ryori outside of a Japanese Zen temple, and you can learn more about it through a kitchen demonstration or hands-on workshop followed by a Sojin Ryori Kaiseki dinner next month, run by Fuji.
Cooking demonstration, with tastings of nine Shojin Ryori dishes, $109
Monday 10 February/Tuesday 11 February at Little Bird Kitchen
Hands-on workshop with dinner, $179
Monday 17 February/Tuesday 18 February at Little Bird Kitchen
Keep your eye out for further visiting chefs in the series.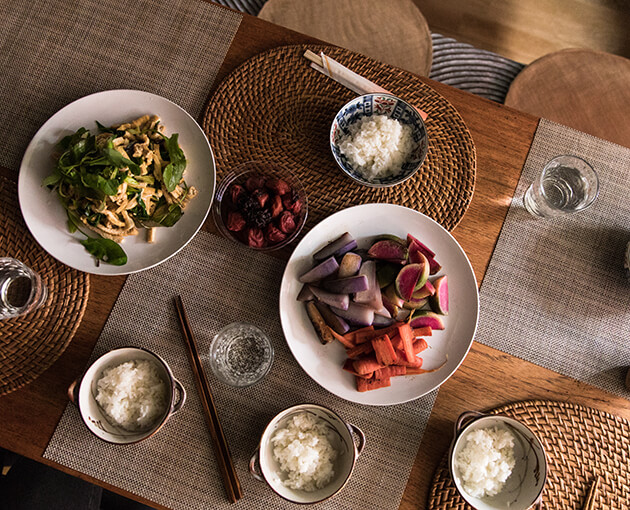 ---
Learn how to make Mari Fuji's eggplant with dengaku sauce (a miso-based sauce) or green beans and eggplant with sesame dressing at home, simple recipes which puts the balance of sweet, sour, salty, bitter and savoury into action.
Eggplant with Dengaku Sauce
Serves 4
4 eggplants, each about 120g
4 tablespoons sesame oil
2 tablespoons red miso
1 tablespoon sugar
2 tablespoons sake or white wine
1 tablespoon white sesame seeds, roasted and ground
Cut the eggplants into long strips about 1cm wide (if the eggplant is very long, cut into half or thirds first). Soak the strips in water for a few minutes to remove any bitterness. Drain, and dry thoroughly.
To make the dengaku sauce, combine the red miso, sugar, sake and ground sesame in a small saucepan. Stir gently over low heat for 3 to 4 minutes until the mixture starts to thicken.
Heat a fry pan, add the sesame oil, and then the eggplant. Fry over medium heat until both sides are golden brown. Alternatively, baste the eggplant with sesame oil and roast in the oven at 180degC for 5 to 6 minutes.
Arrange the eggplant on a serving plate and dress with the dengaku sauce.
Green Beans and Eggplant with Sesame Dressing
Serves 4
150g green beans, strings removed
3 eggplants, sliced into 1cm disks
3 tablespoons sesame oil
4 tablespoons sake
3 tablespoons black sesame paste
2 tablespoons sugar
2 tablespoons soy sauce
Boil the green beans in salted water until tender, then cut into 3-4cm lengths. Soak the eggplant in water for a few minutes to remove any bitterness. Drain and dry thoroughly.
Heat the sesame oil in a frying pan. Add eggplant, and fry until both sides are golden brown. Add the sake to the pan, cover, and leave to steam on medium heat for 2 to 3 minutes.
To make the dressing, combine the black sesame paste, sugar and soy sauce, and mix well.
Mix the green beans and eggplant with the sesame dressing, and serve.
Recipes from The Enlightened Kitchen, by Mari Fuji.