Feb 19, 2014 etc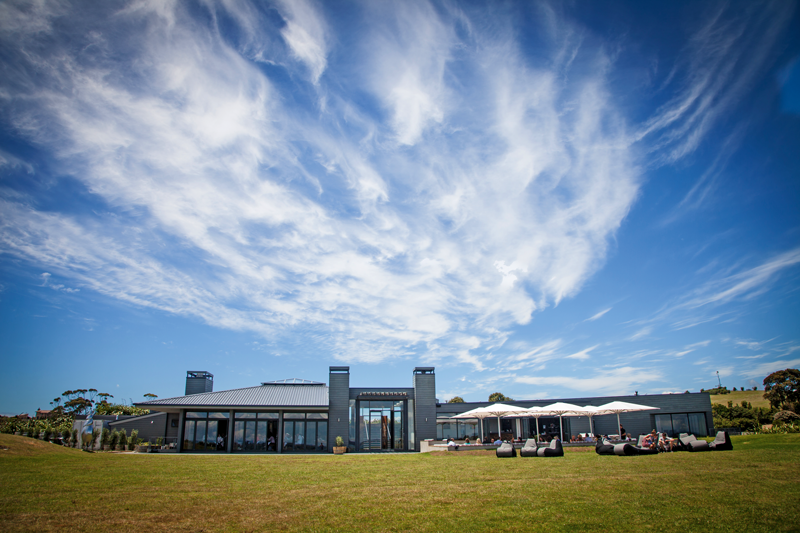 Cable Bay
Feel like whiling away the day? You're spoilt for choice. Here's our list of the bistros, bars and cafes with the best courtyards and garden bars in and all around this beautiful city.
WAIHEKE
Cable Bay
On a Waiheke hillside looking across the glorious Hauraki Gulf back to the city, with an upmarket restaurant, a casual bar and grounds full of sculpture, Cable Bay is an outdoor luxury oasis. It's just a short walk from Oneroa township; and afterwards you can get back to the ferry with an extremely lovely 40-minute meander around the hill and down into Matiatia Bay. 12 Nick Johnstone Drive, Oneroa, Waiheke.
Casita Miro
Mostly you sit in an elegant glasshouse, but the Gaudi-inspired mosaics in the garden are so inviting, and when the weather is right this terrific restaurant also has seductive outdoor credentials. The food is informal and Spanish-inspired, and the place hums with the rich, warm personality of owner Cat Vosper: on both those counts, Casita Miro offers Waiheke's best. 3 Brown Rd, Onetangi, Waiheke.
Man O' War
No place on the whole island boasts a more perfect secluded sandy beach, complete with rattan chairs on the verandah and tables on the lawn, pohutukawa trees, platters of food and a tasting room just bursting with fine wine. So worth the drive. Man O' War Bay Rd, Waiheke.
Mudbrick
And no place on Waiheke boasts a grander old-world charm than the elegant stone buildings and beautiful white-themed gardens of Mudbrick. 126 Church Bay Rd, Oneroa, Waiheke.
Poderi Crisci
It's a bit of a drive, into a long low valley in the middle of nowhere, and that's excellent. The food, by Antonio Crisci, is rustic Italian, so perfect for the picnic table, and the company's own wine is also delicious. One of Auckland's finest country restaurants. 205 Awaawaroa Rd, Waiheke.
Stonyridge Vineyard
On the same slopes, Stonyridge is a much bigger operation, with a big building of Tuscan terracotta, expansive terrace and very good wine. They're famous here for throwing some of Auckland's wildest parties, but it is also one of the most romantic spots around for a long, slow, relaxing afternoon. 80 Onetangi Rd, Waiheke.
The Oyster Inn
The outdoor part, the balcony, is narrow, but the whole dining area opens up to delicious summer breezes and there's no more charming place to sit and enjoy the delights of a good restaurant. Sliders are ubiquitous in Auckland now, but they're especially good here — as are the desserts. 124 Oceanview Rd, Oneroa, Waiheke.
The Shed , Te Motu
One of Waiheke's inland restaurants, The Shed offers a full-blown "Tuscan" outlook across fields of vines, great food, their own remarkably good wine, and a delightful pergola'd courtyard. The Dunleavy family sold the operation not so long ago, but they've bought it back and it's better than ever. 76 Onetangi Rd, Waiheke.
MATAKANA (and roundabout)
Brick Bay
At this winery they offer a beautiful sculpture walk, rustic refinement — Brick Bay has the best architecture in the region and quite possibly of any winery in Auckland — great wine (and olive oil) and lovely platters. A Matakana must-visit. Arabella Lane, Snells Beach.
Charlie's Gelato Garden
Another Matakana treat, serving their own real-fruit gelato and pizzas from the wood-fired oven in lovely big grounds. It would be cruel and unusual punishment to deny the kids a visit here, and adults find it rewarding too. The pizza bianca is a knockout. 17 Sharp Rd, Matakana.
Leigh Sawmill Cafe
Famous for its intimate concerts featuring many of the best bands in the country, the Sawmill also has one of our finest country courtyards. 142 Pakiri Rd, Leigh.
The Puhoi Pub & Bistro
Our most famous country pub? Arguably still the best, too. Old world charm inside; a sprawling paddock out the front. Cnr Puhoi and Saleyards Rds, Puhoi.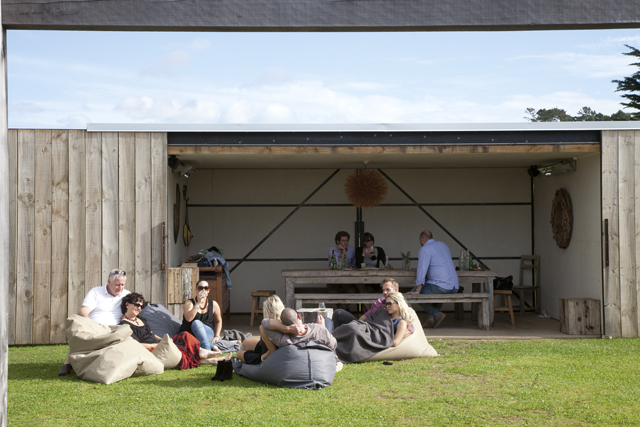 The Tasting Shed
OUT WEST
Hallertau Brewbar and Restaurant
The best craft beer in Auckland, said our readers in December's big poll — and it doesn't taste better than at the source. 1171 Coatesville-Riverhead Highway, Riverhead.
Huia Store
So, you buy your fish and chips at the famous store, take them outside to the tables or across the road to the park and the lovely beach… it's heaven, isn't it? 1194 Huia Rd, Huia.
Piha RSA: Morepork Kitchen
It's for members and guests, but that can be arranged. A Piha institution that keeps getting better. 3 Beach Valley Rd, Piha.
Provenance
The clever, inspired folk who created Takapuna Beach Cafe and Ortolana, among many others, have taken over the park-like Bees Online property and are making, growing and cooking up a world of beautiful food. 791 State Highway 16, Waimauku.
Riverhead Tavern
A garden bar/bistro right by the river, with a ferry service, for groups who want it, to get you there from downtown Auckland. Now that's a great day out. 68 Queen St, Riverhead.
The Piha Cafe
Exhausting work, all that surfing and swimming and sometimes even just being at Piha (Auckland's best beach, said our readers last year.) The cafe is there to revive you, with hearty meals and a cool, relaxed vibe. 22 Seaview Rd, Piha.
The Refreshment Room
A big deck looking over beautiful Waitak-ere bush, and some of the finest bistro food in the city: you owe it to yourself to check that out. 233 Scenic Drive, Titirangi.
The Tasting Shed
Mainland Auckland's best casual country eatery, with bistro, covered verandah, grassy expanses, an indoor/outdoor area for bigger groups, and a delightful picknicky "cabana". And they run a shuttle. 609 State Highway 16, Kumeu.

The Northcote Tavern
NORTH CITY
Ben Gusto
Browns Bay locals know how wonderfully relaxed the courtyards are, out the back of the main street looking out at the beach. Ben Gusto is our cafe of choice in the entire East Coast Bays. 111 Clyde Rd, Browns Bay.
Deep Creek Brewing Co
Ribs to die for. Excellent beer. Great courtyard. What are you waiting for? 111 Clyde Rd, Browns Bay.
Jam Organic Cafe
A green oasis on Hurstmere Rd, with splendid cafe food and big loungers — what a delight. 33-45 Hurstmere Rd, Takapuna.
Northcote Tavern
A big, north-facing back lawn makes this pub the envy of them all. 37 Queen St, Northcote.
Takapuna Beach Cafe
The best big breakfast menu in the city (granola, yoghurt, fruit; eggs all ways and with so many side options; and a great lineup of unique dishes too), the best deck overlooking a beach, and if you're there when it's not really breakfast time, do not fear: they make their own outstanding ice cream, the bistro meals are splendid, and their fish and chips are among the finest in the city too. An Auckland treasure. 22 The Promenade, Takapuna.
The Commons
The heart of Takapuna's cool McKenzie complex is a courtyard bar serving remarkably elegant food. Such a pleasure. 21 Hurstmere Rd, Takapuna.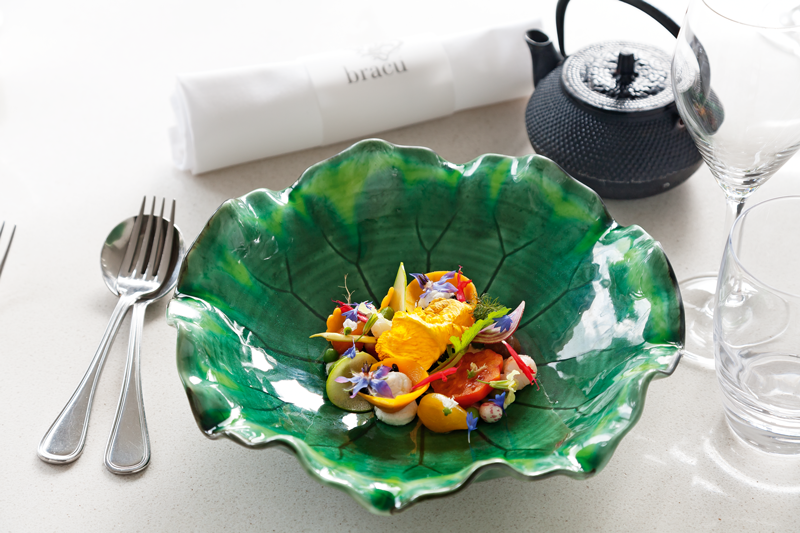 Bracu
DOWN SOUTH
Bracu
With a maestro for a chef, a beautiful villa and even more beautiful grounds in the midst of a squillion olive trees, no one does country elegance half as well. 49 Main Rd, Bombay.
Villa Maria
Auckland's proudly big, very successful winery has a very impressive smart-casual cafe set in lovely grounds and open to the general public every day for lunch. A real oasis of pleasure in the industrial heartland of the south. 118 Montgomerie Rd, Mangere.
CENTRAL CITY
Big Beat Cafe
The old Sierra, now with better food and one of the nicest informal cafe courtyards in town. 700 Dominion Rd, Balmoral.
Cavalier Tavern
A really big balcony on a really good pub… sometimes, life's needs are that simple. Our favourite sports bar. 68 College Hill, Freemans Bay.
Cibo
The city's most sophisticated restaurant courtyard. A big fish pond, smart service, exquisite fusion-inspired food and a great bar, all in the internal courtyard of an old chocolate factory. Cibo is both super-elegant and a lot of fun, a combination that is far harder to pull off than you might think. 91 St Georges Bay Rd, Parnell.
Conch Kitchen & Bar
Every other day, it almost seems, Conch becomes less a record shop and more a bistro: super cool, super charming. 115A Ponsonby Rd, Ponsonby.
Golden Dawn
Let's face it, Ponsonby's hippest joint, still, has the grungiest backyard courtyard bar imaginable. But it also has the coolest music, the coolest customers and — we really love this — heart-stoppingly good food. 134 Ponsonby Rd, Ponsonby.
Harbourside
On a warm day, the long verandah-top balcony on the Ferry Building, with the life of Auckland's inner harbour spread before you, offers unparalleled viewing pleasure. 1st floor, The Ferry Building, 99 Quay St, CBD.
La Zeppa
With its sprawling rooftop balcony perched above Victoria Park Market and looking over to the enormous plane trees of the park, La Zeppa is so totally relaxable. 33 Drake St, Freemans Bay.
Non Solo Pizza
For that pizza/pasta lunch that just keeps rolling on, the courtyard at NSP is the finest option on the east side of town. 259 Parnell Rd, Parnell.
North Wharf
Take your pick: restaurants, bars, cafes, a pub, all housed in the inspired renovation and new buildings of North Wharf, all offering you the chance to sit with happy crowds wandering past, the fishing boats drawn up, the Waitemata glittering before you… What better way to feel part of the glorious wide world? Jellicoe St, North Wharf, Wynyard Quarter.
Orphans Kitchen
They take it seriously so you can have fun. The newly opened, very stylish courtyard out the back is a total sun trap, and the food, well, it's sublime. 118 Ponsonby Rd, Ponsonby.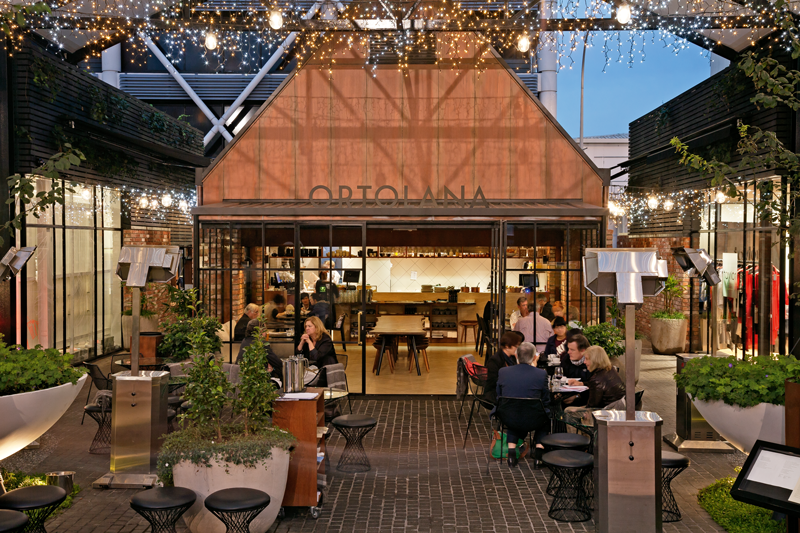 Ortolana
Ortolana
So smart, such lovely food, and when it's not super summer weather, they're attentive with rugs and heaters too. 31 Tyler St, Britomart.
Ostro
The outside parts of Josh Emett's newly opened restaurant include a set of courtyards on the city side, but the real splendour is the balcony with fewer than a dozen tables above Quay St facing the water. You can sit and gaze at the harbour and the docks, simultaneously revelling in the gentle summer breeze and having the water right there, and trying not to get upset about the rows of used  cars lined up on what should be open public wharves. It's very cool now, but one day, surely, it will be sublime. 52 Tyler St, CBD.
Prego
Often copied, never beaten, and still, deservedly, very popular. Auckland's greatest bistro courtyard. 226 Ponsonby Rd, Ponsonby.
Queens Wharf Markets
Queens Wharf is open to the public right to the far end, and hosts a busy programme of events. The food stalls, among the city's most innovative, are always worth checking out. 99 Quay St, CBD.
Silo Park Markets
Catch an outdoor movie on Friday night, browse the markets on Saturday, order up a picnic from the best little collection of food trucks and stalls anywhere in Auckland. 96 Jellicoe St, Wynyard Quarter.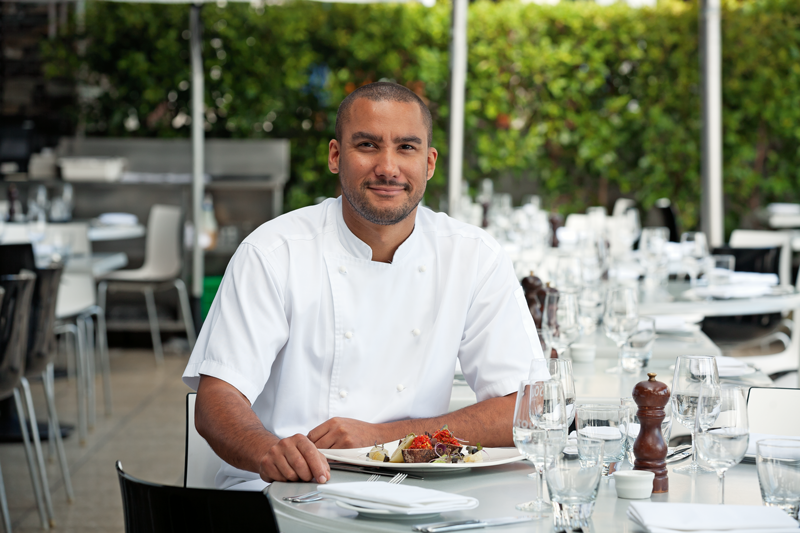 Soul Bar and Bistro, Auckland" width="800" height="533" />
Head chef Gareth Stewart at Soul Bar & Bistro
Soul Bar & Bistro
We're unequivocal about this: the terrace at Soul, with impeccable service, an excellent drinks list, superb food and an outlook to the west across the inner Viaduct harbour, offers the finest waterfront dining experience in the city. Still. Viaduct Harbour Ave, CBD.
Swashbucklers
Okay, so you're spoilt for choice in Auckland with posh drinks and itsy-bitsy delicious food and super-cool waitstaff (see most of the rest of the list), but if you're looking for a pub with the most fun, right on the water, Swashies is it. Hearty, me hearties. 23B Westhaven Drive, Westhaven.
Tasca
A truly lovely garden bar, right there in good old Dominion Rd. Good Spanish-style food too. 338 Dominion Rd, Mt Eden.
The Grove
The square St Patrick's Cathedral is in is one of the city's most successfully renovated public spaces, and the perfect way to enjoy it is to sit under an umbrella outside The Grove with one of their brilliantly inspired cocktails and a menu of Ben Bayly's exquisite food to choose from. St Patrick's Square, 43 Wyndham St, CBD.
Tom Tom Bar & Eatery
The second, and newer, balcony bar on our list that overlooks Victoria Park Market and the beautiful big park. Very cool, very stay-all-afternoon. 27 Drake St, Freemans Bay.
TriBeCa
Out the back of the old Foundation of the Blind building, TriBeCa serves guests in a lovely brick and paved courtyard. Good food, smart service, a really decent restaurant experience. 8 George St, Parnell.
Tyler Street Garage
Britomart's first rooftop bar is a great place to relax, watch the world on the water — and look forward to the day they move all the used cars off the wharves, of course. 116-118 Quay St, CBD.