Oct 2, 2012 etc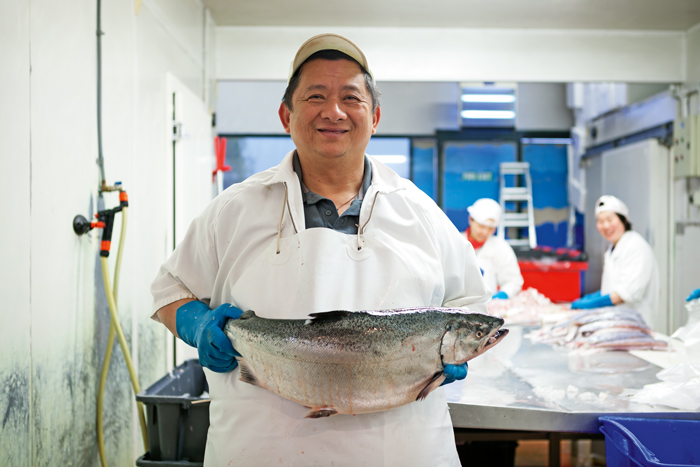 Simon Farrell-Green on eating like a peasant.
I have two flatmates. We are all 30-something and since I'm a food nazi and can't stand everyone having a separate shelf in the fridge — there always seems to be half an onion buried at the back stinking out your cheese — we have a food account into which we all put $40 a week. This pays for all our food (but not our booze).
I think $120 a week to feed three hungry adults and friends who "happen" to be in the area at dinner time is pretty good. We manage this by eating like peasants — helped by Farro Fresh, which recently opened up down the road. I've found myself wandering there on Friday nights in search of green Sicilian olives and coming home with a pile of stuff we "really need" like dried porcini mushrooms, which cost $8 for 35g.
And each weekend, I raid the account for whatever happens to be left in it and head off to a farmers' market to buy what else we need. We are strictly seasonal, which is to be expected: we eat only tomatoes, beans and zucchini in summer, when they're cheap and they're good.
In winter, we switch to cabbage, silverbeet, beetroot and watercress. Current favourite  sources are Fresh Produce, which you'll find at La Cigale, Grey Lynn and Hobsonville, and Annie and Sean Wilson at Parnell Farmers' Market. (Their Miranda Farm Shop at 1107 Miranda Rd is well worth a visit when next you're heading out towards Miranda.) But the real key is meat, or rather, the lack of it since — news flash! — meat is expensive.
When we do eat it, it's either a summer barbecue, when we have a bit of a splurge and buy an expensive piece of pork or beef, or it's in very small quantities. There is almost always a bachka sausage or two from Salash Delicatessen in the fridge. They cost $18 for two big ones and last across four or five meals (in pasta sauce, a smoky addition to Bolognese, even fried up as a terrific filling in an omelette on Friday night).
Roast chook? After dinner on Sunday night, leftovers go into the freezer until there are two or three, and it's chicken soup a few weeks later.
Or I'll buy something really cheap and cook it for a long time. Farro Fresh is great for this: it has good prices and everything from kidneys to oxtail to my favourite, beef cheek, $10 a kilogram. You need to trim off the silvery membrane (with a very sharp knife) but it makes a beautiful ragu if you put it in the slow cooker overnight with red wine, a can of tomatoes and a bayleaf.
But where I'm really cooking like a peasant is with fish. These days, snapper costs $40-odd a kilogram. So I buy shellfish — clams if we're flush, mussels if we're not — and go to Seafood Harbour under the Rialto carpark in Newmarket for both. I buy tarakihi if I want white fish and kahawai, mackerel, sardines and pilchards, and then I have fun working out how to cook them.
But my crowning glory has been my fish-head soup (recipe below). Just as I was leaving La Cigale one Saturday, I noticed Jimmy "the Fish" Gerrard had a big snapper head and a frame sitting there, which he sold to me for $5.
The next day, I consulted Chez Panisse Cooking and Julia Child's Mastering the Art of French Cooking — both great for classic peasant eating — put the fish into a big stock pot and cooked it up. It was rich and salty and somehow silky, and the following Sunday we craved the same thing.
Jimmy didn't have any fish heads, so I dispatched Liz the Flatmate to the Auckland Fish Market, which has a massive bay of fish frames and heads left over from filleting. They cost about $3 a kilogram.
Lizzie smiled nicely at them and so they scaled and helpfully chopped a head and a frame, and then she picked up a few clams. She spent $15. We ate like kings.
Recipe: Fish-head Soup
You need at least one big fish-head and one fish frame. If the head hasn't been scaled, vigorously run a knife with a stiff blade back towards the mouth to lose them. Chop an onion and maybe some celery, put it into the stockpot with some olive oil and fry until soft, then chuck in the fish, and cook it until it starts to colour up. Add a splash of white wine, then cover with water, and add a pinch of saffron and a couple of bay leaves and maybe some fennel seeds if you feel like it. Simmer for half an hour, when the stock should taste delicate and salty, and the fish will be falling off the head. Get a big colander and strain; if you can be bothered, pull the fish off the frame and head and set it aside — or you can buy extra fish fillets, which is nice, if more expensive. Add some par-boiled potatoes — nadines are good for this — and reduce it for five minutes. Bash up a handful of flat-leaf parsley and a couple of cloves of garlic and then add some olive oil. Add the clams or mussels to the stock and cook until they open, then spoon into bowls, and add the reserved fish. Serve with toasted sourdough and the garlic/parsley mixture and, as Julia Child would have it, a fruity red wine.
Simon Farrell-Green blogs at Eat Here Now.