Sep 16, 2021 Food
If there's a single new restaurant in Auckland not serving anchovies on toast, we haven't gone to it. Despite coming from a can, the mini-sized fish (of which there are more than 140 species) evoke luxury — maybe it's their association with the breezy, sun-soaked Spanish coast, or perhaps it's because the best are rather expensive.
As little umami powerhouses, anchovies pack a lot of flavour in their slender and silky bodies, and have that craveable savouriness that leaves you reaching for another. Anchovies are used in cooking in order to achieve a layered, flavourful saltiness (melting them into pasta or tossing them in a salad are popular options). You'll also find them in both South-east Asian fish sauces and garum (an ancient Roman fermented fish sauce).
We've evaluated the anchovies below based on how good they are by themselves, and tasted them on a slice of toasted sourdough bread. Most will still be great for cooking, regardless of where they land in the rankings, but if you're after something straight out of the tin, try one from the top four. Trust us.
1 — Conservas Angelauchu Fillets of Anchovy
$40 For 115g
Branded with a twin pair of royal crests, Conservas Angelachu is made from the variety Engraulis encrasicolus, common in the Bay of Biscay, off western France and northern Spain. You can tell they're expensive from the moment you open the tin: so straight and uniform, with a lovely, almost dark-purple colour. We found these the perfect example of an eating anchovy. They're meaty and savoury — that is, you can peel one right out of the tin and pop it into your mouth without any extreme saltiness lingering. You really do pay for quality, huh.
2 — Anxoves de L'escala Marinated White Anchovy in Olive Oil
$20 For 120g
Our runner-up is of the type of white, marinated anchovy called boquerones, which turn that colour after being soaked in vinegar. Because of their vinegary tang, these are fruity, sharp and light, and — although it was cold on the day we tasted them — reminded us of summer and a salty sea breeze.
3 — Anxoves de L'escala Anchovy Fillets in Olive Oil
$14 For 80g
Fifty percent anchovy, 50% olive oil, plus a little salt. These were preserved in our favourite olive oil of the day, making them extremely flavourful but still mild and pleasant to eat.
4 — Ortiz anchovies
$15.90 For 47.5g
Ah, Ortiz. It's difficult not to be seduced by the packaging, with its red, yellow and blue. Many restaurants use these and it's easy to see why — although aggressively salty, the salt rounds and spreads rather than hitting in one punch, and the smooth texture of the fish dissolves in your mouth.
5 — Rizzoli "Gran Riserva" Rolled Anchovy Fillets
$15.50 For 165g
An extremely good version of a "typical" anchovy, the rolled variety seems soaked through with its mild olive oil, having just the right amount of strong saltiness to satisfy our anchovy craving while still being nice to eat.
6 — Talatta Marinated White Anchovies in Extra Virgin Olive Oil
$10.50 For 95g
Everyone wrote "bright" in their tasting notes, something we attribute to the acidity of these anchovies, which are also a little sour and tart. Happily, they're also meaty, meaning it's easy to eat them by themselves on a slice of toasted bread.
7 — Rizzoli Cantabrian Sea Fillets with Capers
$4.95 For 40g
Capers and anchovies are a classic flavour pairing, the former complementing the latter by adding a fragrant tang. "With the capers, it's like a complete dish," one member of our judging panel wrote. (The southern part of the Bay of Biscay is known as the Cantabrian Sea.)
8 — Lorea Gourmet Anchovies in Olive Oil
$3.90 For 50g
This one polarised the panel, so it's averaged out right in the middle of the pack. One taster wrote "no flavour"; another, "subtle". These aren't as salty as some products, and have a… subtler "fishy" flavour, so if you struggle with fishiness, start here.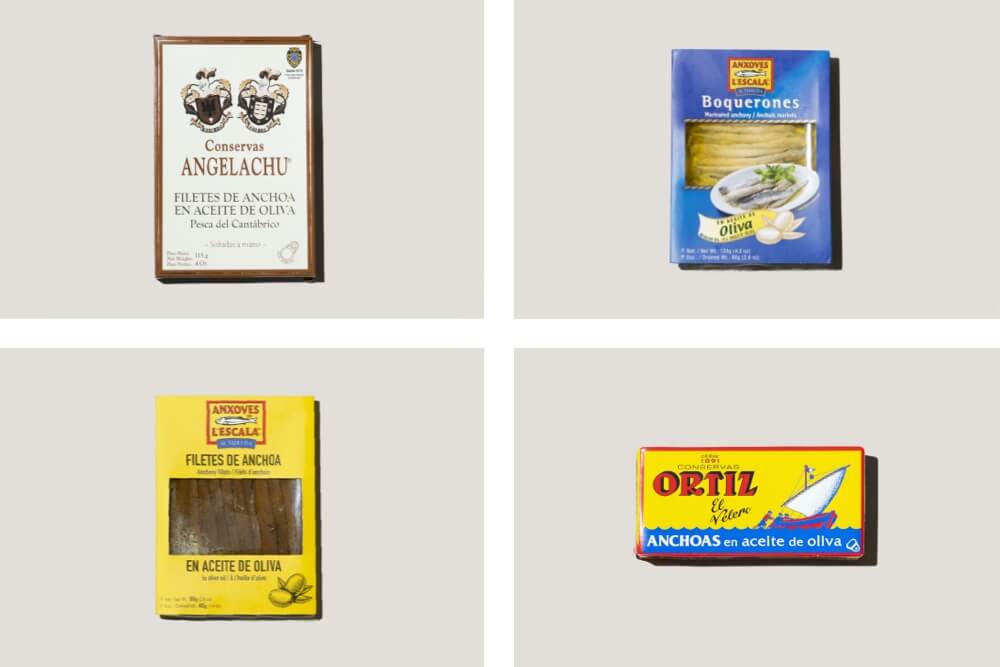 9 — Rizzoli Cantabrian Sea Fillets in Peperoncino
$8.50 For 80g
Anchovies in peperoncino (not pepperoni, as we initially thought the packet said). After eating a whole line-up of similar-tasting anchovies, the peperoncino (chilli pepper) was a welcome break that came with a spicy kick. Appropriately, we reckoned it would taste great on a pizza.
10 — Rizzoli Cantabriche Sea Anchovy Fillets Jar
$8.50 For 80g
"Good plain supermarket anchovy," one of our panel wrote. That is, salty and inoffensive.
11 — Conservas Santos Anchovy Fillets in Olive Oil
$9.50 For 50g
Though the flavour is tasty (strong olive oil, less fish), we found these to be a little dry, with a bit of a chalky middle. These would be the ideal anchovies to cook with.
12 — Talatta Fillets of Anchovies in Olive Oil
$6.90 For 48g
Too firm, taking on an almost cardboard-like texture.
13 — Rizzoli Anchovy in Spicy Sauce
$5.80 For 52g
These are extremely salty, with a strange aftertaste that lingers, and not in a good way. If you want a bit of spicy flair, try the fillets in pepperoni instead, by the same brand.
14 — Flott Fillets of White Anchovies in Sunflower Oil
$4.50 For 80g
The sunflower oil flavour is overpowering in this one, and we found the actual anchovies got very lost. Pros: they are nice and meaty.
15 — Flott Fillets of Anchovies in Sunflower Oil
$4.50 For 80g
Again, it's the curse of the sunflower oil. These Flott Fillets are quite firm and dry, without much flavour to save them.
16 — Delmaine Anchovies in Olive Oil
$5.90 For 80g
These are the saltiest anchovies we've ever had, and that's saying something. Plus it's the bad kind of saltiness — sorta like we just swallowed a whole tablespoon of the white stuff.
—
This piece was published in Metro 431 – Available here in print and pdf.