Feb 27, 2014 etc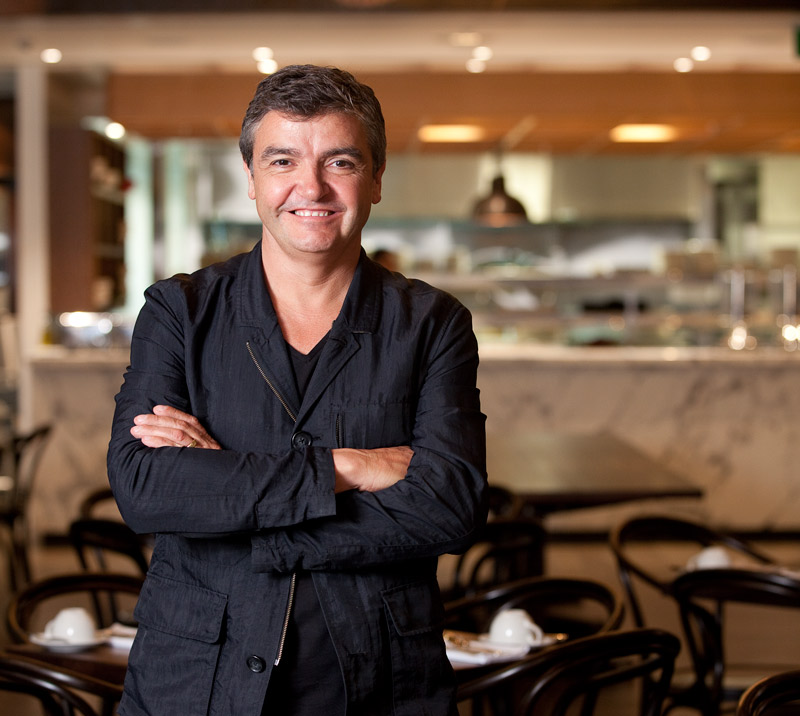 Sean Connolly
By Catherine McGregor. Photos by Ken Downie.
Grand Designs
How Sean Connolly's head must spin! Born in the UK, based in Australia, he divides his time between Sydney and Auckland, where he's just opened his second restaurant, Gusto at the Grand. Gusto has taken over the space at the back of the SkyCity Grand ground floor formerly occupied by Dine with Peter Gordon. It's more casual now, and Italian, and extends into the lobby where an espresso bar serves coffee, pastries and sandwiches and, later on, aperitifs and antipasti. The open kitchen boasts a grill and pizza oven, both wood-fired, and a marble slab that serves as an eight-seater chef's table. Does the chef have a favourite dish? Connolly singles out three: kingfish saltimbocca, wild boar pasta and octopus salad. We have to add, the mushroom risotto and veal saltimbocca are pretty great too.
All change
The hot new thing in restaurants? Redecorating. The French Café has new carpet, chairs, pendant lights (by Grey Lynn's Monmouth Glass Studios), wallpaper (by Aucklander Emma Hayes) and new art by Max Gimblett, Karl Maughan and Dale Frank. The meat-and-game-focused Cazador " href="/top-50-restaurants/top-50-restaurants-2013/cazador/" target="_blank" rel="noopener noreferrer">Cazador has new floors, a striking green banquette, a new bar area out the back, and a new bar menu that includes pan-fried poussin hearts, calamari with pistachio and pomegranate, smoked bone marrow, and venison liver parfait. And The Engine Room " href="/top-50-restaurants/top-50-restaurants-2013/the-engine-room-3/" target="_blank" rel="noopener noreferrer">The Engine Room has doubled its floor space with a Fearon Hay-designed extension, a new kitchen, new bar and new entrance.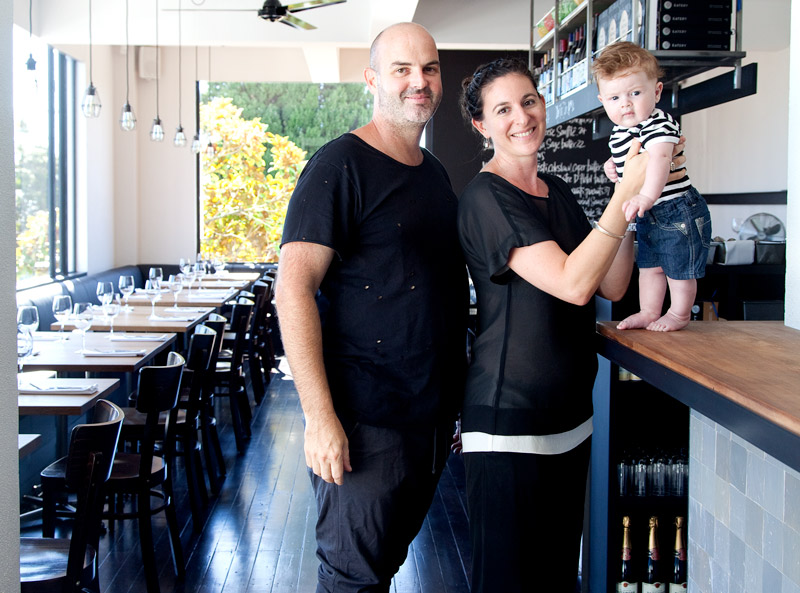 Carl Koppenhagen and Natalia Schamroth of the Engine Room with son Marlow.
Gala celebration
With Peter Chichester and Rekha Dayal at the helm, Mt Eden's Gala cafe was one of Auckland's most exciting eateries (and Metro's favourite café of 2011). After a couple of years away, Chichester and Dayal are back in the old Grassy Knoll cafe on Shortland St, which they have reopened as Giles Luncheonette. And yes, alongside Best Ugly bagels and Supreme coffee, they still serve their famous mother-in-law eggs.
Also new and notable
Goodness Gracious is a new "cafe and bagelry" at the top of New North Road, serving coffe, smoothies and bagel sandwiches of all descriptions. See the menu here. The folks behind the Blue Breeze Inn offer cheap and cheerful pan-Asian food at Chop Chop Noodle House & Whisky Bar, out the back in Ponsonby Central. Palm Court is open at the Langham, serving breakfast, light snacks, drinks and "tiffin afternoon tea" daily. Victoria Park Market keeps growing, with Salash Delicatessen and Espresso Corner joining the lineup. The Morningside Lunch Bar in Mt Albert has reopened as the very hip Mustard Kitchen — house-made pies are a specialty. Former Best Ugly barista Duke Tran has opened RAD Cafe on Mt Eden Rd, serving coffee from Wellington roastery Flight and a full cafe menu. The weekend-morning Hobsonville Farmers Market has a new home at The Landing, aka the Hobsonville Point Ferry Terminal.
Mr Zhou, the original owner of Dominion Rd's legendary New Flavour, has opened an eponymously named dumpling house in West Lynn. The Franklin on Ponsonby Rd will reopen early in March as Little Easy, a "relaxed and unpretentious" pub run by Andrew "Red" Roborgh, the man behind Fort St Union. Further east on the same road, Orphans Kitchen " href="/restaurant-reviews/orphans-kitchen/" target="_blank" rel="noopener noreferrer">Orphans Kitchen is now open for lunch on Thursdays and Fridays. Julien Le Quéré and Jane Raybould, of Morningside's Winehot "apero" bar, have taken over the old Thymes Tables on Waiheke — Frenchôt is a cafe/creperie by day and, upstairs, a classic French bistro by night. The old Portside Organics site in the ASB Building in Wynyard Quarter is now Johnny Barr's Fresh Food Bistro, an outpost of the popular Queenstown cafe/bistro but with an American twist: chicken and waffles, Philly cheesesteak, and a gourmet mac & cheese!