Mar 24, 2016 etc

All over Auckland, restaurants are serving whole fish. The flavours are delicious and they look fabulous on the plate, and the cooking process is usually not as hard as you might think. We asked some of the city's best chefs to share the secrets of their special whole-fish recipes.
This article was first published in the April 2016 issue of Metro. Words by Alice Harbourne. Photographs by Josh Griggs.
It's easy to be scared of cooking something that still has eyes. Perhaps it's natural to be scared of bones, too, though when it comes to chowing down on a chicken leg we don't seem to care. Yael Shochat, the Israeli "mother" of restaurant Ima , has found that Kiwis take a lot of persuading when it comes to eating a whole fish as they're so scared of the bones. Her solution? A team of chefs painstakingly debones each fish before it's roasted, and the softened fin bones are then removed by a waiter at the table. I went down to the restaurant and learned how to do it, and have shared Yael's below. It wasn't nearly as difficult as I'd imagined, nor did it require a million different tools.
We owe it to our pristine oceans to eat sustainably; checking Forest and Bird's "Best Fish Guide", an excellent downloadable pocket guide to sustainable species, is a must before you hit the market, super or otherwise. Kahawai, kingfish, salmon, trevally and blue cod tend to be wise choices, though the definition of sustainability is always shifting.
The recipes on these pages would suit a variety of fish species: we wanted recipes that are about the flavours and style of cuisine you feel like eating rather than the type of fish.
We looked back at our fondest Auckland restaurant experiences of whole fish and asked the chefs behind those dishes to share their recipes, resulting in five different international cuisines: Italian, Mediterranean, southern Indian, Cantonese and northern Thai. They all make impressive, nutritious, shareable centrepieces that can be eaten with spoons. Give them a go — just don't stare at the eyes too long.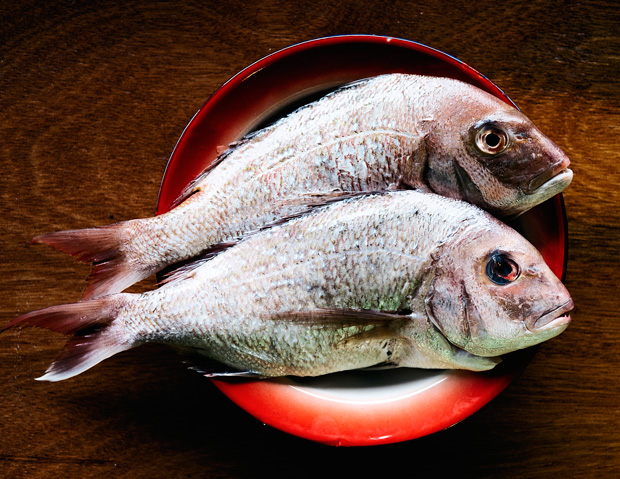 How to tell if a fish is fresh
Google Maps should find the fish shop before your nose does. The hole-in-the-wall/market stall/fishmonger should not smell like low tide at a Herne Bay beach. If it does, turn around. By the same token, the fish itself should smell fresh (seawater fish should smell slightly briney) with no offensive odour.
Look for:
Clear, bright, slightly bulging eyes. Avoid any whole fish with milky, sunken eyes.
Glossy, unbroken skin with taut flesh that springs back when pressed. The tail should be moist to the touch and flat.
Cherry-red gills; if they're brownish, avoid.
For every hour out of the fridge, it's estimated that a fish loses one day's shelf life. Once purchased, immediately chill it to as close to 0°C as possible using ice packs or bags of crushed ice.



Cantonese
Hong Kong-style steamed fish
By Joanna Chen, Live Fish Seafood Restaurant
Serves 3-4
An age-old Chinese method for cooking whole fish, steaming is the preferred method at Wynyard Quarter's Live Fish Seafood Restaurant. Owner Joanna Chen says it's the best way to preserve the flavour and nutritional value of the fish.
1 fresh blue cod (approximately 800g), scaled, gutted and gills removed (ask your fishmonger to do this for you)
2 tablespoons julienned fresh ginger
5 spring onions (green parts only), sliced into 5cm pieces
TO SERVE
¼ cup canola oil
1 spring onion (green parts only), finely sliced
3 tablespoons seasoned soy sauce for seafood (we used Lee Kum Kee)
1 teaspoon sesame oil
1 chilli, sliced, as garnish (optional)
Rinse the fish thoroughly with cold water inside and out. Pat dry with paper towels, checking for any stray scales. On a plate that is large enough for the fish to lie flat, place julienned ginger and the sliced spring onions. Place whole fish on top.
Bring water to boil in a wok with a bamboo steamer on a trivet inside, or use a saucepan with bamboo or stainless steel steamer on top. The steamer must be big enough to fit the plate inside. When the water is boiling, place the plate in the steamer; the plate must be over the water but not touching it. Place lid on tightly and steam for 9 minutes.
Turn off heat and carefully remove the lid from the steamer. Carefully remove the plate with the fish from the steamer.
To serve, heat the canola oil in a small pot until shimmering. Place fish on a serving plate, discarding the cooked ginger and spring onions. Scatter over fresh spring onions. When oil is hot, pour evenly on top of the spring onion slices and fish. Spoon over seasoned soy sauce and sesame oil. Garnish with sliced chilli, if using. Serve immediately.

Mediterranean
Mediterranean oven-baked fish
By Yael Shochat, Ima
Serves 2
"I'd never go to this much effort in Israel," says Yael Shochat as she painstakingly pin bones a whole snapper. There, whole fish is a standard delicacy, bone spitting an integral part of the dining experience. She debones delicately, preserving as much flesh of the beautifully fresh, line-caught and iki-ed (head-spiked) fish as possible, delivered that day by local, world-class supplier Leigh Fisheries.
Once the fish is butterflied it's stuffed with a selection of seasonal vegetables. Yael calls the resulting dish a delicious "fish sandwich".
She learned how to debone a fish just four years ago via YouTube tutorials and encourages novices to do the same.
1 whole fresh fish (approximately 600g), scaled, gutted and gills removed (ask your fishmonger to do this for you)
¼ cup extra virgin olive oil
½ onion, chopped
1 clove garlic, roughly chopped
2 red chillies (optional), deseeded and chopped
3 good-quality anchovy fillets
3-4 ripe tomatoes, quartered
½ bulb fennel, sliced 5mm thick
6-12 pitted kalamata olives (to taste)
Sea salt
200g flat-leaf parsley, leaves picked and chopped
Debone/butterfly the fish (see instructions, below).
Heat 2 tablespoons of the extra virgin olive oil in a frying pan and cook the onion until soft. Add the garlic and chilli (if using) and cook until lightly golden. Add the anchovies, mashing them into the oil with a wooden spoon or spatula, followed by the tomatoes and fennel. Cook until reduced and not too watery. Add the olives, sea salt and ground black pepper to taste, and most of the parsley, setting some aside to garnish fish. Set aside to cool.
Preheat oven to 200°C. Score the fish on each side by slashing the skin with a sharp knife in diagonal lines, 1cm deep and about 5cm apart. Place a large piece of foil on your bench, and a smaller piece of baking paper on top. Drizzle half the remaining oil and half the reserved parsley over the paper with some sea salt.
Place the fish on top of the baking paper and stuff the cavity with the filling. Drizzle over remaining oil and parsley with more sea salt. Gather the foil so you close the parcel completely and place on a baking tray. Cook for 18 minutes for a 600g fish (adjust cooking time if your fish is larger or smaller). Open the parcel and serve.
How to debone a whole fish
Watch the video:
The fish must first be scaled, gutted and the gills removed. Carefully run a sharp filleting knife between the fillet on one side of the fish and the ribcage, starting from the underside of the fish and going through to the spine. You will end up with the two fillets attached to the backbone, but separated from the ribcage in the middle. Using sharp scissors cut the ribcage in half to make it easier to access. Cut along the spine-end of the ribcage towards the tail to remove the back section of ribcage, leaving the tail intact. Cut along the other direction towards the head and remove the final section of ribcage. There are some smaller bones along the fillet that you can pull out with tweezers. Trim off the thin bones attached to the fillets with your knife.

Northern thai
Spicy three-flavour fish
By Panawat "Erk" Chotamungsa, Kiss Kiss
Serves 3-4
Riding the new wave of modern Thai in Auckland, Kiss Kiss in Balmoral is the forthcoming all-day eatery from the team behind L'Oeuf and Chinoiserie. This traditional northern Thai dish will be on the evening menu at the restaurant, and comes with a bit of drama: the sauce is presented by the waiter in a clear plastic bag and stabbed over the plate at the table, releasing the fragrant aromas.
SAUCE
½ teaspoon vegetable oil
2 tablespoons minced shallots
1 tablespoon finely chopped red chillies
1 tablespoon minced coriander roots
1 tablespoon minced garlic
1 teaspoon tamarind paste, dissolved in ¼ cup warm water
1 tablespoon fish sauce
1 tablespoon sugar
FISH
Vegetable oil, for deep frying (approximately 8 cups — see Cook's Note, below)
1 whole kahawai (approximately 800g), scaled, gutted and gills removed (ask your fishmonger to do this for you)
½ cup white rice flour
2 tablespoons tempura batter mix
1 tablespoon fresh coriander leaves, coarsely chopped
Heat oil in a small pan over high heat. Once simmering, add shallots, chillies, coriander root and garlic. Decrease the heat to medium-low, stirring occasionally for a few minutes. Add tamarind solution, fish sauce and sugar, increase the heat and bring the mixture to a boil, stirring occasionally. Reduce until you have about 1 cup of sauce and set aside.
Pour enough oil to completely cover fish into either a wok or wide pot; the fish needs to be completely submerged when it's dropped in to fry. Set the pot over high heat. After a few minutes, drop a thin slice of a vegetable such as carrot or potato into the pan: if the oil simmers, it is ready.
Pat the fish dry with paper towels and, using a sharp knife, score the fish on each side in diagonal lines, 1cm deep and about 5cm apart. In a big bowl, mix the rice flour and tempura together. Add the fish and coat well, patting the fish to remove excess flour. Add the fish to oil. Turn over gently with a pair of tongs after about 4 minutes. Cook until evenly golden brown.
Remove the fish and let it sit on some paper towels for a few moments to drain. Meanwhile, reheat the sauce. Transfer the fish to a serving plate, spoon on the sauce and garnish with coriander.
Cook's note
If you'd prefer not to deep fry, the fish can be sautéed at a medium heat, requiring around 8 minutes per side.

Southern Indian
Oven-baked spicy fish with coriander butter
By Dimple Girish, iVillage
Serves 2
When Metro first reviewed Victoria Park Indian restaurant iVillage, we ate a southern Indian, mildly spiced snapper prepared to a secret recipe by owner Dimple Girish. It was cooked in a tandoor oven, whole roasted on a spike and served with crusty flavours without being swamped in toppings, and we loved it.
Dimple has finally shared the secret behind this fragrant dish. Given that most won't have a tandoor oven at home, she's adapted her recipe accordingly, and included ingredients that can be readily sourced at the market. It's important that the fish is deboned; either get your fishmonger to do this for you or follow the instructions above.
CORIANDER BUTTER
1 tablespoon butter
Large handful fresh coriander, finely chopped
1 teaspoon red chilli flakes
Zest and juice 1 lime
Sea salt
Black pepper
MARINADE
2 teaspoons olive oil
1 teaspoon turmeric powder
1 whole fish, such as blue cod, trevally or kingfish (approximately 600g), scaled, gutted, gills removed (ask your fishmonger to do this for you) and deboned
GRAVY
2 tablespoons olive oil
1 sprig curry leaves
1 medium red onion, finely chopped
1 tablespoon minced garlic
1 tablespoon peeled and grated fresh ginger
1 teaspoon chilli powder
1 tablespoon ground cumin
1 tablespoon ground coriander
Handful fresh coriander leaves, finely chopped
Handful fresh mint leaves, finely chopped
1 lemon, sliced
Cream butter in a mixing bowl and then add coriander, chilli, lime zest and juice. Mix well and then season with sea salt and cracked black pepper, to taste. Cover and chill for at least 1 hour.
Mix olive oil and turmeric powder to a paste. Spread this all over the inside of the fish and set aside for a couple of hours in the fridge.
Preheat oven to 220°C. Heat oil in a sauté pan and add curry leaves and chopped onion. Cook until golden. Add ginger, garlic and chilli powder and cook for a few minutes. Add the cumin and coriander powders and mix well. Remove from the heat. Add fresh coriander and mint leaves.
Place fish on a baking tray lined with foil. Spoon the gravy around the fish and inside the cavity. Lay the lemon slices over the fish, cover with foil and bake for 25 minutes. Remove from the oven and serve with coriander butter.

Italian
Kingfish tail saltimbocca
By Sean Connolly, Gusto at The Grand
Serves 4
Sean Connolly's Italian fish tail recipe is really simple to make, but looks majestic and impressive at the centre of the table. Sean believes anything cooked on the bone tastes better; fish is no exception.
GREMOLATA
20g flat-leaf parsley, chopped
2 cloves garlic, minced
Zest 1 lemon
Flaky sea salt
Extra virgin olive oil
KINGFISH SALTIMBOCCA
1kg kingfish tail, scales removed
8 sage leaves
9 slices prosciutto
Cheeks 2 lemons
Preheat oven to 180°C. For the gremolata, combine parsley with the garlic and lemon zest and season with flaky sea salt. Add just enough oil
to bind.
To cook the fish, remove any stray scales from the kingfish tail and cut away the small fins. Score the fish about 1cm deep with four cuts on each side and place a sage leaf in each cut. Arrange the prosciutto slices onto a large baking sheet with each slice slightly overlapping the other. Place fish tail on prosciutto and wrap prosciutto tightly around fish.
Bake the tail for 25 minutes, remove from the oven and stand in a warm place for 10 minutes. Serve fish with gremolata spooned on top and lemon cheeks on the side.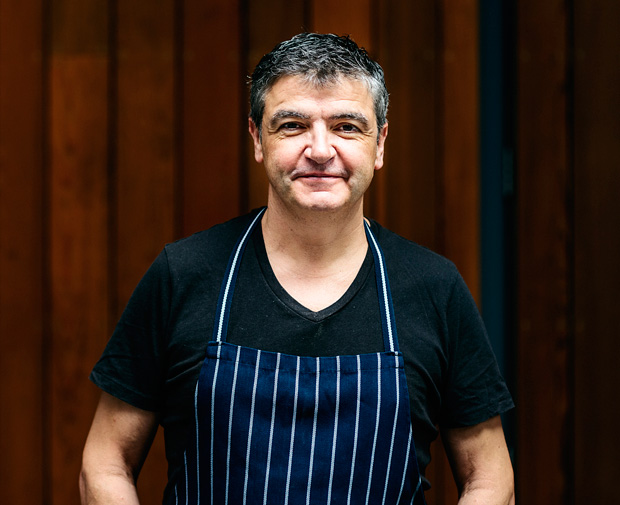 Cook's note
The prosciutto wrap retains the moisture of the fish so it doesn't overcook, and gives it a crispy texture and great flavour. It should be golden brown and crispy on the outside when it comes out of the oven.