Aug 19, 2013 etc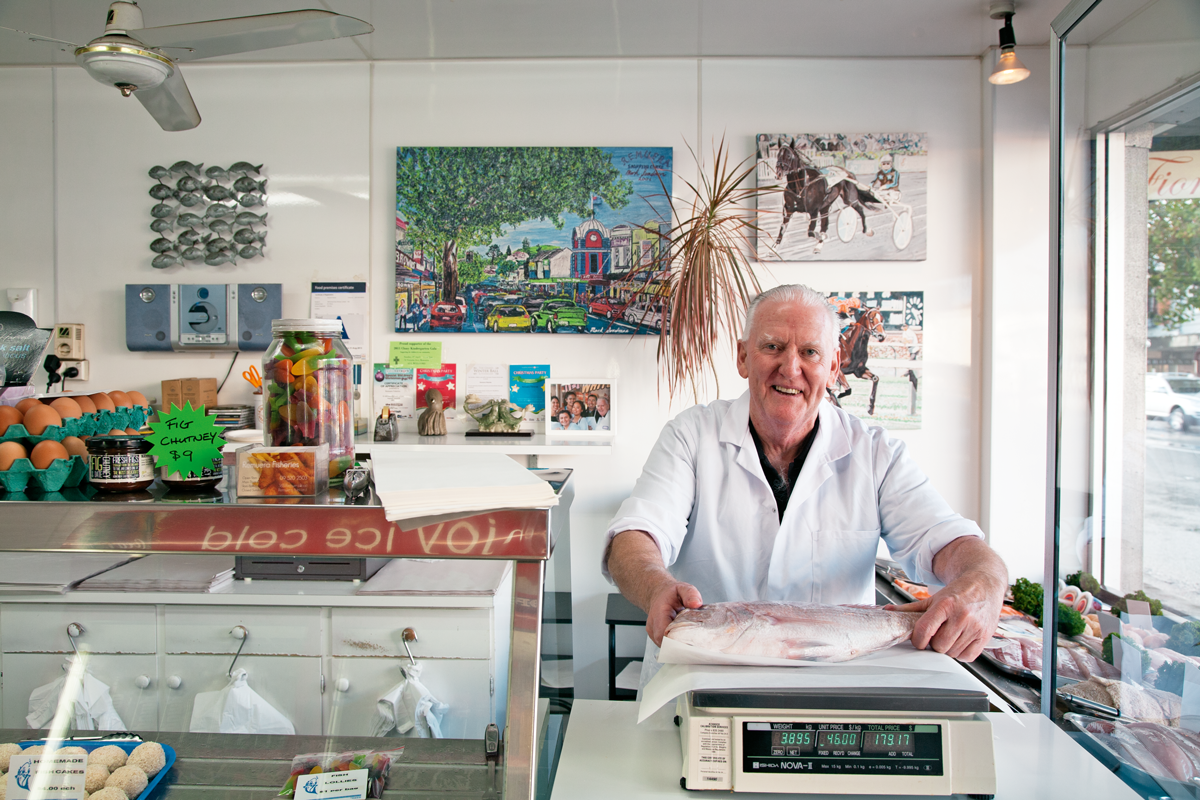 Bob Lovett at Remuera Fisheries
By Anna King Shahab. Photos by Ken Downie.
A mere handful of Auckland shopping strips have managed to sandbag the creeping tide of the "dollar" shop, and Remuera Village is, unsurprisingly, one of them. You won't find tat on the strip from Armadale Rd to St Vincent Ave. Instead, you will find a village starting to play catch-up after a bit of stagnation.
Leading the charge is the recently re­developed Banque Oyster Bar & Eatery. Remuera can now claim a slice of the trendy, small-plates, freshly shucked pie, and not a moment too soon. Banque may be of an ilk, but it's putting its own, charmingly European-feeling spin on it, and Remuera is a great place for this.
The only other restaurant in or near the strip that's not either too boring or too kooky to note is the quaintly situated Thai Village, in the Village Green area behind the main road. It's all a bit Surrey around here: box hedges, brickwork, and white camellias winking prettily. At Thai Village, you could enjoy a leisurely lunch in the carved Thai gazebo on the green. Inside is a good option for a good old group Thai dinner.
Remuera is not short of places to score decent caffeine, though. For top-grade, head to Piccolo, in the slightly 80s-feeling Airlie Court, run by award-winning barista Max Chao and his sister Elva. Max doesn't faff round with newfangled apparatus; he's all about the espresso, which is consistently great. Elva runs the kitchen — there's a short menu and a well-stocked cabinet.
The Deli boasts the most choice of nosh: a lengthy menu, a cabinet at the rear crammed with pies, sandwiches, charcuterie, cheese and salads, and a plethora of frozen take-home meals.
At Brown's Espresso Bar, the friendly manager, Amy, long ago swapped a career in Taiwan's police force for these soothing surrounds. Brown's is a good with-kids option; they get their own table and toybox, plus there's the pretty outdoors backing onto the Village Green. Just don't try hurrying them past the pop-up candy and ice cream bar…
You can choose from no fewer than 10 kinds of coffee beans at Coffee & Tea Lovers, but I'd be surprised if the scent of the teas doesn't entice you to ditch your caffeine quest. Owner Paolo Aryan imports directly, so even premium teas such as the Bai Mu Dan, a Fujian mountains white tea, are accessibly priced.
Maybe I bang on about this, but to me, the hallmarks of a thriving village are a decent fishmonger, butcher and greengrocer. Remmers scrubs up well in this field. The freshness and quality of the produce at Jack Lum & Co have been appreciated for decades.
Remuera Fisheries boasts a 100-year history in the same shop, and current owner Bob Lovett has been there for 17 years. They process everything onsite and what hasn't sold goes on the menu that night as fish of the day, ensuring the stock remains super fresh, says Lovett, who's there from 4.30am till 7.30pm.
Two doors down, a tired butcher's shop recently made way for the sparkly new retail arm of online store Gourmet Direct. Grab your Hawke's Bay beef cheeks and backstrap here.
Let's add a worthy baker to the mix, too — at Albert's Kitchen, Albert Psaros makes very fine sourdoughs (fermented for 48 hours, with no pre-mixes or preservatives). The hearty pastries and croissants here are a good antidote to wispy, effete French versions.
Importantly, there are two good wine merchants in the vicinity, Glengarry and Bacchus Cellars, the latter busily promoting a great Stonyridge Larose special and a blinging display of Taittingers. But it would be nice to see a really classy wine bar around here. Somewhere local wine buffs can show off their knowledge and have a bit of a social and, in turn, contribute a little more atmosphere and buzz to this old dame.