Feb 13, 2014 etc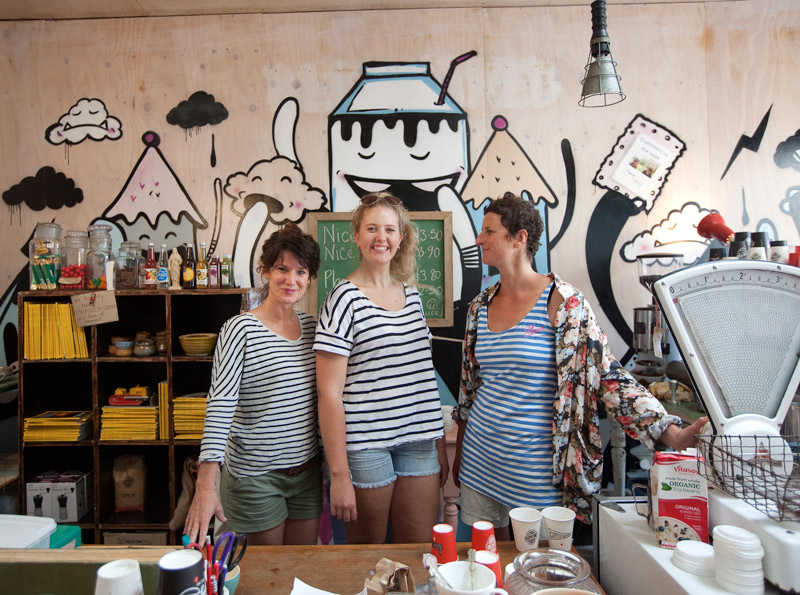 Fossick, Matakana.
A trip to the Matakana heartland is the perfect summer excursion.
By Anna King Shahab. Photo by Ken Downie.
Few places have so pointedly and successfully marketed their gourmet attributes as the northern Auckland outpost of Matakana. Beaches, wineries, bistros, cafes, pubs, roadside stalls and the big, established, extraordinarily popular Matakana Village Market: it's one of Auckland's great day trips.
The market is tight, with a lot of veteran stalls. One newbie is Matakana Fish Company, a two-sided operation run by two couples. On one side, they sell the fresh stuff: Leigh snapper, local flounder and more; on the other, there's a grill, serving Baha fish tacos, snapper burgers and gravlax bagels. If you're an oyster fan, don't forget (as we always do) to bring your shucking knife and buy them live from Mahurangi Oysters. We Love Food does delicious little plates including kelp-seasoned calamari and ceviche; Massimo's Italian Cheeses are good, and good value; Matakana Nut Butters shouldn't be missed and nor should the Matakana Olive Co-operative's award-winning Market Blend oil.
Up the slope from the market is the charming old dairy factory, its yard strewn with more stalls and its interior artfully occupied by Fossick, Kate Arbuthnot's interiors shop — its front room a wee cafe with Supreme coffee and Nice Blocks. Another non-foodie shop that warrants a mention is Mooi Mooi, full of delightful South African ware, including ovenproof Wonki Ware.
There's another, smaller market offering at Matakana Country Park, at which, according to Matakana flag-flyer and part-time local resident Lauraine Jacobs, there are excellent tomatoes and a very tall French beekeeper selling his honey. There is also a petting farm and pony rides, making this a good stop for families.
Jacobs reckons the biggest thing to happen here of late is the rebirth of the village pub, now called The Matakana. "It's run by a groovy young couple and the place is packed. It's the second generation doing things now, which is great." Duncan and Hannah Anderson never dreamed they'd be running a pub, but when the chance came to buy the 1903 building (in a sad state) and site, Duncan says, "we knew something had to be done to save it. We wanted it to be like an English pub; at the heart of the community with simple, good-value food."
The Andersons undertook a lengthy and detailed makeover and the place feels great, with plenty of outdoor seating, including around a large fireplace. Steak fans take note: the kitchen houses a Montague Broiler. Other places to eat out around Matakana include smart bistro The Market Kitchen, upmarket Plume, pretty (and playground-equipped) The Pottery Cafe at Morris & James, and the beautiful Glass House at Brick Bay, which offers wine from the vineyard and platters — it closes at 5pm, though, which seems a shame in the summer. Brick Bay also has a great sculpture trail.
Open until much later, from 10am, is Leigh Sawmill Cafe. The food's very good, with some interesting options on the menu and beer brewed on site. The grassy courtyard offers shade, there's a vintage boat for the kids to (safely) hijack, and the live gigs are rightly legendary.
Enjoying its debutante outing when we arrived was the outdoor woodfired pizza oven at friendly Charlies on Sharp Rd. $16 gets you a large, piping-hot pizza with a wonderful slow-proved base. Inside, the many flavours of gelato are what first put Charlies on the map: they started life as a roadside stall (of which there are still many — check out Omaha Flats Rd) with table grapes and strawberries. There's artisan bread here, baked by Dean Betts, something of a legend in sourdough circles; his bug is 85 years old.
Next to Charlies is the area's oldest vineyard and cellar door, Heron's Flight. Owners David Hoskins and Mary Evans concentrate their efforts on two Italian varieties, Dolcetto and Sangiovese, making just three or four wines, and you'll discover their focus pays if you take a tasting, which is, generously, free.
They also make three kinds of fantastic non-alcoholic grape juice which you can buy here, but almost nowhere else, as most of it is snapped up in advance by the Chinese army. "They spare no expense," says Hoskins. For laid-back summer relaxation, it's hard to beat Heron's Flight on a Sunday afternoon, with a pizza and a bottle from the cellar.