Dec 24, 2015 etc
Summer means lazy days and the glory of outdoor food: strawberries, barbecues, salads that surprise, having time to fish. We asked Al Brown, one of our favourite chefs, to showcase the best of summer with a specially curated Seasonal Supper.
This article was first published in the January/February 2016 issue of Metro. Photos: Sarah Grace.
His response? A set of completely new recipes based on exquisite seasonal ingredients, matched to carefully selected local wines. It was a magical evening, and come the start of autumn, then winter and spring, we'll be inviting other chefs to curate their own Seasonal Suppers.
Fantasy was the watchword for Al Brown when he set about creating his Seasons Supper summer menu. Teatowel over one shoulder and cutlery close to hand, he sipped, sliced and chewed his way through the dishes being cooked in his kitchen headquarters in Auckland's City Works Depot. Does the wasabi custard have the right balance of creaminess and spice? How long now for the fish? Have we got enough sweetness in that dressing? While he roamed the big kitchen/workroom, chef Hayden Scott hung back at the stoves, doing that thing all the best chefs do: produce dish after dish for your delectation, while appearing merely to stand still.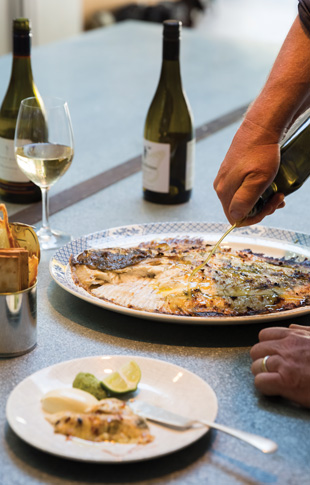 Brown fished a whole octopus from the pot and wrapped it tightly in cling film. He sorted strawberries. With Nick Bolster from Vintners he debated the merits of Taittinger's sparkling rose versus one of its slightly drier chardonnay/pinot champagnes. Well, not the merits, exactly – there was nothing unmeritous about either – but the suitability.
Brown was making a trifle that is not a trifle – no stale sponge – and he was especially keen with that dish to get the wine exactly right. "Late in the meal," he said, "maybe some people stop thinking about what they're drinking. But you don't want that. You want them refreshed and revived all over again. Good pudding, good bubbles, that should do the trick!"
He's been charming diners and television viewers throughout the  country with his folksy directness, and a big part of his personal magic is the little boy grin. It was playing on his face now as he sampled the trifle that's not a trifle, the strawberries and the perfect bubbles. Who wouldn't grin?
It was a little difficult, because the strawberries he planned to use on the night were flavourbombs from Scott Strawberry Farm in Havelock North. "I bumped into Billy Scott in an airport," he said. "Talked him into supplying us. Actually, he didn't take much persuading. I don't know how he does it, he gets so much flavour into the fruit."
We would have to wait for the night, to discover that. On this day, a few weeks earlier in the test kitchen, Scott's strawberries were still on their runners. A couple of hours earlier, we'd been talking about that octopus. They'd prepped maybe half a dozen, wrapped into logs and chilled in the fridge so the tentacles stuck together: sliced, they produced thin mats made of round slices, still stuck together. With the addition of little pieces of mild chorizo sausage and black deep-fried croutons – made with squid ink – and sprinkled with microgreens and a roasted capsicum salsa vinaigrette, this was an exquisitely conceived dish.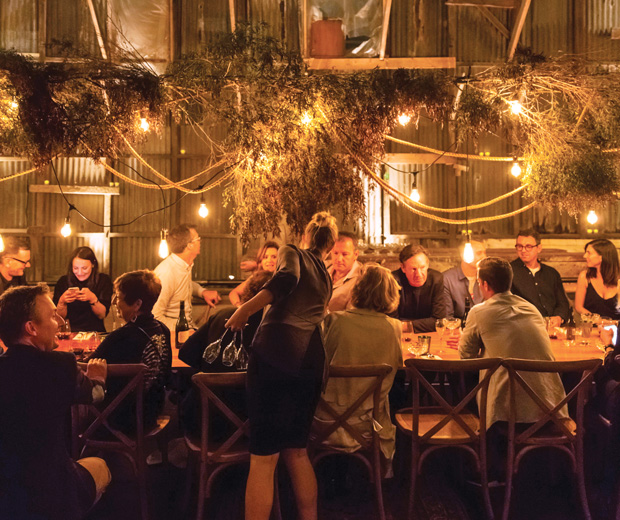 Brown said he'd been fiddling with it for about a month. The textures had to surprise, with the octopus "thick enough to be chewy but not so thick as for that to be a problem". And the flavours had to keep setting each other off. Too much spiciness from the sausage and it would kill the rest. Too little and "what's the point?" There wouldn't be anything to play off the octopus.
The result was beautiful, and the only dish of the evening that was plated rather than being served communally. "It's about as pretty as I get," said Brown. "With food."
There was whole turbot, which is a fish not unlike a giant flounder. Brown's famous fish sliders at his restaurant Depot are made with turbot, but that's probably the only way many of us have encountered the variety. "True," he said. "No one knows what this fish is like. But I'll tell you, it's unbelievable how much moisture it retains, and it's so sweet."
The platter was set before us. "Try that," he said, holding up a wedge of the fish on a flatbread by Huntley & Palmers, complete with dabs of tapenade and wasabi custard. He was right. Fish like this, the juiciness counterposed with the crispness of the cracker — you just want to lose yourself in the flavours and textures of it all.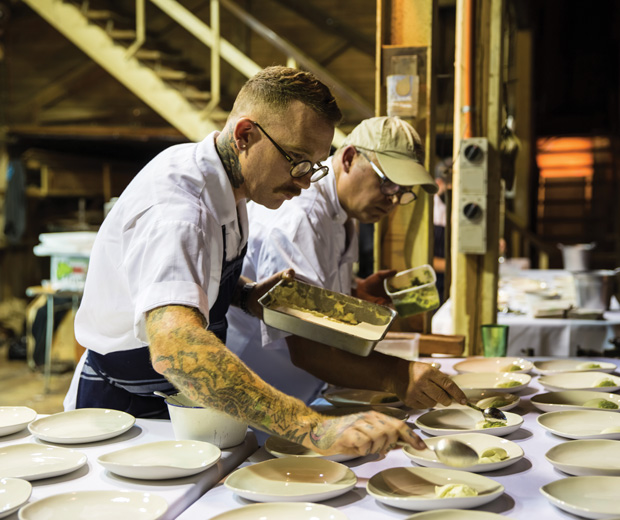 "This is a meal that should scream what we love," he said, wiping his hands and flinging the teatowel back over his shoulder. It sure did that.
There were delightful little clams and the most delicately textured tuatua fritters, from Cloudy Bay Clams, and such delicious Orongo Bay oysters from Kokohe Oysters, and what with all that gorgeous shellfish it was tempting to think the world didn't need any other kind of food.
It does, of course, and a good thing too. Brown gave us a sly look and plonked down a bowl with a few forks. Duck salad, and from the way he looked away, almost started whistling, you knew he thought it was a bit special.
He wasn't wrong. The confit shredded duck was tossed in with spiced walnuts and bitter greens, all sitting on a bed of fennel and pear puree. It was a decadent dish, because of its luxurious combo of flavours and also because, with all that shellfish, fish, meat and more already on the menu, it barely seemed necessary. Brown served it because he wanted to, and when we tried it we almost fell into the bowl to eat more, it was so good.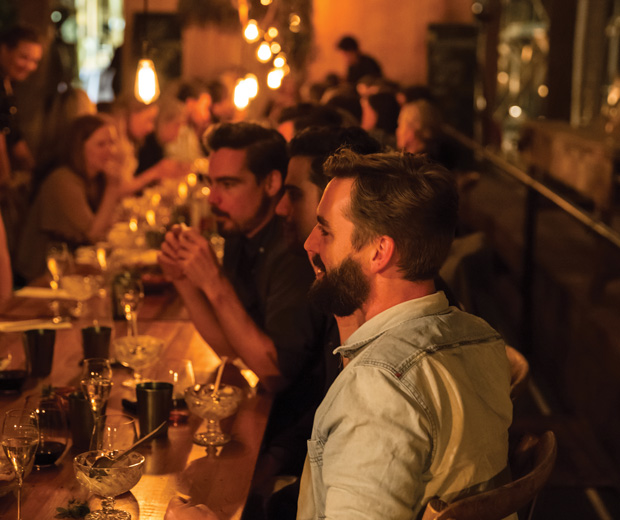 There was lamb, barbecued on those Asado grills that look so much like repurposed medieval torture racks, accompanied by a magnificent array of side dishes, themed to an idea of India meeting the Middle East with a big dollop of Kiwiana too: baba ghanoush, made with cauliflower; eggplant kasundi; carrots charred on the grill.
Yoghurt gave it all an edge, but the real making of the dish was wedges of lime, squeezed over the meat. There'd been half a dozen times already when we were simply stopped in our tracks by the thrill of the experience. It's tempting to say this was possibly the most thrilling of them all, but the thing about a feast is that everyone will have their own favourites. This would be a feast to spoil all its guests for choice.
We tasted and tasted. There was one more dish to try: an ice cream slice, conceived as something the guests could eat as they wandered into the night or waited for their rides home. Nothing obvious, of course. The ice cream was jalapeno and lime; the concept of wafers replaced by Huntley & Palmers Flatbread.
Brown ate his ice cream and looked pretty content. Then he spotted something else that needed testing, tidying. On a day like this, he wasn't really happy unless he was roaming the room, fixing and improving all the while. Hayden Scott stood by his stoves, working hard in his own quiet way. And we ate. Sublimely.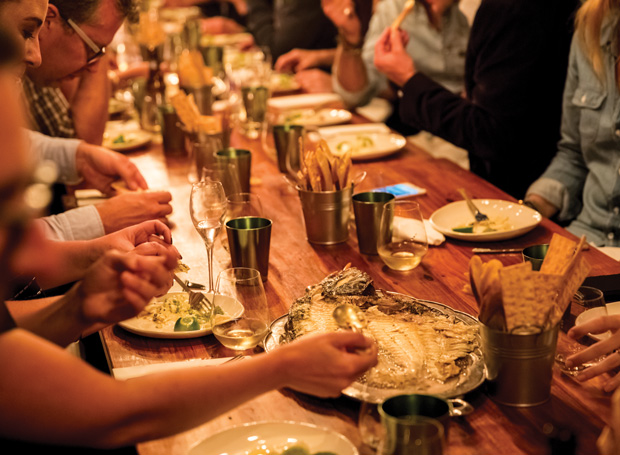 Summer Seasonal Supper: The Menu
Canapes
Clam cocktail: storm clams and diamond clams from Cloudy Bay Clams w/ sea lettuce
Tuatua fritters from Cloudy Bay Clams w/ gribiche
Paua fritters w/ buerre blanc
Orongo Bay oysters from Kokohe Oysters w/ chardonnay vinaigrette & tuatua
Matched with
Champagne Taittinger Brut Millésimé 2008
Summerhouse Sauvignon Blanc 2015
Ist
Octopus carpaccio w/ chorizo and roasted capsicum vinaigrette
Matched with
Summerhouse Verdelho 2013
2nd
Whole roasted turbot w/ wasabi custard and green olive tapenade served on Huntley & Palmers Caramelised Onion Flatbread
Matched with
Summerhouse Chardonnay 2012
3rd
Bitter green salad w/ confit duck and fennel & pear puree
Matched with
Craggy Range Gimblett Gravel Rose 2015
4th
Spit roasted lamb shoulder w/ cauliflower baba ghanoush, eggplant kasundi and charred carrot salad
Matched with
Craggy Range Gimblett Gravels Syrah 2013
5th
Strawberries from Scott Strawberry Farm w/ stewed rhubarb and lemon curd trifle
Matched with
Taittinger Les Folies de la Marquetterie N/V
6th
Ice-cream sandwich w/ Kapiti jalapeno and lime ice-cream and Huntley & Palmers Sesame, Cumin and Coriander Flatbreads