Jan 10, 2020 Drinks
We made a beer, and it's the drink of the summer.

Metro went to craft brewers Urbanaut spilling over with potential festive ideas (kiwifruit and pav-flavoured, maybe?), but decided to go with a theme with just a tad more longevity — summer. A drink you want to down near the sea when licking the remnants of salty fries from your fingers; a drink you can toast with friends while sitting under the beating sun, sharing a tasty meal.
Matchy Matchy is a horopito and kawakawa gose, described by big fan Henry Oliver as "slightly spicy, slightly salty, and entirely delicious". It's a very light beer, almost cider-like, with earthy kawakawa and peppery horopito notes — quite aromatic, if we do say so ourselves. It's all wrapped in a can featuring a trippy illustration by Metro contributor Robert Wallace, a floating sea of fluorescent food and googly eyes.
We got some restaurants involved and told them to matchy matchy with our Matchy Matchy. (Repetition is a brand awareness tool, right?) La Fuente, Umu Pizza, Ramen Takara, Satya Chai Lounge and Food Truck Garage put their best foot forward with ramen and burgers and tacos — all excellent selections. It was then up to Metro readers to vote for their favourite.
READ MORE: Why the Metro team loves the Matchy Matchy beer
After a few weeks of taste- testing, the best matchy matchy ultimately went to Umu Pizza, who paired our beer with their Number Six pizza, featuring house-made lamb merguez sausage with harissa, feta, mozzarella and herb yoghurt.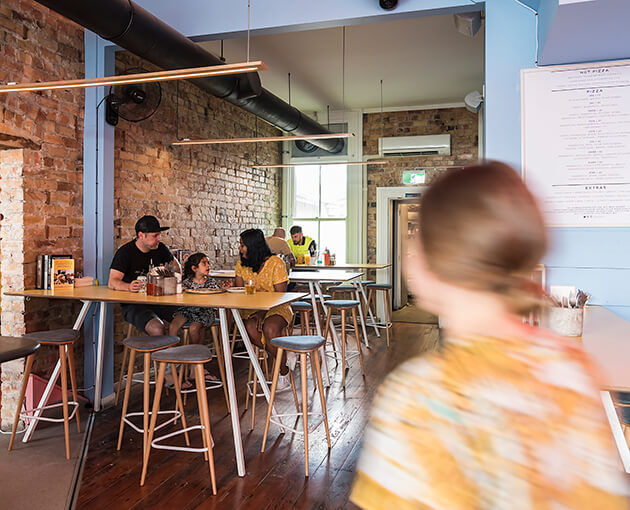 We weren't surprised. Metro declared Umu the makers of the best pizza in the region in our 2019 end-of-year Best of Auckland round-up, hailing the crispy bases — made with 36- to 48-hour fermented sourdough — and charred crusts, all lumpy and uneven (so good they could possibly convert a misled crust hater). The bases are hand-stretched with no additives, care that is obvious in the end result.
The Number Six (out of nine pizzas, all of which are good) is tangy as hell, lightened up with fresh, bracing mint scattered on top. Hot and spicy harissa is mellowed out by swirls of herb yoghurt, and there's a little welcome dusting of dukkah. The merguez sausage is rich and jam-packed with flavour.
Owner Simon Murphy says they were drawn to the heavy richness of the sausage to balance with the light, citrusy notes of the beer, while also creating a heady contrast between Matchy Matchy's freshness and the spiciness of the harissa. They'd almost gone with a lighter pizza but, turns out, their gamble paid off — and he says it's become a staff favourite, too.
Pizza and beer is, undeniably, a classic food pairing within the culinary canon. There's something about chowing down on saucy carbs that makes you crave a cold beer; it's the mesh of savoury-salty-satisfying that demands something refreshing to wash it all down — preferably something cold, with a sour bite.
Umu Pizza is a classy little joint. Seating only about 24, there is sweetness to the interior, with exposed brick walls and soft yellow tables. The pizza-oven centrepiece is unmissable, taking up pride of place near the entranceway, a gigantic dome tiled in mosaic-like white, with a gaping semi-circle mouth leading in to blazing wood.
And there is such a good drinks list, we'd recommend eating in. Aside from Matchy Matchy, there's a range of craft beers and (mostly New Zealand) wines. Happily, there's also a happy hour every day they're open, 5-7pm, with drink and food specials ($13 pizza!).
Long live Matchy Matchy, and long live the chance to drink it with a Number Six at Umu Pizza.
Matchy Matchy is here for a good time, but not a long time. Now only available at Umu Pizza and the Urbanaut taproom in Kingsland, get there quickly before it's all gone.