Nov 7, 2019 Drinks
Seen the lines of people waiting to get their hands on a purple-rice yoghurt drink on Queen St's Hey! I Am Yogost and wondered what the big deal was? Like, why put rice in a drink? We deliver our verdict.
You'd be forgiven for thinking another Sephora had opened up opposite Aotea Square a little earlier this year when Hong Kong's yoghurt drink outlet Hey! I Am Yogost set up shop, offering a primo opening deal: buy one, get one free drink. Heavy lines and long waits ensued.
The line is usually made up by Asian students, who are the biggest consumers of Auckland's bubble tea boom. Bubble tea originates from Taiwan, and yoghurt drinks have been popular in Asia since forever ago. I grew up drinking Yakult, this probiotic yoghurt drink that comes in a tiny bottle wrapped up in a foil cap that you'd puncture in with an even tinier straw. It began in Japan, but is beloved by Asians everywhere. It was most recently seen in teen Netflix rom-com To All the Boys I Loved Before, where the main boy love interest smashed through them (i.e. drank a lot of them) on screen, discovering them through the film's Korean protagonist. As a result, they flew off the shelves.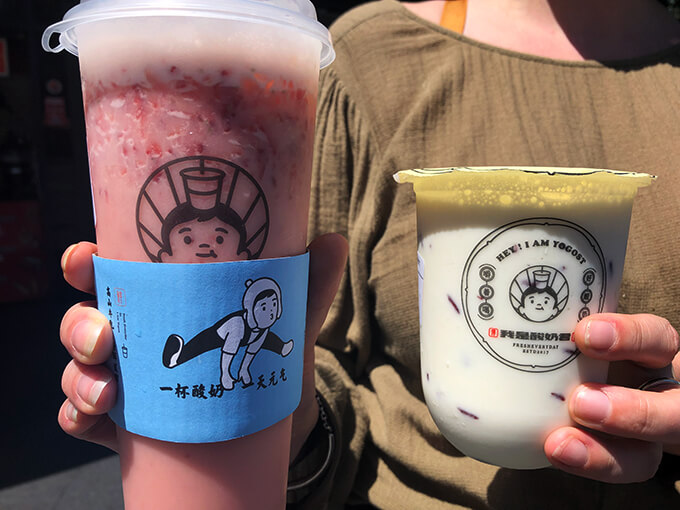 And Yakult is the base flavour you get when ordering Hey! I Am Yogost's signature drink, the Purple Rice Yoghurt ($7.80). It's sour and sweet, light and creamy, flowing easily through the straw, despite the little grains of purple rice added to the drink. And the rice is not as weird as it initially sounds on paper, just slightly chewy. I believe the rice itself is mostly flavourless (just a little sweet and nutty) but creates an interesting and pleasant texture, setting it apart from the many yoghurt drinks you can get at the Asian supermarket (including the previously mentioned Yakult). It's not a chore to chew through like tapioca pearls are. Refreshing! I could see this replacing a milkshake or ice-cream in the summer.
Next, I have the Strawberry Lemon Drop mocktail. At a whopping $15.50, it really has no business being that expensive, though it does have actual strawberry bits in it, and chunks of lemon. It's also really quite nice. It doesn't edge into two-sweet territory, saved by cold icy sharpness, and it's preferable to some of the boring watery mocktails bars palm off on you. To justify the $15.50, perhaps you could share this with a friend – I struggled to finish it.
The branding at Hey! I Am Yogost is bloody cute. Cartoon boys with cups of bubble tea balanced on their head, or doing the splits and whistling at the same time. Other things on their menu include fresh-fruit yoghurt and "energy grains", with flavours like "Mysterious Asian Red Date".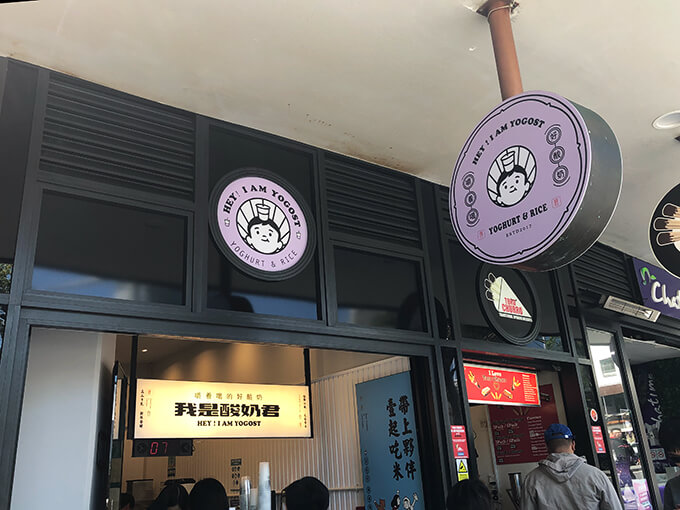 It intrigued me that despite the huge lines shrouding Queen Street and the hype, most of food media (with the exception of Instagrammers) ignored it. And even though bubble tea and their adjacent drinks are a huge, Auckland-wide (global!) phenomenon, with colourful places popping up left, right and centre (and has been for years and years now), food media has mostly been above covering them. Maybe all the Chinese words are intimidating.

Metro has written one article on a new opening; The Urban List have written two, and The Spinoff released a guide last month. The drink is integral to Asian food culture in Auckland; bubble tea places are where I went to meet up with friends past 6pm without having to drink alcohol, lazing about in the booths for hours on end.
A VICE article, written by a US journalist, reports that Western food media have been known to create an unfair narrative that bubble tea is unhealthy or too sugary. Bubble tea drinks are usually garish-looking and unapologetically so, which might contribute to this misconception that it's trashy or too rich. The author writes, "…a familiar shared annoyance among second generation Asian-Americans: that our favourite foods—like bibimbap and xiao long bao—must meet white critics' standards before they're deemed safe for the masses."
That fascinates me: the process in which certain dishes or food items are "deemed safe" for white people to consume. Bubble tea, or boba as it's called in the US, has sorta become "cool" for white people in Asian-populated areas like LA, but I don't think that tide has quite turned in Auckland yet. It also isn't considered something that takes skill or trained taste buds to enjoy, not like coffee or wine, or indeed xiao long bao, so critics find it impenetrable as something to evaluate – too silly, maybe. So it hasn't been able to make inroads that way, either.
Of course, maybe it's not that serious. It's just a drink, after all. And if the only thing that's holding you back from going out and trying one is some weird perception that it's not "for you"… hey, it's just a drink, after all.