Jan 9, 2013 Drinks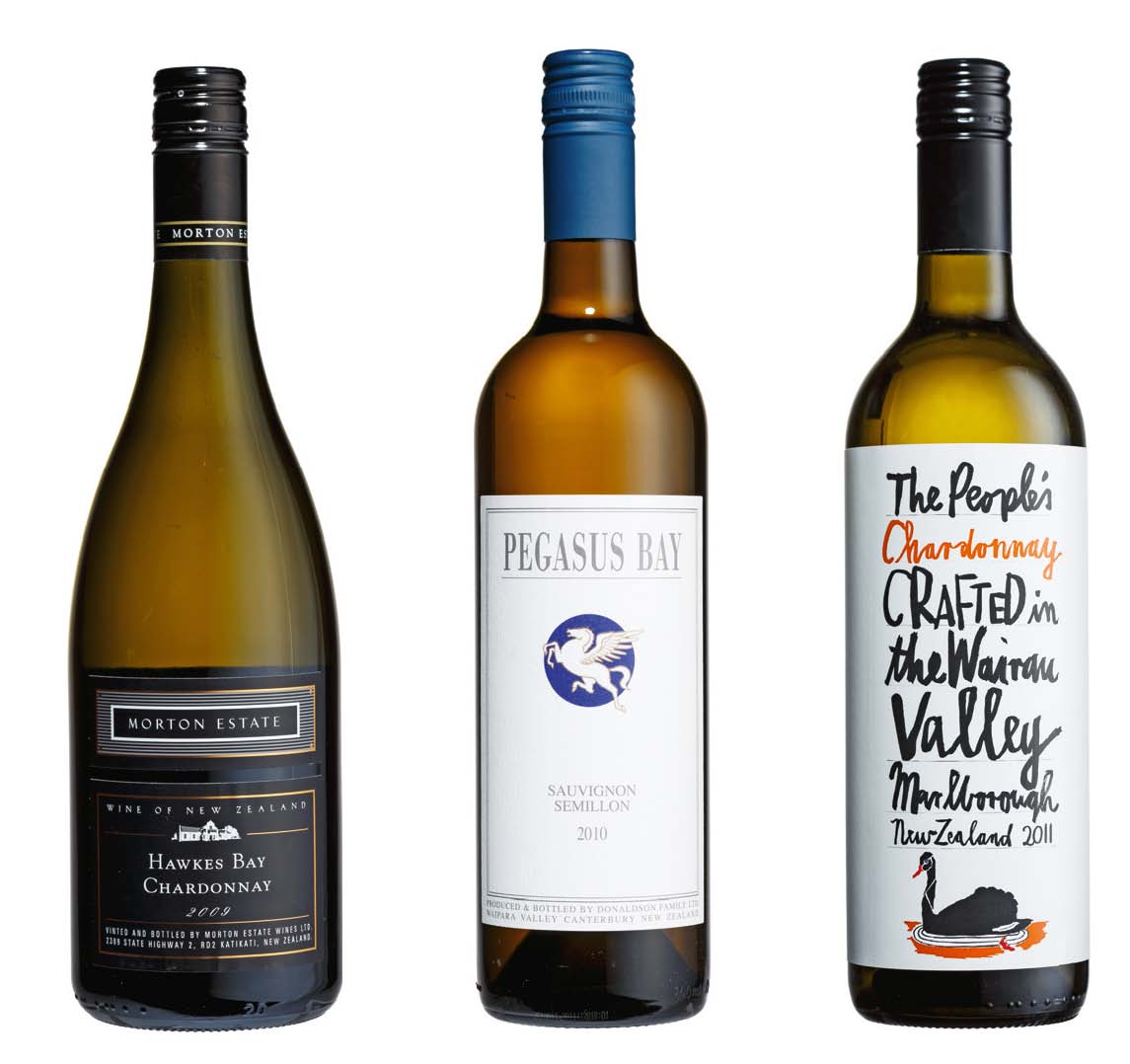 Complex wines, great drinking with main courses, seafood and white meats.
Au Bon Climat Chardonnay 2011, Santa Barbara. $40  TOP 10
This Californian wine is not a heavyweight by any means, but is a complex, mouthfilling wine with real personality: smoky, savoury wild ferment characters, subtle oak integration and a long, dry finish. 13.5%.
Greywacke Chardonnay 2010, Marlborough. $42   TOP 10
This has an exotic, wild nose and manages to be both flinty and biscuity at the same time. Rich and textured in the mouth, yet with great structure and finesse. A powerful, intense wine, lovely now. 14.5%.
Kairos Wild Barrique Ferment Sauvignon Blanc 2010, Marlborough. $33  TOP 10
Barrel-fermented sauvignon blanc doesn't get any better than this. Minerally, wild herb, smoky bouquet, backed up with a concentrated, layered, intense palate. Powerful, yet supple. Magnificent. 14%.
Morton Estate Black Label Chardonnay 2009, Hawke's Bay. $35
A big, opulent, creamy wine that will bring a smile to chardonnay fanatics; super-ripe pineapple and stonefruit characters, melded with lots of oak, but nicely developed and ready now. 13.5%.
Muddy Water Chardonnay 2011, Waipara. $33
A complex, savoury wine, with intense citrus fruit overlaid with smoky oak and oatmeal elements from ageing on yeast lees. Rich and opulent, with a wonderful acid backbone and fine finish. 14.2%.
Neudorf Chardonnay 2011, Nelson. $35
Lovely integration of ripe fruit (citrus and tropical), spicy oak and creamy yeast lees, this is a supple, textural wine that will partner well with a wide range of foods. 14%.
Pegasus Bay Sauvignon Semillon 2010, Waipara. $28
Sauvignon's characteristic gunflint aromas combined with the citrus notes of semillon, all overlaid with sappy, vanillin oak. One of the best vintages ever under this label, with great texture and palate interest. 13.5%.
The People's Chardonnay 2011, Marlborough. $21   BARGAIN
This wine impressed with its concentration and accessibility; spicy oak, creamy malolactic and yeasty complexity, showing all the bells and whistles one would expect from a chardonnay costing twice as much. 13%.
Previously: Medium-Bodied Dry & Off-Dry Whites