Jan 8, 2013 Drinks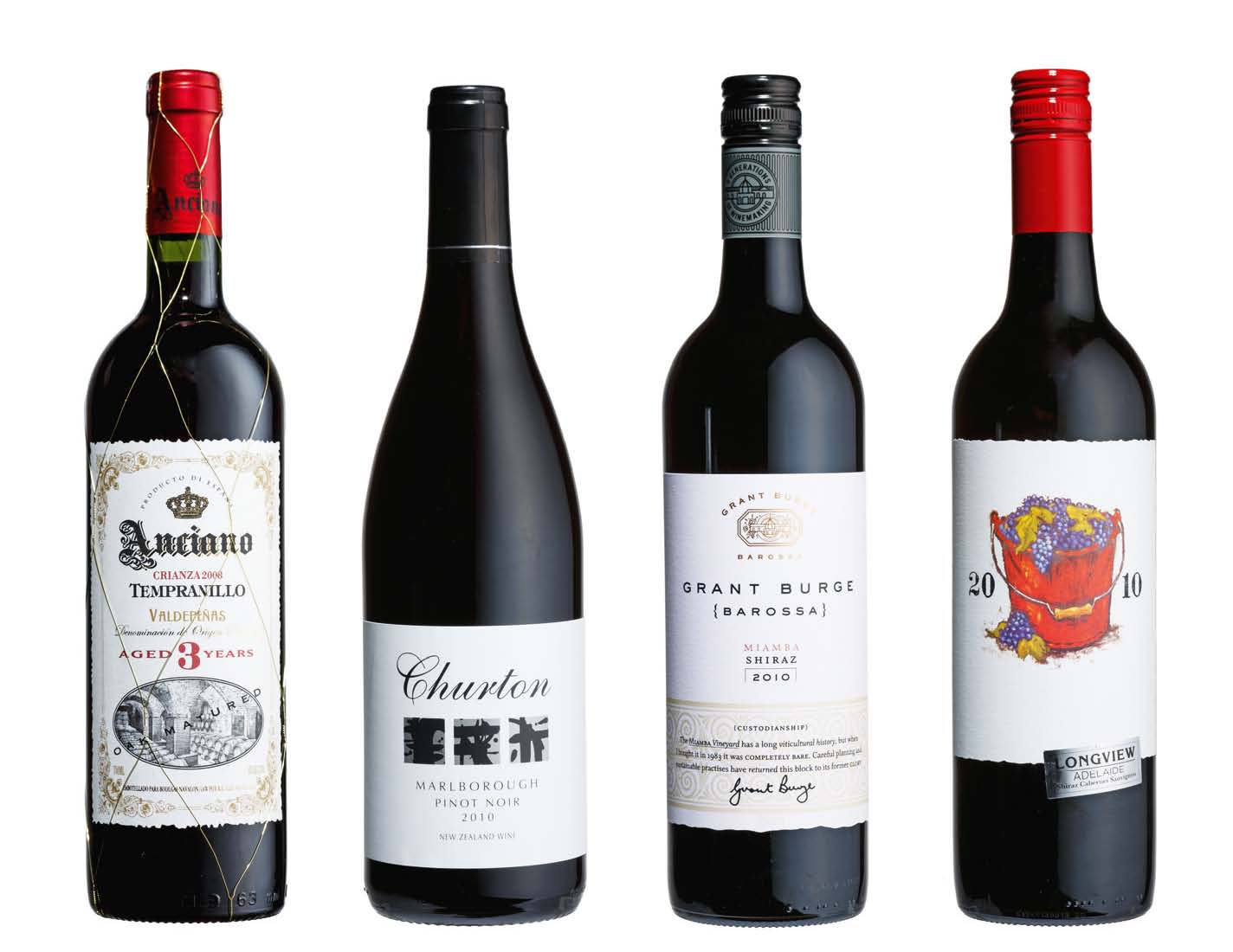 Powerful, tannic wines best matched with grilled meats and hearty foods.
Anciano Crianza Tempranillo 2008, Valdepenas do. $19
Archetypal Spanish red, savoury and earthy, textured tannins, dense and concentrated on the finish. This really delivers plenty of bang for your buck. 13%.
Château Ste. Michelle Cabernet Sauvignon 2009, Columbia Valley. $40
Washington State produces a number of classy, full-flavoured reds like this. This boasts cabernet's trademark blackcurrant and cedar notes, integrated oak and firm, fine tannins. 13.5%.
Churton Pinot Noir 2010, Marlborough. $44  TOP 10
Dark-cherry, plum and woodspice characters, the palate is tight-knit, but also textured and savoury, with a fine, dry finish. A serious, structured pinot noir to impress your dinner guests. 13%.
Concha y Toro Marques de Casa Concha Cabernet Sauvignon 2009, Puente Alto. $28
An elegant, fruity, aromatic expression of cabernet, with Ribena, capsicum and tobacco-leaf aromas, a taut, angular palate and firm but ripe tannins. 14.5%.
Concha y Toro Marques de Casa Concha Carménère 2010, Rapel Valley. $28
Top-notch example of carménère, a Chilean speciality, with its characteristic brambly, menthol perfume, taut angular palate structure and firm, drying tannins. 14.5%.
Despagne Parcelle A355 Merlot 2009, Bordeaux. $28
From the sensational 2009 Bordeaux vintage comes this concentrated, juicy beauty: fruitcake, leather and chocolate characters abound, with saturated, juicy tannins and lengthy aftertaste. A fantastic bargain. 13.5%.
El Puntido Rioja 2007, Rioja DOCa $105  TOP 10
Deeply coloured, brooding, intense red, this is an incredibly concentrated, powerful, yet supple example of Spain's greatest variety, tempranillo.
It has chocolate, spice and leather characters along with tannin and oak, but also a compelling, creamy texture. Stunning. 14%.
Grant Burge Miamba Shiraz 2010, Barossa Valley. $32
Dense, weighty, concentrated shiraz: blackberry, chocolate and smoky-bacon characters, creamy, rounded mid-palate and firm, dusty tannins. Fair dinkum Aussie red. 14.5%.
La Pieve 2009, Chianti DOCG. $30
Top-flight Italian wine is never cheap, but this is a classy, affordable example of chianti, with sweet, spicy, morello-cherry high notes, a supple mid-palate and dusty, dry tannins. 13.5%.
Le Volte dell'Ornellaia 2010, Tuscany. $50
This sangiovese-merlot-cabernet blend, from one of Italy's finest estates, is always a classy drop. This excellent new vintage is fully ripe, with liquorice and blackberry fruit, and savoury and dense in the mouth. 13.5%.
Red Bucket Shiraz/Cabernet 2010, McLaren Vale. $25
This classic Aussie combination produces a rich, generous red, with a juicy, fruity palate, some coconutty oak and generous, rounded tannins. For big red lovers. 14.5%.
Previously: Medium-Bodied Savoury Reds