Sep 10, 2019 Drinks
The first comprehensive* tasting of every bottle of buch in the country, blind-tasted by Metro. (*One prominent brand wished not to be included in this tasting lest it become associated with inauthentic buch. A couple of others just didn't reply).
In case you hadn't noticed, kombucha is the new craft beer. And, in the same way as home brew once transitioned out of the garage and into the supermarket beer fridge, commercial buch has transitioned the glorious scobie from your fridge to a plethora of brands, bottles and designs.
So, first things first. What is kombucha, exactly? Strictly speaking, it's made by fermenting tea sweetened with sugar with a "scobie" — a creepy blob of yeast that looks something like what one imagines the bottled dreams in The BFG looked like. But that's another story. Its health benefits are many, varied — and unproven. But it's better than booze, right?
As a result of our sudden interest, there are now many things calling themselves 'kombucha' on your supermarket shelf. Whether they actually are strictly kombucha is becoming something of a vexed point in the health-food industry, and it's an issue far too complex to go into here. Safe to say many aren't, and probably bear a closer resemblance to artificially sweetened soda than anything else. In our experience, these don't taste very good (though they can also be real, and not taste very good, as you'll see).
The best, though, are delicious! Recently, the Metro team blind-tasted 34 kombuchas, ranging from artisanal to the industrial. During our tasting, some trends appeared. Kombucha can be brilliant in the same way as a cider can be brilliant, with a balance of aromatics and sweetness, acidity and even a little bitterness. Many were kind of in the middle. The worst? Overly sweet, too carbonated, artificially sweetened and flavoured. Read on for our results.
Best in show

1. Batchwell Earl Grey
$5.39 for 375ml
Clearly, this is the kombucha to beat all kombucha, but its greatest strength is in its restraint. There's a fragrance to it — one panellist described it as "like an Aesop store, in a good way". In the glass, it's clear, bright and golden; it's very easy to drink, with subtle notes of ginger, lychee and tropical fruit. It would go very nicely with food — a Buddha bowl, perhaps?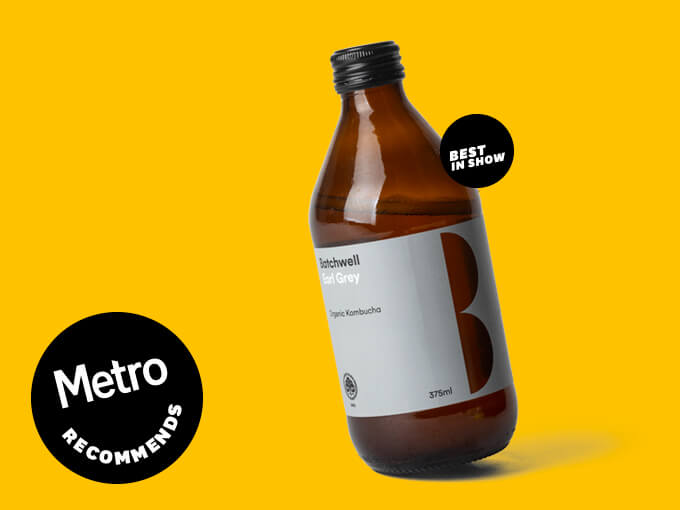 Runner Up
2. K4 Rosehip & Hibiscus
$6 for 330ml
Possibly unsurprisingly, there's a distinctly tea-like flavour to this seductive kombucha. Pale strawberry or golden pink in the glass, it's pungent and fermented on the nose, but clean and crisp to drink, with floral notes of Earl Grey.

Second Runner Up

3. Batchwell Pineapple & Ginger
$5.39 for 375ml
With a light bubble and a long finish, Batchwell's second kombucha has distinct notes of (what else?) pineapple and ginger, lightly flavoured and slightly funky. It's bright, with an integrated, balanced flavour profile.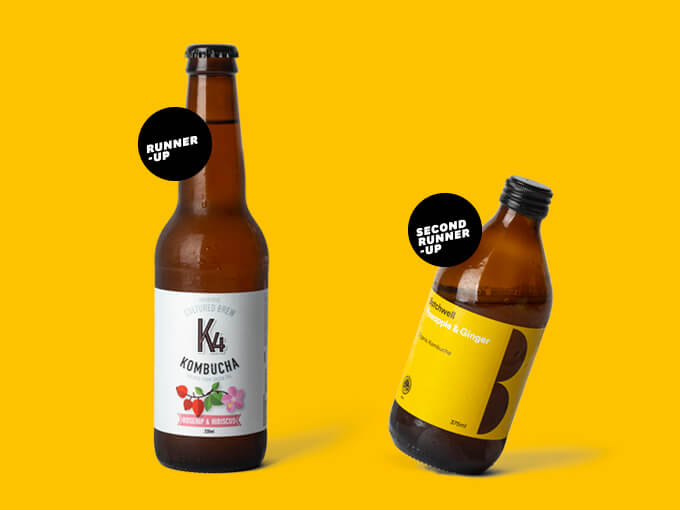 The Rest
4. René's Turmeric and Ginseng
$6.50 for 330ml
With a delicate floral nose, there's good acidity here, with notes of bright, crisp apple and stonefruit, lemon and pineapple. Lightly funky, it's delightfully drinkable.

5. Banjo Raspberry, Lime & Fig Leaf
$5.98 for 330ml
A most intriguing kombucha. With the aroma of old (bottom of a school bag) fruit and burnt toast, it's clean on the palate, with very fine bubbles and a refreshing finish.

6. Something Big is Brewing Original
$6.50 for 200ml
One panellist described this as "dessert buch". Syrupy and candied, intensely gingery, it has a long flavour that goes on and on. Almost a ginger beer. We loved it.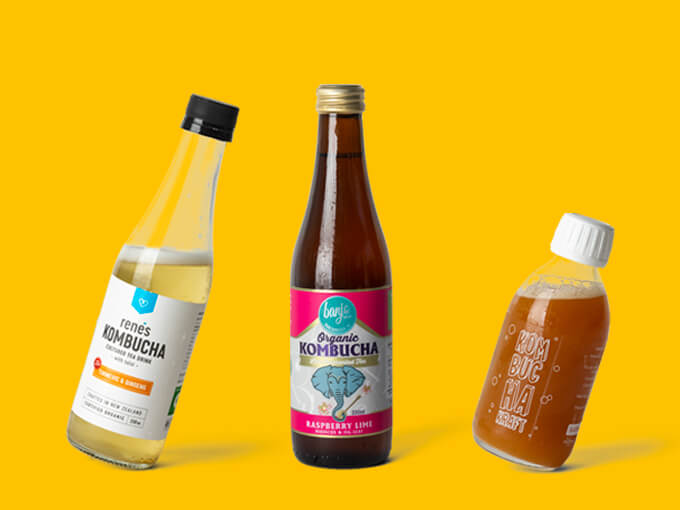 7. Banjo Blueberry & Elderflower
$5.98 for 330ml
Strawberry-peach coloured with a cheesy aroma, there's a leafy bitterness and good texture, but it's also acidic and one note, with a short finish.

8. Batchwell Beetroot
$5.39 for 375ml
Soupy and, obviously, beetrooty, there's an earthy aroma and a very fine bubble, with good eating flavours. Interesting.

9. Banjo Ginger & Lemon
$5.98 for 330ml
Ginger and grass clippings on the nose, there's almost a fizzy wine taste: sharp, clear and clean, with decent acidity. Nicely integrated.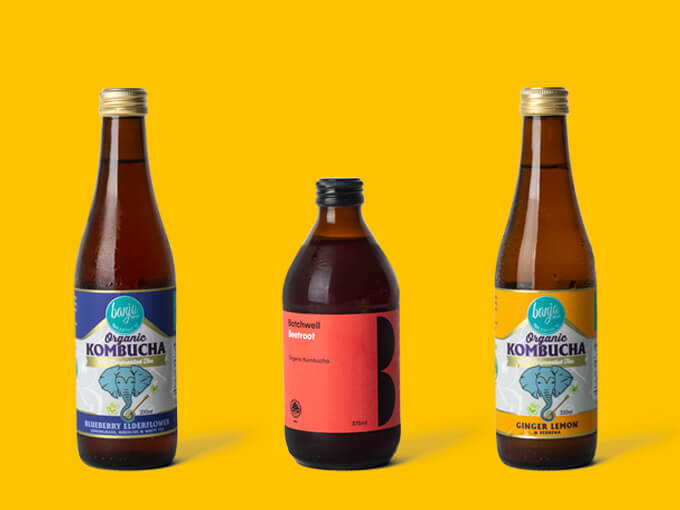 10. Organic Mechanic Ginger
$14 for 750ml
A session kombucha, delicately summery with a straw-like colour. Less "in your face", though slightly soapy.

11. Remedy Ginger Lemon
$2.99 for 330ml
With a pine-resin aroma, flavours of sweet ginger, long acidity and delicate sweetness, this is a good food buch.

12. Batchwell Braeburn Apple
$5.39 for 375ml
Simple, clean and crisp with yoghurty aromas. Only slightly sweet. Good drinking.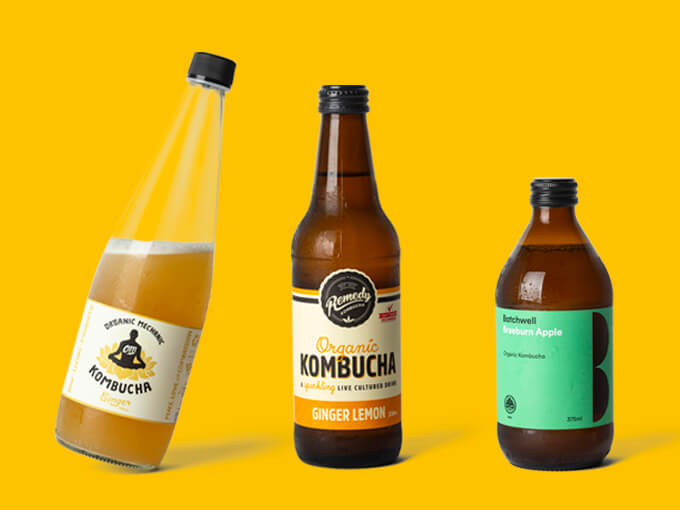 13. Good Fizz Blueberry & Blackcurrant
$6.00 for 325ml
Smells like a stinky nappy, though quite refreshing to drink, with a very strong rose flavour.

14. K4 Apple & Elderflower
$6.00 for 330ml
Divided the panel. Aggressively bubbly, plenty of pungency, pure kombucha. Hate it or love it.

15. René's Lemon & Ginger
$6.50 for 330ml
Points for the lump of scobie! Intense, grunty aroma with a mellow ginger taste, slight fizz.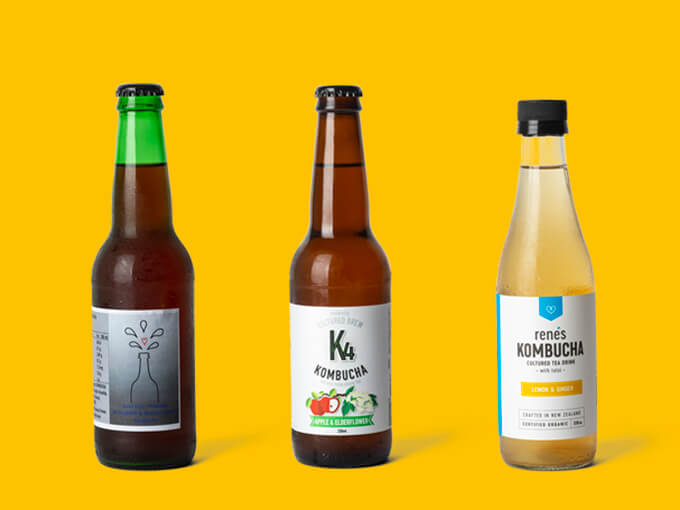 16. Mama's Brew Shop Love
$4.99 for 375ml
Jumps out of the glass with a cooked vanilla flavour. Great acidity and length, and sour fruitiness

17. Mama's Brew Shop Gypsy
$4.99 for 375ml
Lovely aromas of curry leaf and garam masala. Integrated and simple; a mild taste and bit of fizz

18. Banjo Strawberry & Lime
$5.98 for 330ml
Herbaceous with too much bubble and a vaguely alcoholic taste. Mild.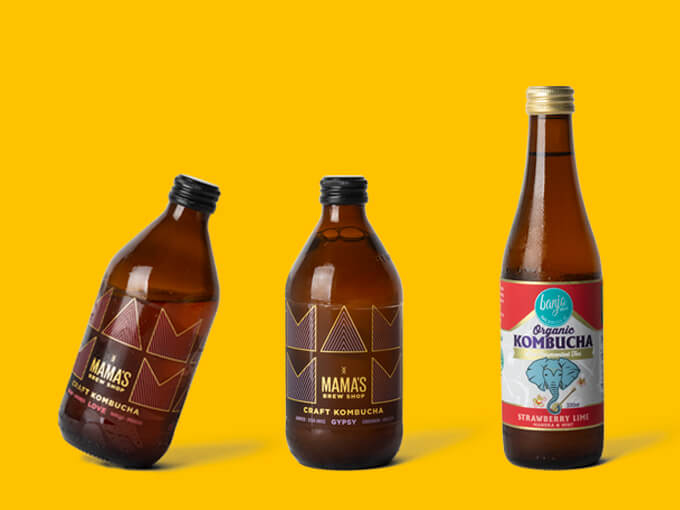 19. Mama Brew Shop Warrior
$4.99 for 375ml
A salty apple cider vinegar aroma that jumps out but doesn't quite follow up. Mild bubble.

20. Baby/ Bestie XXX Chilli
$5 by the glass
Described as a "palate killer" thanks to the aggressive ginger/chilli flavours. Both loved and not loved by the panel. Acquired taste.

21. René's Kombucha Pomegranate
$6.50 for 330ml
Sour fruit aromas, with a flat flavour and rose undertones.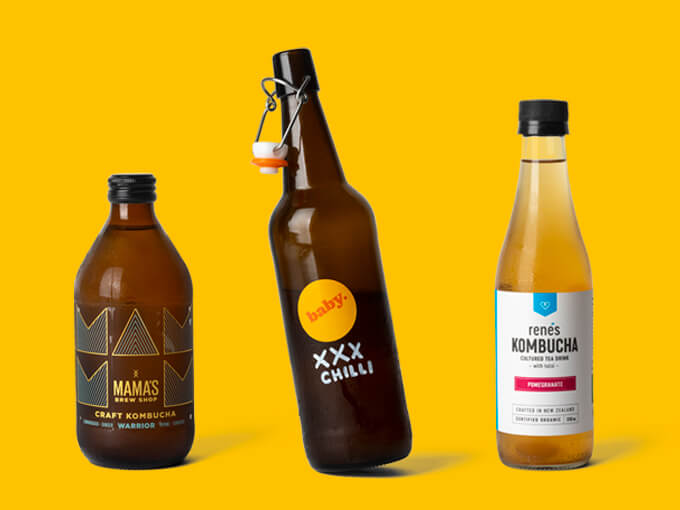 22. Remedy Cherry Plum
$2.99 for 330ml
Clean with small bubbles. A little acidic, it hits the back of the throat, but compensates with complex berry fruit.

23. Remedy Raspberry Lemonade
$2.99 for 330ml
Like a kids' fizzy drink, with raspberry cordial or Raro notes.

24. K4 Blackcurrant & Ginger
$6.00 for 330ml
Bubblegum and too much fizz.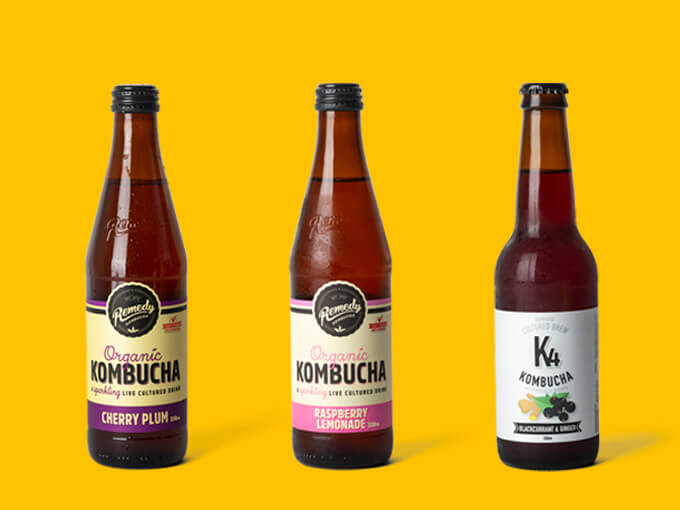 25. Good Fizz Superfruits
$6.00 for 325ml
With notes of dull candy, sherbet and candy floss, it's almost delightful – if soda-like.

26. K4 Mint & Chamomile
$6.00 for 330ml
Very pale, with mild mintiness but good acidity.

27. René's Kombucha Red Berry
$6.50 for 330ml
Very sweet, with notes of medicinal bubblegum and lollies.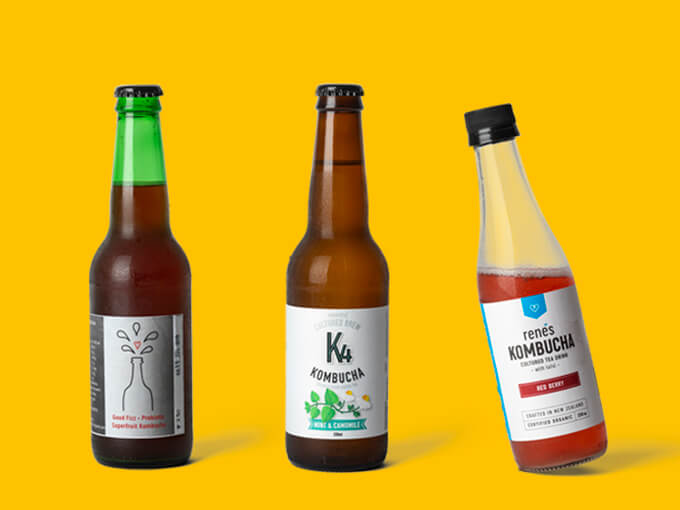 28. René's Kombucha Guarana & Acai
$6.50 for 330ml
Bright berry and candyfloss, almost like a distilled starburst. Too sweet.

29. Baby/Bestie Spiced Plum
$5 by the glass
Floral on the nose, notes of candy and soda and a medicinal aftertaste. ("Tastes like Pamol.")

30. Good Fizz Blood Orange
$6.00 for 325ml
"Why do all the berry ones taste of candy?" one judge asked. Mildly candyish, with bitter fruit.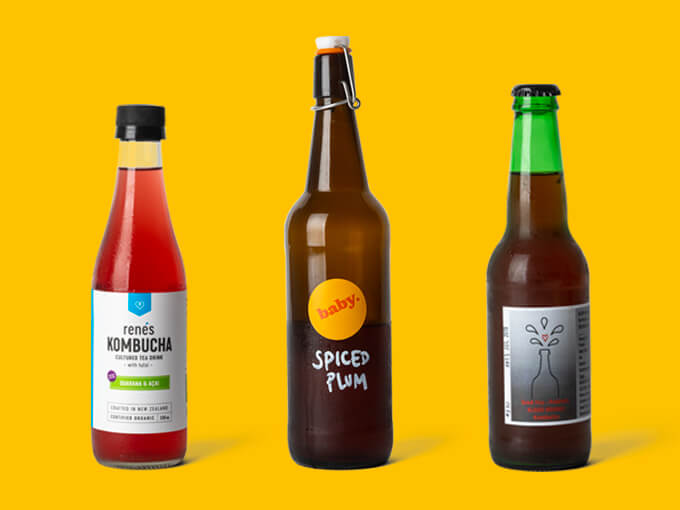 31. Banjo Blueberry & Lemon
$5.98 for 330ml
Heavily carbonated, with rose notes, though it manages some complex fermentated flavours.

32. Good Fizz Orange & Mango
$6.00 for 325ml
Peach iced tea.

33. Good Fizz Pomegranate
$6.00 for 325ml
Too sweet, too floral – reminiscent of walking past a Lush store.

UNRANKED: Mama's Brew Shop Happy Hour kombucha

$19.99 for a four-pack
The negroni of kombucha. Bitter, acidic, and most definitely alcoholic.
This piece originally appeared in the July-August 2019 issue of Metro magazine, with the headline "The first comprehensive* New Zealand kombucha tasting".
Follow Metro on Twitter, Facebook, Instagram and sign up to our weekly email