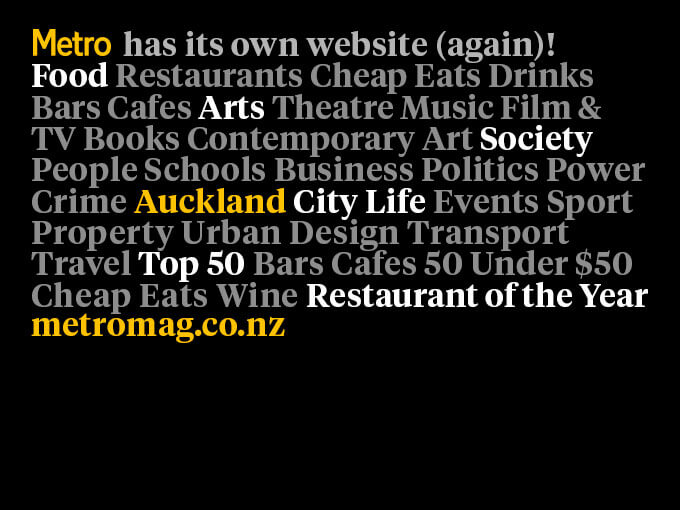 The 100 Best Cheap Eats in Auckland 2013 - "A" to "C"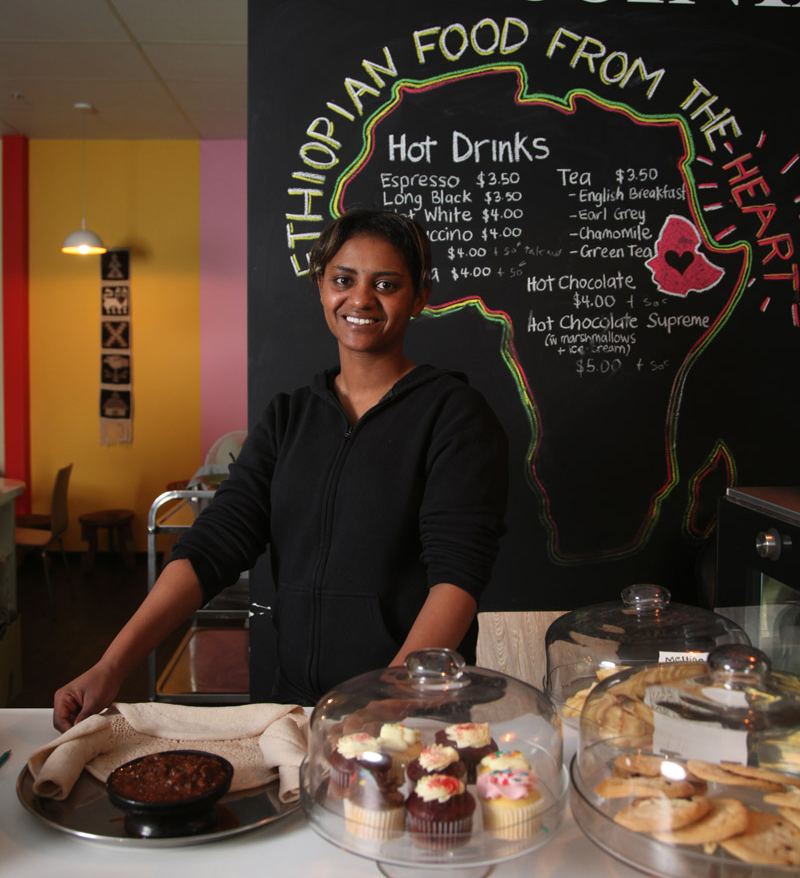 Cafe Abyssinia (photo: Ken Downie/Metro)
What an exciting time it is to eat cheap dinners. In the course of our search for a decent feed for less than $20, we made so many brilliant discoveries that fully a third of this year's Top 100 is new. Among them: Filipino, Ethiopian and Jordanian food, plus "homecooked" takeaways. As the overall standard rises, some old favourites — kebab houses and burger joints particularly — have dropped off the list. Our choices include some places where the décor isn't up to much, but cleanliness was a non-negotiable. Others failed to make the cut on price: many excellent Malaysian and Indian places, especially, are increasingly a little too expensive to include. We'll come back to the "best under $30" bracket in a future issue. We excluded food halls and night markets from the main list but have added some of our favourite food-hall dishes as a bonus extra, along with a list of 30 of the best cheap dinners we ate this year. So much deliciousness!
Angie's Kitchen
17 Mount St, CBD
Angie's Kitchen serves a lovely range of home-cooked Malaysian meals. Nasi lemak comes on blue rice cooked with coconut milk, the rendang is beautifully simmered and mama mee goreng has its own special sauce. Desserts are very popular.
Malaysian
@Bangkok
438 New North Rd, Kingsland
With such crazily cheap prices, @Bangkok could be forgiven if standards were to slip. Not a chance: the food is as delicious as the service is charming.
Thai
Bangkok
2/236 Dominion Rd, Mt Eden
While Dominion Rd swirls with culinary change, Bangkok continues to uphold its own tradition: smart service and dishes that are tasty without overly relying on the sugar that creeps into so much Thai food. A long-time favourite.
Thai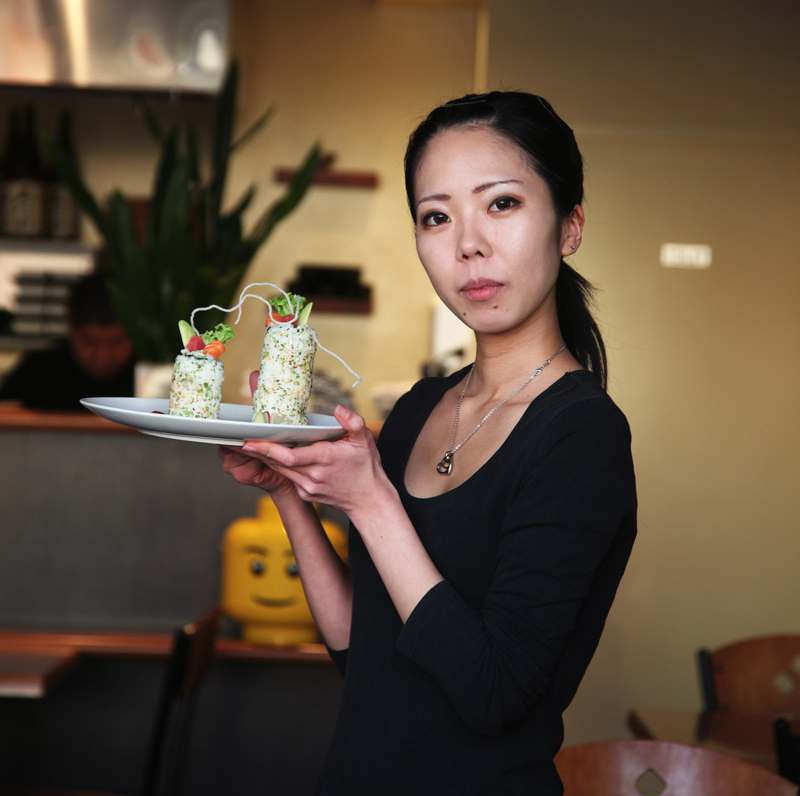 Banzai (photo: Ken Downie/Metro)
Banzai
583 Dominion Rd, Balmoral
There's a lot of pretty good sushi in town, but most of it is at the relatively more expensive Japanese restaurants. There's also a lot of very average stuff in the cheaper food-hall and hole-in-the-wall places. Banzai aims high and charges low, and we just love that.
Japanese
BBQ King Restaurant
187 Queen St, CBD (entrance on Durham St)
A huge pile of barbecued pork or duck (or half and half) plus bok choy and rice will set you back just $12.80. And there's so much more on the menu — almost 150 options including hotpots and noodles, and a very fine Malaysian laksa.
Chinese / Malaysian
BBQ Noodles Bar
29 Aviemore Drive, Highland Park
A great choice for Chinese barbecue out east. A huge selection of roasted duck, chicken, pork — and so much more — all of it really good value. So popular you might want to get there early: they've been known to run out of some meats by 8pm.
Chinese

Big J's Takeaways
4/1 Melton Rd, Mt Wellington
Lucky Mt Wellington: they've got one of the best burger joints in town (with beef patties that really do taste beefy), and it doesn't stick just to burgers, either. There's a fish wrap we're very fond of, with gherkins, carrot, onions, aioli and amazing battered fish.
Burgers
Bi Won Korean BBQ
29 Link Drive, Glenfield
The owners once ran their own Korean butchery, we're told, which could explain the succulent array of meats on offer at this attractively decorated, exceedingly friendly North Shore restaurant. All barbecue items come with plenty of free, refillable side dishes. Try the galbi (marinated beef short rib).
Korean
Bird on a Wire
234 Ponsonby Rd, Ponsonby
When it comes to cheap-eats chicken, ignorance is usually ethically questionable bliss. Not at Bird on a Wire. All their rotisserie chicken is proudly free range, so you can scoff with a clear conscience. And it tastes better, too.
Rotisserie Chicken
Bombay Blues
113-117 Felton Mathew Ave, St Johns.
What a find. This Punjabi-run restaurant boasts a real tandoor oven, beautifully marinated meats and curries full of beautifully fresh ingredients. The Goan fish curry — moist, perfectly cooked fish chunks with mustard seed and tamarind — is a standout, as are the Bombay-style kebabs on rice or wrapped in pita or naan.
Indian
Bombay Chinese
2 Dornwell Rd, Three Kings.
The product of historical Chinese migration into the subcontinent, Bombay Chinese serves Chinese food with an Indian twist. Chicken 65 is the must-try dish, the sauce a marriage of Chinese rice wine and Indian spices that sings. Darryl, the super-friendly owner, is about to move his business to the CBD; we hope the new owners at Three Kings keep up his high standards.
Chinese-Indian

Bon Ga Ne (photo: Ken Downie/Metro)
Bon Ga Ne
430 Queen St, CBD.
Of all the Korean eateries around the town hall and the upper slopes of Queen St, we like Bon Ga Ne. If you're unfamiliar with Korean barbecue, ask for advice. You can get a quick meal here before or after a show, or kick back and take your time. Zingy.
Korean
Boonchu
331 Dominion Rd, Mt Eden.
A cut above most Thai places in this price bracket, this cute little eatery gets points for cutting the sugar and using a decent whack of chilli where needed. The som tam salad is one of the most authentic in town.
Thai
Bun Hut (photo: Ken Downie/Metro)
Bun Hut
563 Dominion Rd, Balmoral
Bun Hut's Tianjin baozi, the ubiquitous steamed pork buns, are smaller than the doughy monsters you see in yum char or the supermarket, and are all the better for it — the perfect balance of dough and filling, 10 for $6. The dumplings, 20 to a plate, are good too. And if you've had your fill of steamed delights, try the jian bin gao zi (pancake with egg and rolled with fried crispy pieces), a hugely popular Beijing street food.
Northern Chinese
Cafe Abyssinia
6/190 Stoddard Rd, Mt Roskill
This is something special: the country's only Ethiopian restaurant, offering a dining experience like no other. You eat dishes like doro wot — chicken marinated in fresh lime juice with onions, garlic, ginger, berbere spice and herb butter — with unleavened enjera bread, which serves as both plate and cutlery.
Ethiopian
Chang Gaow
123 Onehunga Mall, Onehunga
We first heard about this place from star chef Michael Meredith, and we haven't been disappointed. It's as spartan as they come — they expect most customers will do takeout — but the food, especially the big sharp curries, is delicious.
Thai
Chef Rasa Sayang
25 Mokoia Rd, Birkenhead
Run by a couple from Kelantan in northern Malaysia, this unprepossessing restaurant serves some of the richest, smokiest char kuey tiaw in the city. The rest is fantastic too. And despite being in chichi Birkenhead, the prices are surprisingly low.
Malaysian
Chinese Dumpling King
949 New North Rd, Mt Albert
The retail complex it's in isn't a lot to look at, and the welcoming staff don't speak much English. But with a smile and a few hand gestures, you'll be rewarded with fantastic northern Chinese dishes: tangy hot and sour eggplant, cold noodle salads and a wonderful array of dumplings.
Northern Chinese
Curry Leaf
12 Commercial Rd, Helensville (& elsewhere)
They're not doing anything earth-shatteringly unique at Curry Leaf, but what they do is reliably excellent. Rich and spicy flavours, bright décor and the kind of service where nothing is too much trouble.
North Indian
Curry Sutra
7 Sunnyhaven Ave, Beach Haven (& Campbells Bay)
This takeaway-only Indian joint offers all the usual favourites, done really well, plus regional specialities and a big selection of kebabs. Vegetarians should try the veg shahjahani, a kofta made of semolina, yellow lentils and green peas.
Indian
See also
The 100 Best Cheap Eats in Auckland 2013 – "D" to "J"
The 100 Best Cheap Eats in Auckland 2013 – "K" to "M"
The 100 Best Cheap Eats in Auckland 2013 – "N" to "R"
The 100 Best Cheap Eats in Auckland 2013 – "S"
The 100 Best Cheap Eats in Auckland 2013 – "T"