Oct 28, 2015 Cheap Eats
Introducing the ten best burgers in Auckland as decided by the ultimate Battle of the Burgers, featured in the October 2015 issue of Metro. 
Read about the judging process and watch the behind the scenes video. 
The winner
Burger Burger
Beef Burger with Aged Cheddar, $14.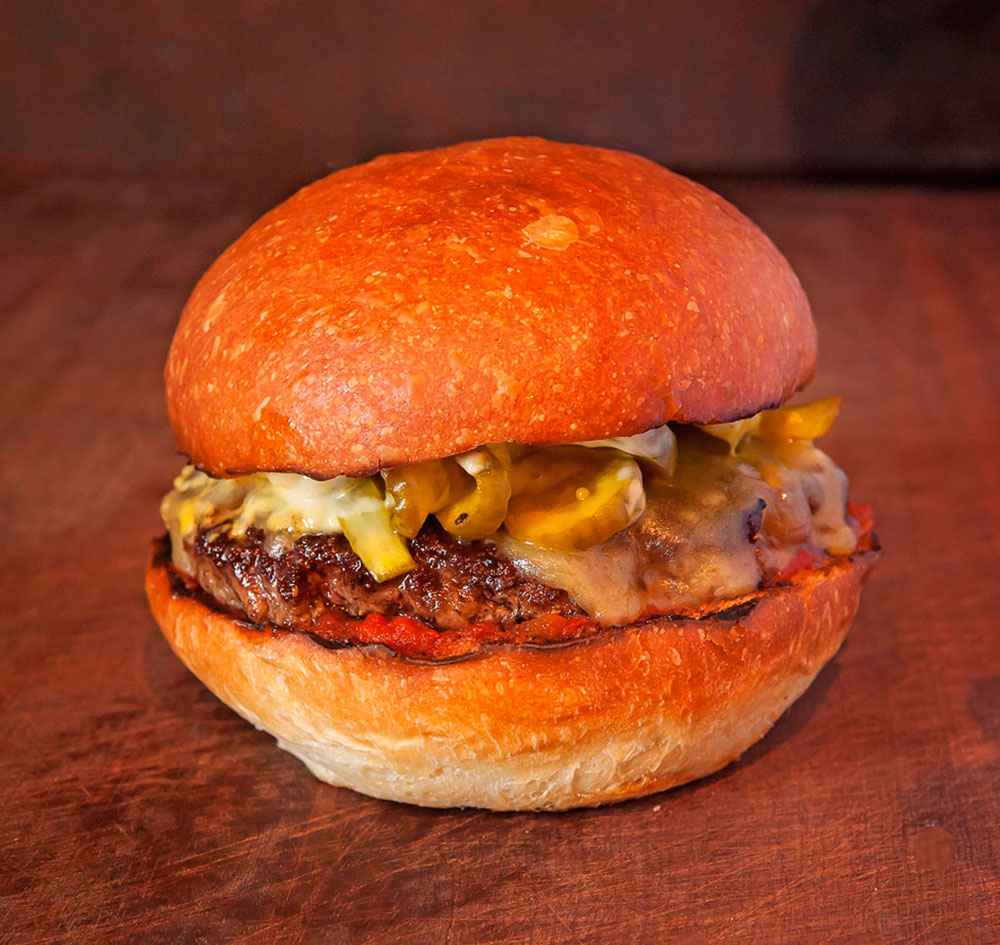 The look in Burger Burger head chef Adrian Chilton's eyes as he set down his burger on the judges' table was that of a pro-basketball player walking away from a backwards slam-dunk; victory inevitable, glory customary.
He was right. The burger is a master-class in thoughtful simplicity, with few components and each one of them designed to high-five every area of that taste-tongue diagram they teach at school.
The sweet sourdough brioche bun was developed over months with Andrew Kleine of Il Forno bakery to stand up to a good saucing without being too dense. It presents proudly, and then squishes down easily for undemanding bite sizes.
The patty's recipe was perfected with the help of Neat Meat butchers using a "secret blend" of beef blade, brisket and wagyu fat, which helps to ensure consistency.
The patty had a tender pink centre and evenly caramelised outer, and was just the right thickness for the other ingredients, its salty flavour distinct in every mouthful.
Homemade tomato jam, mayo and pickle are the only other ingredients, and they round off the dish with welcome acidity and satisfying sourness.
A Burger Burger burger (repeat ad nauseam) doesn't look as great as some, and it's not the "dirtiest" — it lacks the ooze-down-your-hands glory of some burgers. It just tastes better, from first bite to last.
2.
Bearded Clam
Brisket Chill Cheeseburger, $15.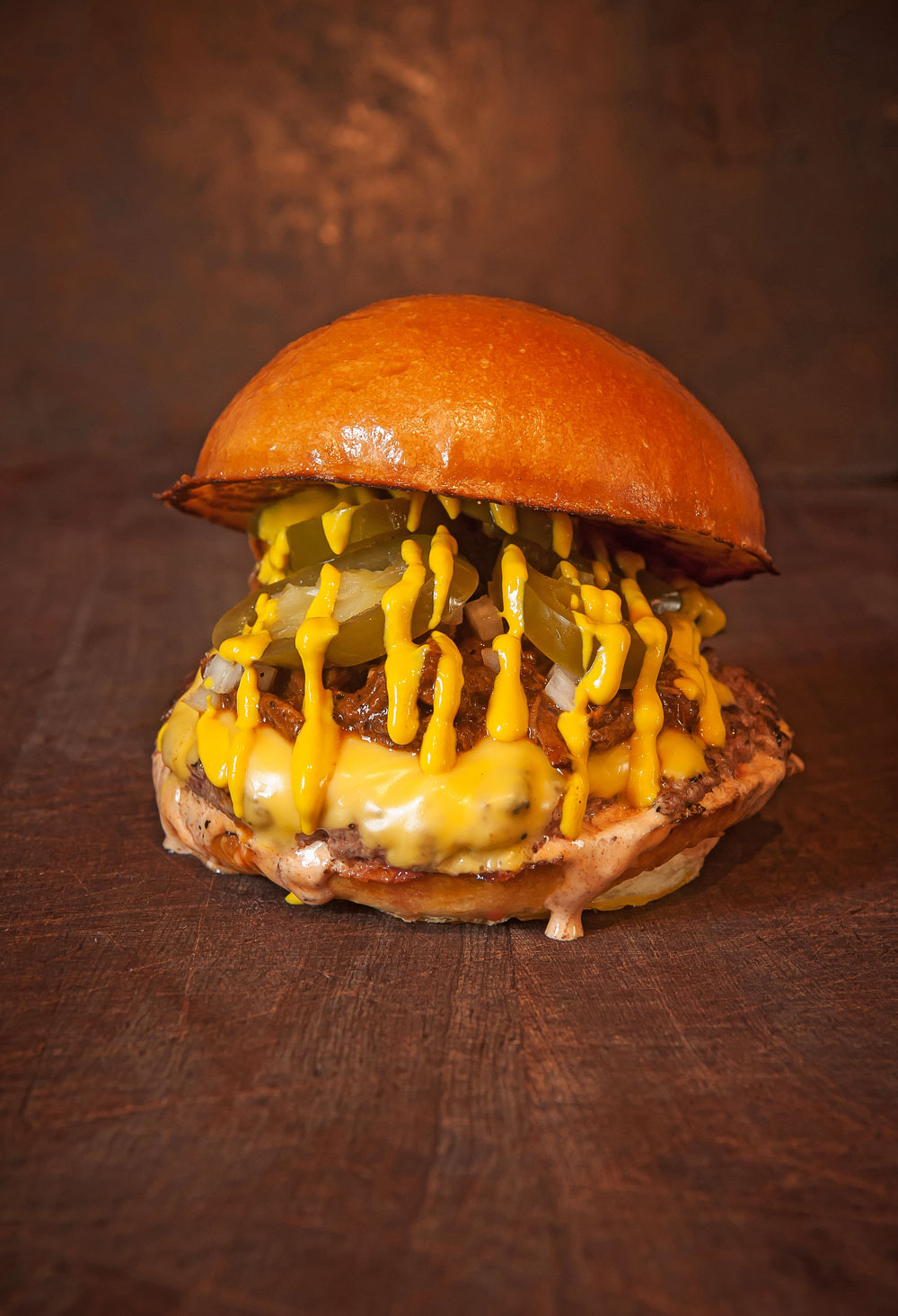 Just look at it. Nothing that yellow and unctuous can be classified as "clean eating", but oh boy, is it fun to eat. Judge Penn Mahuika called this the perfect "down and dirty" burger, completely up to the job of satisfying your hangover hunger with calorific abandon.
The tattooed, bearded and beanied Adam Crickett and Ryan Kneebone run the Bearded Clam, having met — how's this for a hipster love story — over gourmet burgers while living across the hall from each other in an east London housing estate.
The pop-up has been running for only nine months, and can be found sporadically at street-food markets and collaborations with established restaurants across Auckland. Experimentation is their thing, although the brisket chilli cheeseburger has become a staple.
It flouts the everything-from-scratch rules of gourmet cooking, with an "authentic" American approach using pre-sliced cheese (the plastic-looking stuff), American mustard, Best Foods mayo and chopped white onion.
It's not dirty where it matters, with homemade beef brisket chilli, a Neat Meat 100 per cent beef patty, wonderful pickled jalapeños and a bespoke demi-brioche bun from "a secret supplier". It's dribbly, but the textures are varied enough to cope with sauce overflow, the brisket especially providing a good chew.
The combination of high- and low-end ingredients, the big flavours and in-your-face confidence make this the perfect iteration of a street burger.
3.
St Heliers Bay Bistro
Wagyu Beef Cheeseburger (with hand-cut chips), $25.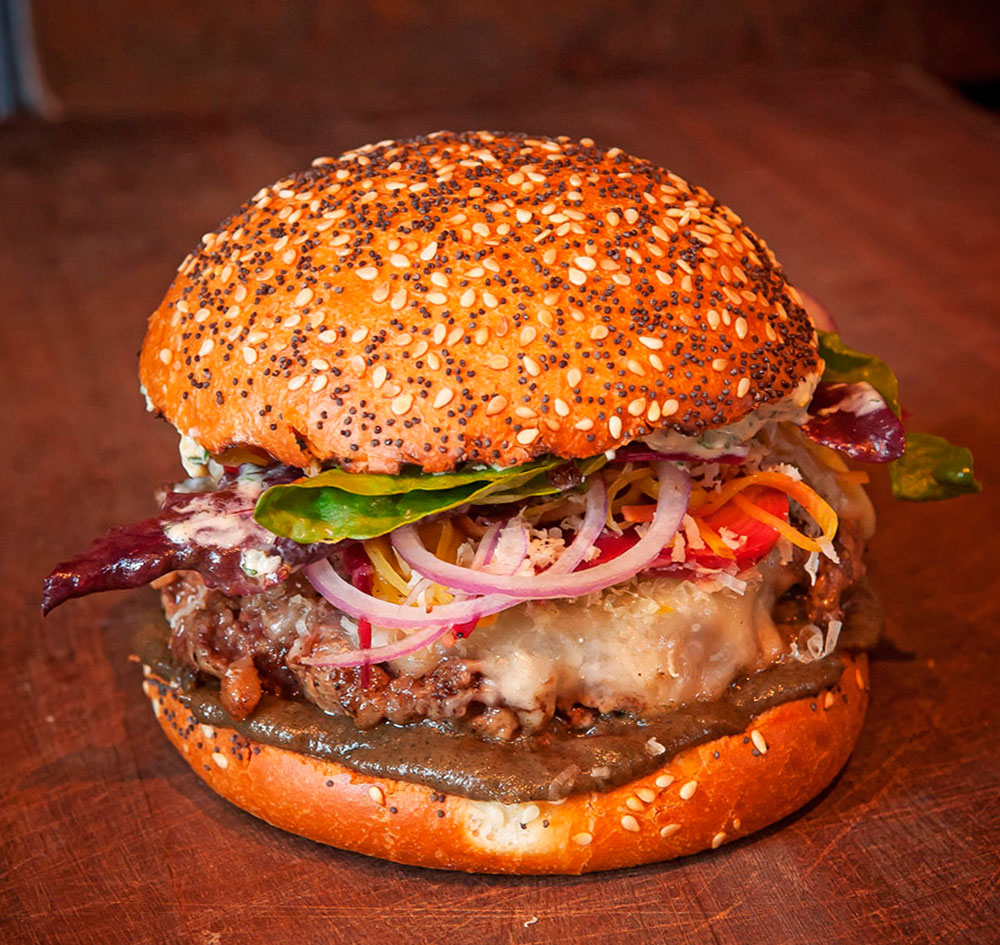 They're sticklers for self-sufficiency at the Hip Group, owners of St Heliers Bay Bistro, and their burger is an object lesson: almost every ingredient sourced, farmed, baked or butchered "in-house", with a brilliantly inventive commitment to avoiding waste.
Hip Group's bakery, The Store, takes care of the bun: a creamy brioche enhanced by nigella and sesame seeds. It's filled with "waste" ingredients: Parmesan rinds and pancetta fat enrich a base layer of charred onion purée; cuts from the whole beef carcass — trimmings and sinew included — are used in a dry-aged wagyu patty; beetroot tops are used as salad.
Provenance aside, this is a bloody good burger. The rich gooeyness of onion jam complements the perfectly cooked, coarsely textured meat, pickled beetroot, red onion and horseradish crème fraîche. Beetroot leaves add an earthy a surprise, and a sneaky smear of lemon rind and parsley under the brioche top cuts through the creaminess of the bread. The butcher on our judging panel, Adam Nixon, thought it was the best-executed patty of the day.
4.
Tiger Burger
Kimcheese Burger, $12.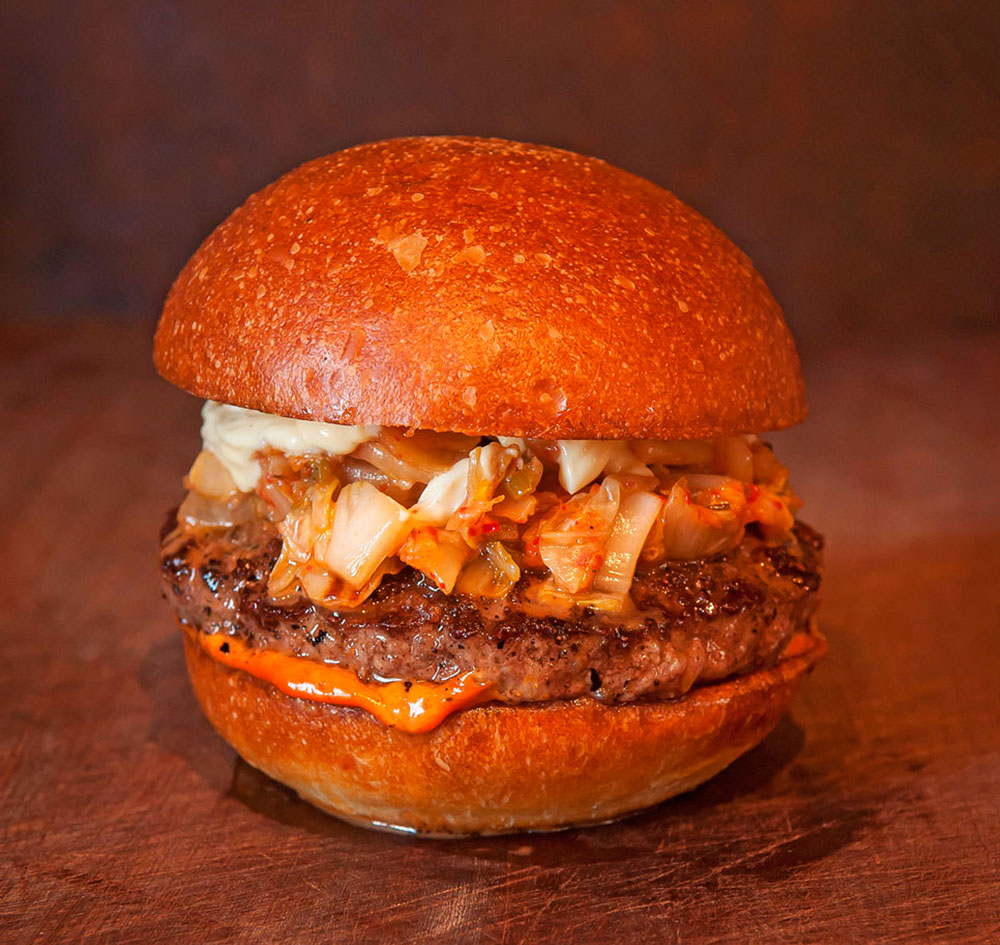 Our judges agreed that for a burger to be a burger, it needs three things: a bun, patty and pickle.
This Korean-inspired Kimcheese version pushes that rule, with the Western-style pickled element replaced by piquant sautéed kimchi. We didn't care: the fermented cabbage (milder than Korean tastes might demand) does a superb job of balancing the richness of beef, mayo and demi-brioche.
Two types of mayo — creamy and chilli — contrive to make this a wet and slippery burger: squeeze too hard and the patty catapults out. That's not necessarily a bad thing, and combined with melted cheddar cheese, it tastes, as judge Penn Mahuika put it, "really naughty".
Considering Tiger proprietors Matt Shephard and Esther Jeong have no professional background in food (until a year ago, they worked in the media), their instinctive understanding of flavour balance and investment in the right tools for the job, such as an industrial hot plate, means they're able to call anyone's bluff. If you like spice and don't mind getting your hands a little greasy, this gorgeous burger will be just right for you.
The runners-up (A-Z)
Food Truck Garage
Beefroot Burger, $12.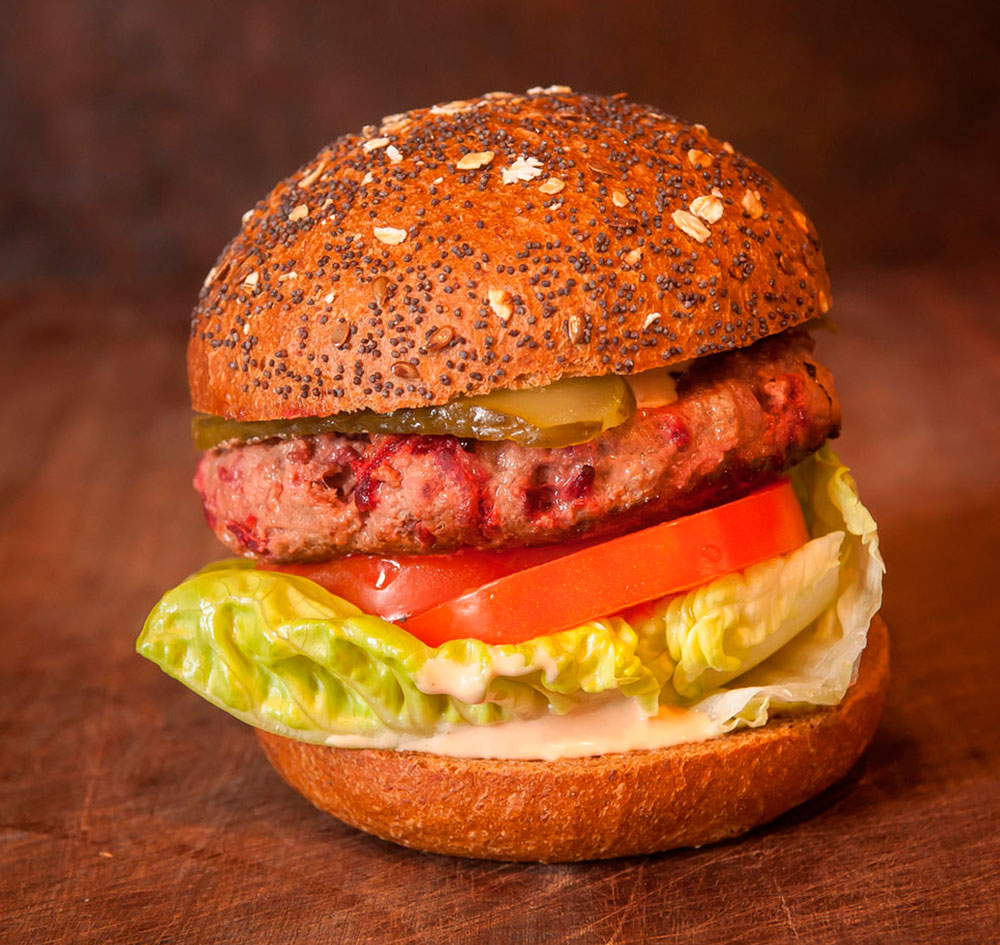 "So, 55,000 of these sold so far," declared Food Truck Garage head chef Bryan McGruer as he put our "beefroot" burgers in front of us. The tallest wooden spike of the competition boldly pierced a mighty… wait, can this be called a burger?
The judges were divided. Yes, it contains a predominantly beef patty — 60 per cent "single-sourced Hamilton rump" with the rest beetroot. Yes, there is pickle — McLure's famous New York pickles, in fact. But does an organic, wholemeal, malt bread roll count as a burger bun?
As a lunch roll, we decided this easily satisfies. But as a burger, it was a bit like having a parent disguising parsnips as "chips" to get them down a fussy toddler. Further, after one bite, the absorbency of the organic Bread and Butter Bakery roll was no match for the resulting pool of beetroot juice.
We like that there's a healthy alternative to eating your weight in burger, but you do need to adjust your expectations accordingly. (Post-competition, Little Bird Unbakery sent us their raw kimchi "burger" to try: if you're looking for a guilt-free burger, that's our pick.)
Galbraith's
Wild Venison Burger, $21.90.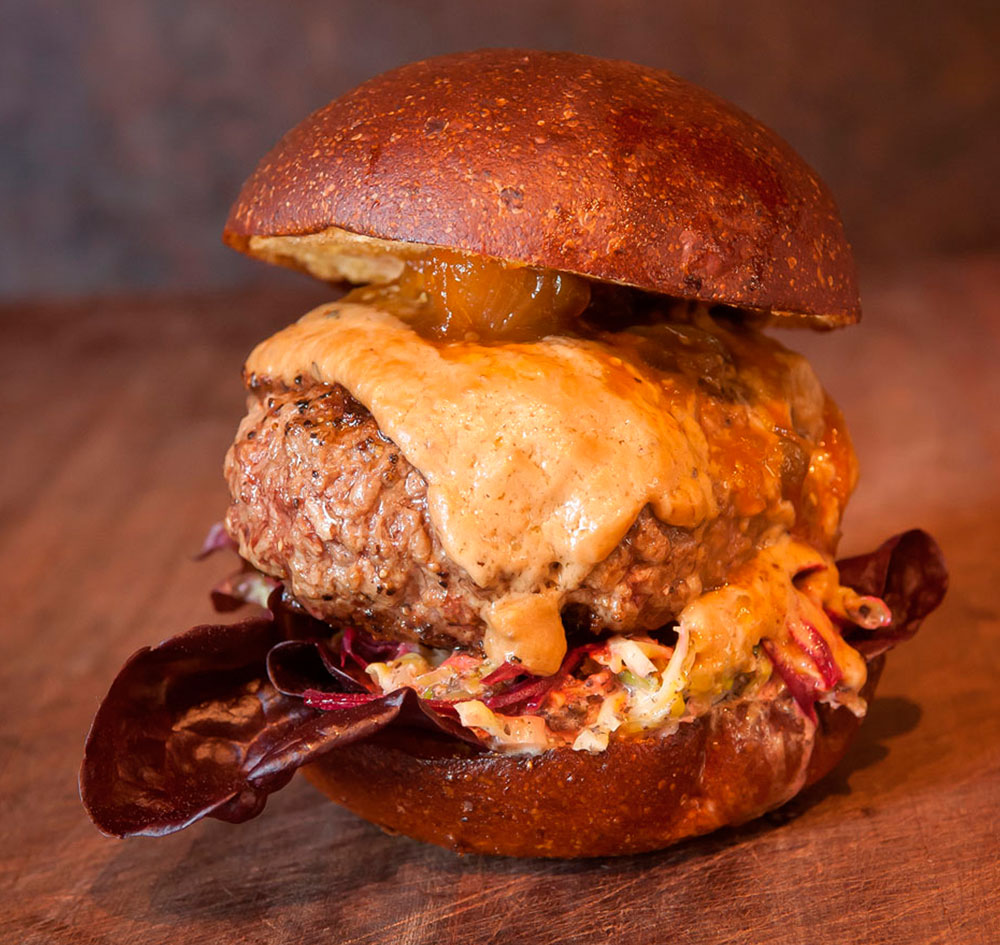 There are times when food is best shared, eaten over lively conversation with good wine. There are other times when it's better to find a dark corner and shamelessly gorge alone. This burger requires a dark cupboard.
It's gigantic, the kind of thing you can eat in polite company only by nibbling at it. The answer to this problem, of course, is to surround yourself with rude company at convivial Galbraith's , order a pint of Russian imperial stout (their suggested match) and go for gold.
It's like everything has been supersized and luxed to the max: a massive venison shoulder and pork patty, slightly heavy and intensely flavoured Wild Wheat kumara brioche, tomatillo relish, truffle savoy cabbage and goats' cheese. Every one of them wants to be the star, with the result that none of them is. It wasn't best, but it certainly was biggest.
Ostro
Beef Brisket Burger (with hand-cut chips).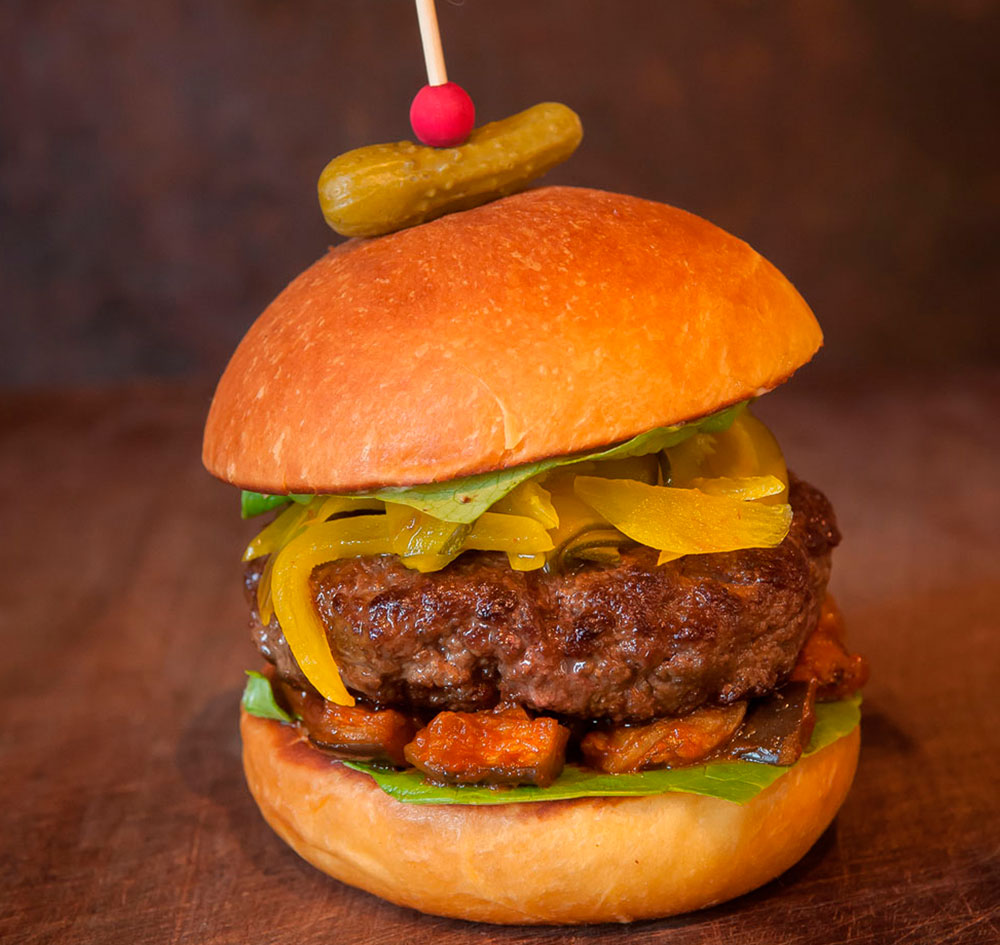 The height and what can almost be called prettiness make this burger very inviting, and on first bite the judges were impressed with the juicily sour courgette pickles and a mildly spiced eggplant relish.
Those vegetables continued to provide welcome juiciness, as we discovered that the patty was slightly dry. Ostro uses 100 per cent Neat Meat beef brisket as opposed to a blend of meats, and the meat just didn't have the moisture content it needed. The 100 per cent brioche bun was sweet, and then there was the lettuce — two little leaves that quickly became limp and redundant. For the price, we think this burger needs less attention to appearance and more to flavour and mouthfeel.
Ralph's
Ralph's Bacon Burger, $16.60.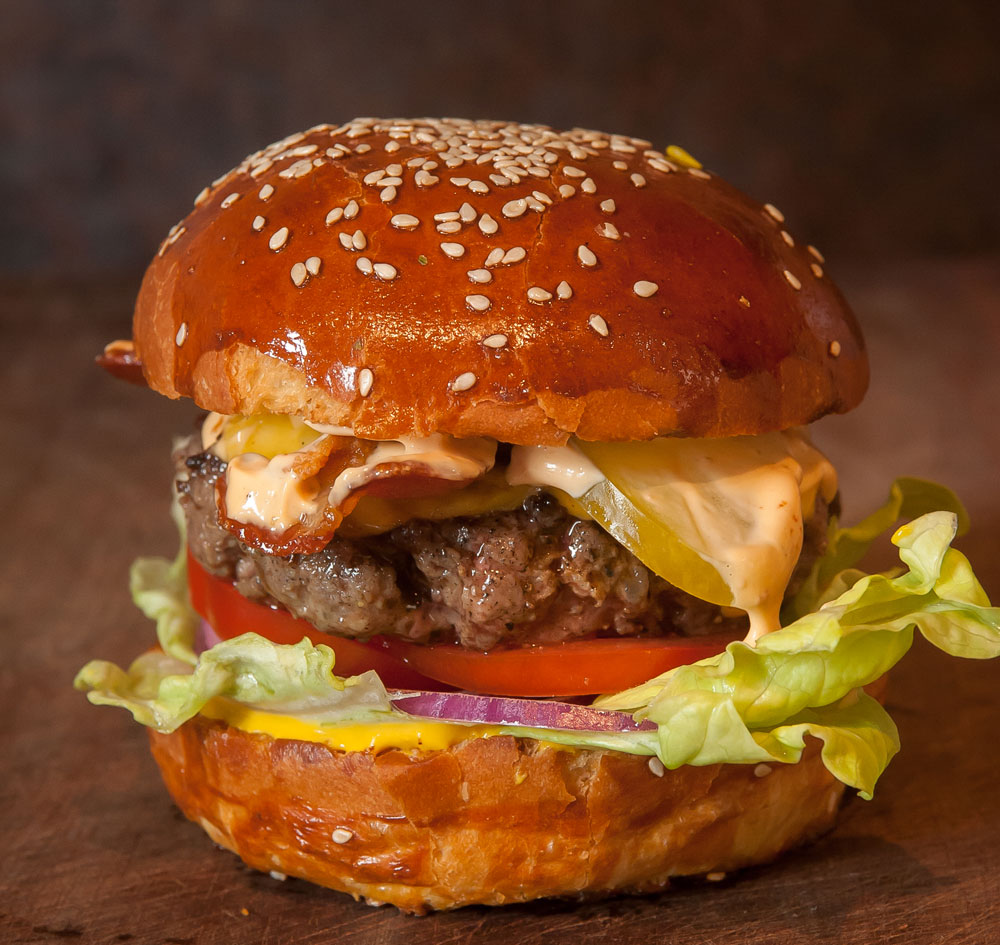 Ralph's is just off Dominion Rd, along from the Eden Park zone. It has a grungy, Wellington vibe, with handwritten menus doodled with Day of the Dead drawings. Perfect for anyone wanting a protective barrier of carbs pre- or post-game.
The burger features a Bread and Butter Bakery brioche bun, prime-steer beef mince, free-range streaky bacon, kosher dill pickles and routine store-bought mustard, cheese, salad and mayo.
A good, classic burger, but a little disappointing in the lack of quality secondary ingredients. And the patty was a bit large, which meant that, with the addition of bacon, there was too much meat for all the rest to handle. Good, but not great.
ralphsbarandeatery.wordpress.com
The Grill
Wagyu Burger, (with duck-fat chips), $28.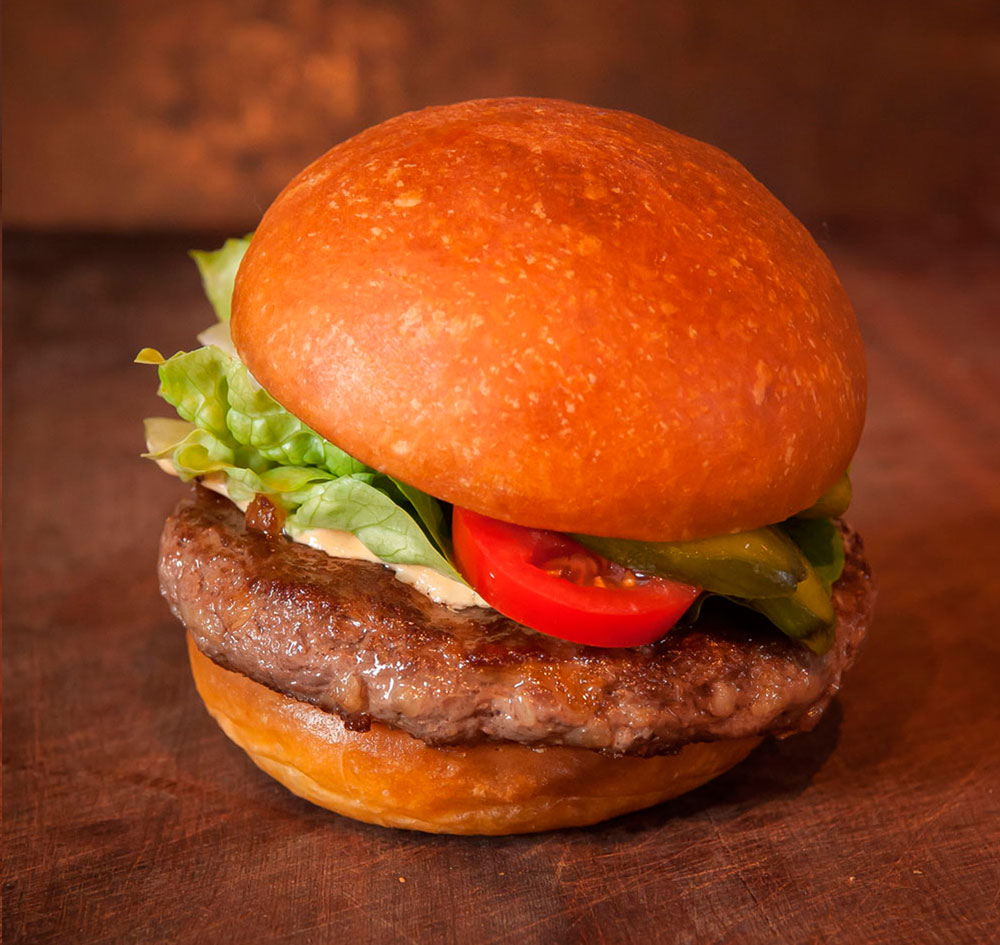 We had high expectations for Sean Connolly's meat-worshiping temple The Grill, especially as this burger has been on the menu since the restaurant opened four years ago.
The ingredients are carefully chosen: a brioche bun from Olaf's, Hawke's Bay wagyu beef patty, housemade pickles, chipotle mayo and Curious Croppers tomatoes. That all makes it sound like the burger should be delicious.
And it is good. But it's also quite sweet. Even Leisha Jones, who confesses a soft spot for super-sweet brioche, agreed it could do with something sharp for balance.
Once again, the single-origin patty, while expertly cooked, was a touch dry. There were also a few raised eyebrows about the value of tomatoes out of season: They're not much like what you'd expect in late summer.
skycityauckland.co.nz/restaurants/the-grill/
The White Rabbit
Hand-cut Duck Burger, $26.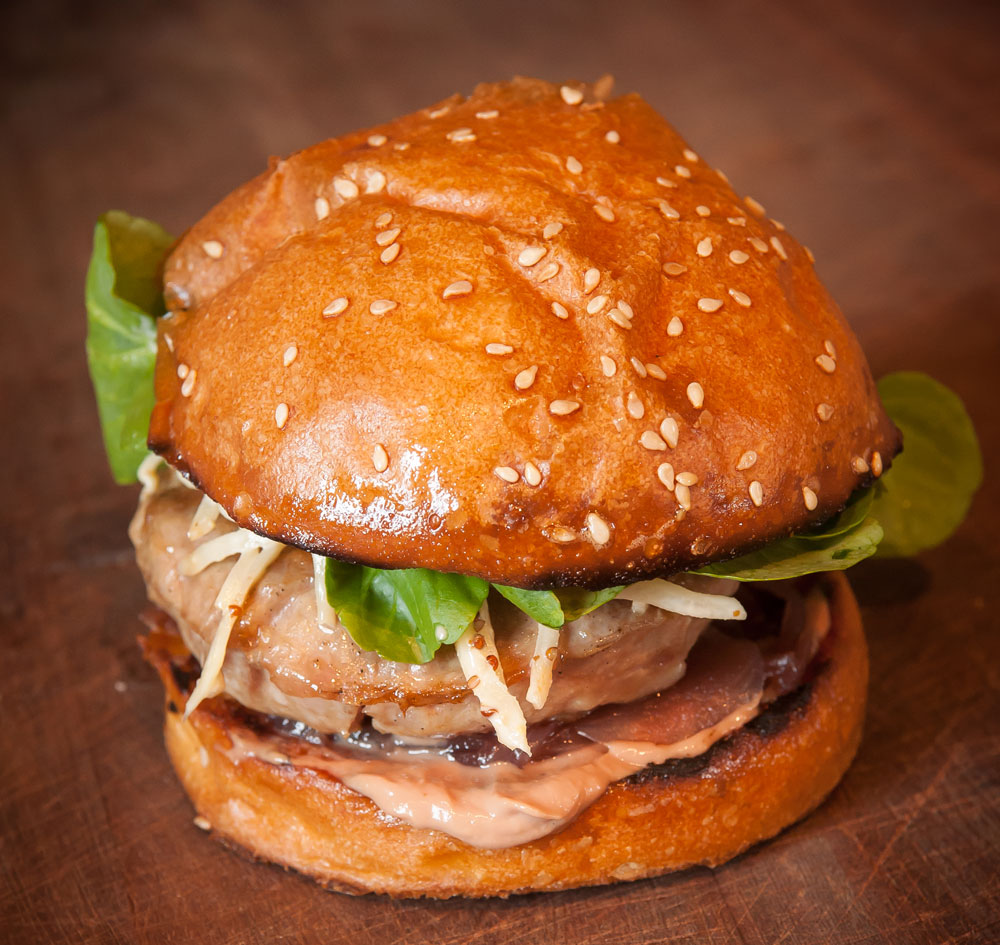 Mark that "hand-cut" descriptor: the duck mince is coarsely chopped and so much the better for it. Editor Simon Wilson first lauded this burger in his review of the restaurant, and he's still a big fan. The duck has a distinctive flavour compared with nine beef-based burgers, achieved by brining duck leg for 12 hours, poaching, blending with pork-back fat and serving with parfait. It was inevitably a standout, but was it better?
Judge Leisha Jones loved the wild wheat brioche bun, but there was a view slider-sized portions may suit the duck flavour better. We loved the use of apple and celeriac, but wanted more. We also loved the use of watercress, but lamented that it had lost most of its bitterness.
A very good burger in its own right, and for anyone looking for a change from beef, it's a superb option.