Jul 22, 2019 Cheap Eats
Editor Henry Oliver goes to Sunny Town.
A newish entry to Auckland's ever-­increasing noodle and dumpling options, Sunny Town is apparently the kind of modern, fast-casual restaurant going up in cities and malls all over China. It's light, wooden and softly modernist. The food is made behind a window at the front, the noodles and dumpling dough made in-store each day.
If you arrive to a queue, don't be put off — the food comes and goes quickly, and signs inside politely remind customers not to hang out too long if there are people waiting outside.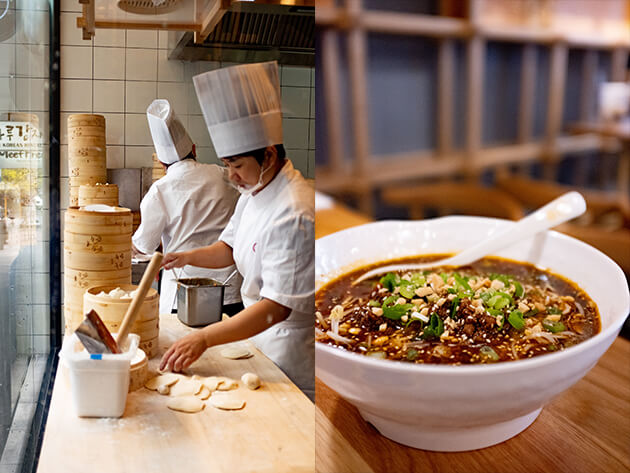 The menu is short but solid, 12 dishes — hot and cold noodles, wonton soup, steamed buns, shao-mai and congee. Thankfully, with such a short menu, there's few places to go wrong. The rather soupy dandan noodles have a vinegary sharpness, but fall well clear of sinus-clearing/tear-inducing spiciness (add chilli to taste). The pork rib noodles are rich and savoury with chunks of ribs so tender, the smaller bits of bone offer little resistance to the bite. You'll struggle to find a softer pork rib in the city.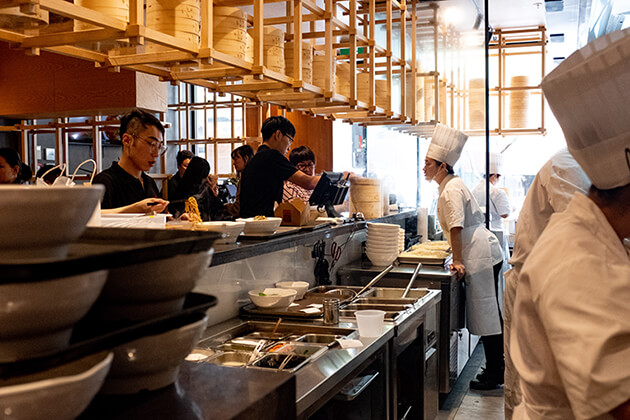 The sauced pork buns are light and fluffy, with a deeply stewed pork. The vegetable buns burst with bright green spinach, mushroom, bamboo and a little egg. And don't go past the date soy milk — warm, subtly sweet and eternally drinkable.
Sunny Town
10-14 Lorne St, central city.
Ph 373-5388
sunnytown.co.nz
Hours: Mon-Sat, 10.30am–8.30pm; Sun, 10.30am–3pm.
Dinner bill: Noodle or wonton soups, $9.80-$13.80; congee, $5; steamed buns and shao-mai, $10-12.

This piece originally appeared in the July-August 2019 issue of Metro magazine, with the headline 'Take Me to Sunny Town'.