Dec 2, 2014 Cheap Eats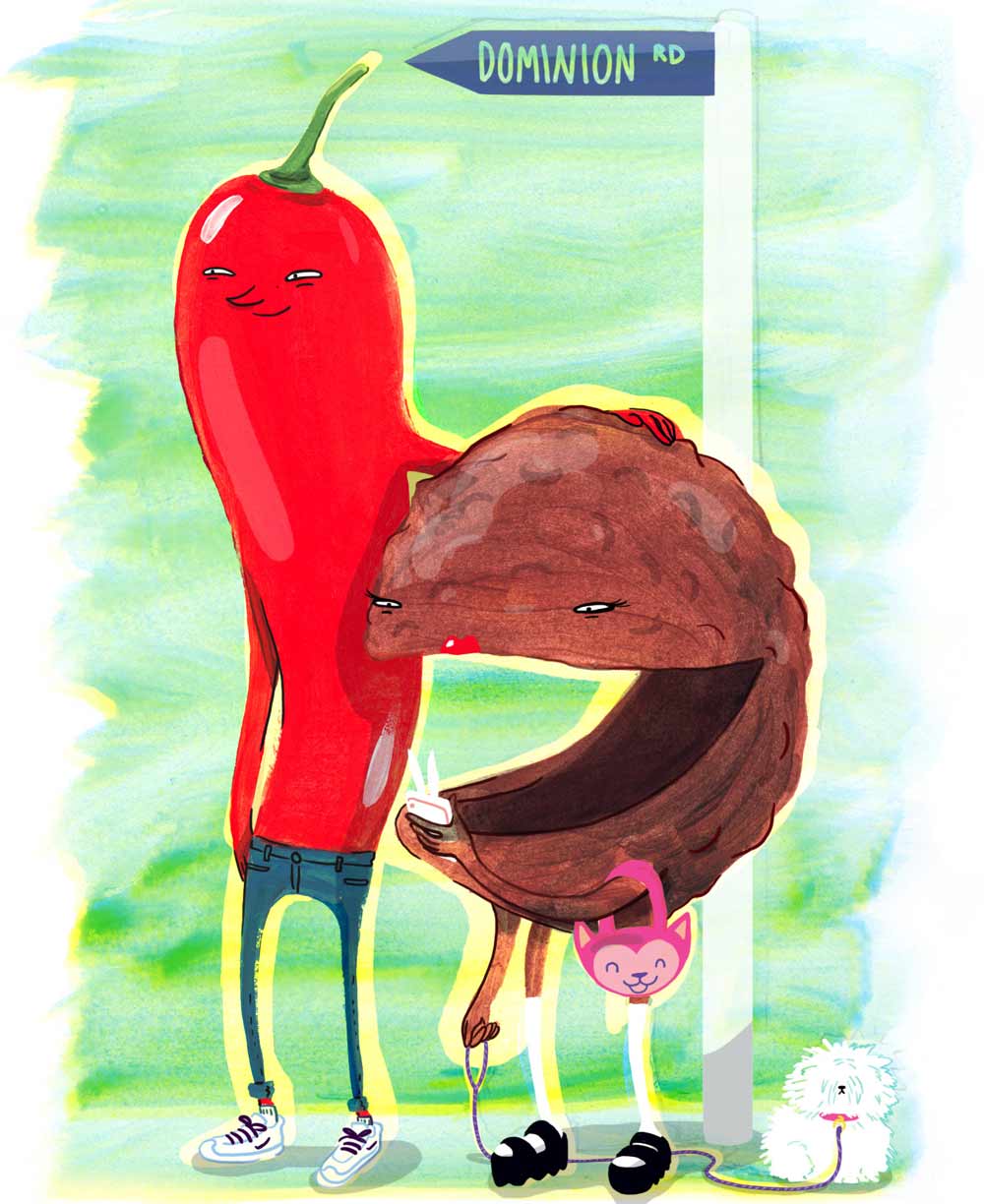 By Simon Farrell-Green. Illustration by Lauren Marriott.
There's a particular smell to Sichuan food and it comes from the peppercorns, which are numbing and just a little bit intoxicating, and once you get used to it, the smell can stop you in the street.
Sichuan is everywhere right now: you'll see Sichuan peppercorns on Chinese menus and whole fancy new restaurants dedicated to the cuisine, which has been recognised by Unesco and has a kind of cult status in China complete with frogs in searing-hot soup, which I've had the pleasure of eating. "This will blow your head off," said my host. And it did.
It comes with a sort of glamorous fear, which it doesn't always deserve. Oh, sure, it's not for spice wimps. There are a lot of chillis in it, mountains of them in fact, and they come piled on top and mixed through dishes in all manner of ways and let's just say I can advise these things are kind of regular in Chengdu.
But here's the thing: Chinese food is all about balance. Rather than blowing your head off in some kind of insane chilli-eating competition, the chilli is usually dried rather than fresh and, along with the pepper, it's there to tenderise the tongue so you can taste the flavours — sour, sweet, aromatic, et cetera.
The best place to eat Sichuan in Auckland is, predictably, Dominion Rd, where the best Sichuan joints are within a few blocks of one another.
San Bao (708 Dominion Rd, ph 630-9633) is just far enough from the Balmoral Dumpling Triangle that it doesn't often feature on the hipster radar. It's deserted by day but by night it's full of Chinese families.
Everything is good here. Specifically: the barbecue fish in chilli oil — the fish is grilled whole and then immersed in a big dish of bubbling chilli oil, a beautiful, red oil fragrant with peppercorns and dried chillis. It looks fearsome; it tastes amazing. Order a side of stir-fried green beans with pork mince and you'll be happy.
Nearby, there's Spicy House (557 Dominion Rd, ph 631-5128) and the terrifically named Spicy Joint (533 Dominion Rd, ph 623-4938). Spicy House is better — the flavours are cleaner — and they do a pretty good mapo tofu with plenty of peppercorns, which it doesn't always have at other places even though it should, and they serve an utterly brilliant chilli fried chicken, which comes out with the aforementioned fearsome piles of dried chillis.
But top of the list is Eden Noodles (105 Dominion Rd, ph 630-1899) on a windswept section of the strip next to Target and down the road from the Chinese supermarket: such bleak environs and yet the queue stretches out the door.
This is because (a) they do dumplings in "special sauce" — a mix of chilli oil, peppercorns and sugar that really gets the dopamine receptors firing — and (b) they do dan dan noodles, which is a classic streetfood dish of hand-pulled noodles with crunchy pork mince and a token green. It is a thing of great beauty and before I found it here, I'd last eaten it in a bus-station canteen in the soupy heat of a Chengdu summer.
When I eat it, just for a moment I'm right back there.