Feb 26, 2013 Cheap Eats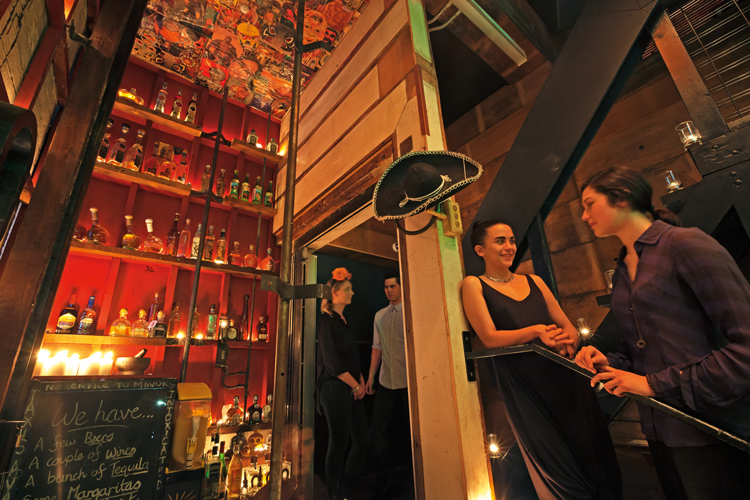 By Alexia Santamaria, December 2012.
This year, we're all Mexicans. At least when it comes to eating. Mexican food, usually in American styles — Tex-Mex and Californian — is the hottest new food trend in Auckland. How good is it, and who does it best? We've been sampling the beans.
Mexican Specialities in Ellerslie serves genuine Mexican food, but is open only for lunch, Thursday to Saturday. José and Maria, the Mexican owners, serve the best soft beef tacos in town (they make the corn tortillas fresh, and the tender carne asada and huge chunks of avocado are a first-rate filling), as well as other traditional dishes such as enfrijoladas, nogado, mole chicken, rellano and tostadas. It's all about the food here, so don't expect exciting presentation, but the opportunity to stock up on pantry items and other Mexican gifts is a bonus.
Jalapeños in O'Connell St is also very authentic, especially with its every-Pantone-shade-in-one-room cantina feel. The Mexican owners make their tortillas and sauces fresh on site and the fillings are all boldly flavoured. I did crave a little more colour and variation on my soft taco — maybe a bit of coriander or some salsa fresca with the meat and hot sauce. But it wouldn't stop me going back for those soft corn tortillas and beautifully cooked meat. They also do American-Mexican dishes.
The same applies to Amigos in Mercury Lane, off K' Rd. The menu is heavy on burritos, nachos and chilli con carne, but you can also get more traditionally Mexican items such as chilaques, tortas, enmoladas quesadillas and tostadas. The authentic recipes have been modified for practicality (it's not easy to fry pork in lard for carnitas with such a small clientele, and much cheaper to use flour than corn tortillas) but it works well. It's our pick for best value for money — portions are enormous. Only warning: this is not a first-date place. The food is delightful but the food court is not charming in any light.
For that first date, or any other occasion when fun is top of your agenda, head for Mexico in Britomart or Takapuna. It's vibrant and exciting, and one of the few Mexican joints in town with a degree of sophistication: soft-lit red walls are adorned with fabulous Mexican paraphernalia. The food is served in the small-plates-to-share style: think prawn, smoked paprika, chilli and orange quesadillas with corn salsa rather than giant burritos with refried beans and rice. The soft tacos are flour tortillas, not corn, but still tasty.
Authenticity isn't everything. The most important thing is, you want your food to taste good. They know that well at El Camino in Kingsland. Stephanie Connor, the owner/chef, was taught to cook in America by a family friend who ran Mexican restaurants. She recreates the recipes she learned there with the best of Kiwi produce — fresh zingy salads and salsas and slow-cooked, perfectly spiced meats in the tacos, burritos and quesadillas. It's Stateside Mexican, cooked New Zealand home-style in generous portions. The space is inviting and cosy (excellent music and a laid-back vibe), but it's pretty small, so it's good to know you can also get some of the menu items at sister establishment Toro two doors up the road.
In the same full-sized-meal category, Dos Amigos in Mission Bay serves well-executed Tex-Mex, complete with ribs and wings, in a shamelessly themed environment. Think Mariachi bands, flat screens with pictures of people drinking tequila, and lizards — live ones! I liked their tender beef fajitas and fiery but tasty tequila lime chicken. The chef is creative and the food is fresh and good — a cut above most Tex-Mex joints.
Mexican Cafe in Victoria St serves similar food and has an excellent margarita menu: try the cranberry, lime and agave. It's a big, noisy, colourfully decorated joint that's been around for 30 years, and it's bursting most nights — a better bet, foodwise and for atmosphere, than Little Mexico in Wellesley St.
One sure sign of a cuisine's popularity is the rise of the chains, for both sit-down and takeout. The Original California Burrito Company opened in Commerce St in July last year and already has six more outlets in Auckland, one in Hamilton and two in Australia. Australian Jeff Moss and his business partner, a native New Yorker who used to own one of the Original California Burrito Company stores there, decided in 2011 that it was time to change the Auckland idea of Mexican food as "plates of slop drowned in cheese and sour cream".
They do burritos, quesadillas, tacos, salads and chimichangas: the food is tasty and grilled rather than fried, with house-made sauces and fresh salad. Cruz Jimenez, a Californian-Mexican artist living in Auckland who has also worked as a chef, told me, "It's tasty and pretty close to what you'd get at home. I love their hot sauce, and the meat in the steak burritos is well cooked and good quality. It was a little surprising to see yellow rice instead of red, and whole beans rather than refried, but that didn't affect the experience."
Mexicali Fresh is expanding at a similar rate. Conor Kerlin and his clan have run Mexican restaurants in the States forever, and opened here in 2006. Auckland wasn't really ready for Cal-Mex back then, but it is now: they've opened three more branches, and another four are planned for the next year. They offer a Subway sandwich way of serving, which allows you to order exactly the flavour combination you want and, unlike Subway, the menu is not based on processed meats. Instead, they have fresh salads and the likes of 10-hour slow-roasted beef barbacoa. The soft corn tortillas are much better than most. Like the chillies, they're flown in from Mexico and the States. Mexicali Fresh is perfect for lunch or a quick meal after work, and better than Taqueria in Ponsonby, which operates along the same lines.
Next up, the mobile Mexicans. The Mexi-kai truck launched last year and can be found most lunchtimes in the outdoor carpark on Elliott St. They make a good fist of traditional offerings, with pulled pork and pineapple (and even queso fresco on the vegetarian tacos), twisted up with local influences such as feijoa habanero sauce. The soft corn tacos aren't as soft as those at Mexican Specialities or Jalapeños, but they're not bad at all. Fresh coriander gives a special lift to some of the flavour options.
Scott Towers from Fat Freddy's Drop sets up at Barrio in Ponsonby once a month for his Taco.Truck.Party (no truck, just tacos and party) with DJ Julien Dyne on sounds. His fillings are excellent and based on the food he fell in love with at taco stands in New York. Some — like the fish taco — are traditional, and some are far from it (Korean-flavoured carnitas with pickled red onions and bean sprouts, anyone?), but all are excellent: Towers knows how to balance flavours and textures.
The latest addition to this mobile scene is The Lucky Taco, the baby of Otis Frizzell and his wife, Sarah, due to launch in mid-December. In our tasting preview, we ate tacos that were juicy and bursting with flavour, including slow-roasted organic pork with great citrus and spice flavour, and a delicious homemade salsa roja. They will also be selling traditional drinks such as horchata and pepino agua fresca.
Alexia Santamaria blogs at cheapeats.co.nz