Nov 9, 2019 Cheap Eats
Peach's Hot Chicken's food truck vanished from the Auckland food scene in July this year. Here's a first look at their new permanent eatery in Panmure, where they will be serving their famous Nashville hot chicken.
Owners Alex and Olivia quickly joined the ranks of Auckland's cult food experiences, serving Nashville chicken made using Alex's Tennessee family recipes out of their retro caravan. It was a sad four months we couldn't get our hands on that hot, hot fried chicken – a few pieces, served at 'Holy Cluck' level of spice on a slice of white bread was always my go-to food-truck eat.
Metro recently named Peach's the best fried chicken in Auckland – seen in our Best of Auckland 2019 feature in the Nov/Dec issue – so we're stoked that they are now open in Panmure, just a few days after they celebrated their 2nd anniversary of launching Peach's Hot Chicken in 2017. They're happy to be in the area; Alex says their first-ever flat in New Zealand was only 200m down the road. As to why they decided to open a permanent space: "Having a food truck is quite a grind… It's nice to be able to cook and wash your dishes in the same space," Alex laughs.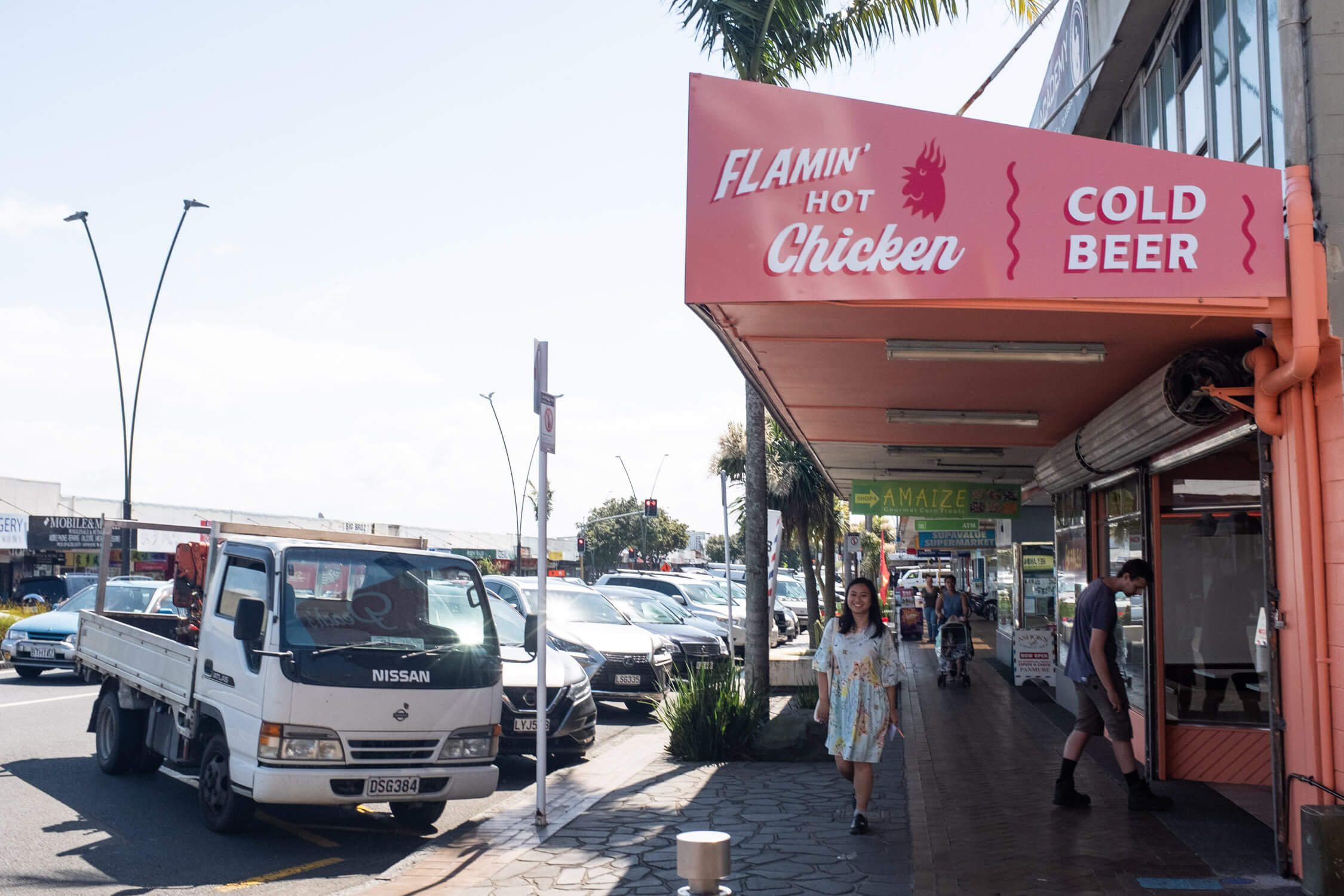 READ MORE: 12 places to find great fried chicken in Auckland
The new space is painted their signature peachy pink on the outside, a pleasant pop of colour out on the busy main road. On the inside, the fit-out was done by Gerrick Numan of Millé, a modern take on the American diner with light peach ceilings, padded green chairs and a black-and-white photo wall. Complete with a 'Holy Cluck!' mural, the vibe is dressed-down and casual, with some counter seating which looks into the kitchen. It will seat up to 39 people, and they hope to add some outdoor tables out front for the upcoming summer.
The food is simple, much the same as their food truck, with a few more options. Fried chicken sandwiches on brioche buns and their chicken and waffles feature, of course, plus some bigger plates with one or two chicken quarters, served with a side – like mac and cheese, braised greens or fries – sliced bread and pickles. Happily, you can choose between white or dark meat, which will be a welcome point of difference for loyalists on either side. As always, heat levels range from mild to their 'religious experience', Holy Cluck, which is named that for a reason (hint: it's super spicy!).
Behemoth and Hallertau are on tap, plus beer from other NZ craft breweries. It's fried chicken, after all. There will be wine and spritz, too.
Alex assures me that the truck will be on the road again in 2020, making the rounds at the markets.
Open now Friday 8 November, from 5pm.
1/100 Queens Rd, Panmure 1072
@peachs_hot_chicken