Sep 18, 2019 Cheap Eats
The ?Metro team visit the newly opened Paradise Bakery in their takeaway outfit to see what the deal is.

Paradise is a much-loved Auckland institution. When we tell the taxi driver our destination and start to read aloud the address, he stops us mid-sentence. "Yeah, I know where Paradise is." There's a hint of indignation.
Their newly-opened bakery is located inside their takeaway shop, with cakes in one cabinet and baked sweets and savouries in another. We arrive at 12:30pm but the savouries had not yet come out. "Sometimes it's late, sometimes is earlier," is the reply when I enquire about the usual time. Fair enough. You'll also have to ask for a paper bag from the main counter if you want to take away a pastry without your own container.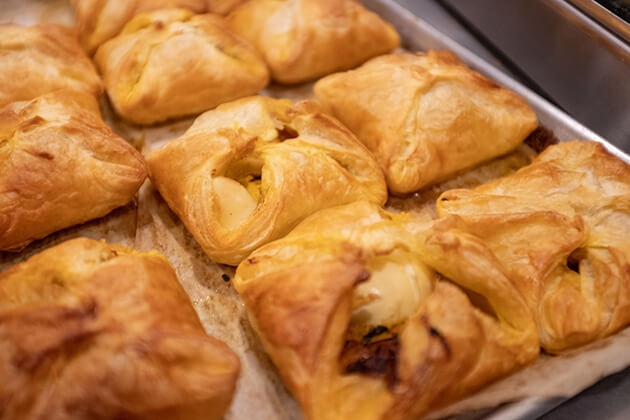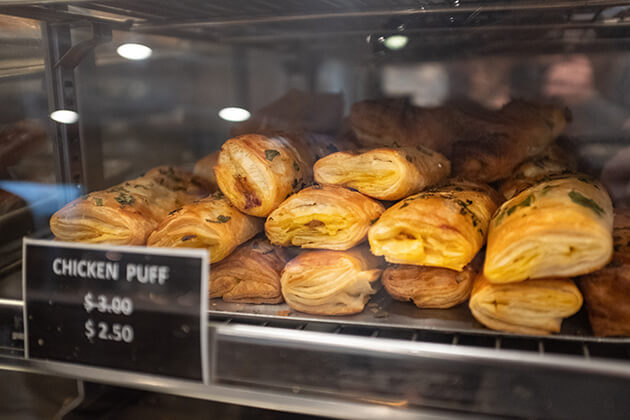 While waiting for the savouries, we bite on a "fine biscuit". It looks like a palmier with sugar encrusted on the top, but is a softer, layered pastry. It's OK, erring on the side of not good; it's dry and stale and maybe should not be eaten alone. It tastes as if it had the potential to be great fresh out of the oven.
Later, when the cabinet is finally full, it's the savouries where things get really satisfying. Flaky, subtly sweet, delicious puff pastry wraps around various spiced fillings, like chicken Manchurian and a baked-in egg. They are the Indian version of a sausage roll, and akin to other cuisines' versions of "curry puff". They tend to use the same curry in these pastries as you'd get ladled into a takeaway container with rice, so it's the same Paradise taste you love, with the added pastry. If anything, though, the fillings were missing a little flavour – some more spicy heat would have been amazing. We muse about how good this would be in the morning for breakfast, and curse that this bakery seems to only open at 11am, with their goods only rolling out after 1.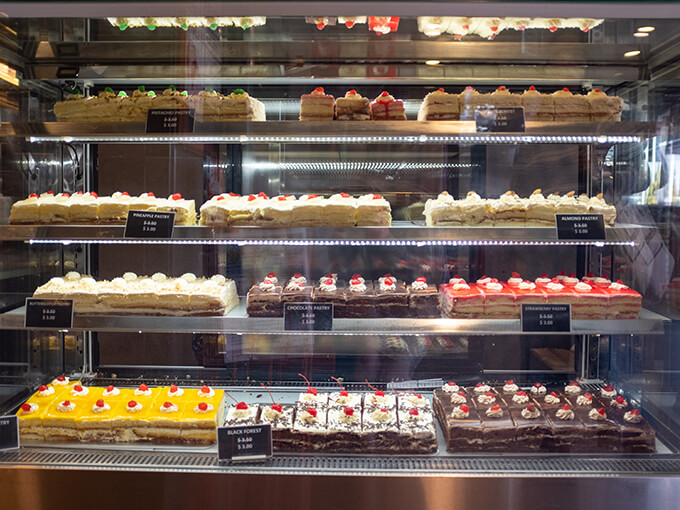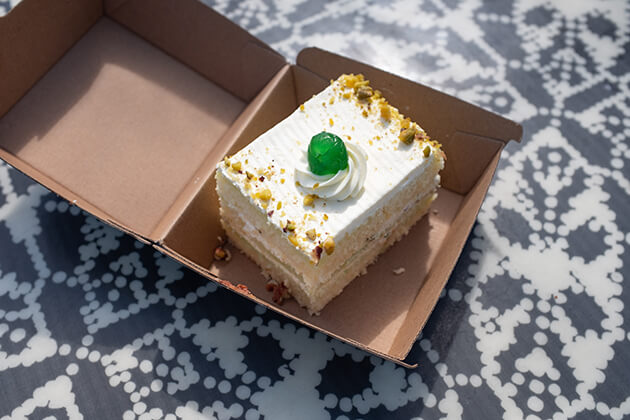 Moving onto the cake (or "pastries" as they're labelled), their cake-full cabinet is filled with rows upon rows of flavours: chocolate, mango, almond and black forest among them. We can't resist the pistachio, gently green with sprinkles of pistachios stuck to the white cream covering the rectangluar treat. Unfortunately those are the only hints of pistachios. It's a very nice version of a light sponge cake, texturally soft and dreamy, but without much discernible flavour.
All in all, the Metro team would go back. It's hard to be mad at curry puffs (of which there are more options to try) and a pleasant little sponge cake, especially when all of the above (three puffs, one fine biscuit and one cake) only cost us $12.

Go for: to takeaway a mid-afternoon office snack, when it's 3pm, you're over it, and all you want to do is go home and scarf down a bag of chips. Have a Paradise Bakery chicken puff instead.
Cake (or "pastry"): $3.00 each
Puffs: $2.50 each
Fine biscuit: $1.50 each
581 Sandringham Road, Sandringham