Aug 14, 2019 Cheap Eats
Dominion Rd classic New Flavour is now open for lunch six days a week. Metro went to check out their new lunch menu.
On the corner of Dominion Rd's Balmoral restaurant hotspot, one door down from its original location, is New Flavour Restaurant. Known for its jiaozi (or 'dumplings' to New Zealanders), the eatery has been around for 15 years – or 20 – current owner Nicolas Ma doesn't remember; it's been a long time. He bought the business eight years ago and since then he's made a few changes.
Four years ago, Ma moved the establishment down to its current 537 Dominion Rd location. Earlier this year the new premises underwent a revamp – a slick curved wall panel was added, plus wooden floors, contemporary furnishings and a lighting spruce up. It's warm, yet pared back. The focus is on the food.
In early July, Ma opened the Dominion Rd restaurant during the day. This way, he can focus his energies and the people get what they want: lunch.
When he bought the business, his first move was to make the menu more contemporary – jazzier, with a focus on ensuring the considered menu is delicious and of high quality. He brought in a renowned chef from a 5 star hotel in China, an expert in the Northern Chinese cuisine Ma noticed was popular in Auckland. By hand, the wheat flour dumpling casings are folded in half over the filling – small half-moons rather than Southern China's little bags.
The same chef is still in charge of the kitchen today, turning out dumplings in more styles than you'll find anywhere else. Not only do they have steamed dumplings, fried dumplings and dumplings in soup, they also have a sizzling option where the laobian dumplings are served in a hot pan engulfed in a crispy egg base, yum!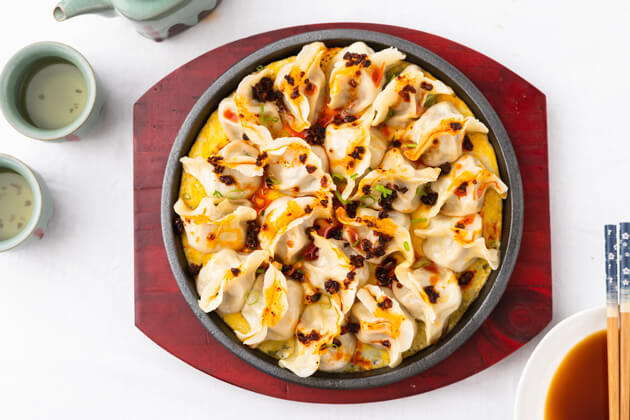 Inspired by his grandma's homemade jiaozi, Ma set out to find the 'taste of home' by recreating the traditional flavours of his childhood. Yet Ma is not one to remain stuck in the past and while he draws on ancient techniques, the restaurant embraces the spirit of innovation. Continuing to offer the classics, like pork and chive, and beef and fennel, they've also started delving into inventive combinations like bacon and cheese (rich, indulgent and a bit naughty, a flavour that Ma dreamt up himself) and beef, black pepper and cheese (a steak inspired filling featuring caramelised onion and exhibiting a bit of a 'gourmet-mince-and-cheese-pie' vibe about them).
The pork belly bao are another new addition. They've managed to avoid the thick, stodginess that usually accompanies large bao by making them bite-sized with thinner buns. The melt-in-your-mouth pork belly within is rich, and exactly what you're looking for.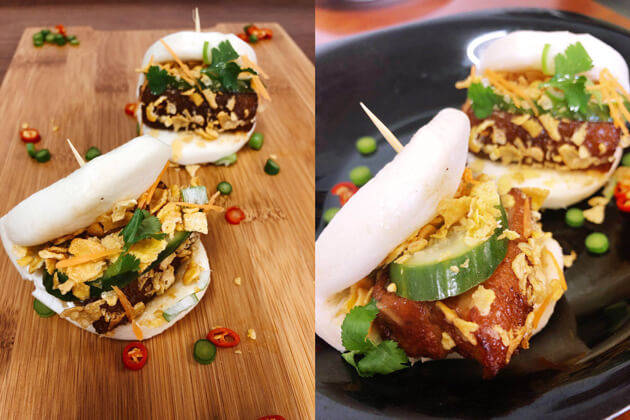 New Flavour's seasonal menu is as diverse as China's distinct regions, drawing inspiration from the ancient Chinese philosophy of Yin Yang (where one seeks to maintain harmony by balancing the world's complimentary forces). Sourcing seasonal produce from the local farmers market each week, Ma guarantees fresh, quality ingredients inspire his shifting menu. This winter their special pork belly bao and cheese dumplings are a firm favourite but as the weather heats up, diners can expect new flavours and light bites.
Ma reports that lately, spice has become a lot more popular, "people are getting more adventurous and when they come to pick up their take-away dumplings, more and more often they ask for chilli oil." Of course, there are spices on every table and plenty of dishes with a good degree of zing built in!
One such dish is the jellyfish and cucumber salad. It's a spicy, sour and juicy treat designed to temper the otherwise salty jellyfish – a popular meal in China. Give it a go! If only so you can say you've tried it – I did and now it's one of my go-to's!
If you aren't one for spice, try the lemon chicken. It's syrupy with a lemon curd-like citrusy-sweet sauce and a crispiness to boot.
Of course now that New Flavour is open for lunch, nothing is stopping you from working your way through the full menu. Their new hours are a massive win for Dominion Road's lunch scene because until now, most places in the area have opened at five. New Flavour works well as a lunch venue. It's light, airy and the sun streams in, encouraging you to linger longer. Honestly, we wouldn't blame you if you did!
New Flavour is open Sunday-Monday 11am – 3am, Wednesday 11am – 3am, Thursday-Saturday 11am-4am
537 Dominion Rd, Mount Eden
Instagram: @newflavour_auckland
Facebook: New Flavour Restaurant ??