Sep 22, 2015 Cheap Eats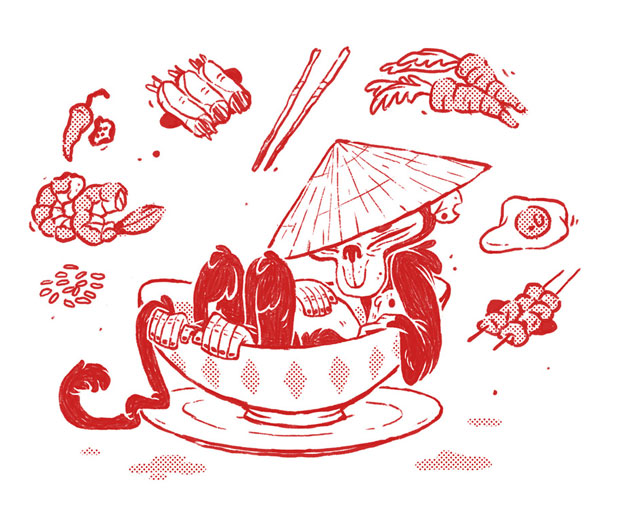 Illustration by Anna Johnstone.
The best places in Auckland to eat Vietnamese food for under $20. 
INDOCHINE KITCHEN
42 Fort St, central city
Fort St's shared-space venture has been a little slow to develop into the fine informal outdoor dining precinct it deserves to be, but there's some very good eating here. The new Indochine Kitchen serves excellent Hanoi-style street food and inspired cocktails to go with it. We're especially partial to the smoky taste of the charcoal-grilled dishes, served with fresh greens and herbs.
Read Simon Farrell-Green's guide to the best Vietnamese food in Auckland
PEASANT
191 Dominion Rd, Mt Eden
The brainchild of the Yip brothers, Peasant is small, clean and minimalist, with glass walls on three sides. The pho is a decent bowl of aromatic broth, nicely cooked noodles and tender beef. Crispy squid togarashi and sriracha mayo introduces a Japanese element, and there's a delightful roasted duck leg served with peppery herbaceous chimichurri.
SAMWOO
15 Princes St, Otahuhu
This family-operated restaurant serves everything big and full of taste. The chargrilled meatballs, chicken or pork, served with thin rice noodles and generous portions of fresh crisp vegetables, is a winner. So are the fresh Vietnamese rolls, full of the taste
of summer.
SOM TUM
Mercury Plaza, 23 Mercury Lane, Newton
Don't be put off by the ambitious spread of cuisines here: it's Isaan Thai and Vietnamese, but with all the Thai classics and some Malaysian dishes, too. The laksa is better than at many Malaysian eateries, packed with seafood and both vermicelli and egg noodles. But it's the Isaan dishes we come for — the spicy chicken wing salad is $11 worth of heaven, and the nam tok neau is generous with both the grilled beef and chilli. Mop it all up with sticky rice.
Isaan Thai/Vietnamese
TRY IT OUT
79 Atkinson Ave, Otahuhu
Fond of pho? You'll want to try it out in Otahuhu, where the classic beef noodle soup is among the best in the city. They offer meat cooked to your liking — we recommend you ask for rare.