Sep 16, 2015 Cheap Eats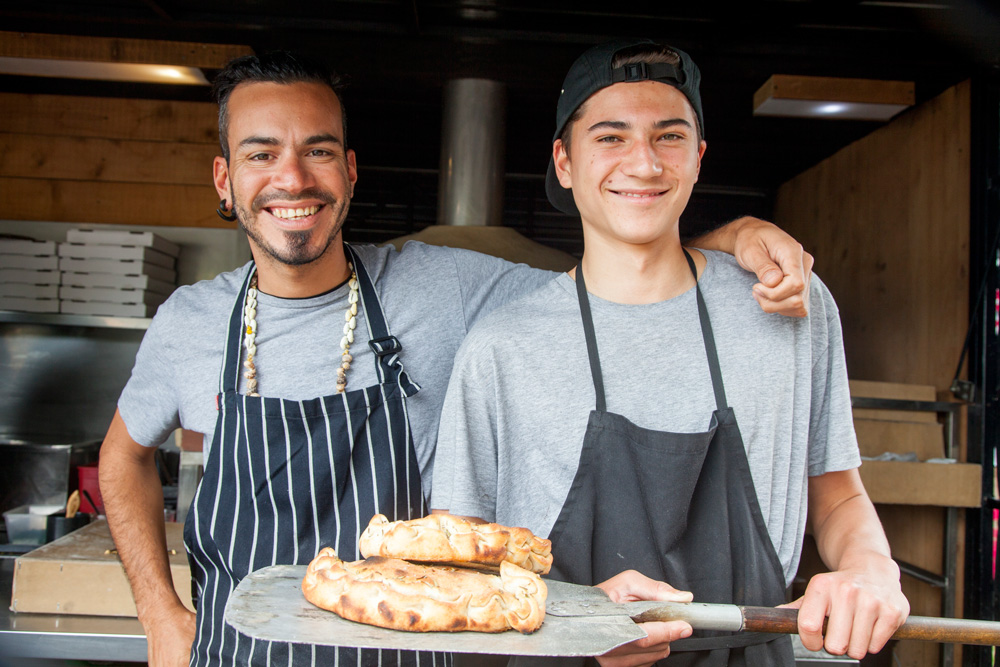 Uriel Jeremias (left) and Angelo Chiquet-Kaan at Dragonfired. Photo by Ken Downie.
The best places to eat pizza in Auckland for under $20.
DRAGONFIRED PIZZA
Little Oneroa Beach, Waiheke
The best takeaways on Waiheke are at Little Oneroa, where the woodfired oven in the caravan offers all manner of Mediterranean flavours, in pizzas, pocket breads and calzone. Relax, scoff, relax, swim, relax, scoff. Swim. Life's good everywhere on Waiheke, of course, but Dragonfired Pizza makes it really special.
EPOLITO'S PIZZERIA
166 Richmond Rd, Grey Lynn
Fans were devastated when Epolito shut down in One Tree Hill, but we rejoice again, for Chicklena Rose has reopened her doors in Grey Lynn. The New York-style pizzas she's been making since she was 13 are big and thick crusted. Our favourite? The East Side: a house pie doused in parmesan, artichoke and thinly sliced lemon. Add the hot sauce and wash it down with a beer.
IL BUCO
113 Ponsonby Rd, Ponsonby
It is incredible there aren't more places around town selling really fine pizza by the slice. Still, we're delighted Il Buco has started to rectify that, with a new outlet in Vulcan Lane. With so much thin-crusted deliciousness to choose from, we're hesitant to name a favourite — though several judges admit being partial to the Italian sausage with rosemary potato.
SETTEBELLO
3/1 Rata St, New Lynn
Owner Francesco Acri scored top marks in his pizzaiolo exams in his hometown Naples this year, and has also just won a spot competing in next year's World Pizza Champs in Parma. His dough is proved for 20 hours and cooked in a blistering manuka-fired oven. Pizzas here are generous in both girth and toppings, and the early-dining deal ($15 for pizza and Peroni) is unbeatable value.
STUMPY'S PIZZA
702 Dominion Rd, Balmoral
The queue for Stumpy's at Silo Park during the outdoor cinema season never seems to shorten. A portable woodfired oven has that effect, as do thin and crispy handspun pizza bases and premium buffalo mozzarella. You can bypass the line at Stumpy's permanent home on Dominion Rd.
READ MORE: Top 10 Cheap Eats 2015, South Asian Cheap Eats, Best Dumplings in Auckland, Korean Cheap Eats, Japanese Cheap Eats.