Sep 22, 2015 Cheap Eats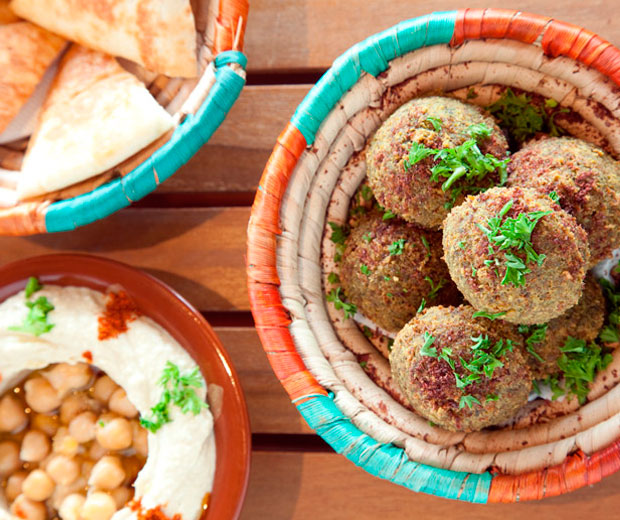 Petra Shawarma falafels. Photo by Ken Downie.
The best places in Auckland to eat Middle Eastern cuisine for under $20.
CAFE KARADENIZ
3 Park Rd, Grafton
We love friendly owner Semi's meat and meze platters for the tender grilled chicken, lamb and kofte, as well as beautiful mantar dolma, sigara borek with taramasalata, hummus and creamy beetroot dip. If you're in a hurry, the pita rolls beat most kebab shops in town.
Turkish
THE MIDDLE EAST CAFE
23 Wellesley St, central city
One of our judges regards the lamb chawarma as one of the finest dishes in Auckland. The others say no — all he's doing by sticking to that is denying himself the delights of the falafel, the hummus and tabbouleh and all the other scrumptiously good food on the menu. It is not licensed, so people don't linger, which makes this the perfect spot for a quick bite before a show.
PAASHA Turkish kitchen
3120 Great North Rd, New Lynn
Zeki Bay and Tracey Jamella Farry have owned umpteen restaurants in London, Sydney and, um, New Lynn. It doesn't look like it, but what sets this place apart is the charcoal grill and the house-made sauces (tahini is standard), which elevate the humble kebab to its rightfully glorious status. They also have another Paasha at 444 Glenfield Rd, Glenfield.
Turkish
PETRA SHAWARMA
482 New North Rd, Kingsland
Dalal Omar cooks the dishes of her homeland with such evident pleasure, and the service here is always charmingly friendly. The mandi rice (with meat and mildly spicy seasoning) is a great introduction to the cuisine, and the menu also contains such delights as kusakhkhan — a wonderful chicken, onion and cashew nut flatbread roll — along with excellent sides and staples. Dalal's hummus, especially, is divine.
Jordanian