Sep 22, 2015 Cheap Eats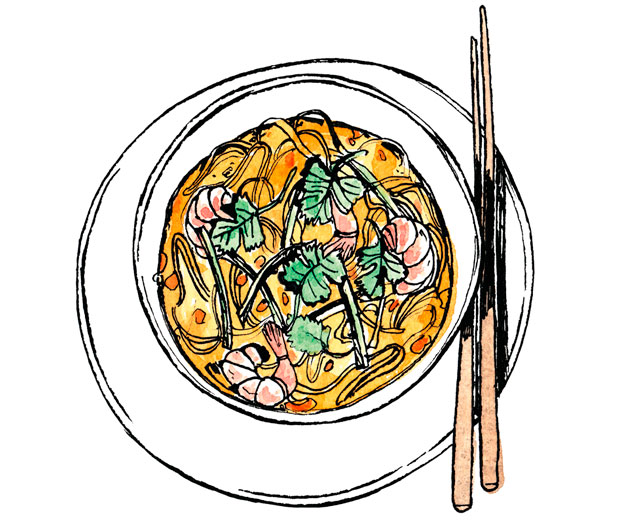 The best places in Auckland to eat Malaysian food for under $20. 
ANGIE'S KITCHEN
17 Mount St, central city
Aunty Angie and Uncle Lee have been operating Angie's Kitchen on the university campus since 2008. A comprehensive Nyonya menu includes the delectable kueh pai tee, lobak and acar, while rice staples include nasi padang, nasi kampung or nasi kandar. Finish with pulut hitam, bubur cha cha, sago pudding or a Nyonya cake.
CINTA MALAYSIAN
454 Dominion Rd, Mt Eden
Cinta means "love" in Malay and the locals certainly love this place. We recommend the Cinta creamy curry chicken, assam lamb curry, and beef (or chicken) rendang, along with the sambal dishes, most notably the sambal eggplant. Then there's the unique Sarawak kway tiaw, in which rice noodles are seared in a hot wok, then cooked in a tomato gravy.
KK MALAYSIAN CUISINE (Top 10)
463A Manukau Rd, Epsom
One of Auckland's longest-serving Malaysian outlets and still one of the best — and most authentic. Favourites like mee goreng and laksa are excellent if you're dining solo or taking away, but if you're in a group, make sure you feast on dishes like whole Assam fish, braised garlic eggplant and the irresistible deep-fried tofu doused in cucumber, peanuts and a sweet chilli sauce.
MALAYSIA NYONYA
D/87 Picton St, Howick
There's lots to eat here in our price range, most notably the chicken rice — perfectly poached chicken and a knock-out fresh chilli ginger dip. But if you do want to splash out, ring ahead and order the Golden Pillow. It's a delicious Nyonya chicken curry enclosed in just-baked bread, which they cut open for you at the table.
UNCLE MAN'S
277 Karangahape Rd, Newton
At Uncle Man's, the roti makers proudly flip their dough right in front of you. We love that. We also love the perfectly smoky char kuey teow, a beef rendang meltingly soft with a decent amount of heat, and those flaky, fresh roti. The menu covers multiple cuisines, but we recommend the Malaysian stuff most of all.
MAMA RICH
205 Great South Rd, Greenlane
The menu here is similar to that of sister restaurant Selera (see below) but it has been tweaked to include customer requests such as beef noodle soup, steamed pork dumplings and some vegetarian options. Selera's famous curry laksa is also on offer (chicken, seafood or vegetable). Extensive rice dishes — from fried to Mama village rice, pandan chicken rice, and dirty rice, as well as Hainanese chicken rice — are other popular options.
MAMAK MALAYSIAN STREET FOOD
6 Huron St, Takapuna
Mamak Malaysian in the central city has been on our list for some years, but owner Jeffery Ng sold up a while back and returned to Malaysia. He kept ownership of the name, though, and now he's back, with a new place in Takapuna. We love it already: great wok hei dishes like the hawker standard wat tan hor (smooth, egg-fried noodles) sit alongside mee goreng, laksa and the chilli-rich sambal chicken.
SANTHIYA'S
1270 Dominion Rd, Mt Roskill
With owners who hail from Ipoh in Malaysia, Santhiya 's serves both South Indian and traditional Malaysian dishes. We find it hard to go past the fragrant roti canai with chicken, and the house speciality, goat curry, is excellent too. If you're after a feast, go on Sundays, when they serve all-you-can-eat rice and curry on banana leaf.
SELERA
487 Khyber Pass Rd, Newmarket
Join the crowds and share a table as you slurp up Selera's rich and flavourful laksa. We're also very fond of the char kueh tiaw (stir-fried flat rice noodles with shrimp, Chinese sausage, eggs, bean sprouts and chives), which has the true slightly charred aroma of this hawker dish.
SRI PINANG (Top 10)
356 Karangahape Rd, Newton
Angie Siew has been serving Nyonya classics for a couple of decades now: the restaurant is still BYO and the plates don't always match, but we love all that, and the service is brilliant. You'll find one of the city's best Hainanese chicken rice here, while the "Pinang" fish curry is at once tart and tangy and sour. A lunch of roti canai with chicken curry costs a mere $8.
TAN'S KITCHEN
59 Queens Rd, Panmure
Yeung Tan's menu is Malaysian Chinese with a mee bias. Each of his noodle offerings has its own unique taste. Interestingly, Tan has transformed the traditionally Chinese kong po chicken into a unique Malaysian version, with tastes of sweet, sour and soya sauce, laced with dried chilli. Equally good are the beef rendang and laksa curry.
Read More: Top 10 Cheap Eats 2015, South Asian Cheap Eats, Best Dumplings in Auckland, Korean Cheap Eats, Best Pizza in Auckland for under $20, Japanese Cheap Eats.