Sep 29, 2015 Cheap Eats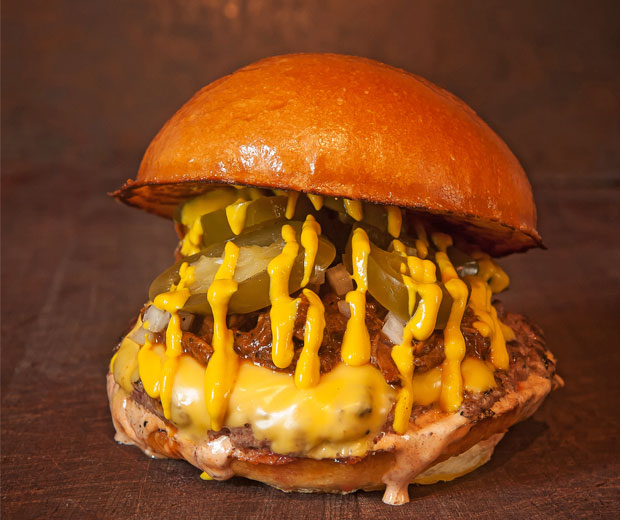 Words by Alice Harbourne, photography by Simon Young, videography by Jo Suciu and Georgia Bramley.
I once spent a summer working in a burger van. I grew familiar with the feel of raw beef, the sound of 20 patties searing on a hotplate, the lingering aroma that would mingle with degreaser as a long day of business drew to a close. Maintaining a consistently good burger is hard graft.
Chefs we know argue all the time about who makes the best burger in Auckland, and so do a lot of other burger lovers. And do upmarket restaurants charging almost $30 a pop make a better go of it than takeout joints and pop-up street vendors charging less than half that?
We've put the question to a test. We asked some of the best burger joints in our Cheap Eats Top 100 (published last month) to come into the special test kitchen at Main Course and make us their best burger. And we asked restaurants on our Peugeot Restaurant of the Year Top 50 list to do the same. Ten of them in all, pitted against each other in the 2015 Metro Battle of the Burgers.
The chefs had to prepare a burger available on their menus. They were allowed to bring their own equipment and as many team members as they wanted. Some of the pop-up vendors opted to bring their own hot plates, while chefs from The Grill (accustomed to, you know, grills) made do with a griddle pan on a gas stove. Most teams consisted of two or more chefs, though Daniel Na from The White Rabbit bravely battled solo.
Our judging team comprised Penn Mahuika, head chef at Federal Delicatessen; Adam Nixon, butcher at Neat Meat; Leisha Jones, owner of Honeytrap and blog Club Sandwich; Metro editor Simon Wilson; and me, Metro digital editor (and ex-burger van employee) Alice Harbourne.
Judging burgers like this allowed us to compare them directly, fresh from the pan. We ate the best version of each burger the chefs could contrive. But we did a little more: unknown to them, we also sent anonymous judges to buy and eat from the restaurants and takeaway places.
We judged according to a number of criteria: balance of flavour and texture, appearance, quality and cooking of ingredients (especially the meat), how well the burger held together and how much we'd like to eat it again. We used score sheets, we debated carefully, and came away with a winner and three runners-up. It was not easy to choose. But I'd be lying if I said it wasn't fun.
Watch the video:
Music: LarzRanda.
---
Find full coverage of the Battle of the Burgers in the October 2015 issue of Metro magazine.