Jun 19, 2015 Cheap Eats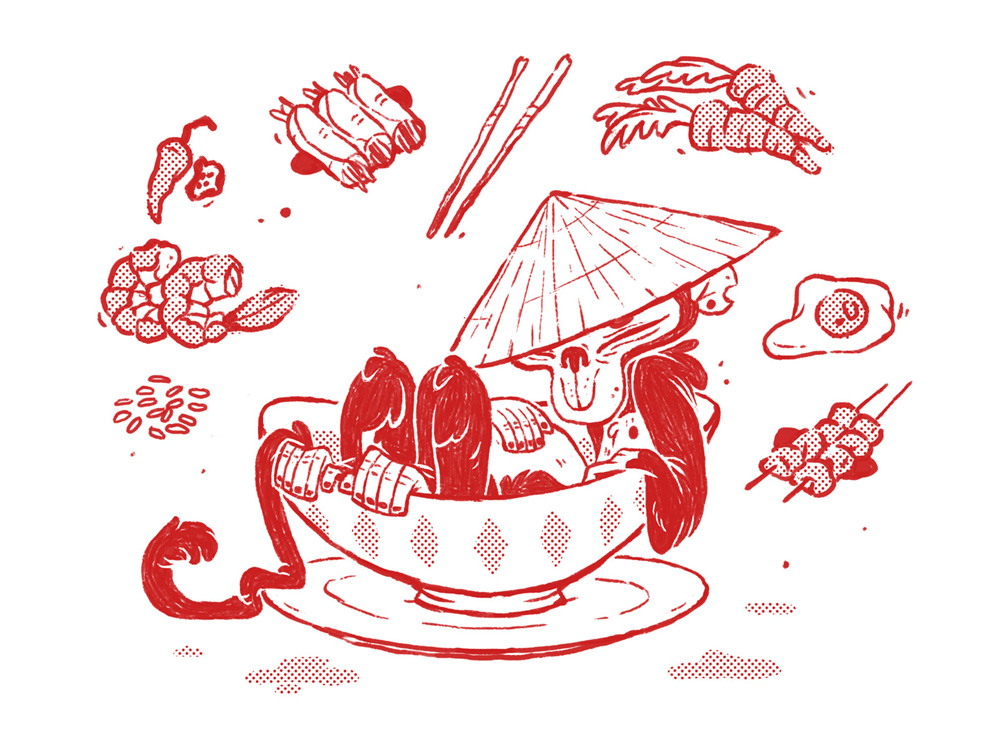 Layers of flavours, piles of herbs – good morning, Vietnam.
By Simon Farrell-Green.
For a long time, I didn't actually have a Vietnamese tag on my website and for an equally long time I studiously avoided eating Vietnamese in Auckland: people used to rave about a couple of places in Otahuhu where I thought the food was bland and full of MSG, and there was the good old Two Monkeys in its strange glass box on Dominion Rd of which I have a lasting memory of rubbery noodles in tasteless, bitty broth.
The one rare exception was Mekong Vietnamese in the Ponsonby International Food Court, and it's still good. You really need to order the coco lamb, which is slow-cooked with spices and lemongrass, and almost as good as the cari bo, which is a beef curry but not how you expect — beef chunks cooked with lemongrass and coconut and curry spices.
My theory goes like this: unlike, say, Sydney, we didn't really get that many Vietnamese immigrants, and so unlike Chinese or Indian or even Malaysian food in Auckland, the restaurants that did open were primarily for white people, rather than immigrant communities. As a result, they served up some pretty crappy food, since the people eating it largely couldn't be expected to know any different. Food is part of culture — people take it with them, and when they do, it is good precisely because it is not made for white people.
A lot of Vietnamese restaurants are owned by Chinese people — you can tell by the menu and generally you wish they had opened a Chinese restaurant instead, or perhaps not opened one at all.
Which is a shame, because Vietnamese food is lovely. It's textural and simple, very restrained — it is the French food to Thailand's exuberant Italian, but it depends entirely on purity of flavour.
And herbs. Lots of herbs. Travelling around Vietnam for a month a few years ago, I found beautifully deep flavours and mountains of fresh Vietnamese mint, basil and perilla (which is a furry sort of herb with red veins that you only rarely see here) on basic Formica tables. I ate pho every day for breakfast and marvelled at the deep, dark, clear stock.
I encountered dishes I'd not yet seen in Auckland, some of which are only just appearing now. I ate banh mi bale from the side of the road, marvelling that something so simple could taste so good, and in My Tho on the banks of the Mekong River, I ate banh xeo — a light yet crispy pancake  wrapped around pork or prawns and bean sprouts and then served with crunchy lettuce and a lot of herbs. It's not quite a cheap eat, but for a near-perfect rendition, go to Cafe Hanoi in Britomart.
Then, not so long ago, Vietnamese restaurants started opening in Auckland. A lot of them. Some are good — I rather like Le Vietnamese Kitchen on Ponsonby Rd for its simple, slightly sweet flavours —though too many Vietnamese restaurants end up bland and boring. I'm very fond of the pho at District 5 on Shortland St, but I also love the banh mi, which has an authentically airy, crunchy baguette that just grazes the edges of your mouth in the right way, plenty of chilli, pickled vegetables and the thing that makes it all sing: pâté.
But Peasant (191 Dominion Rd), owned by two young Vietnamese brothers, was last year's favourite. They took over the very awful Two Monkeys and made it pretty hip, but on a budget (shared mains are around $19). The food comes with mountains of herbs — they don't worry about whether they're the "right" herbs if they can't get them, they just run with the idea that this food needs some kind of aromatic greenery on top.
And they do a particularly excellent café suda, or iced coffee. Again, it's interpretive — cold-drip coffee with coconut milk instead of a big slug of sweetened condensed milk. But a pho I ate there recently, just before noon, was brilliant: a lovely stock and plenty of rare beef. And a really big pile of herbs.
Illustration by Anna Johnstone.