Apr 12, 2019 Cheap Eats
A perfect dumpling is a thing of wonder and Alex Blackwood thinks she's found just such a dumpling at a chaotic Chinese restaurant on Dominion Rd.
I found out about them on Instagram. I was talking loudly about Dominion Rd, Auckland's endless multicultural cornucopia, in the open plan office. An angel overheard and emailed me and Instagram link, which led me to Shanghai Restaurant, where I enjoyed the most beautiful dumplings I have ever burnt my tongue on.
Because I was too impatient to wait until a reasonable time to eat, I went immediately after work. Because I couldn't wait for anyone to get their life together to join me, I went alone.
Dominion road was bedlam-level busy and the sparsely decorated too-bright white neon-lit restaurant was packed. I nearly considered turning tail and heading home, being more used to a more orderly kind of dining experience. Soup dumplings are better fresher; otherwise, the soup soaks into the dough and you get something which is less soup and more juicy dough. So, despite the chaos possibility of a long wait, and the oddness of being alone in a busy restaurant, I asked to eat in.
"How many," asked the woman behind the counter. "Just me." I was seated at a table meant for two in the corner.
I ordered the Shanghai steamed buns – the dish the Instagram post which had initially enticed me suggested. Unlike the other tables, no tea arrived at mine. Even when my dumplings arrived, I couldn't ask the busy woman who brought them because she put down my food and sprinted away like she was in a relay race. Not for lack of trying, I never did manage to wrangle myself a pot of tea.
But the food the athlete/waitress left at my table was exactly like the picture. Eight perfectly folded, perfectly twirled, fatly juicy little parcels of pork steaming prettily in a basket. All for $9.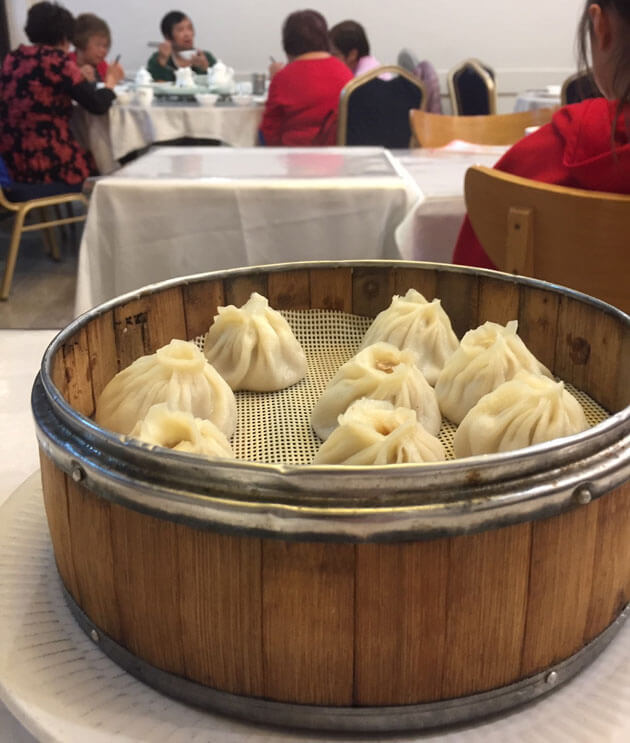 I bit into the dumpling and sipped out the rich, clear broth. It was like a whole roast dinner worth of flavour in that one sip. They were the perfectly juicy, savoury and flavourful as hell soup dumplings of my dreams. Faultless. They brought tears to my eyes.
The packed restaurant tells you that I was not the first one to realise that this place is excellent and my only regret is that I couldn't have tried more things on the menu. Looking around the restaurant, each table had something that made me want to ask "what is that? Can I get one of those?"
If I had allowed myself to be put off by the crowd, or the oddness of eating alone in a packed restaurant, or even if I had simply not seen the Instagram post that led me there, I would have missed out on one of those foodie experiences that remind you why you're a foodie in the first place.
When I arrived, the response from the woman behind the counter indicated that a white patron arriving alone was perhaps unusual. That suggests I haven't been the only one missing out. We all have our habits of sticking to our old favourite places and restaurants of the same type. I honestly wouldn't have even noticed the restaurant if I hadn't been guided there by social media. Tonight I found that it is well worth going outside of your comfort zone because the blindness we have to eateries that aren't our usual causes a huge blind spot in how we see the food scene.
I went home, made myself a cup of tea to satisfy my tea-envy and texted everyone I know to ask when they were free. I need other people to know what it is to taste perfection.
Shanghai Restaurant, 541 Dominion Rd, Mount Eden. Open 7 days, 10am – 11pm.
Photography: Alex Blackwood
Follow Metro on Twitter, Facebook, Instagram and sign up to our weekly email.