Feb 4, 2014 Cafes
Cafe culture sure is booming in Auckland. Little suburbs like New Windsor and Mangere Bridge have their own decent places, while competition has never been fiercer in the inner city. Small-scale one-off cafes like Cosset and Queenies foot it with the best, while some formerly one-off ventures are branching out — most noticeably Kingsland's spectacularly successful Little Bird Unbakery, which has opened a second cafe in Ponsonby. Meanwhile, some of the bigger players are really making their mark: Steve and Sarah Vanderput, who gave us Teed St Larder in Newmarket and Wai Kitchen on Waiheke, have now established Toru, the flagship cafe in Ponsonby Central.
Biggest of all are the Hip Group, run by Jackie Grant and Scott Brown with food under the control of Jo Pearson. They started at Cafe on Kohi and have now built their empire so strongly, they boast a total of seven cafes in our Top 50, including three in the Top 10. The Hip Group has won our supreme award three times already, including in the past two years for Takapuna Beach Cafe , and it should be no surprise that this year they have won it again — for the new and very splendid St Heliers Bay Cafe & Bistro. Our heartfelt congratulations to Grant and Brown and everyone in their large and highly performing team.
Good cafes multiplying wasn't the only trend we spotted this year. There's been a major growth in commitment to ethical issues. Lots of fair-trade coffee, lots of free-range eggs and bacon. In fact, very few cafes in our Top 50 do not use free-range foods. As for vegetarians, vegans, organics-adherents, gluten-free eaters and even paleo dieters — you'll all find it easier and more pleasurable to eat out today than was the case even a couple of years ago.
There are lots of new roasteries, too — our Top 50 cafes are supplied by a remarkable 16 different roasting companies — and lots of new ways to prepare coffee. Chemex and various other filter methods, and cold coffee for summer, are hot right now.
Another significant trend is the rise of the all-day eatery: the cafe/bistro that opens for breakfast, doesn't close until dinner is done and dusted, and more often than not is a seven-days operation. Federal Delicatessen and Ortolana (and other Hip Group places) are at the forefront here.
So what exactly is a cafe? We fretted about that, we don't mind saying. In the end, we decided on a slightly flexible definition: cafes eligible for our Top 50 are open for breakfast and lunch and are primarily focused on those meals. We excluded restaurants like Depot and Ima that are focused more on evening (and lunch). We also excluded places like Ugly Bagel and Il Buco, which are primarily takeout joints with a bit of seating, offering just one kind of food. Bakeries like Scratch Bakers weren't considered for much the same reason, and nor were specialist coffee outlets like Allpress Coffee on Ponsonby Rd, which hardly bother with food.
Because new places keep raising the bar, something has to give. We've lost a few old favourites, and we got especially tough on places that still make do with paper cups and plates.
Finally, a word on eggs benedict. Every cafe serves them, and as we did our judging we couldn't help noticing — with just a little despair — that probably half of all weekend customers order them. Why? Good cafes usually understand the value of variety and original dishes, as their lunch menus show, but far too few have a varied enough lineup for breakfast. True, several now offer a spicy-tomatoey egg dish, thanks to the inspiration of Ima's Yael Shochat and her shakshuka, but what about all the exciting dishes on offer from other cuisines? Where's the congee? Grilled fish with miso? And now that it's summer, who wouldn't want to truck on down to their local cafe and work their way through a Turkish-style spread of olives, tomato, sheep's cheese, honey, watermelon and a hard-boiled egg…
They've got the coffee sorted. A bit of work to do on the food.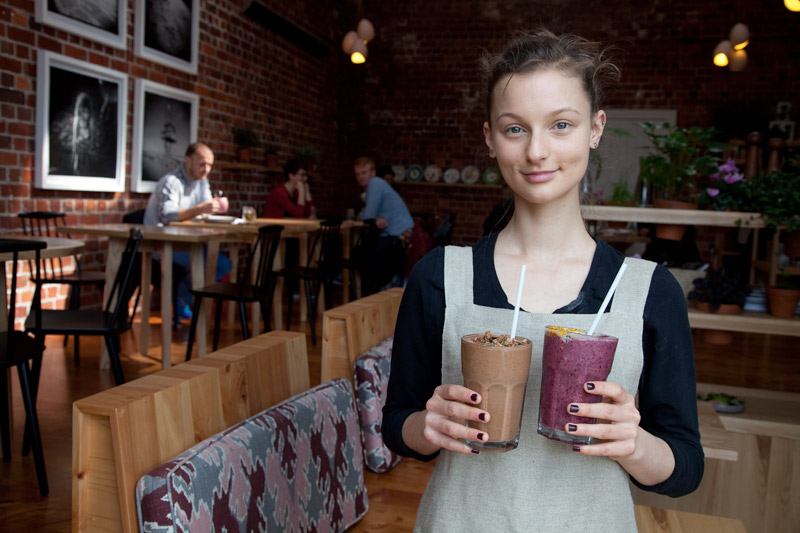 Little Bird Unbakery, Ponsonby.
The 50 Best Cafes in Auckland for 2013
Top 10
St Heliers Bay Cafe & Bistro
/ Federal & Wolfe / Federal Delicatessen / Good One / Kokako / Little & Friday / Little Bird Unbakery / Ortolana / Queenies / Takapuna Beach Cafe
Top 10 New Cafes
St Heliers Bay Cafe & Bistro (winner) / Bread & Butter / Federal Delicatessen / Little Bird Unbakery (Ponsonby) / Ortolana / Petit Bocal / Ruben / Scullery / The Store / Toru
Top 10 Cafes for Kids
Jam Organic Cafe (winner) / Bread & Butter / Catroux / Cereal Killa / Federal Delicatessen / Landreth & Co / Raven & Cook / Ruby Red / Wai Kitchen / Zus & Zo
The Top 50
Atomic Coffee Roasters
420c New North Rd, Kingsland. atomiccoffee.co.nz
We'd rate this place simply for its menu and delicious counter food (try the Vietnamese pork baguette, dotted with chilli), and we love the industrial chic style and the long row of seating out front too, but the heart of Atomic is the coffee: fresh-roasted on the premises, lots of single-origin blends, espresso and Chemex. Also in Shortland St and Real Groovy in Queen St. Atomic coffee.
Bread & Butter
34 Westmoreland St West, Grey Lynn. breadandbutterbakery.co.nz
Tucked along the way past Farro Fresh in Grey Lynn, Bread & Butter is a bakery as well as a great cafe. With efficient friendly service and a solid menu, it's especially popular with mothers and their babies. And why not? Sun-filled windows, big tables, easy parking and all that good food — we've become very partial to the mushroom, ham and cheddar omelette, and the walnut rye bread. And yes, they do wheat-free sourdough. Also in Ponsonby Central. Five Elements coffee.
Cafe on Kohi
2/237 Tamaki Drive, Kohimarama.
The Hip Group's first joint is so smooth you might think it runs on autopilot. But they work hard to keep this machine so well oiled, with waitstaff who stay one step ahead and passionate cooks in the kitchen. There's a lengthy menu and a lovely beachy vibe. Allpress coffee.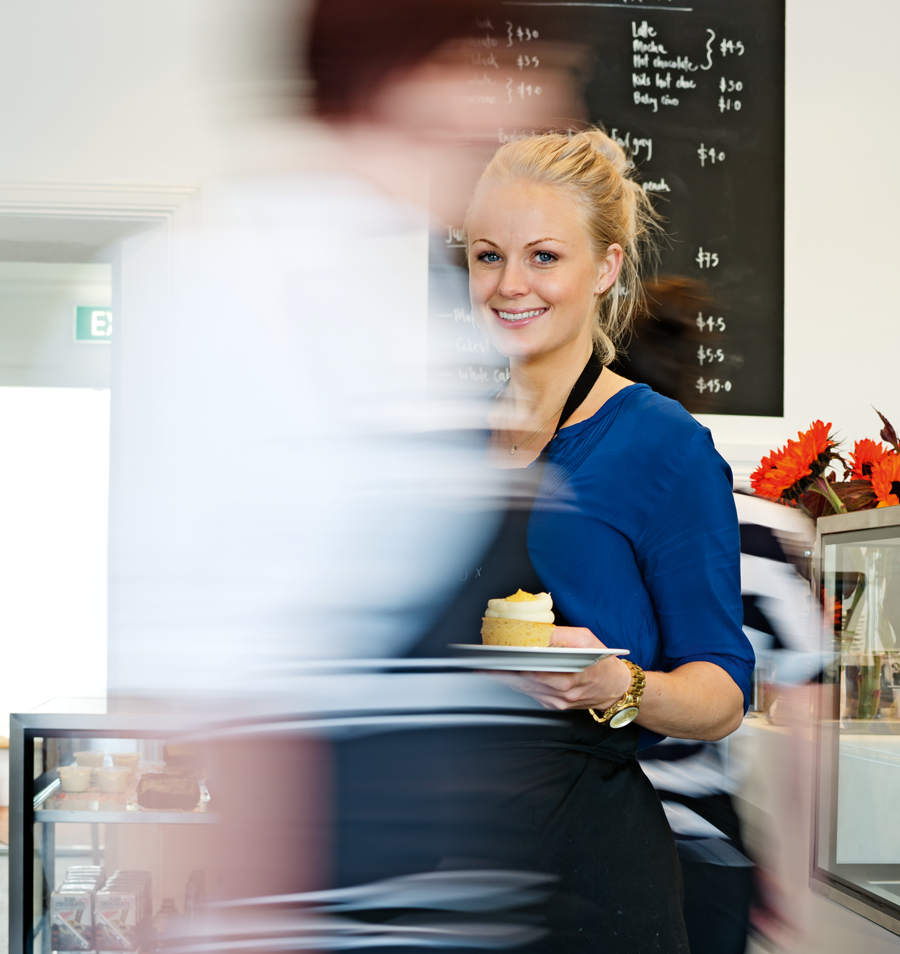 Catroux, Westmere.
Catroux
129 West End Rd, Westmere. catroux.co.nz
In the see-saw battle for Westmere's coolest cafe, Catroux lacks Meola Kitchen's sunshine and sea views but more than makes up for it with great coffee, gorgeous salads and cakes and charmingly attentive service. People's coffee.
Cereal Killa
360H Dominion Rd, Mt Eden. cerealkilla.co.nz
Cereal Killa is a gem in an unassuming strip of shops part way down Dominion Rd. It's bright and breezy, with friendly service, and a food lineup that's like an inventive big kids' menu: mince comes with butterbeans on a rosti; muesli is served as a breakfast trifle. The vege big breakfast, with haloumi, potato rosti, avocado and roast tomatoes, is one of the best hangover cures in town. Great coffee and juices, plus an excellent lemon, honey and ginger. Actually, there's a smart little kids' menu too, including eggs and soldiers, pancakes of course, and a banana and Nutella shake. Eighthirty coffee.
Coffe General
100 Hinemoa St, Birkenhead. coffeegeneral.co.nz
Owner and barista extraordinaire Hans Pronk has the kind of following a cult leader would aspire to. You'll get a damn good flat white here but you really should let these folks lead you down the Chemex, syphon or pour-over path. There are sandwiches, salads and sweet things to be had, too. Coffee from several roasters.
Conch Kitchen & Bar
115a Ponsonby Rd, Ponsonby. conchrecords.co.nz/kitchenbar
There are a couple of obligatory tables on the street, but the courtyard out the back of this seriously cool vinyl music shop is where the cafe is really at: a wood-fired pizza oven, South American-influenced menu, lots of free-range options. We love the breakfast tacos, with pulled pork, scrambled eggs, salsa and wood-fired chilli sauce. Oh yeah. Who else is doing that? Santos coffee.
Cosset
1087 New North Rd, Mt Albert. cosset.co.nz
Cosset makes an art of the cafe-as-front-room aesthetic, with a charming array of beautiful pre-loved furniture, crockery, books, tea cosies and stuff, backed by excellent vegan food, brilliant coffee and tea, and their own lovely chai. All dedicatedly fair trade, organic and good for you. Kokako coffee.
Dida's Food Store
54 Jervois Rd, Herne Bay. didas.co.nz/foodstore
A bustling neighbourhood cafe with terrific coffee, a cabinet brimming with beautiful salads, fresh baking and deli delights, and a brunch menu with all the old favourites. Free range and organic. Also in Devonport. Atlas coffee.
256 Ponsonby Rd, Ponsonby.
A stalwart of Ponsonby Rd, Dizengoff offers consistently excellent food, coffee and service. It drowns in sunshine on a good day and is the perfect spot both for Ponsonby people watching and getting away from all that in a room upstairs. The mushrooms on toast is a classic. Allpress coffee.
Domain & Ayr
492 Parnell Rd, Parnell.
This beautifully fitted cafe showcases the best local produce on offer, with a serious commitment to vegetarians, organic produce and, frankly, everyone else who loves food. Try the home-made crumpets, or something with the house-baked apple honey ham — it pops up in omelettes, benes and more. Kokako coffee.
Eighthirty
533 Karangahape Rd, K' Rd Precinct. eighthirty.com
This ever-growing coffee empire has its headquarters on K' Rd, where exposed brick and bikes decorate the walls. Dedication to the perfect cup is evident through their great baristas and freshly roasted beans, and also on offer are counter food from Cool Food Catering and sweet treats from The Caker's Jordan Rondel, who bakes out the back. Eighthirty coffee.
Federal & Wolfe
10 Federal St, CBD.
Have a nice day in stencilled graffiti on the wall should leave you with a smile, but so should most things about Federal & Wolfe. A sister cafe to Domain & Ayr, it also offers a great range of ethically inspired menu and counter options, and is staffed by seasoned professionals who look after their customers superbly well. The bircher muesli, which we've had with fresh pear, is quite possibly the best in the city. Kokako coffee.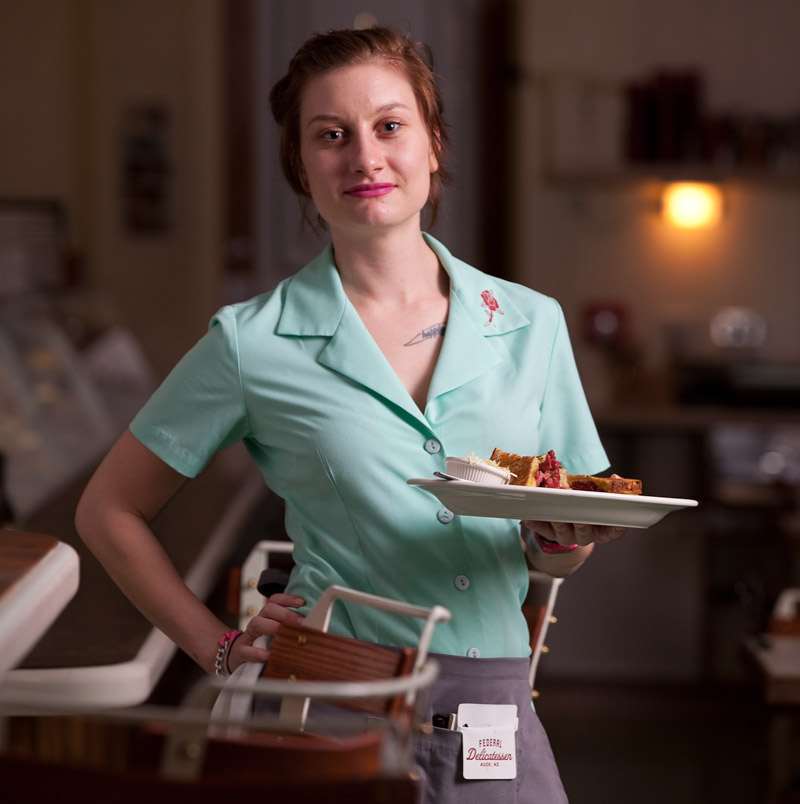 Federal Deli, CBD.
Federal Delicatessen
86 Federal St, CBD. thefed.co.nz
Al Brown has done it again. His new all-day eatery is a tribute to New York Jewish-style delis in almost every respect, right down to the waitresses' hairdos. The food is so good, we barely know where to start: salmon latkes with crème fraîche and dill, a breakfast salad chock full of haloumi, smoked fish hash, reuben sandwiches, matzo ball soup — all stars in this food-lovers' paradise. Sadly, though, it's not a coffee-lovers' paradise: NY mid-century authenticity means there's no espresso machine. Havana coffee.
Fred's
181 Ponsonby Rd, Ponsonby.
It's always a double shot in paradise is enthusiastically scrawled across a mirror behind the coffee machine, overlooking this adorable espresso and soda bar. With some of the friendliest smiles you'll find and a short but perfectly formed menu, the old Agnes Curran has become even more of a Franklin Rd gem. We're especially fond of their cherry vanilla milkshakes. Altezano coffee.
Good One
42 Douglas St, Grey Lynn. coffeesupreme.com
Tucked down the narrow Douglas St, and now with a really beautiful new fitout and delicious counter food supplied by Little & Friday, Good One just keeps getting better. As you would expect from Supreme's Auckland HQ, it serves coffee any way you want it — Chemex, single-origin blends and the usual favourites. Coffee Supreme.
Imperial Lane
7 Fort Lane, CBD. theimperiallane.co.nz
The epitome of CBD sophistication, Imperial Lane has a great selection of sandwiches and beautiful baked goods and is the cafe of choice for inner-city types who like to have a business meeting — or just sit down with the laptop and do some work — in a place that gently hints that they really are living in a great metropolis. So cool. L'affare coffee.
Jafa
551 Richmond Rd, Grey Lynn.
We noted last year that this Grey Lynn favourite had changed hands but was still doing the business, and we're pleased to say that's still the case. The menu offers all the usual staples, but there's a Spanish influence too, and the coffee is excellent. Allpress coffee.
Jam Organic Cafe
33-45 Hurstmere Rd, Takapuna.
Jam is off the main Hurstmere Rd strip in ever-improving Takapuna and sprawls out onto the neighbouring Hurstmere Green. Beautiful organic food graces both the counter and the menu. A lovely brunch spot, great for children and nearly unbeatable in the sunshine. Velvet coffee.
Kokako
537 Great North Rd, Grey Lynn. kokako.co.nz
It's a gorgeous space in the old Grey Lynn Post Office building and constantly bustling, and the cabinet salads are to die for. The entire food lineup is vegetarian, which makes it a destination of choice for those who always eat that way, and the perfect spot for everyone else to give it a go. You will not be disappointed. Big on fair trade and organic too. Kokako coffee.
Landreth & Co
272 Ponsonby Rd, Ponsonby. landrethandco.co.nz
It's simple and very satisfying — the very model of a small, cosy, friendly cafe. We really love the fried dill potatoes served with poached eggs, garlic yoghurt, watercress and burnt sage butter, they do very good smoothies, and kids are looked after well too. Sit on the street, inside or in the courtyard out back. L'affare coffee.
L'Assiette
9 Britomart Place, Britomart. lassiette.co.nz
Every other month, a new look-at-me cafe, bar or restaurant opens in Britomart, but that doesn't mean some of the earlier arrivals aren't still doing the business. Our favourite among them is L'Assiette, a charming cafe/bistro with a sunny terrace run by Romain Le Gal and his New Zealand-born wife, Natalie. The breakfast menu is standard, with French touches (crepes, not pancakes), but they really come into their own with lunch: the salad chèvre chaud (honey-drizzled goats' cheese on sourdough with figs, walnuts and cos salad) is superb. Allpress coffee.
Little & Friday
12 Melrose St, Newmarket. littleandfriday.com
Little & Friday remains the pinnacle in baked goods — we feel compelled to mention the doughnuts, OMG, but we should also say that when it comes to pies, cakes and other sweet treats, they are hard to beat on those scores too. And sandwiches? Try the haloumi with avocado, or the homemade meatloaf. Just great. Coffee's terrific too. Also at its original site in Belmont. Coffee Supreme.
Little Bird Unbakery
1a Summer St, Ponsonby. littlebirdorganics.co.nz
It was always hard to get a table at Little Bird Kingsland, so we celebrated when Megan May's ever-growing raw-food organic empire opened a sister store just off the Ponsonby strip. It's a beautiful big room — designed by May's architect husband, Jeremy Bennett — with some of the tastiest food we've ever eaten, and they now (we are so pleased about this) serve coffee. It's Chemex, with hazelnut milk on the side if you want it, and it's delicious. Kokako coffee.
Meola Kitchen
184 Garnet Rd, Westmere.
Surprisingly few cafes in Auckland afford a sea view, but Jan Gardner's Westmere haven, with sunshine to boot (okay, and the risk of wind) is one of the best. The counter food — check out those light and fluffy cinnamon brioches — is especially good. Allpress coffee.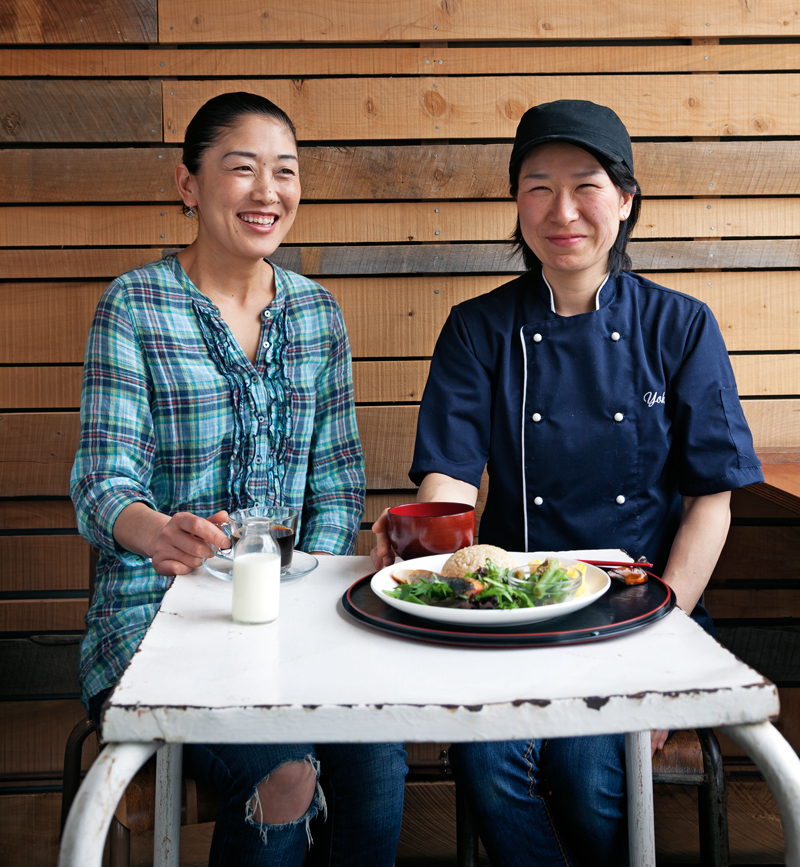 Mimosa cafe, Takapuna." width="800" height="867" data-mce-src="https://www.metromag.co.nz/images/uploads/14252bd2-85ac-438f-a85e-0d1c536daf04-MT1112Mimosa-IMG_8480.jpg">
Mimosa, Takapuna.
Mimosa
460 Lake Rd, Takapuna. cafemimosa.co.nz
Mayumi Abe's cafe presents a winning mix of Japanese and modern New Zealand with a serious commitment to organic and fair-trade food. Try the eggs bene, which come with a faux hollandaise made of tahini and soya, which we think is even better than the egg-and-butter alternative. There's a gorgeous new courtyard and genuinely friendly service. Kokako coffee.
Mojo Carlton Gore
110 Carlton Gore Rd, Newmarket. mojocoffee.co.nz
Wellington coffee roasters Mojo now have five outlets in Auckland, including two full-service cafes: the other is in the Vodafone building in the Viaduct. You'll find great service and inventive cooking at both, but Carlton Gore's industrial-chic setting — an old automotive garage — gives it the edge. Mojo coffee.
Monterey
432 Richmond Rd, Grey Lynn. montereygreylynn.com
Charming but unobtrusive in the middle of the West Lynn shops. Monterey enjoys a loyal local following for its butterfly cakes and eggs bene, and now, with new chef Dan Pearson and evening openings under way, it's just upped the standard in the whole little precinct. Lovely courtyard out the back, too. Three Beans coffee.
Olaf's Artisan Bakery Cafe
1 Stokes Rd, Mt Eden. olafs.co.nz
One of a small handful of bakeries on our list that double as cafes, Olaf's is a major operation, backing the excellent breadmaking with a big cafe menu, lots of counter food and a modern fitout. It's a pretty mainstream menu, with the watchword being reliability. They do a very good croque-monsieur, with a lovely hit of onion jam. Coffee Supreme.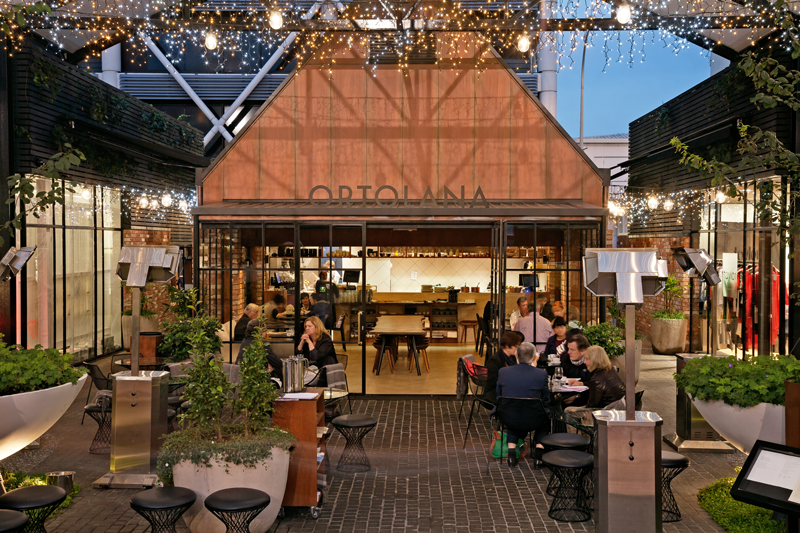 Ortolana, Britomart.
Ortolana
The Pavilions, 31 Tyler St, Britomart. britomart.org/ortolana
With a super-smart fitout, a menu created by Takapuna Beach Cafe's Jo Pearson, breads and baking from The Store and sweet treats from Milse (both nearby, and all part of the Hip Group empire), Ortolana is one of Auckland's truly great little seven-day, all-day establishments. We particularly love the soft eggs with mackerel and capers, and the sago and lemon custard with dates is pretty cool too. Allpress coffee.
Petit Bocal
177 Sandringham Rd, Sandringham. petitbocal.co.nz
The French accents behind the counter add to the appeal of the very on-trend white walls of Petit Bocal. Bridging the cafe-less strip between Kingsland and Sandringham, it has quickly become a neighbourhood favourite. With all the usual suspects on the menu, as well as additions like sardines (served in the tin), and enticing French baked goods on the counter. Our absolute favourite: the croque-monsieur. Coffee Supreme.
Queenies
Cnr Cascade & Middle Sts, Freemans Bay. queenies.co.nz
We love nearly everything about this place. Its refreshing menu with savoury delights like cassoulet, huevos rancheros and Turkish eggs with a chilli butter; its warm and welcoming atmosphere; and the fact that on a sunny day you can be tucked away on a quiet street soaking up the sun with a bloody mary. One of Auckland's greats. Coffee Supreme.
Raven & Cook
565 Manukau Rd, Epsom. ravenandcook.com
Raven & Cook is so popular with Epsom locals that it has stripped out its deli counter to make room for more tables. The butcher's roll of specials is always enticing, and the menu includes one of our big favourites: corned beef hash with pickled red cabbage and grain mustard hollandaise. Breakfast rarely comes better than that. Allpress coffee.
Reslau
39 Elliott St, CBD. elliotstables.co.nz/eat/reslau
When it opened six years ago, we called Reslau the best cafe in the CBD, and it's still one of the smartest small cafes, not just in the CBD but in the whole city. No one makes better coffee and very few places match them for sandwiches or fruitcake either. And what's not to like about whiling away a bit of time sitting in the Elliott Stables alley, or on the smartly upholstered banque inside the cafe itself? Allpress coffee.
Richmond Larder
166 Richmond Rd, Grey Lynn.
Richmond Larder is easy to overlook, nestled up next to the very popular Ripe, but if you're looking for a genuine cafe experience, with great coffee, superbly attentive service and a really nice back balcony to boot, the Larder is the place. As for the super-tasty food, from baked beans to macaroons, they make it all themselves. Coffee Supreme.
Richmond Rd Cafe
318 Richmond Rd, Grey Lynn. richmondrdcafe.co.nz
Another Hip Group cafe, and perhaps the first where they really established the three hallmarks of their success: terrific food, highly trained staff and an elegant sophisticated fitout. It's all still there, all still as desirable as ever. So reliable. Allpress coffee.
Rosehip Cafe
82 Gladstone Rd, Parnell.
Rosehip is one of the Hip Group's oldest cafes, but don't go thinking any the less of it for that. It's one of the few genuine foodie gems in Parnell, a paragon of attentive service, and while the menu's good, the cabinets are so beautifully stocked you may not want to look any further. Allpress coffee.
Ruben
100 Parnell rd, Parnell.
Bravo for Ruben, which has given Parnell's once-premium eating precinct a much-needed fillip. Beautifully sited in the award-winning Geyser building at the lower end of the Parnell strip, Ruben boasts a cabinet full of gorgeous sandwiches and salads, including a huge selection of gluten-free options, and pies and sweet things from Scratch Bakers. Three Beans coffee.
Ruby Red
30/b Coronation Rd, Mangere Bridge.
Always busy, full of locals, Ruby Red is the brightest spot in a charming little town centre. It's owned by Herald food writer Amanda Laird, who offers her own take on fresh ingredients and tasty combinations. The pies are very popular. As befits every suburban cafe, it's especially attentive to kids. Miller's coffee.

Scullery, Karangahape Rd.
Scullery
166 Karangahape rd, K'rd Precinct.
The folks behind Teed St Larder have joined with Scratch Bakers to create this exciting new addition to K' Rd. Scullery's super-ethical zero-waste policy is worth celebrating, but they'd make this list for the brilliant, fusion-y menu (try the short rib tacos with kimchi) alone. Three Beans coffee.
Shore Rd Cafe
13 Shore Rd, Remuera.
Grey Lynn's loss was the eastern suburbs' gain when the Tohill brothers (once famous at Jafa) set up shop in the bottom end of Remuera. Their shakshuka, a spicy egg dish big on red and yellow peppers, is one of the finest such dishes in town. Allpress coffee.
St Heliers Bay Cafe & Bistro
387 Tamaki Drive, St Heliers. stheliersbaycafe.co.nz
What can we say? A few years back we made the Richmond Rd Cafe our supreme winner, and for the past two years the accolades have gone to the Takapuna Beach Cafe. Both places are run by the Hip Group, where Jackie Grant and Scott Brown lead the business and Jo Pearson is in charge of the food. Neither of them was quite good enough to win again this year, but the only real reason is that the company keeps raising its own standards with new places. It has three more cafes in our Top 50 this year (making an incredible total of seven), and this one, the jewel of St Heliers, has scooped the pool. Why so good? It's smart, the service is super-efficient and friendly (they don't take bookings but they will take your number, so you can walk on the beach till they text you), and the food is quite lovely. It's an all-day place, and we've been there at all times, day and night (read our restaurant review here). Always, we've been struck by the satisfied buzz in the air, the absolute pleasure everyone so clearly takes in eating there, chatting with friends and family, simply being in the room. It's genuinely lovely. And it makes the most of where it is: the pohutukawa are right there outside the picture windows, the beach is just beyond, Rangitoto floats on the temptingly near horizon. Allpress coffee.
The Store
The Pavilions, 5b Gore St, Britomart. britomart.org/the-store
Hip again. With attentive table service in the gorgeous courtyard, The Store offers both a casual-yet-excellent dine-in experience and delicious takeaway options. Beautiful food, consistently excellent coffee and trademark friendly service. Try the smoked mackerel omelette. allpress coffee.
Takapuna Beach Cafe
22 The Promenade, Takapuna. takapunabeachcafe.co.nz
Our winner for the past two years, and only beaten this year by another cafe run by the same company, TBC is deservedly famous for its home-made gelato, its fish and chips, its baked goods, its almost bewilderingly large breakfast menu (so many choices, so early in the morning!), which features some of the best granola you'll find anywhere in the city, which is also true for its spicy eggs, its eggs benedict and half the rest of the lineup, and now it's even true for the cronut. Yes, folks, the dangerous lovechild of doughnuts and croissants was first introduced to Auckland at the Takapuna Beach Cafe. As standards rise in the city — and in Takapuna in particular — TBC works hard to stay in front. It's wonderful for those times when you want to sit by the beach on the morning after that hard night before and eat seriously well, and for almost every other time too. And there's the added bonus that you can walk it all off afterwards on that lovely coastal track. Allpress coffee.
Teed St Larder
7 Teed St, Newmarket. teedstreetlarder.co.nz
Another favourite for baked goods, Teed St Larder has a large sign behind the counter telling you when everything is fresh out of the oven. Steve and Sarah Vanderput's flagship cafe in the heart of Newmarket's Teed/Osborne precinct offers the perfect place to fuel up before hitting the shops. We specially recommend the house-made crumpets. Three Beans Coffee.
Toru
Ponsonby Central, 136-138 Ponsonby Rd. toru.co.nz
Ponsonby Central continues to impress, and with Toru — the newest offering from the Vanderputs (see Teed St Larder above, and others), located front and centre in the complex — it has really come into its own. You can sit casually in the front, inside or out, or a little more formally in the area past the big bar. The service is excellent, and the menu is small and wonderfully varied. Fancy your poached eggs with soft polenta, bacon hock, goats' curd and vine tomatoes? What about in a delicious German/Irish concoction of corned beef, colcannon, sauerkraut and crème fraîche? Hearty and refined, all at once. Three Beans coffee.
Wai Kitchen
149 Ocean View Rd, Oneroa, Waiheke. waikitchen.co.nz
Waiheke's finest cafe offers a magic mix of elegance and casual relaxation and is handily placed in the midst of the Oneroa shops, overlooking the beach and bay beyond. It's worth resisting the urge to leave your table and rush down for a swim, though, because the food — courtesy of Steve and Sarah Vanderput, who also own Teed St Larder and others — is excellent. Try the house-smoked salmon with eggs, avocado and toasted local bread. Sounds like summer, sure, and it's just fine in winter too. Three Beans coffee.
York St Mechanics
3 York St, Newmarket.
Doug Rickard-Bell has given us two bespoke motorbike shops-cum-cafes in Auckland, including the now-closed Shed Five at City Works Depot. York St is our favourite. The open fire and big comfy furniture for the colder days sure helps, and so does the menu: a small and seasonal lineup of big plates of food. It's a blokey place, so it's tempting to eat meat, but we do recommend the mushrooms on toast. Coffee Supreme.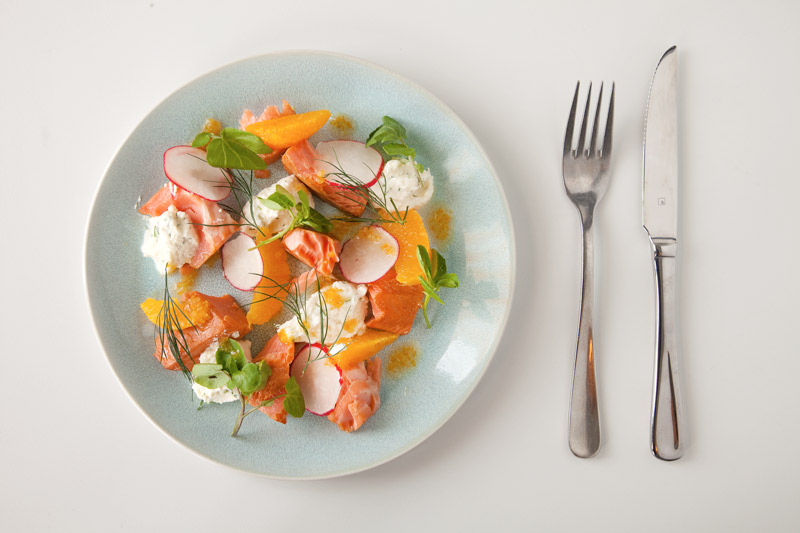 Zomer, Takapuna.
Zomer
4 The Strand, Mackenzies Precinct, Takapuna. zomer.co.nz
Living up to its name (zomer is "summer" in Dutch), this cheerfully decorated gem by the beach is operated by Clare and Joost Van Den Berg, who started Zus & Zo but have now moved on from there. The menu largely feels summery, too, with lots of seasonal salads and yummy sandwiches, and there are enticing comfort foods — try the fruity, delicious dijkkerdes (pancakes). Miller's coffee.
Zus & Zo
228 Jervois Rd, Herne Bay. zusandzo.co.nz
A change of ownership has not seen standards or the Dutch-themed approach slip at Zus & Zo, and the solid menu, tasty counter treats and consistently friendly service remain. At press time, they were preparing a new summer take on the "classic Zus & Zo menu" and we were looking forward to seeing what they came up with. So they know, we're especially fond of the plum brioche. Miller's coffee.
Coffee Specialists – Worth a visit for the coffee
Allpress Coffee, Ponsonby / Ark Coffee Takapuna / Charlie Boys, Arch Hill / Coffee Lab, Wairau Valley / Espresso Workshop, Parnell, Britomart & Epsom / Johnny Feedback, K' Rd Precinct / Little B, K'Rd Precinct / Mt Roskill Coffee Project, Mt Roskill / Supreme Seafarers, Britomart / Three Beans, City Works Depot, CBD / Waterview Coffee Project, Waterview.