Feb 27, 2019 Cafes
It's Java is a new spot in Grey Lynn where you can take the time to sip on a coffee and enjoy a pastry.
When Javanese friends Zemmy Dahri and Ronaldo Wilson started searching for a home for It's Java, their first venture, they began by hunting around Remuera and Newmarket. But the Vinegar Lane location in Grey Lynn they ended up choosing turned out to define their easy little cafe, a place where it's all about taking time out to enjoy your coffee.
Barista Dahri relishes the way the cool and quiet corner spot encourages customers to wander in and wait for their coffee to be crafted, then stay to sip for a moment, unlike the grab-and-go inner city cafes churning out a coffee a minute. Something else setting the establishment apart: they offer a Javanese coffee option – Sunda Aromanis – made in the preferred Indonesian pour-over filter way. It's served hot or cold in a carafe (Dahri tells us it's too warm to have hot coffee in Indonesia).
Read more: New cafe Flour Mill is set to charm Epsom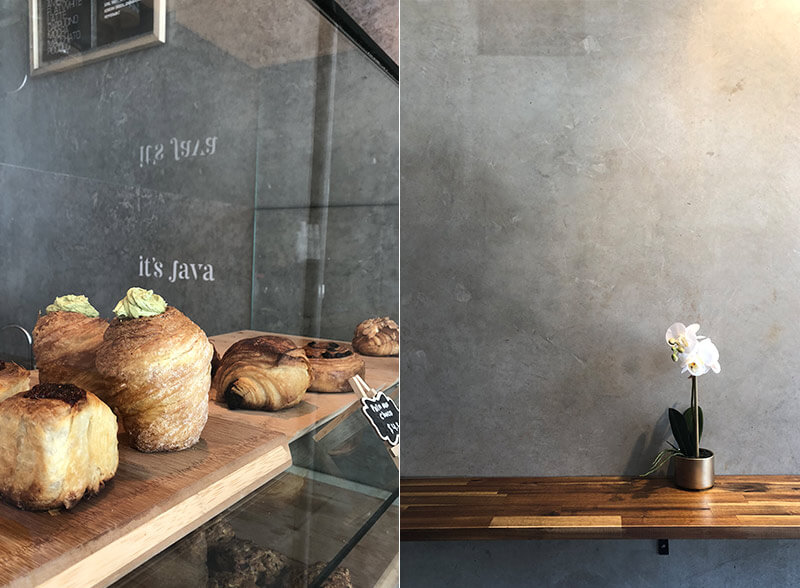 It's Java " width="800" height="588">
It's a breezy, chilled out cafe where you don't feel you have to rush. The industrial look of the concrete walls with exposed metal elements is tempered by warm brown wood panelling and Indonesian art of Rama Sita – a traditional love story. Dahri and Wilson designed the space themselves and say the look is very Javanese.
At the counter, the glass pastry cabinet has pride of place. Inside are Dan Cruden's pain au chocolate, croissants, croque monsieur, scones and other pastries. Soon, the menu will also include made-to-order New York-style sandwiches with homemade pastrami, corned beef and beef bacon. Every Saturday, Wilson is serving a different Indonesian dish (last week it was chicken porridge) and he's excited to introduce Aucklanders to a little taste of his home.
Actually sitting down to coffee, a croissant and enjoying it by yourself or with a friend is something that Dahri and Wilson are trying to encourage at It's Java. Everything from the decor to the coffee invites you to slow down and take a breather – something many Aucklanders could benefit from.
@itsjava_nz
16 Vinegar Lane
Grey Lynn
Follow Metro on Twitter, Facebook, Instagram and sign up to the weekly email for more food news.