Oct 31, 2018 Cafes
It's all about who you know at Mutual Friends, a new espresso bar with handcrafted cabinet food, art and Allpress coffee.
When Qb Studios, a slick shared workspace in Newmarket, found themselves in need of a cafe to complete their office space, they called their friends at Allpress for ideas. Allpress then called their mate Bryan Anderson, co-owner of now-closed Mt Eden cafe, Olly. Anderson called his mate Sean Bone, who also worked at Olly. Needing a chef, Bone called his friend Nick Fury, and Mutual Friends was formed with the help of New Zealand's two degrees of separation. The cafe acts as a foyer for the glass-walled offices further into the building.
Read more: Sugar at Chelsea Bay is the North Shore's new sweet spot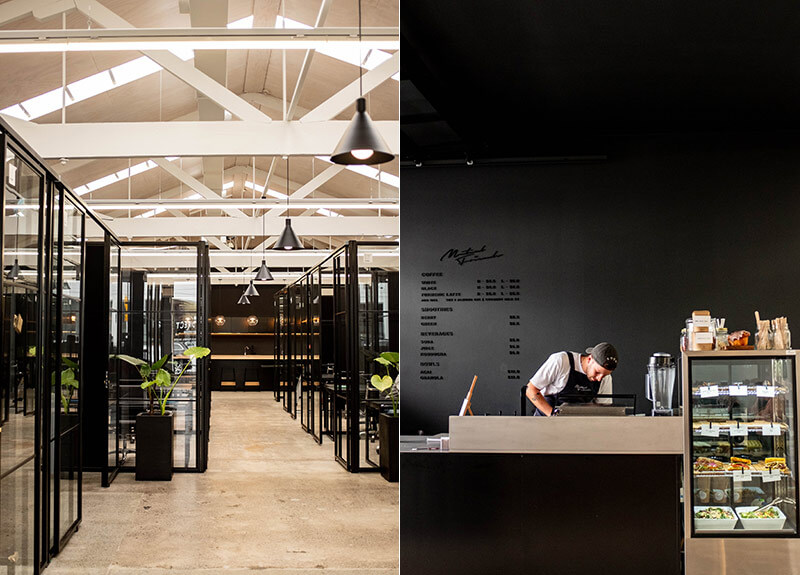 Considering the backstory, it's only natural that the coffee is Allpress. Mutual Friends are using their new A.R.T. Espresso Roast, a darker, richer take on the classic Allpress Espresso Blend. There are also turmeric lattes, berry or green smoothies for the health-conscious, and the Karma Cola range for those looking for a fizzy treat.
Food-wise, there are acai or granola bowls and a selection of cabinet food. They use bread from Bread & Butter for their sandwiches but the rest of the menu is made on-site by Fury. He previously worked at The Tasting Shed and Scarecrow , and Bone tells us he's "a bit of a genius." They recommend the savoury waffle sandwiches – fillings change weekly – this week it's peri peri chicken, tomato, basil and Emmental cheese. In the cabinet you'll also find salads and some vegan treats, like slices and bliss balls.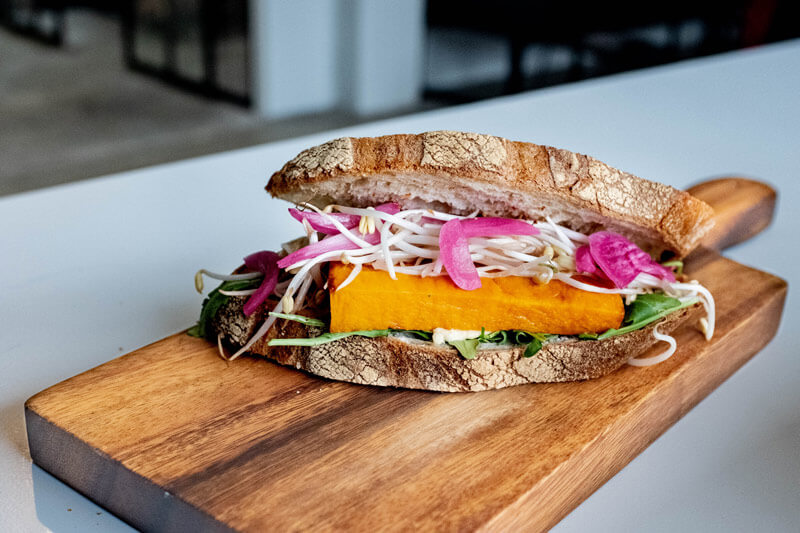 A naturally bright room is complemented by less-is-more decor: simple white walls, with clean lines and plenty of open space. When designing the space, the team had to fit in with Qb's design, so Anderson put together a clean, monochrome look. However, they say the slick black and white minimalism is what they would have gone for anyway.
As well as designing the cafe's logo, Anderson is curating art throughout the space with a view to rotate and update it often, like they did at Olly. First up, he has gone for Holly Schroder's expressionist line drawings of faces and Jake Feast's abstract colour-scapes. In keeping with the theme of the place, the artists are both local up-and-coming artists who he has worked with before.
@mutualfriendsespresso
2 Morgan St
Newmarket
Follow Metro on Twitter, Facebook, Instagram and sign up to the weekly email for more food news.