Sep 27, 2018 Cafes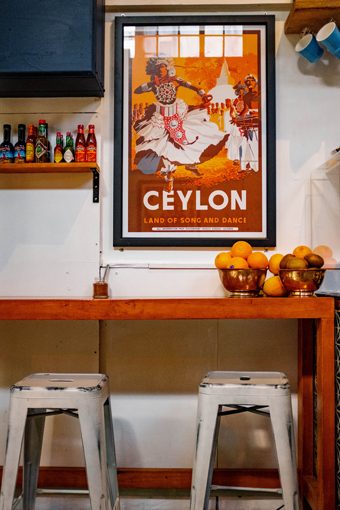 New cafe Revolver brings fresh Wellington vibes and Sri Lankan flavours to St Kevins Arcade.
For a shop in an arcade, Revolver is surprisingly light and bright, with stained glass windows, wooden accents, polished tiling and sun streaming through the skylights. You'll find Oli Bradford's three-week-old Sri Lankan cafe in
Fort Greene
's old spot in St Kevins. The all-day menu offers strong, Havana deluxe blend coffee and a variety of traditional vegetarian street food.
With an atmosphere inspired by his own youth in Wellington, the food is influenced by Bradford's mother, who moved to New Zealand from Sri Lanka when she was 10. She taught him to cook, and those recipes dominate the menu. The smoothie bowls, however, are his own less-traditional devising.
Read more: The best restaurants on K' Rd | Contemporary new cafe, Browne St, opens in Avondale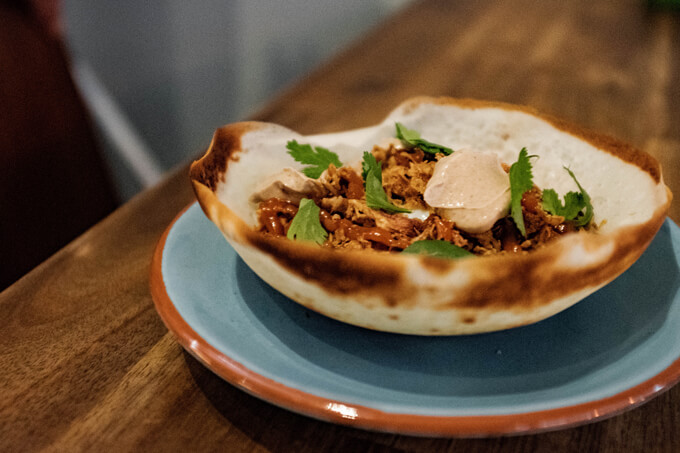 The hero is the hopper – a traditional Sri Lankan bowl-shaped spiced and fermented pancake filled with ingredients like fried egg, spices, tamarind yoghurt, chilli ketchup and crispy shallots. According to Bradford, they are literally selling like hotcakes. So much so, that the plan is to expand them across the whole menu, turning everything into a variation of the hopper. He plans to introduce, among others, a vegan hopper with coconut labneh, and a ginger one, and another with honey butter.
The spice mixes seen throughout the menu, such as a masala mix in the String Hopper, are blended in house from ingredients sourced from various Indian supermarkets. Bradford is a hot sauce enthusiast too, and Rocket Fuel, Tabasco, Kaitaia Fire are a few of the much-loved brands lined up by the counter. He also makes his own hot sauce that contains chilli, lime and coconut.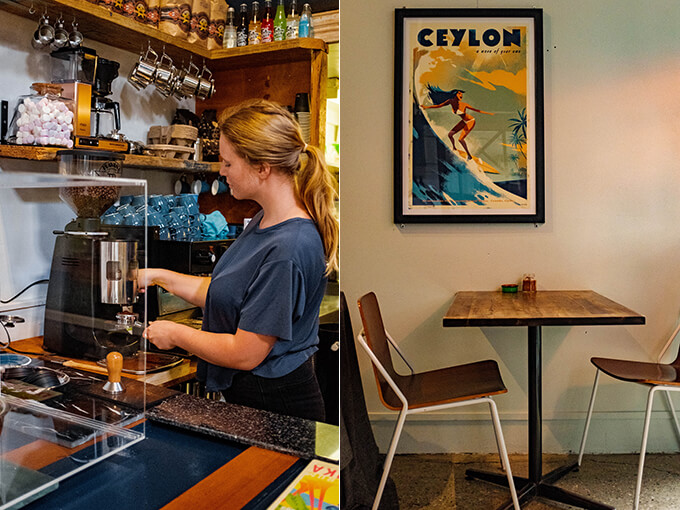 Bradford, who previously worked at Best Ugly Bagels and Revolver-adjacent establishments Bestie and Gemmayze Street, says the idea for his first independent offering is to emulate a Cuba Street cafe. Revolver will be a cafe, eatery and open-till-late bar – an idea that influenced Bradford's choice of St Kevins Arcade, with its close proximity to the street's lively nightlife scene.
What's next? The offering is to be expanded to include fish on the menu, and more formal dinner hours. Counter food is on the horizon and eventually, Bradford is planning to add a drinks menu that will change as constantly as the food.
Revolver
St Kevins Arcade
183 Karangahape Rd
Auckland
@revolver.cafe