Oct 24, 2013 Cafes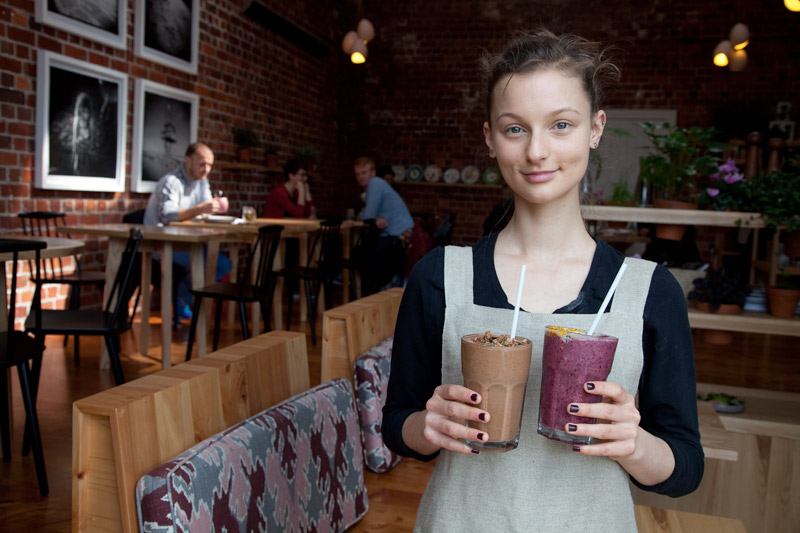 Little Bird Unbakery, Ponsonby (photo: Ken Downie / Metro)
Cafe culture sure is booming in Auckland. Little suburbs like New Windsor and Mangere Bridge have their own decent places, while competition has never been fiercer in the inner city. Small-scale one-off cafes like Cosset and Queenies foot it with the best, while some formerly one-off ventures are branching out — most noticeably Kingsland's spectacularly successful Little Bird Unbakery, which has opened a second cafe in Ponsonby. Meanwhile, some of the bigger players are really making their mark: Steve and Sarah Vanderput, who gave us Teed St Larder in Newmarket and Wai Kitchen on Waiheke, have now established Toru, the flagship cafe in Ponsonby Central.
Biggest of all are the Hip Group, run by Jackie Grant and Scott Brown with food under the control of Jo Pearson. They started at Cafe on Kohi and have now built their empire so strongly, they boast a total of seven cafes in our Top 50, including three in the Top 10. The Hip Group has won our supreme award three times already, including in the past two years for Takapuna Beach Cafe , and it should be no surprise that this year they have won it again — for the new and very splendid St Heliers Bay Cafe & Bistro. Our heartfelt congratulations to Grant and Brown and everyone in their large and highly performing team.
Good cafes multiplying wasn't the only trend we spotted this year. There's been a major growth in commitment to ethical issues. Lots of fair-trade coffee, lots of free-range eggs and bacon. In fact, very few cafes in our Top 50 do not use free-range foods. As for vegetarians, vegans, organics-adherents, gluten-free eaters and even paleo dieters — you'll all find it easier and more pleasurable to eat out today than was the case even a couple of years ago.
There are lots of new roasteries, too — our Top 50 cafes are supplied by a remarkable 16 different roasting companies — and lots of new ways to prepare coffee. Chemex and various other filter methods, and cold coffee for summer, are hot right now.
Another significant trend is the rise of the all-day eatery: the cafe/bistro that opens for breakfast, doesn't close until dinner is done and dusted, and more often than not is a seven-days operation. Federal Delicatessen and Ortolana (and other Hip Group places) are at the forefront here.
So what exactly is a cafe? We fretted about that, we don't mind saying. In the end, we decided on a slightly flexible definition: cafes eligible for our Top 50 are open for breakfast and lunch and are primarily focused on those meals. We excluded restaurants like Depot and Ima that are focused more on evening (and lunch). We also excluded places like Ugly Bagel and Il Buco, which are primarily takeout joints with a bit of seating, offering just one kind of food. Bakeries like Scratch Bakers weren't considered for much the same reason, and nor were specialist coffee outlets like Allpress Coffee on Ponsonby Rd, which hardly bother with food.
Because new places keep raising the bar, something has to give. We've lost a few old favourites, and we got especially tough on places that still make do with paper cups and plates.
Finally, a word on eggs benedict. Every cafe serves them, and as we did our judging we couldn't help noticing — with just a little despair — that probably half of all weekend customers order them. Why? Good cafes usually understand the value of variety and original dishes, as their lunch menus show, but far too few have a varied enough lineup for breakfast. True, several now offer a spicy-tomatoey egg dish, thanks to the inspiration of Ima's Yael Shochat and her shakshuka, but what about all the exciting dishes on offer from other cuisines? Where's the congee? Grilled fish with miso? And now that it's summer, who wouldn't want to truck on down to their local cafe and work their way through a Turkish-style spread of olives, tomato, sheep's cheese, honey, watermelon and a hard-boiled egg…
They've got the coffee sorted. A bit of work to do on the food.
For the full list of the Top 50 Cafes in Auckland, plus Best New, Best in Suburb and Best for Kids, see the November Metro.
Thanks to our sponsor ASB for helping us celebrate the Best Cafes in Auckland.