Feb 12, 2019 Bars
A new bar in Ponsonby is a casual spot for a drink with a "luxury garage" vibe.
Caribbean-influenced restaurant Cuba Libre has been re-incarnated, this time into a casual bar with the same chilled-out, all-are-welcome vibe and a decor inspired by the Melbourne suburb of the same name.
Slightly off Ponsonby's beaten track, Fitzroy Lounge Bar is an eclectic, leafy bar with an open DJ booth that almost all the staff can operate. Owner Nikki Ahern has a day job consulting on the design of modern learning environments for children; hub spaces that inspire those in the space to relax. It's a skill that has translated to Fitzroy's relaxed flow – the mix of couches and tall seating invite intimate conversation and a make-the-space-your-own easiness. Ahern followed the bar's mantra, "eclectic and easy", taking design inspiration from her favourite Fitzroy bar, Black Cat.
Read more: New cafe Flour Mill is set to charm Epsom
For more great videos, check out our Youtube Channel.
Old regulars will note the tiling on the bar, as well as the staggered shelving to highlight the varied mix of liquor behind the bar, remains the same. But now there's a swathe of bird-covered art nouveau wallpaper above a green velvet couch, a beer-crate chandelier and the blue wall behind the bar is about to be painted a dark aubergine colour.
Though the former restaurant has transitioned into a fully-fledged bar, the menu still aims to serve restaurant quality bar food. Nikki tells me the pulled pork and pickles toasties are a favourite (made with fresh bread from Il Forno) and the creamy pineapple raw ceviche with kumara chips is served on cute fish-shaped plates from the Browns Bay markets. Platters are per person, so you can even get a single person platter with Puhoi cheeses, pickles and capsicum hummus mixed in-house by the chef, Mitch Teirney. During the day, fresh croissants, cookies and brownies are served while coffee and free wifi are the main attractions.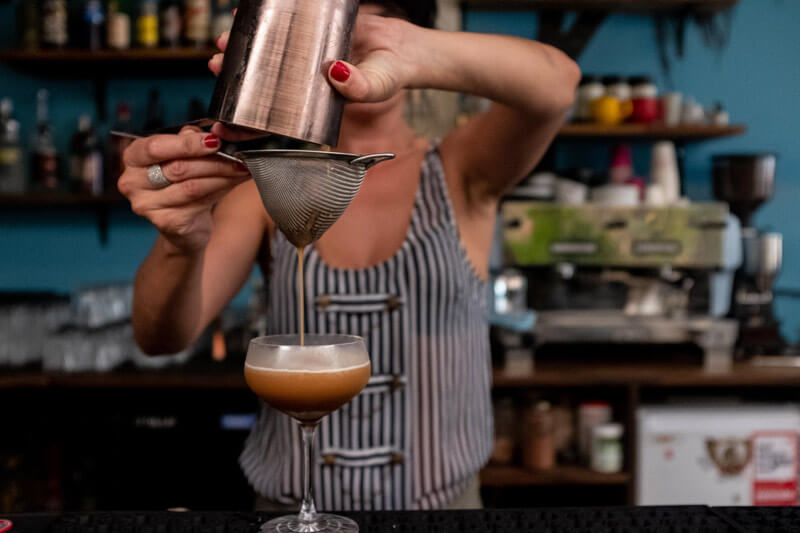 While Nikki is mixing up a cocktail, a South London couple approach the bar to praise the fried chicken. "We've been travelling all over New Zealand and genuinely, that one was a stand out," they tell her. Teirney has kept the recipe similar to what it was at Cuba Libre but now the spice mix has changed; the chef's secret recipe with chimichurri on top. They also have a signature beer, the Fitz – a $6 light and hoppy lager; a "beer-flavoured beer". House wines are similarly priced at $8.
The cocktail list, designed by general manager Lexi Jones, formerly of Cotto and Oyster and Chop, offers refreshed versions of classic drinks. Pomegranate and mint add depth to the gin sour, butterscotch vanilla lends a point of difference to the espresso martini and the "black forest" negroni has berries in it for a fruity kick. There's the top shelf stuff, and then there are $6 beers without much in the middle range.
Ahern describes the drink list as "luxury garage". As she talks to artist Enu Sirikige about what art he is going to paint on the walls and the bartender has a go on the decks, the term seems more and more appropriate.
Fitzroy Lounge Bar
61 Mackelvie St, Ponsonby
@fitzroyloungebar
Follow Metro on Twitter, Facebook, Instagram and sign up to the weekly email for more food news.