Oct 17, 2019 Bars
Westfield Newmarket's new rooftop dining precinct boasts a brand new German Beer bar. Alex Blackwood went to check it out.
Here in Auckland, we've got the immense fortune of having cuisines from all over the world at our fingertips. Yet among all the great options we have from Asia, Europe, South America, and all the fusions in between, we've been missing a German Beer garden – on a rooftop.
Enter The Bavarian; the traditional German alehouse our city has been crying out for complete with one litre been steins, giant pretzels (they're big, they're salty, don't attempt one without a drink to wash it down with), and oodles of schnapps.
If you're picturing a quaint little roadside log tavern, think again. The Bavarian is atop Westfield's freshly opened Newmarket mall in Auckland's first rooftop dining precinct.
Owned by Australia's Rockpool Dining Group, you might recognise The Bavarian from one of its eight Australian venues. Thomas Pash, the group's Chief Executive Officer explains how about three years ago, they reached out to Westfield to see if there were any upcoming projects in New Zealand which might be a good fit for a new venue. Already, that idea of being part of the city's first rooftop dining precinct was too good to pass up and they're thrilled with the result.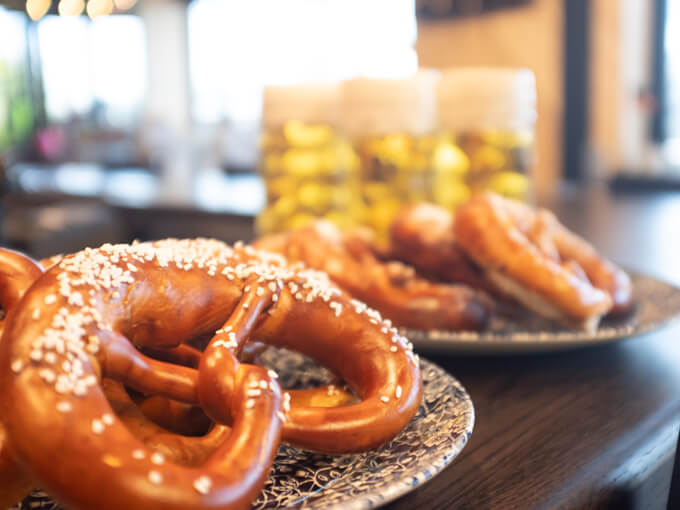 You might not expect a beer bar to be a natural place to find a great kid's menu but in this case, you'd be wrong. The playground-adjacent spot goes very nicely with their kids-eat-free-on-Sundays offer and children's menu.
The adult's menu on the other hand offers pretzels, salads, wraps and meat platters featuring 100% NZ pork and beef products. There is also something called The Schnitzelmeister which is a schnitzel loaded with crumbed chicken, rocket, sundried tomato and parmesan.
Mostly though, it's a beer bar. It has beer in the name, there's a beer chandelier and beer barrels decorating the walls. There are twenty beers on tap – the Kiwi favourites you know, like Emerson's, Panhead Custom Ales, Speight's, Steinlager and Mac's – as well as the German beers you'd associate with the massive steins and pretzels: Hofbrau, Franzikaner, Löwenbräu, Paulaner, Spaten and a whole other international list. To top that all off, there's the option of making any beer a boilermaker – a cocktail made by dropping a shot of whisky into a beer. This might be where beer lovers go when they die.
Finally, there's a schnapps list; blueberry, passionfruit, apricot, plum, herbal, apple, raspberry, gold leaf, pink grapefruit, sour cherry, strawberry, butterscotch, lychee, peach, mango and more – with the option of getting them in a flight (the apparatus that they use to carry them all is a treat in itself.)
If it's all sounding very German, that's because it is. They do have a mostly Kiwi wine list though, if you're looking for a taste of home by now.