Nov 20, 2019 Bars
We visit Peach Pit on Karangahape Road, a busy bar that also serves some serious food.
"You might be better off somewhere else if you want to eat soon," the man behind the bar tells me as he makes drinks. "Otherwise, seating is just kind of a free-for-all."
It's a heaving Friday night and I'm deeply, desperately hungry. So, we sit by the bar anyway and watch hawk-like for departing customers among shabby, chipped tables, hastily pulled together and apart again to accommodate group socialising. Peach Pit's pared-back interior gets most of its character from people, both staff and customers, crowding together and filling its small space.
At last, a table is ready, and we're whisked to it by a waitress with water and menus and wine suggestions at the ready. It may be the masochist in me, but there's something comforting about this brand of efficient, borderline snarky service — expectations are set, you're all on the same page, and then you're free to settle into the rhythm of the place, to be taken along for the ride. You're left alone when you want to be alone, and looked after when your head is craning around, desperate to catch someone's eye.
It's dim (just the right side of it, where you can still read the menu) and hazy; it's very Auckland-cool but not in an alienating way. It's a young crowd, sure — younger than the nearby Apéro and Madame George — but that doesn't mean the food shouldn't be taken seriously. Because Peach Pit is a place to drink, but it's also a place to eat — and, spoiler alert, eat well. Every time I venture in, there's always something new, and possibly weird, to order.
The dishes here represent some of my favourite things about food: they're experimental and playful and, though they cross cultural boundaries, they do so without disrespecting the cuisines that inspired them. There's a strong Asian influence: the dried sausage called lap cheong, XO sauce and Sichuan pepper make frequent appearances. If you close your eyes and taste both the familiar and the unfamiliar, your taste buds light up at flavours you recognise but haven't tried together.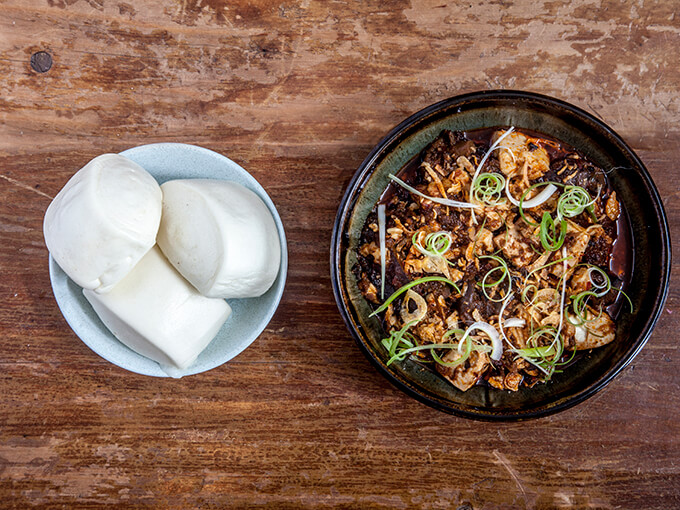 The staff are knowledgeable about their long wine list, which includes a good selection of skin contact and natural wine by the glass. I'm almost warned against the Franco Terpin Quinto Quarto Pinot Grigio from Italy ("not a beginner orange") but it ends up being my favourite — deep orange, almost pink, fragrantly fruity and funky and well paired with the food.
There are more vegetarian (and vegan!) dishes than non-, with one or two heftier meat options to round the menu out. The tender lamb rump with "xi'an spices" is good, but it's the baby potatoes with duck fat mayo that I could eat forever. Lately, there have been iterations of a nutty, earthy Jerusalem artichoke, which I love. My favourite one was rich in butter, but otherwise mostly left alone and allowed to exist, as is, cooked with satisfying bite.
Of course, culinary experimentation is bound to dredge up some duds. I was very excited about the venison dumplings up on the specials board, which resembled Nepalese momos, with strong cumin and thick skin, but the meat was dry and the too-sweet celeriac purée confusing, and the size of the dumplings meant the filling tumbled out of the lumpy skin without much cajoling. And the potato croquettes sat in too much sticky, sweet honey with unpleasant bites of bitterness from added herbs.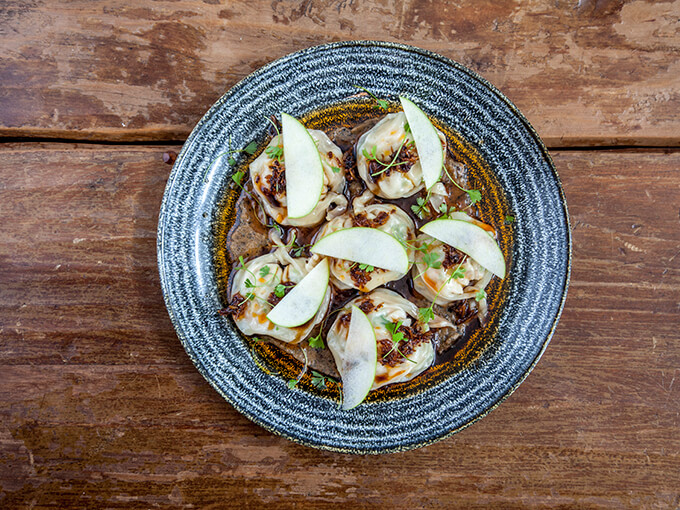 The standout of the menu is an unapologetically spicy vegetarian mapo tofu — one of Peach Pit's only permanent menu items. Red sauce drowns cubes of silky tofu and bouncy slices of mushroom, served with three steamed bao buns on the side. The gravy is thicker than a usual Sichuan version (less oily and more of a curry-like consistency) but it doesn't have the sweet-and-sour sadness of the Chinese-American version: you can definitely still taste the savoury moreishness of what I assume is the fermented bean paste (doubanjiang). The baos aren't enough to soak up as much as I wanted to, and I ended up eating tofu-less sauce by itself. Peach Pit, please make rice an add-on option; I promise you, we Chinese have definitely got that element right. Some things don't need to be experimented with.
This piece originally appeared in the November-December 2019 issue of Metro magazine, with the headline "A cool spot to drool".

Peach Pit
352 Karangahape Rd, K' Rd Precinct. Ph 377 4630.
peachpit.co.nz
Hours: Tues-Sat, 4.30pm-midnight.
Bill: Entrées and mains $15-36; sides $4.50-7.