Jul 19, 2019 Bars
The beverage director at New York East Village bar, Amor y Amargo, Sother Teague is a well-known cocktail mixologist and an anti-Trump campaigner. He's had a lifetime of observing how people use spaces, how they act and how they want to be treated. He is visiting Auckland in July, for "An Evening with Sother Teague".
The political situation in America is a mess. Mudslinging and personal attacks from the highest office are a daily occurrence. One major target of the president is Alexandria Ocasio-Cortez, an American politician and activist who serves as the US Representative for New York's 14th congressional district. She also has the audacity to be 29 years old, Latina and vocal against Trump. A year ago, she was a bartender.
In June 2018, a Google trend search of Ocasio-Cortez' name reveals a spike from absolute anonymity to fame rivaling that of presidential nominee Bernie Sanders (who she worked for during his 2016 primary campaign). Curiously, one of the favourite threats from her detractors is they're going to "send her back to bartending" as if that is something she should be scared of.
Fellow bartender Sother Teague is a fan of Ocasio-Cortez. He's excited about the stir she's causing and her thick skin when it comes to insults from her detractors – especially those about her being an ex-bartender. But what really gets to him is the way people use her former profession to dismiss her political views.
"They say, 'you're just a bartender.' It doesn't mean 'I disagree with you,' it means, 'I'm demeaning you so your opinion doesn't matter.'"
Barbs like those leveled at Ocasio-Cortez or LeBron James (when he was told to "shut up and dribble"), say, it isn't your job to get involved in politics, leave that to people more qualified. But what qualifies a person to be politically engaged?
"Bottom line is, especially in America, our whole governmental system was built on the notion of 'by the people for the people," Teague explains. "So you can play basketball and have an opinion about politics just as much as the mailman can, just as much as the bartender can, just as much as the senator can."
Denying this runs counter to the tenets America was built on, he says. "We're all supposed to be involved in [politics]. I think it's a bit of a slap in the face to even the ethos of our own government when someone uses that spitfire at somebody. It really bothers me."
That in itself is a reason to bring politics back into bars. And while Teague is passionate about hospitality to the point of obsession, he isn't just interested in mixing drinks (though he's won awards for doing so); he's excited about watching the way people behave in bars and turning that into information on how to make their experiences better. "I like to go out," he says. "The more you see the more you gather, the more you can incorporate those things, those styles, the ethos into your own. The more experience you have, the better you are at giving good experiences."
To combat any possibility of a customer feeling uncomfortable, Teague has a list of steps which must be followed every time. The second someone walks in, he starts greeting them; handing out menus, giving out water, bringing out that cocktail and coming back to check it's hitting the spot.
He is committed to that process. So much so that he prefers to design the space himself too, just as an architect would. They think about the flow of how human beings are going to move through their space, and so does Teague. He aims to make the space cosy, tactile and interesting but also he wants the room itself to encourage guests to use the bar the way he wants them to use it.
He gives the example of an imaginary restaurant that serves spaghetti and sushi and tacos. The idea doesn't spark joy. Then he mentions a hypothetical restaurant that only serves spaghetti. "Are you interested?" The answer is always yes. And the idea works with single-focused bars too.

At his bar Blue Quarter, every cocktail has a tea component. At Windmill, everything is French. At his newest bar, Honeybees, it's all about American bourbon and rye whiskey. And at Amor y Amargo, his first bar, opened eight years ago, he's become known as the guy who hates shaken beverages. But that might not be fair. "I'm not not a fan," he says. "I got this reputation because I built the bar where we don't do it. But all my other bars, at Honeybees and Windmill and at Blue Quarter, we shake drinks."
They don't shake drinks at Amor y Amargo because the bar doesn't serve drinks with juice or syrup in them. The cocktails are all amaro-based and only juicy drinks really need to be shaken because while shaking and stirring both they chill and dilute a drink, shaking also creates aeration. And that just doesn't work for non-juicy cocktails like martinis; if you shake one martini and stir another, the shaken one is overwhelmingly less flavourful. "Because it's got tiny little air bubbles dancing across your tongue instead of sliding across your tongue and engaging all of your taste buds."
But at political pop-up bar Coup, he's shaking things up in a different way. Coup (which started as a physical bar in 2016) is Teague's version of a Coup d'état. They raise money for charities that are being defunded by the government. The bar offers the chance to "do good while being bad"; the chance to politicise your night out by throwing your support and drink money behind something real. 100% of the profits go to charity.
The idea of bringing back bars as political spaces comes from the old days when pub was short for 'public house'. The pub was where all social things happened. It was where you went to get a light meal, it was the post office, it was where you went to get news. Crucially, it was where discourse, conversation and debates were held.
"Sometime in the last decade or so, we got to this place where we decided you couldn't talk about politics at the bar," says Teague. "Suddenly we just don't talk about politics at all. Then we all feel very confused and worried when politics have gotten out of hand. And they're out of hand because we let them. I'm just trying to create an environment where we can still talk about that stuff and hopefully come to more common ground. The phrase echo chamber gets thrown around a lot. You only talk to the people you agree with so then there's no real debate. You need to talk to people you don't agree with sometimes. You need to do things that are a little uncomfortable to get better results."
The last Coup pop up raised funds for Beto O'Rourke, a democratic party presidential candidate from Texas, an extremely republican state. They chose to raise money for a Texas-based cause as a way to be true to their promise to change the whole country – not just their backyard and it turns out, New Yorkers are into that. Coup raised $9600(USD) in a night – about the same as they would have raised in a whole week when Coup was a physical space.
The bar itself, back when it was brick-and-mortar, was adorned with protest signs from marches. Now, they have other ways of bringing the political spirit to the bar. When President Trump was seen throwing rolls of paper towels out to the crowd in Puerto Rico after the hurricane, Coup's did a fundraiser that encouraged patrons to throw paper towels through a basketball hoop to win shots of whiskey. The object was to highlight the ridiculousness of the situation and make it fun of a president who famously cannot make fun of himself.
Teague's a mixologist, but the word doesn't cover all he does. He is where mixology meets psychology. Does he think it's working? "I do. I really do. People come out, they have a great time."
And for the purposes of starting a conversation, a great time talking politics is a damn good beginning.
An Evening With Sother Teague at Ante Social, 152 Ponsonby Road, Ponsonby, Auckland is on for four nights starting Wednesday 24 July, with two sessions each evening.
"Over these four nights, I'll be mixing drinks and sharing some inside on the art of the cocktail at Ponsonby speakeasy Ante-Social. I'm gonna be hosting a four-course cocktail menu matching with New York inspired appetisers by leading local chef Nathan Houpapa of Café Hanoi, Saan and Xuxu."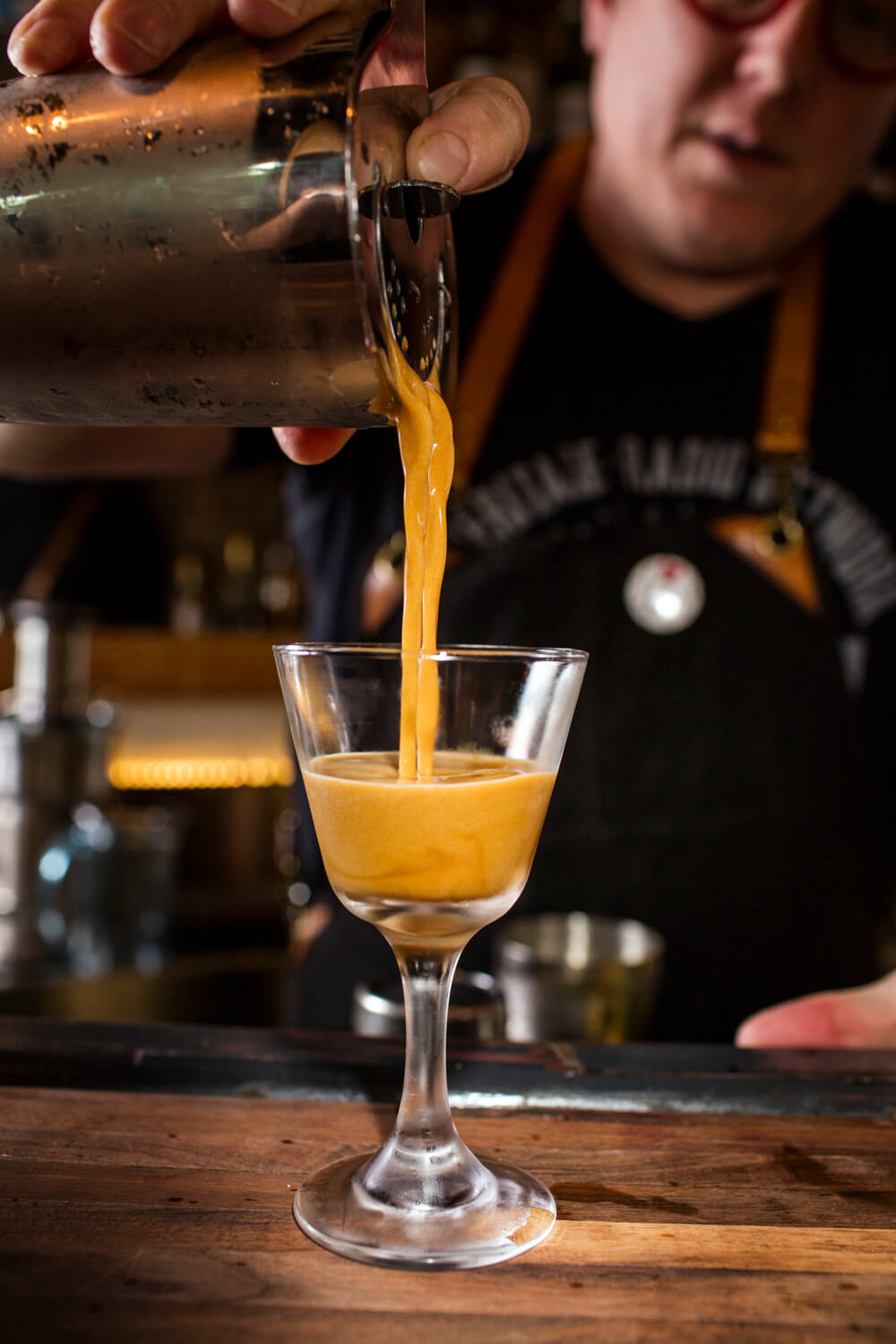 Sother Teague's tips for making cocktails at home:
Teague recommends that "for ease of service and relative ease of creation, stay away from things that are shaken and require juice."
Why? For convenience and easy access to a great drink at the drop of a hat; "you can build a litre bottle of negronis and have it just in your freezer ready to pour at any time, and I do. In my freezer right now I'm pretty sure I have a bottle of manhattans, a bottle of martinis. Just for myself and for if anyone pops over, boom, there we go. We got a drink."
Fancy cocktails on hand as easy as opening a bottle of wine? Yep, we're on board with this much-more-our-style form of meal prep.
Practice, practice, practice
"That'll get your confidence level up," he says. "And when I say practice, even just stirring a drink is a thing that you can get better and better at – as well as shaking. But you don't always have to put booze in there to practice. So put some ice and water into your mixing vessels and practice stirring, practice shaking till you get the better feel of it. It's all just muscle memory."
When purchasing, don't be fooled by price tags
Expense doesn't mean quality. Many of my favourite spirits are inexpensive and you've never heard of them and the reason that you've never heard of them is they don't spend any money on advertising they just make delicious spirits. So don't pay attention to the expense of the product – just make sure you like it."
Fresh is better
We aren't sure if the people are ready for this kind of radical thinking but "cocktails are soup." (Yep. Take all the time you need to process that.) "You're just making soup, really. Chilled soup. So fresh is gonna be better. Every single component needs to be something you'd enjoy by itself, right, so make sure the juices are fresh."
Follow Metro on Twitter, Facebook, Instagram and sign up to our weekly email