Mar 19, 2019 Bars
Arcade games meet beer at new central Auckland bar Save Ferris.
"Bueller… Bueller… Bueller…" reads the graffiti at Symonds Street's newest arcade bar Save Ferris. The door to the bathroom has Han Solo frozen in carbonite on it. You can order The Big Lebowski at the bar and the bartender will abide. Pinball, Sega and Street Fighter II are some of the more than 20 retro games on offer. Save Ferris is an ode to the past.
It's an "unapologetically" casual and nerdy bar, owner Evan King tells me. Movies play constantly on projector screens: Tron, Ghost Busters and of course Ferris Bueller's Day Off. Tears for Fears and Ice House are a couple of the bands you'll recognise on the several-days' worth of 80s music rotation. The nostalgia factor is high. King (who is also behind Lumsden Freehouse) tells me most of the patrons have been over 30; authentic 80s kids.
The only food they serve is hotdogs and crisps. There's a vegetarian option too but the real treat is that the hot dog is served at a sauce station where you add your own mustard, tomato, onion jam, and mayo. They're classic Heller's cheese Kranskys on white bread because the fancier stuff just didn't have that classic back-in-the-day flavour profile.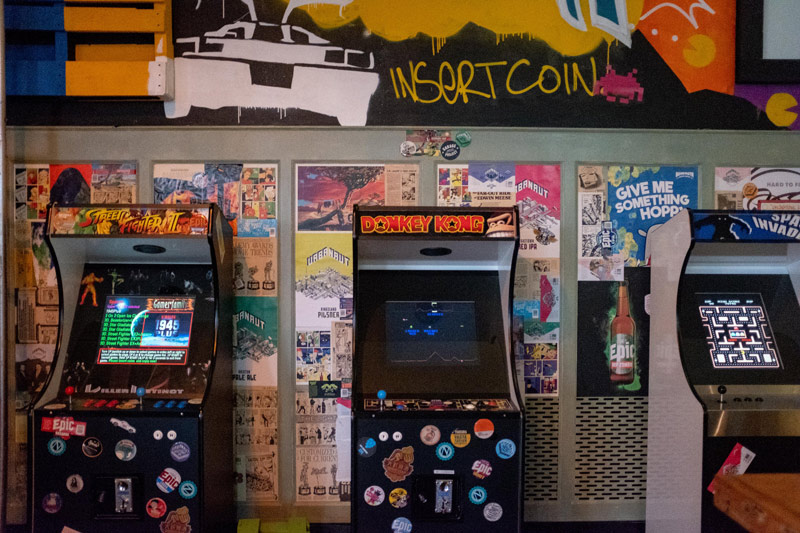 To match, Save Ferris places a heavy emphasis on local beer. The drink list is lined with Yeastie Boys, Hallertau , Garage Project, McCashins, Epic – all New Zealand beers. The classic Symonds Street post office building also houses Beer Jerk, a craft beer bar with more of an international selection so that any beer fan's needs are met within one building.
There are classic movie posters, beer stickers on the bar, band posters on the wall and an air hockey table being installed soon. Modern convenience isn't forgotten though: there's also a lockable box that you can charge your phone in and you'll note a few nods to the 90s scattered about too.
Like the movie it's named for, Save Ferris is optimistic and relaxed. The whole attitude is exactly as it's written on the wall; "Life moves pretty fast. If you don't stop and look around once in a while, you could miss it."
Photography by: Alex Blackwood.
Save Ferris
224 Symonds St
Grafton
Follow Metro on Twitter, Facebook, Instagram and sign up to the weekly email for more food news.