Jan 30, 2019 Bars
Little Creatures opens a brewery in Hobsonville Point.
Little Creatures, an Australian company known for their particularly hoppy pale ale, is opening its first New Zealand site at the newly regenerated Hobsonville Point. Started by a group of mates who began brewing beer at a former crocodile farm in Perth in 1999, it's now owned by Lion but the original brewers continue to have a hand in the brewing process.
After eight years of searching for the perfect waterfront venue with a sense of history, the Little Creatures crew settled on the former Sunderland sea boat hangar in the Catalina Bay precinct. If that doesn't give you an idea of the scale of the place, Google 'Short Sunderland Seaboats', you won't be disappointed; they aren't the little, kayak-bottomed ones you find in the Viaduct, but the huge ones that look like whales with wings.
The hangar will house three eateries with seating spread out between, a children's playground, an event space, a Havana coffee roastery, and of course, the Little Creatures brewery which has five fermenters, two bright beer tanks and a cellar door to buy beer to take home.
Head brewer Udo van Deventer says around sixty 50-litre kegs a week of Catalina Bay Lager will be produced here, plus a seasonal beer for each month of the year. Keep an eye out for a honey mead, made with honey from the neighbouring farmers market.
Read more: Expand your palate at Symonds St bar Beer Jerk Bunker | Metro's 10 favourite Auckland cafes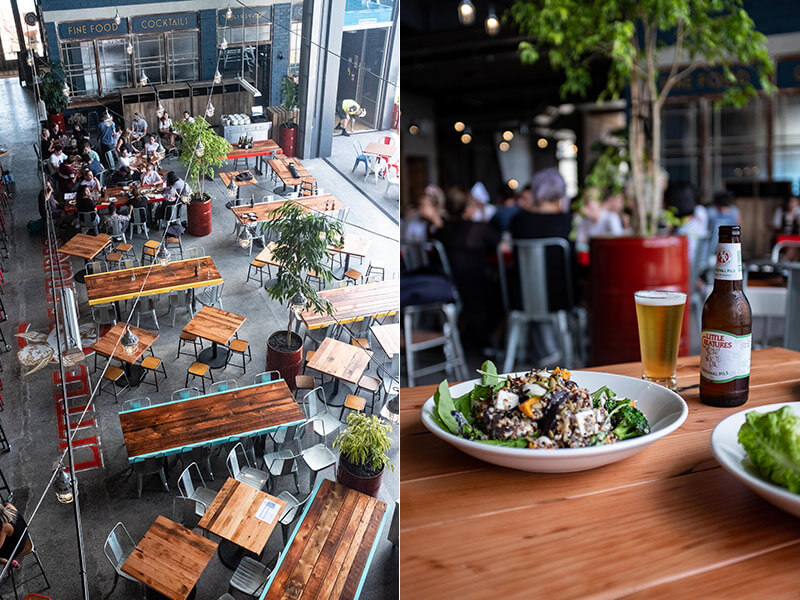 Little Creatures are incorporating farmers market produce into the menu: you'll find gelato from there, and locally made cheeses on the cheeseboards and pizza. The pub food (lamb shank pie, anyone?) and hearty share platters are designed to be washed down with Little Creatures beer in the sun.
New restaurant Salty's will serve a posher version of your local chippy's fare, with a chowder, crispy prawn soft tacos, swordfish skewers and a fish finger sandwich. Five different kinds of chips are available with six different kinds of salt – bacon, chilli, citrus, smoked, chicken and herb – all made on-site, as well as the salt and vinegar mayo.
The Italian-inspired, Kittyhawk Bistro is an air force-themed café by day/bar by night that you could imagine the guys from Top Gun grabbing a drink in. The breakfast menu includes pastries, chia pots and breakfast bowls, as well as the classic full-breakfast options, while the evening menu includes pea and mint arancini, gnocchi, risotto and tiramisu.
With lots of food options, hangar doors open with the harbour view right in front of you and a freshly-brewed beer in hand, what else could you want?
Photography: Alex Blackwood
littlecreatures.co.nz
3 Boundary Rd
Hobsonville Point
Follow Metro on Twitter, Facebook, Instagram and sign up to the weekly email for more food news.