Nov 14, 2018 Bars
Edmundo Farrera's La Fuente  pop-up is now a permanent bar and shop, specialising in mezcal, in central Auckland.
Edmundo Farrera is pouring 26 years of hospo experience into his new bar La Fuente, a permanent version of last year's pop-up on Galway Street. It's a mezcal bar first and foremost, but the high-ceilinged, wood-clad space will serve and sell wine, and have shelves of take-home mezcal too. A menu of Mexican-inspired dishes will make it a place for eating, as well as drinking.
Located in downtown's Snickel Lane dining precinct, La Fuente is a home for Farrera's true passion. His love for mezcal began with his first sip at just 7-years-old while running errands in his hometown near Oaxaca, Mexico. This small, landlocked city – where most of the world's mezcal comes from – is the place Farrera travels to source a breadth of different styles. There's also a comprehensive wine list overseen by sommelier Meg Abbott-Walker.
Once regarded as a tipple for the lower-class, mezcal has increased in popularity, with retailers now scrambling for bottles from batches distilled by its maestros.  Although made from agave like tequila, mezcal has a distinct rustic smokiness. Farrera likens the agave roasting process to a hangi – it's cooked for three days with volcanic rocks in a covered pit oven. The stone is scrubbed down cleanly to avoid the end product being tainted while cooking. "Purity is important," says Farrera.
Read more: Morningside's new food precinct, tiki bars, and more new Auckland openings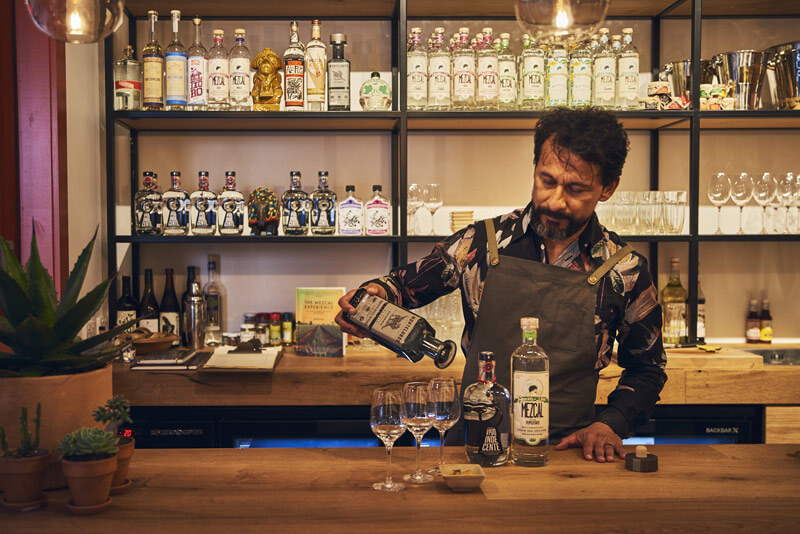 La Fuente's offerings are separated into categories: entry level, artisan, ancestral and the very special batches. If you're a mezcal newbie, there are two types of in-house tastings available – a flight of three 20ml pours, or the full mezcal experience with six 10ml samples.  It could include the Alipus Olla de Barro, an ancestral spirit distilled in a claypot, or maybe the Amores Joven, made from agave espadin and lightly sweet with mango and cinnamon notes. Mezcal is traditionally drunk with Mexican tasting salts like ground-up grasshopper, herbs and chillies, but Farrera's accompaniments are also set to include ice cream and even coffee (for a particularly potent wake-up call).
The food menu has been created by ex-Ostro and Rosebank Kitchen chef Johannes Carroux – think guacamole, mezcal-cured salmon tostaditas and a ceviche he hopes will be "the best in the country". Each day, there will be specials so the food will be ever-changing, giving Carroux creative space to test new dishes.
La Fuente translates to 'the source', a point of identity for Farrera, who hopes the bar will be people's go-to for all things mezcal. Farrera is near-obsessed with the spirit, but stresses what he loves most is people – take care of the staff, listen to your guests, and ultimately, he says, make it human.
La Fuente opens today, 14 November.
@lafuentenz
Shop 9, Snickel Lane
23 Customs Street
Central City
Follow Metro on Twitter, Facebook, Instagram and sign up to the weekly email for more food news.