Feb 12, 2016 Bars
Words by Alice Harbourne. Photos by Ken Downie.
New York, London, Amsterdam and Tokyo; my summer break took me further than the Coromandel this year and I've been mastering the art of the humble brag ever since. I now also have a mental wish list for Auckland. More pizza by the slice, please! Can someone learn how to make fresh stroopwaffel and open a store? Why aren't there ramen shops on every street corner? What's a girl got to do to get a stressed-out yo-pro to open a barcade (bar/arcade) around here?
Of course, we all have our own wish lists for Auckland, and after asking around common themes emerged. They range from the practical – a rail link to the airport, trams, wheelie bins in West Auckland – to the mildly obnoxious; more rooftop bars, boutique cinemas that serve excellent food, a Chinatown. Someone even asked for cobbled streets.
When Aucklander Celeste Thornley, her part-French, part-Kiwi partner Jasper Maignot and his brother Ludo returned to the city after two years in Melbourne, they had a strong vision of the city they wanted to live in. "Our favourite thing about Melbourne was jumping on the tram towards any random suburb and knowing there'd be great food when you got there," Celeste says. Auckland's inner suburbs suddenly seemed full of untapped potential. "Auckland is right at the beginning of its journey as a cool city,' says Jasper, 'and that's the appeal – it's not saturated yet."
Having bluffed his way, aged 23, into designing the menu for trendsetting, north Melbourne design cafe Twenty & Six Espresso, Jasper stumbled upon a winning formula; dishes that are as elegant and surprising as they are comforting and familiar. When the trio opened their first café, L'Oeuf, in Mt Albert in November 2013, the formula came with them, as did many of the dishes, like the achingly photogenic Cambodian: black sticky rice, lychee and edible flowers surrounded by a moat of salted coconut cream. When hip and grungy Chinoiserie opened next door with a menu of homemade Gua Bao and Asian-inspired sides, evenings in Mt Albert were suddenly very cool, and affordable too.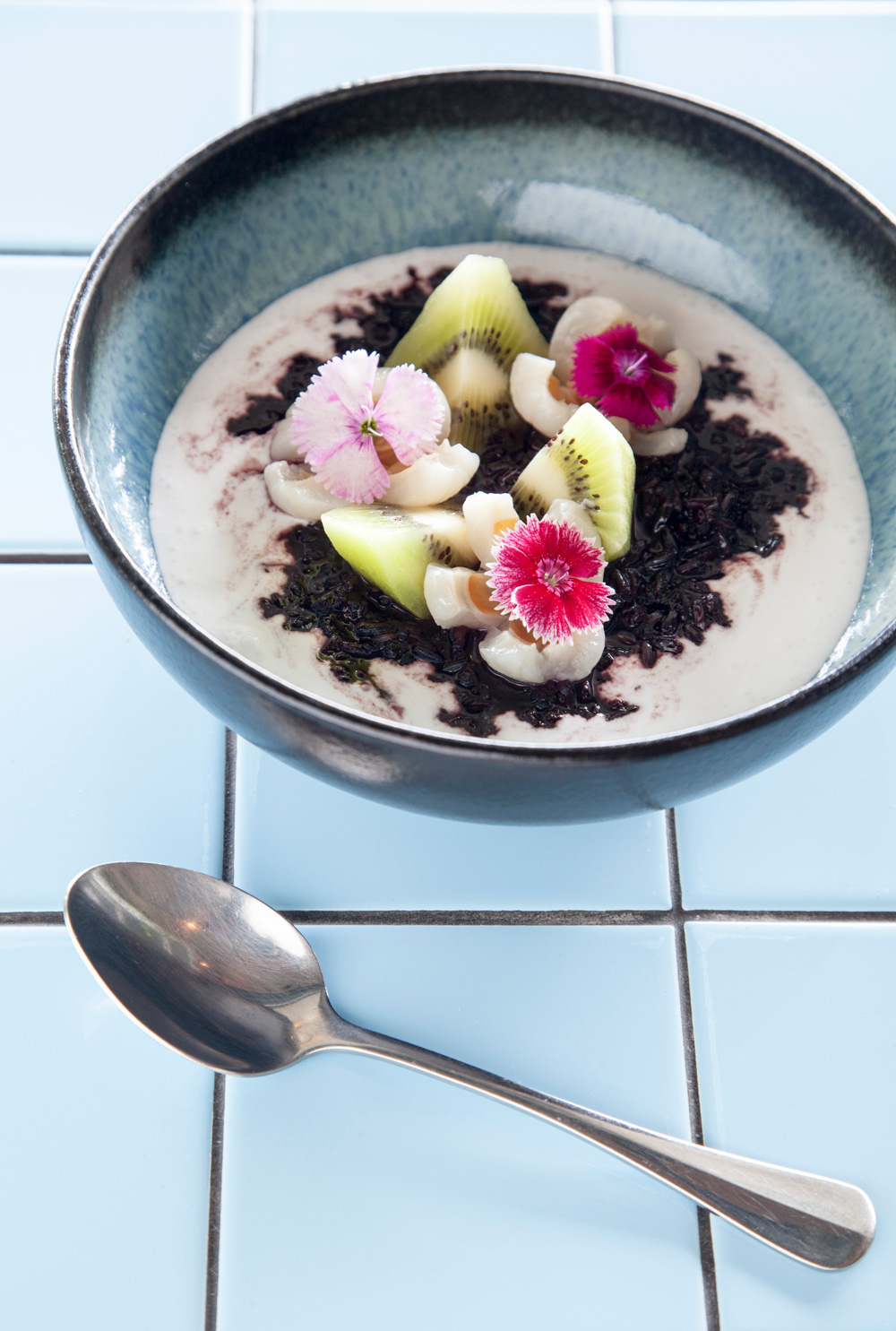 Now the team is building a new place on Rocklands Ave, and I got a sneak peek. God it's cool. God they're cool. On a break from screwing on table legs, Celeste has the mussed low ponytail and ruddy complexion of a Thomas Hardy country lass. Jasper and Ludo talk me through the space without once seeming anxious to get back to work.
The all-day Thai eatery that will turn from daytime café to party-vibe dining hall with a subtle shift in décor; long communal benches will be covered in bright green and pink-floral vinyl tablecloths and decorative umbrellas and neon lights will wash the entire former-drum shop pink.
The trio's vision has been made real with help from builder Nick Coldicut and architect Harriet Mildon-King, while Chinoiserie's Thai chef Panawat "Erk" Chotamungsa has helped shape the menu.
In the daytime, Jasper will head the kitchen with Thai-inspired dishes like a fragrant congee and citrus rice pudding with charcoal coconut milk. In the evening, Erk will take charge, presenting authentic Thai food with a few interesting twists, with an average price tag of around $16 – cheap. "You can't move into an area like Balmoral and force the prices up," says Jasper, "plus we want people to be able to enjoy themselves without paying through the roof, it's not fun otherwise."
Splashes of pink and mint green paint mean it already feels fun. I remark on a particularly impressive plant. "We love palms! But they're quite hard to find. Someone needs to open a cool palm shop!" I'll add it to the wish list.
Kiss Kiss, 1 Rocklands Ave, Balmoral. Due to open late-March. Follow progress via the Kiss Kiss Facebook page.