Nov 22, 2016 Bars
Anyone who's a sucker for novelty should enjoy new Viaduct bar Dr Rudi's. It's a rooftop bar and restaurant, with on-site brewery and two bowling alleys that you get to via an open air escalator.
Callum O'Brien, who co-owns Dr Rudi's with his friends Andrew Roborgh and Kristian Lloydd, is no stranger to brewing booze. He also owns Jumping Goat Liquor, makers of coffee-infused vodka or whisky. Beer was the next logical step. Roborgh and Lloydd are hospo veterans, most recently running Little Easy on Ponsonby Rd.
Their beers, currently brewed at Matakana's Sawmill Brewery but soon moving to the viaduct premises, are craft but easy drinking. Nothing too funky, they want to ease cautious drinkers in. Food is a mixture of large meat platters, pizza by the foot and nibbly snacks. There are ribs, the messiest and as such the funniest food and, of course, lots of seafood.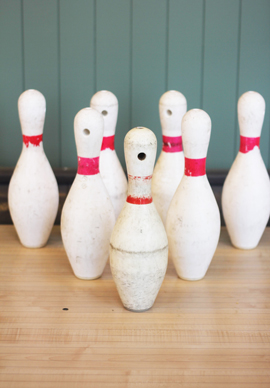 O'Brien is no stranger to novelty either – Jumping Goat once ran a competition to give away an actual kid (as in baby goat), which got shut down by the SPCA. The trio likes to have a good time and a joke and that's the atmosphere they want to create at Dr Rudi's; live DJs will play at weekends, music will be loud and fun, and then there's those bowling lanes, which patrons can use free.
When I met O'Brien, Roborgh and Lloydd, before the bar was even built, we had a little brainstorm about whether they'd make people wear those funny bowling shoes on Dr Rudi's lanes. They said no, I (passionately) said yes. I still don't know what the outcome of that meeting was, but I'm really excited to go and find out.
Dr Rudi's Rooftop Brewing Co.
Level 3, Cnr Quay & Hobson Streets
Auckland Viaduct
facebook.com/drrudis/