Mar 23, 2018 Bars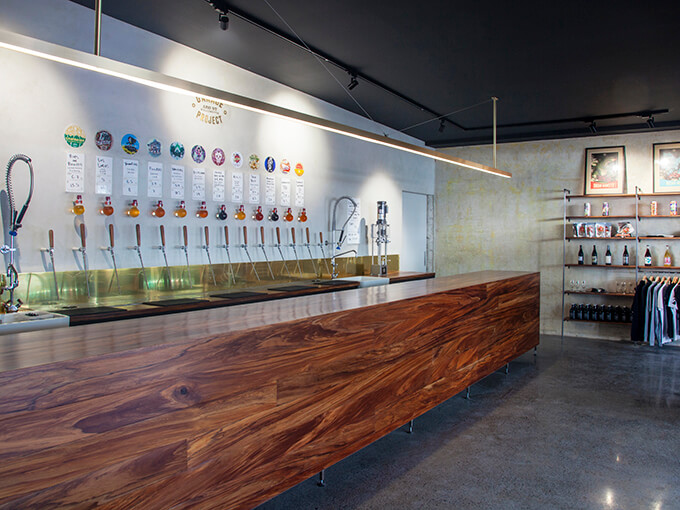 New Zealand Champion Brewery Garage Project opens an Auckland outfit
Wellington craft brewery Garage Project has "reimagined a bottle shop", opening a cellar door in Kingsland dedicated to their award-winning, experimental beers.
Peppered with curios and the brewery's distinctive artwork that plasters their cans and bottles, the fit-out is designed by Matt Smith, who also designed Garage Project's Wellington taproom and brewery, as well as fit-outs for Six Barrel Soda, Monterey and People's Coffee.
Following in the same pared-back style as the Wellington spaces, the cellar door features sleek counters and recycled kauri leaners by Tom Forman of Tomahawk, and Goldsworthy Studio, and of course, centre-stage is the beer counter – 12 taps with a rotating line-up of the brewery's best offerings.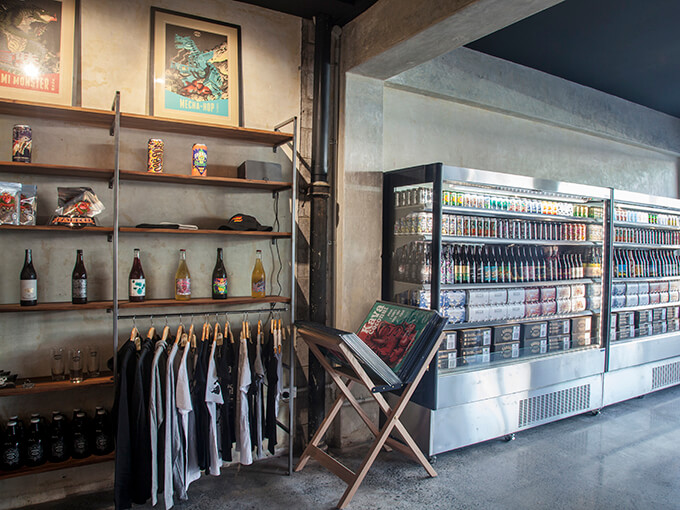 Some of the beers currently on tap include crowd favourite Garagista, an IPA; triple-hopped English bitter Trip Hop; and a special pilot brew, GP <3 AKL, to celebrate the launch of the cellar door. Much like a wine cellar door, it focuses on tasting flights and beer to take away. Only 70ml tasters will be available to drink on-site, alongside a small menu offering food like cheeses, house pickles and Island Bay cured meats.
There's flagon filling – BYO vessels are welcomed – and a long fridge with individual cans and bottles to peruse, and "crowlers" can be bought – the staff use a contraption to fill 1-litre cans from the taps and seal them on the spot.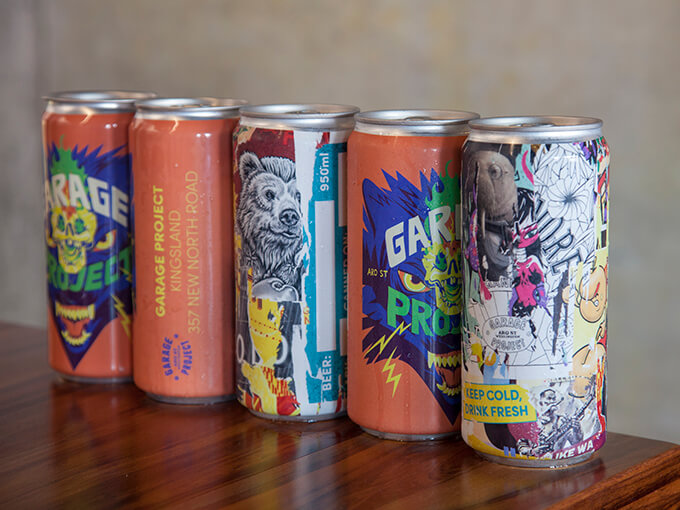 The opening of the Auckland space seems like a natural step – for some time, the brewery has had staff based in the city; the idea is that the office above the cellar door will become Garage Project's official Auckland HQ.
Originally started in 2011 in an old petrol station by Jos Ruffell and Pete and Ian Gillespie, Garage Project has taken the craft beer scene by storm, and the owners have hinted if all goes well in Auckland, the next stop may be Melbourne.
Garage Project is throwing a party for its opening weekend with the brewers on-site to chat to, Moustache Milk and Cookie Bar, a charity sausage sizzle and of course, tastings. 24 and 25 March, from 12pm onwards.
Garage Project Kingsland Cellar Door
357 New North Rd, Kingsland