May 1, 2019 Bars
ADVERTORIAL: Hidden away at the end of Princes Wharf, Bellini Bar is a nautical oasis — a slice of the city that feels different from anywhere else in Auckland.
With the sleek marbled bar on one side mixing delicious cocktails and the vast ocean on the other, it's truly the best of both worlds. Each table at Bellini is elegantly placed to lend guests privacy, curtained in by knotted ropes. Settle into a plush seat and immediately feel like a luxury traveller, with excellent service to look after your every need.
Bellini's Twisted High Tea is refined but fun, a modern take on the traditional high tea of old, but with no linen or cucumber sandwiches in sight. Instead, you arrive to a choice of Zealong New Zealand-grown teas sitting under glass domes on the table so you can sample their beautiful fragrances. Any choice is a good one, but we're partial to Lady Gatsby – a vibrant green tea blended with rose, manuka and cinnamon – or the zingy Fire & Ice, a black tea with layers of warmth, spice and mint.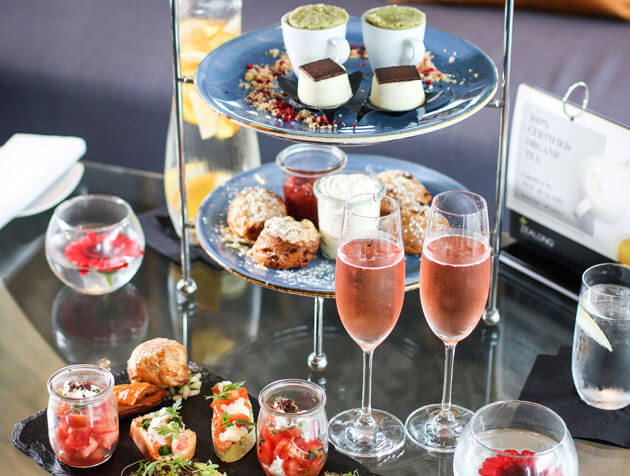 All three high-tea options come with a full selection of the food menu and two hot beverages (tea or coffee), but the Mixologist's High Tea and Bubbly High Tea each have a twist, with two cocktail teasers and three glasses of bubbles or
cocktail teasers respectively. The Bubbly High Tea is the perfect choice for a lengthy catch-up with friends – with such
a luxurious setting, it's an ideal escape from reality. Along with a traditional three-tiered assortment of fluffy scones and sweet bites, Bellini's Twisted High Tea includes a platter of sophisticated savouries: a feast for your eyes as well as the stomach.
Graze on prettily arranged mini tartines topped with citrus cured salmon, sundried tomato and coconut confit prawns, and a ball of spinach and feta encased in filo. A mini tartine of smoked pulled beef is set atop a spoon of silky smooth
kumara, a perfect balance of sweet and savoury, and the jar of caprese salad with sherry vinaigrette and basil is
a refreshing palate cleanser in between.
Desserts are a complete dream, with six different options on offer, including scones served with homemade cream and strawberry jam. Indulge in a decadent verrine with layers of crème de macaron and panna cotta, and follow up with the
zingy lemon tart and flamed meringue. Bellini's Twisted High Tea is a pleasure from start to finish. Go on – book in and
treat yourself.
Bellini, Ground floor, Hilton
Princes Wharf, 147 Quay St, Auckland
www.bellini.co.nz