Nov 18, 2019 Bars
Auckland's only circus-themed arcade and bar is a giddying experience for Metro intern Ayla Miller. But that's kind of the point.
Overstimulating would be one way to describe Archie Brothers Cirque Electriq. If your ears aren't ringing and your heart rate isn't up a few beats per minute, you haven't properly experienced Auckland's newest circus themed arcade and bar – the latest endeavor by Australian company Funlab.
Located in Westfield Newmarket, Archie Brothers is an assault on the senses with its disorientating layout, gaudy circus colours and deafeningly loud music but somehow, it works.
From the outside, the venue looks like an exclusive club, with red carpet, red velvet rope and what look like intimidatingly well-dressed bouncers on the front door. We start the evening by feasting on 10 pizzas for our group of 10. One pizza per person seems excessive but they all quickly disappear with no complaints. For food served in such a carnival-esque atmosphere, they were surprisingly tasty. Fresh, crispy bases and deliciously stretchy mozzarella.
Once we've satisfied our appetites, we get on with bowling on lanes which are much the same as any other bowling alley but better looking. Bowling is only fun if you're good at it and it brings out a surprisingly competitive side to some of the otherwise mild-mannered members of our party.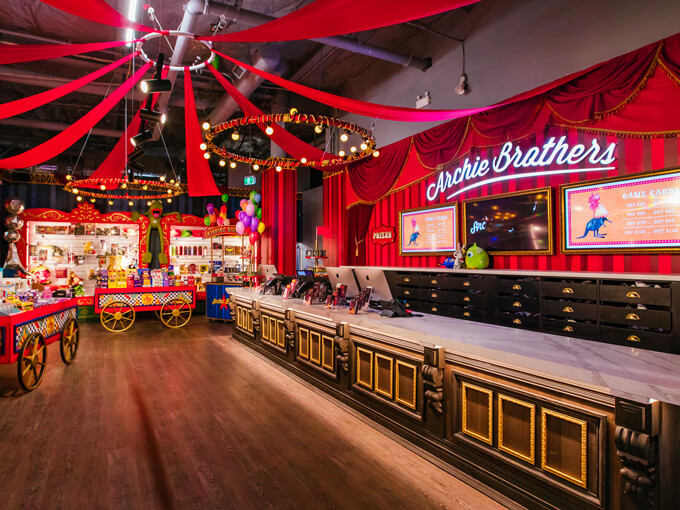 We are each given a Bank of Archie Brothers card loaded with 60 minutes worth of access to most of the games in the arcade zone. By this stage I'm so hyped up I make a beeline for the bumper cars to work off some competitive energy.
Due to the deafeningly loud music I can hardly hear the safety instructions and I'm pretty sure no one else could either despite everyone nodding enthusiastically. When I lean over to ask my companion what the last of the instructions were, he shrugs and admits he's none the wiser.
After one round on the bumper cars, and luckily no serious safety breaches, we head over to the most eagerly anticipated feature of the arcade – the Thrillrider. Inside, we are seated in a group of six and instructed (we can hear properly this time) to put on a pair of special glasses and buckle up for what is most definitely a thrilling ride. (I won't ruin the surprise but it involved frantically shooting at a lot of scary clowns.)
A few more standard arcade games later our minutes run out, but we've all had enough anyway and half our party have departed to a pub down the road where the drinks are cheaper and the music is at a more sociable decibel.
The night we visit is very crowded and a member of our group who uses a wheelchair found it difficult to navigate the narrow spaces in between the games – but he reckons he had a nice time anyway.
At $59 each for a group of 10, including one alcoholic drink and one decent-sized pizza each, this is the kind of evening best saved for special occasions. However, you can tailor your experience to suit your budget.
When we leave Archie Brother's our ears are ringing and we've hardly spoken more than a few essential words to each other, but our bellies are full and our cheeks are aching.
Seven out of 10, would Archie again.